Finding appropriate jewelry for work that is affordable and wearable is a challenge. Many options are either so expensive they lay outside of most budgets, or they are cheap and flimsy feeling.
So I thought rounding up a few costume options at a range of prices (but under $100) would be helpful.
I'm calling this post "office appropriate" since so many of us are in the workforce, but you can wear these whether you're looking for a simple, classic piece for the office, something fun for the weekend or anything in between.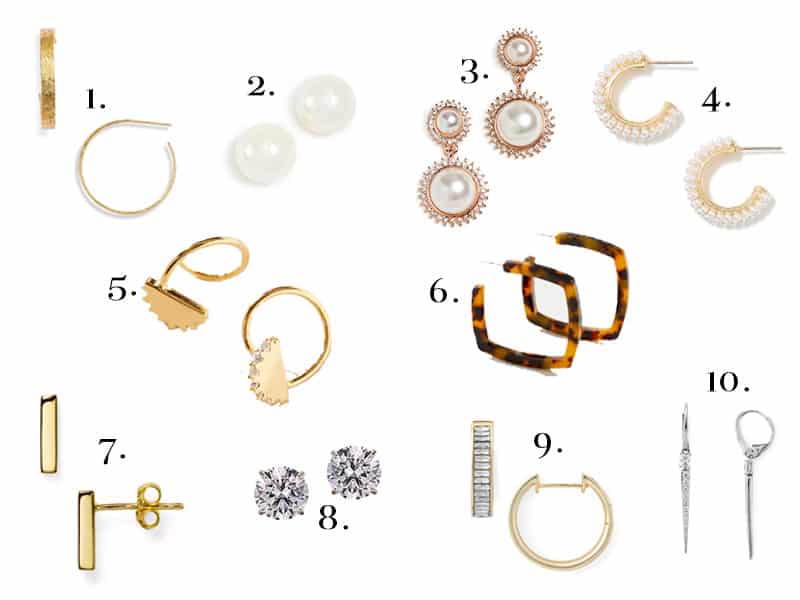 1. Hoops, $55 | 2. Pearl Studs, $18 | 3. Pearl Chandelier, $34 | 4. Pearl Hoops, $12.50 | 5. Huggies, $68 | 6. Tortoise Hoops, $29.50 | 7. Bar Studs, $38 | 8. Diamonique Studs, $99 | 9. Hoops, $68 | 10. Spike, $55
Right now my favorite brand for affordable yet chic costume pieces is gorjana. I love so many pieces. Each one has something a little different while staying classic and really easy to wear.
Since I have a one year old at home who loves to grab everything, I was reluctant to pick up a hoop. I also haven't worn hoops in ages. But I adore these.
They are lightweight, add a bit of texture and under $60.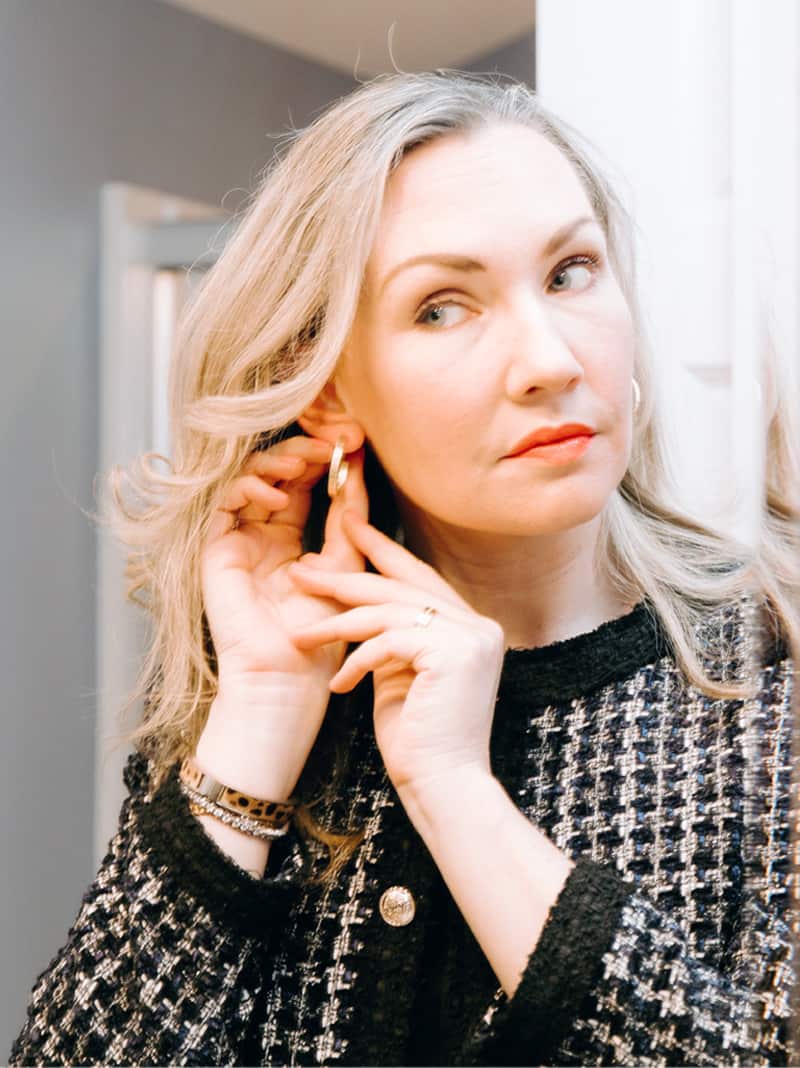 A simple glass "pearl" stud is a timeless classic. This one is made modern by it's oversized shape. Shopbop is an excellent resource for budget friendly costume jewelry. Simply search within your price points and you'll be amazed at your options.
Another Shopbop option, these pearl chandelier earrings are unexpected but work if you wear your hair down. I like an earring this style with a simple, clean lined dress, with a boat or v-neckline.
Even when LOFT is regular price, their clothing and accessories are incredibly reasonable. So when they have a sale, I often joke that they are giving things away. These $12 pearl hoops are so sweet and a size that are easy to wear in your day to day.
Like Shopbop, Anthropologie is worth the search. Pick a max price point and start scrolling because here you will find a variety of trendy, artsy pieces that work within any style. These huggie earrings have a modern twist that still comes across as subtle. I would wear them as if they were stud earrings, and let them fall into the background of your look.
I've yet to meet a tortoise accessory I didn't like, so these J.Crew earrings (under $30) are a winner in my book. J. Crew jewelry can feel very "J.Crew Like" and no one wants to look as if they just stepped out of a catalog. I try to look for pieces here that don't have that specific feel, and always mix them with items from other stores and brands.
But these earrings with a black turtleneck sweater and your favorite jeans is the stuff "everyday" uniforms are made of.
These Bar Studs by Argento Vivo are a super cool alternative to your basic stud earring for a great price. Keep an eye out for this brand, available at Bloomingdales. They are a similar price point to gorjana, with a slightly more traditional style, and many of their pieces are available in gold and silver.
These studs by Diamonique, an in-house brand at QVC, are my everyday earrings and have been for over a decade. Here's what I can tell you from my brief career at the "Q," they're commitment to quality is top-notch, and they are genuinely focused on balancing that quality with value.
They use 14K gold, which is important since I tend to have reactions to anything other than silver or gold and offer a vast variety of styles and sizes.
Kendra Scott is anther brand that I love, but after a while starts to look the same. So I was delighted to come across these faceted hoops (available in multi, gold and silver) for under $70. You can easily dress them up or down, and if you like color, the multi is a fun and fresh take on the rainbow trend we're seeing.
If you want something with a little edge, these "spike" earring will elevate your look while providing movement. They might be too much for a traditional office but for something less conventional or a night out, they are perfect.
_________________________________________________________
Our content is not sponsored or paid for by brands or retailers in any way. Recommendations are based on personal experience and my time working with women as a stylist and wardrobe consultant for over a decade. Some links are affiliate links, which means if you purchase via our site, we receive a small commission.
If you enjoy our content and would like to help us grow, please consider following on Instagram for even more free tips, and join our Private Facebook Group for access advice in-depth conversations with other like-minded women.