I love the look of heels. They give us height, elongate our legs and elevate even the simplest of outfits. But, like many of you, heels aren't practical for my everyday life – especially these days. What I need is a chic and comfortable flat.
Technically speaking, heels can help us look better in our clothes. They "lift" our bodies up, allowing clothes to drape well and hems to hit appropriately. So when you're swapping a heel for a flat, you want to follow a few guidelines.
6 Comfortable Flats to Wear When You Can't Wear Heels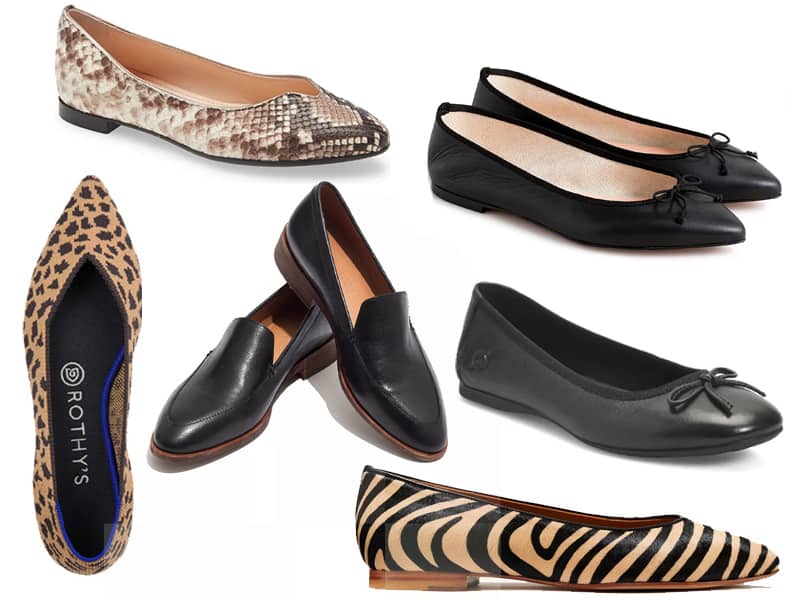 updated 2/18/2021
Embrace tailoring
If flats are your go-to, you need to have your clothes tailored. Have pants and skirts hemmed; you may also have to have some fullness taken out of the leg of your pants so they don't seem oversized and overwhelm your frame.
Full-length pants should have a break, which means the bottom of the hem slightly puddles (like a curtain on the floor) on top of your shoe. Bring the shoes you plan to wear to the tailor when you have things fitted to ensure your best length.
This leads me to my next point.
You will need two pairs of pants.
If you swap between high heels and flats with regularity (say it with me now), YOU NEED TWO PAIRS OF PANTS.
There are no magic pants that you can wear with both heels and flats. You'll need a few pairs you can wear with flats, and a few you can wear with heels. Tip: Some clients would buy two pairs of their favorite pants and alter accordingly.
Proportions Matter
When you exclusively wear flats, you have to learn to notice the subtle difference in how clothes lay on the body in a flat vs. a heel. Often, a heel helps garments drape well, and a flat can feel frumpy and off-balance.
For example, full, wide-leg pants are a no-go with flats because they require height to work (for the most part). Conversely, an ankle-length pant that hits right at the ankle looks fantastic with a flat.
You Need a Point
Look for flats with a pointed or almond shape to to help elongate the line of your body. By doing so, you're creating the effect you get from heels, and it will help bring balance to an outfit.
And before you say it, no, your big toe should not be shoved into the point of the shoe. If that's happening, the shoe does not fit you properly. Instead, think of the point as a decoration that helps extend the leg.
Flats are Super Chic
So play with proportions, have your clothes tailored to fit your specific needs, and keep the line of your leg length with a point, and you'll be in good shape to swap out your heels for some flats.
Scroll below for my top picks. There is something for everyone from an investment pair to under a $100 option that is both stylish and comfortable.
Our Favorite Comfortable Flats
Personal Favorite
I bought these specifically for running in airports but they've quickly become my overall favorite flat for daily, at home wear. Sustainably made from recycled plastic bottles, Rothy's mix being eco-friendly with sophisticated style.
They are available in an array of colors and patterns to work in any and every wardrobe.
You need to give them a day or two to break in, but once they do, you'll love the look and comfort they provide. Bonus points for being machine washable!
Worth the Money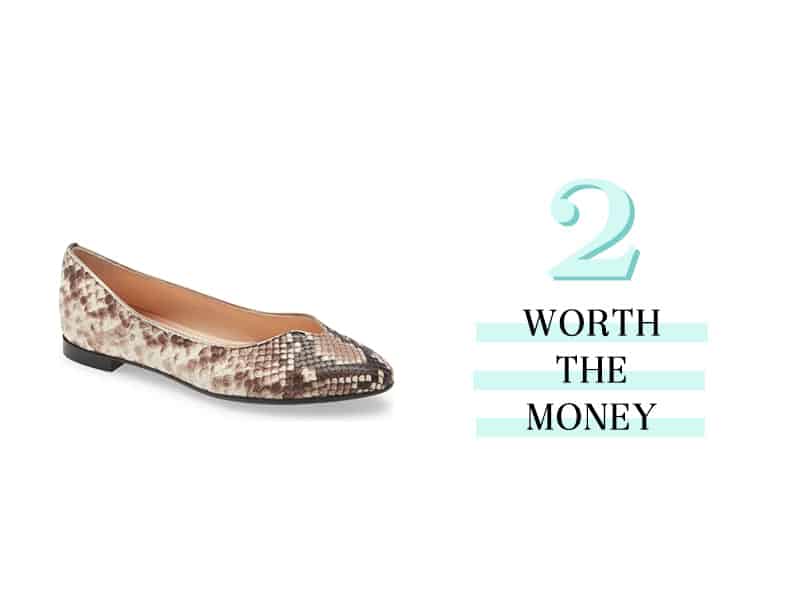 These are expensive, I know. In my personal shopping days, AGLs were incredibly popular with my clients who commuted to work and didn't want to lug a change of shoes with them. I use to wear them on shopping days with clients when I would be on my feet for sometimes 10 hours straight, and they were terrific.
So while the upfront cost of these might seem steep, they may be worth it if you get frequent wear out of them. (Think cost per wear.) I had a pair (similar here) for five years and wore them into the ground before I had to part with them.
I appreciate the feminine shape of these and LOVE the neutral snake print for spring that adds some subtle texture to your outfit.
Chic and Customized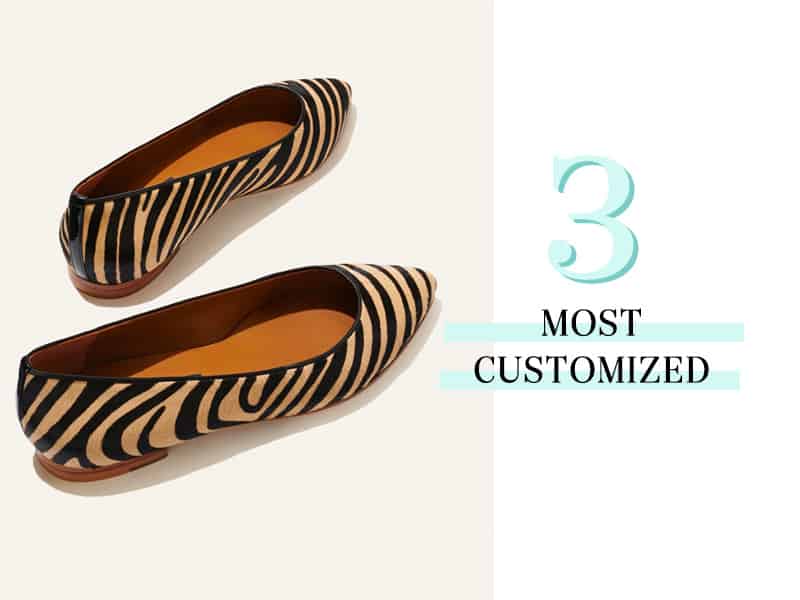 Available in nine gorgeous shades and prints (including the above Zebra Haircalf that I am dying over), Margaux is an incredible shoe brand that mixes chic styling with comfort.
Here's the BEST part, their entire focus as a company is fit, so they offer extended sizes, multiple widths including narrow, medium and wide and made to measure options.
Easiest to Dress Up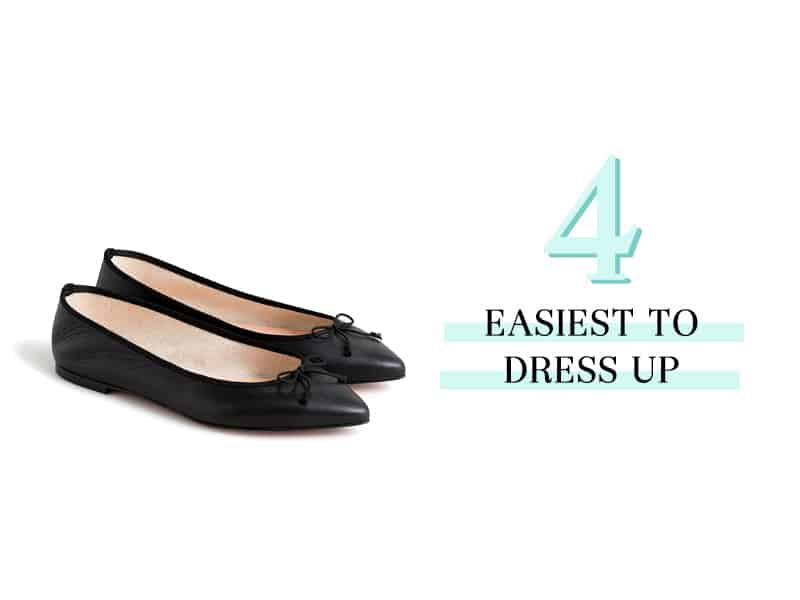 Spend any time on Pinterest searching for inspiration outfits and you'll quickly find yourself frustrated. The outfits are cute, but the heels are sky high. What to do? Go with a pointed ballet flat, in a simple style.
These will help mimic that long line of the leg a heel creates.
The J. Crew Gemma Flat is one of their Top Rated, Five Star Reviewed shoes and they are currently on sale for $75 in black and chestnut.
Best Loafers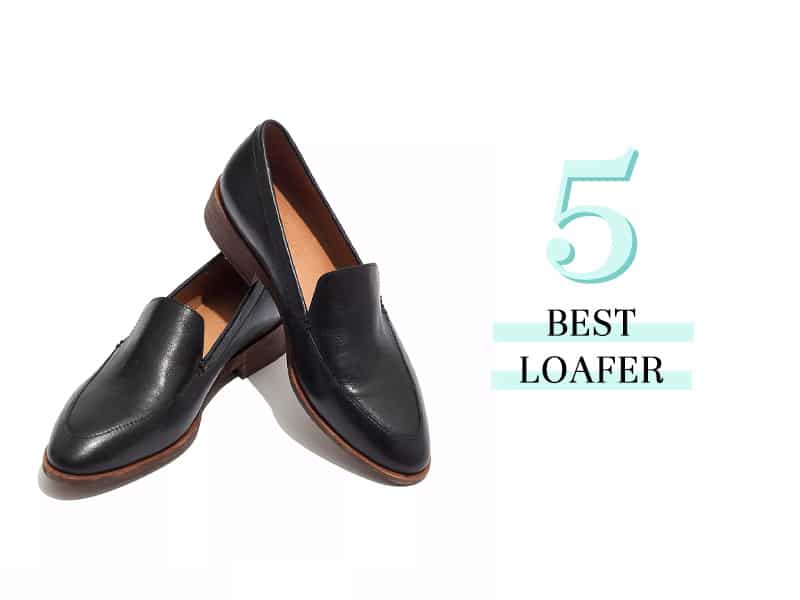 I read hundreds of online reviews every month, thousands every year, and I have never shared one in a post before today.
This made me laugh out load:
They are the shoe equivalent of Paul Rudd- handsome, wholesome, practical and somehow, works with everything.
What a compliment!
I for one am delighted to see loafers rise in popularity and equally thrilled that they are starting to take inspiration from menswear while providing a slimmer shape for a woman's foot. Pair these with straight-leg pants, and have the hem puddle just slightly on the top of the shoe.
These Madewell France Loafers come in black and mahogany, available in half sizes and rave reviews for comfort after you break them in.
Under $100

The challenge with most under $100 flats is that they either look great or they are comfortable but look like orthotics. But we want both comfort and style in one, and these BORN ballet flats are so sweet.
You can wear them with everything, including straight-leg trousers, ankle pants, jeans, and skirts. I'm featuring basic black above, but they are available in several spring ready colors, like soft grey, yellow and a light beige.
Our Style Content is Inspired by Our Readers
Our readership inspires all of our posts and is not sponsored or paid for by brands or retailers.
Recommendations are based on my experience as a personal stylist and wardrobe consultant for over a decade. I worked with busy, down-to-earth women who wanted to look chic and feel confident but were often confused by so much of retail.
Some links are affiliate links, which means if you purchase via our site, we receive a small commission.

If you enjoy our content and would like to help us grow, please follow on Instagram and join our Private Facebook Group to access more advice and exclusive in-depth conversations with other like-minded women.
Learn about our mission to help women look and feel their very best, every day, here.
Sign Up for Daily Content and Receive Our Free Classic Wardrobe Checklist