Lately, the most popular question in my inbox and our private facebook group is about flats. Specifically, how can we recreate all the lovely inspiration outfits we see in magazines, Pinterest, and even on this site, when heels are just not an option.
I do love the look of a heel, how it elongates the leg and makes us stand up straight (assuming they're a pair we can walk in). But the truth is, in my real life, heels are reserved for client work, and the rare dress up night. Otherwise, I'm in some kind of a flat, be it a sneaker, boot or a feminine flat.
Technically speaking, a heel "lifts" the body up and often makes clothes fit better. They can bring balance to an outfit. Have you ever tried on a pair of long pants, that at first feel oversized and sloppy – but then add a heel and they look perfect? That's because the heel helped your body meet the cut of the pants.
How to Wear Flats Instead of Heels
Before we dive into some of my favorite options, a few things you need to know:
Tailoring is the most important. If flats are your go to, and you have to completely avoid heels, you are going to need to have your clothes hemmed – at a minimum. If you insist on only buying clothes that fit you off the rack and avoid alterations at all costs, I can't help you. Once you embrace a tailor your clothing options double.
You will need two pairs of pants. If you swap between high heels and flats with regularity, (say it with me now) YOU NEED TWO PAIRS OF PANTS. There are no magic pants that you can wear with both. You'll need a few pairs you can wear with flats, and a few you can wear with heels. Some clients use to buy two of the same pair and alter accordingly.
Pay Attention to Proportions. When you exclusively wear flats, you have to learn to notice the subtle difference in how clothes lay on the body in a flat vs. a heel. Often, a heel helps garments drape well and a flat will feel frumpy and off balance. For example full, wide leg pants are a no-go with flats because they require height to work (for the most part). Conversely, an ankle length pant, one that hits right at the ankle, looks fantastic with a flat.
You need a point. For the most part look for flats with a pointed toe to help elongate the line of your body. By doing so you're duplicating the effect you get from heels and it will help bring that balance to outfits that otherwise would look better with some height.
Flats can be super chic. So play with proportions, have your clothes tailored to fit your specific needs, don't try to work strictly with off the rack and keep the line of your leg long with point and you'll be in good shape to swap out your heels for some flats.
6 Flats to Wear When You Can't Wear Heels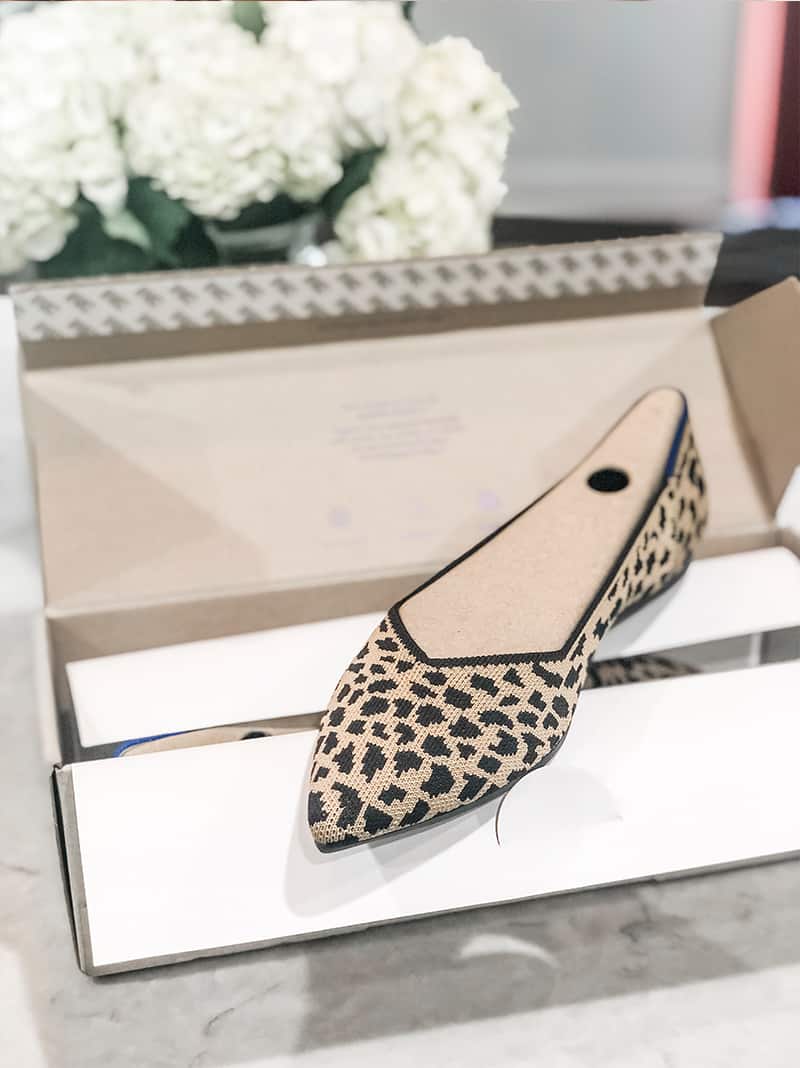 Personal Favorite
I bought these specifically for running in airports but they've quickly become my overall favorite flat for daily wear. Sustainably made from recycled plastic bottles, Rothy's mix being eco-friendly with sophisticated style. They are available in an array of colors and patterns to work in any and every wardrobe. They take a minute to break in, but once they do, you'll love the look and comfort they provide. Bonus points for being machine washable!
Best Hybrid
The most expensive option on our list are these AGL flats. They are calling them a pump, but they are more mix between a flat and a loafer. Back in my personal shopping days, AGLs were incredibly popular with my clients who had a commute to work and didn't want to lug a change of shoes with them. So while the upfront cost of these might seem steep, they were often the only shoe they wore the most.
Most Customized
Available in 10 gorgeous prints (including a Zebra Haircalf that I am dying over), Margaux is an incredible shoe brand that mixes chic styling with comfort. Prices average under $200. Here's the BEST part, their entire focus as a company is fit, so they offer extended sizes, multiple widths, and made to measure options.
Easiest to Dress Up
A slingback and a flat had a baby to create this feminine shoe that pairs beautifully with lightweight skirts, dresses, or ankle pants. We're featuring a pop of red, but it's also available in classic black, a blush pink, and the super on-trend mustard suede.
Best Loafer
I am delighted to see loafers rise in popularity and equally thrilled that they are starting to take inspiration from menswear while providing a slimmer shape for a woman's foot. Pair these with straight-leg pants, and have the hem puddle just slightly on the top of the shoe. These Trotter Pointed Loafers are available in nine colors with varying textures to create some extra interest in your outfit.
Under $100
The challenge with most under $100 flats is that they either look great or they are comfortable but look like orthotics. I know you want both comfort and style in one, and these Naturalizer's fit the bill. They look expensive, they get rave reviews for support, and you can wear them with everything, including straight-leg trousers, ankle pants, jeans, and skirts. They are available in a soft beige (above), black and a drop-dead gorgeous burgundy snakeskin.