This time of year, updating your wardrobe can feel daunting. Theoretically, there is only a little bit of winter left, so we think, oh, I should hold off until the spring.
And, rightfully, if you need to purchase more than a handful of pieces, that's a good move. You'll have more options, variety in size, and seasonless fabrics to choose from.
But the final six weeks or so of winter can be painfully boring, and sometimes you need a few things to breathe some fresh life into your work clothes.
If that sounds like you, consider picking up a bold red blazer. Nothing makes more of an impact in your wardrobe and it easily coordinates with the pieces you already have in your closet.
Polished Red Blazer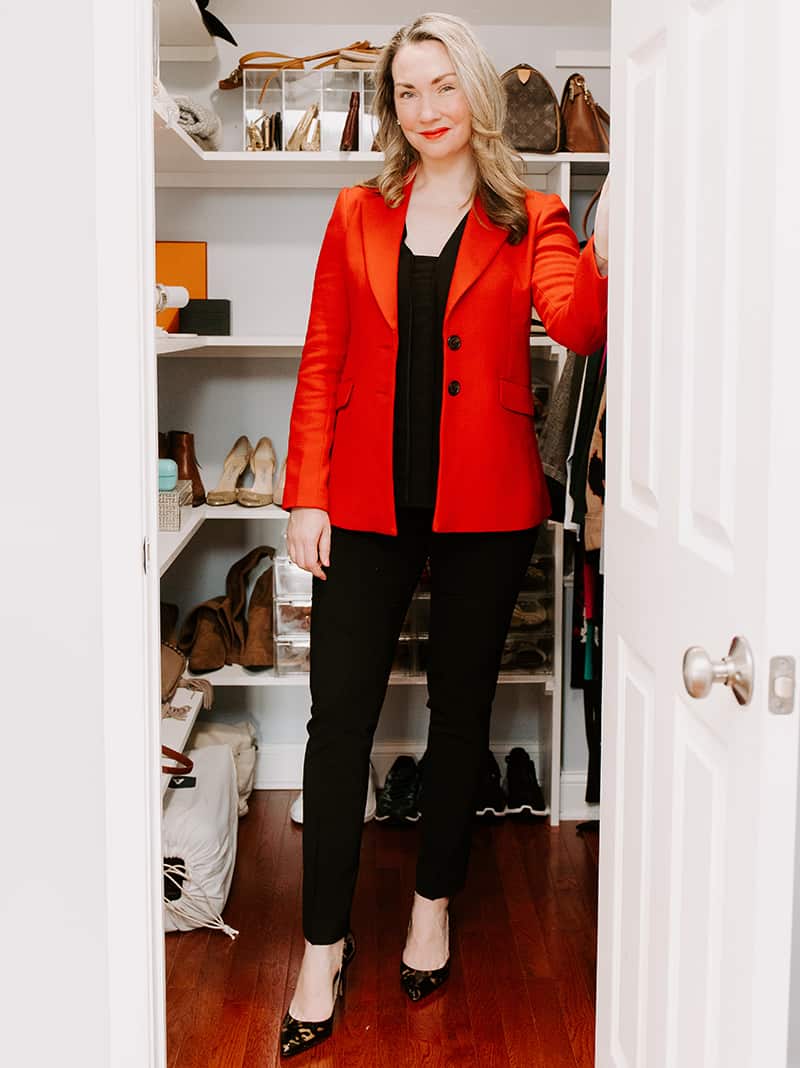 Easy outfits are key when you're getting dressed before the sun comes up. Last week we talked about creating a column of color. A simple strategy that elongates the line of your body and works as a neutral base to add interesting layers like better sweaters and separate blazers.
Today I took that same concept to show you how you can create a different look just by swapping out your top layer.
Here, it's a bold, classic, wear-with-everything red blazer I picked up at Nordstrom for under $100.
Available in sizes 0 – 16, this red blazer fits true to size, and is a true red. In the picture above it looks like an orangey – red, but that's just the lighting. This is a true, blue-based, classic red.
Before we get into the outfit elements, below are a few other red blazer options in all sizes.
Red Blazer Options for the Office
You can wear any of these so many ways. Here I'm wearing it with my go-to column. But you can layer it over a sheath, or a pencil skirt. It works with a patterned pair of bottoms, or throw it over a sweater with jeans and boots – anything.
I used my basic "column," which consists of a pair of Theory pants and a simple black shell from Banana Republic.
How to Wear a Red Blazer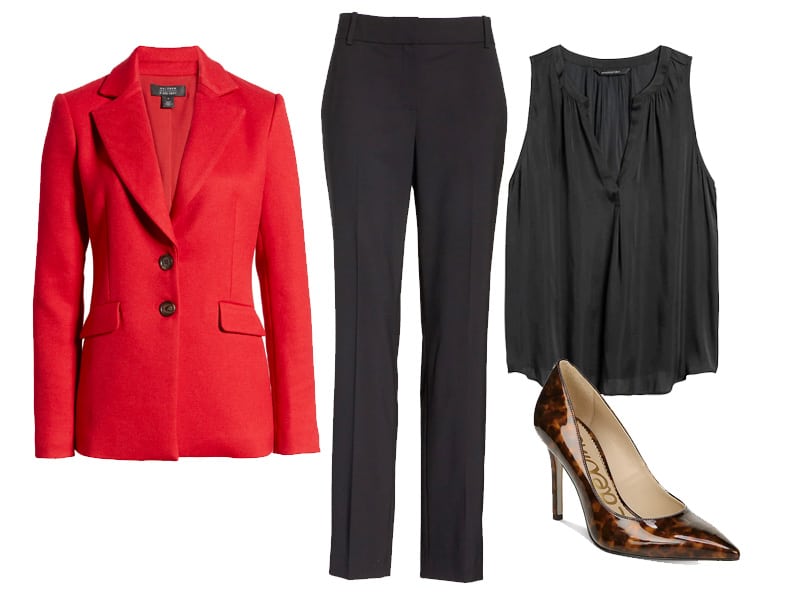 Blazer, $90 | Tank, $65 | Pants, $285 | Heels, $120
When we talk about how to budget for clothing, it's important to figure out where you can spend and where you can save. Not just in terms of where to shop, but what you specifically need. I spend on dress pants because of my shape and height. I find that better quality brands fit my frame.
You also want to consider your frequency of use and the timelessness of the piece. These pants, for example, fit me well, are fantastic quality, and look new even though I've had them for years. (Honestly, I can't believe they still fit.)
I have two pairs that I rotate, and even though they were an upfront cost, I haven't purchased or thought about black pants since.
You don't need to buy Theory or spend the equivalent, but keep an open mind and if and when you find a perfect pair, consider getting more than one so you always have it available. And stay tuned for a comprehensive post about the best black pants in all sizes, styles and price points!
This tank, from Banana Republic, is an ideal layering piece. It's available in all sizes, including petite (which is on sale for $51) in black and white. Scoop it up if you want to create a basic column of your own. (This also washes well.)
Finally, I'm wearing a pair of tortoise heels I found at Ann Taylor early in 2019. I don't wear them often, but when I do, I'm always happy I have them as they seem to elevate my outfit just right.
I found an almost identical pair from Sam Edelman. What's great about them is they go with any color and add just a little bit of depth to your look Almost like a more subtle version of an animal print.
Shop this Post
_________________________________________________________
Our content is not sponsored or paid for by brands or retailers in any way. Recommendations are based on personal experience and my time working with women as a stylist and wardrobe consultant for over a decade. Some links are affiliate links, which means if you purchase via our site, we receive a small commission.
If you enjoy our content and would like to help us grow, please consider following on Instagram for even more free tips, and join our Private Facebook Group for access advice in-depth conversations with other like-minded women.