Valentines Day is not an "important" holiday.
At least, we don't make a big deal about it around here, but I do give gifts to my daughters, our youngest's pre-school teachers, and some girlfriends.
And I'll take any excuse to share some favorite finds, treats, and gift ideas, in PINK no less!
So today, I rounded up some of my most loved go-to items, a few sweet ideas for sharing, and inexpensive tokens to use for Valentines or any gift giving occasion coming up on your calendar.
Below are some ideas that are sure to delight, around or under $50.
And there are some non-pink options too 🙂
Great Valentine Day Gifts 2023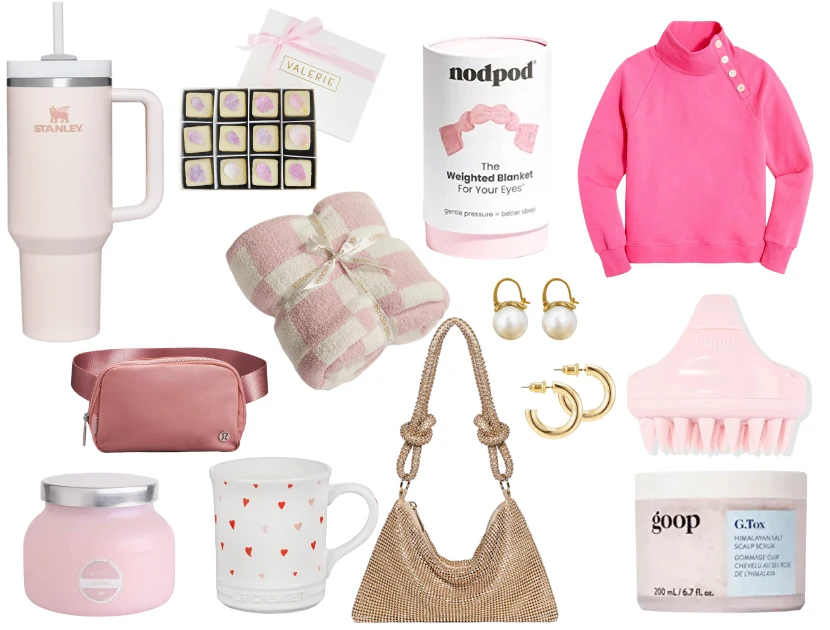 Stanley 40 oz. Quencher, $40 |Rose Petal Petit Fours, $55 | Lululemon Everywhere Bag, $38 |Candle, $38 | Blanket, $55 | Le Creuset Mug, $25 | Glitter Mini Bag, $35 |Sleep Mask, $35 |Pearl Drop Earrings, $15 |Everyday Hoops, $15 | Fleece, $46 |Scalp Brush, $14| Himalayan Salt Scalp Scrub, $49
Stanley 40 oz. Tumbler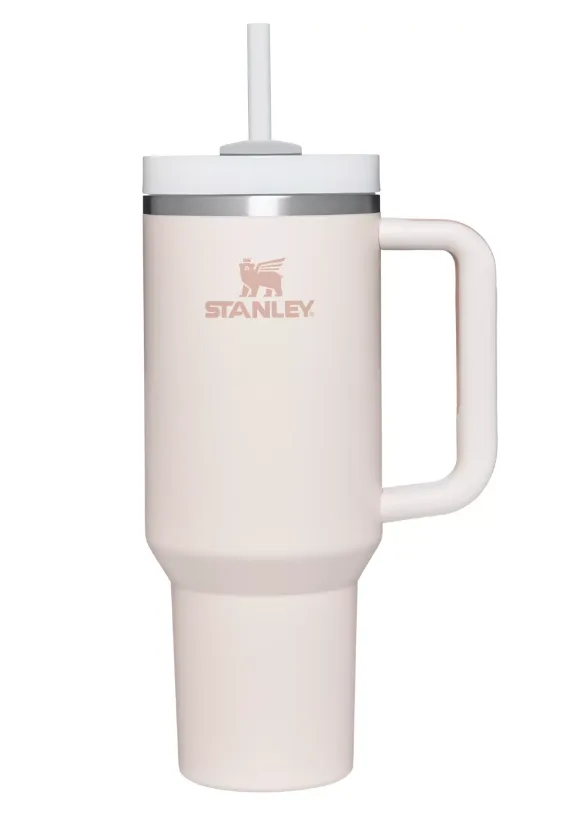 1
Stanley 40 oz. Tumbler
Dicks Sporting Goods
$40.00
I'm well aware of how basic my love for my Stanley makes me, but I'm here to tell you, they are worth the hype.
This thing comes everywhere with me, keeps water ice cold and the shape fits perfectly in your car cup holder. And I do drink more water because of it.
I gifted it over the holidays, and for one of my daughter's best friends birthdays – everyone is loves it.
For some inexplicable reason, Amazon is selling these for double the price, but they are available in a range of colors at Dick's Sporting Goods for $40.
Rose Petal Petit Fours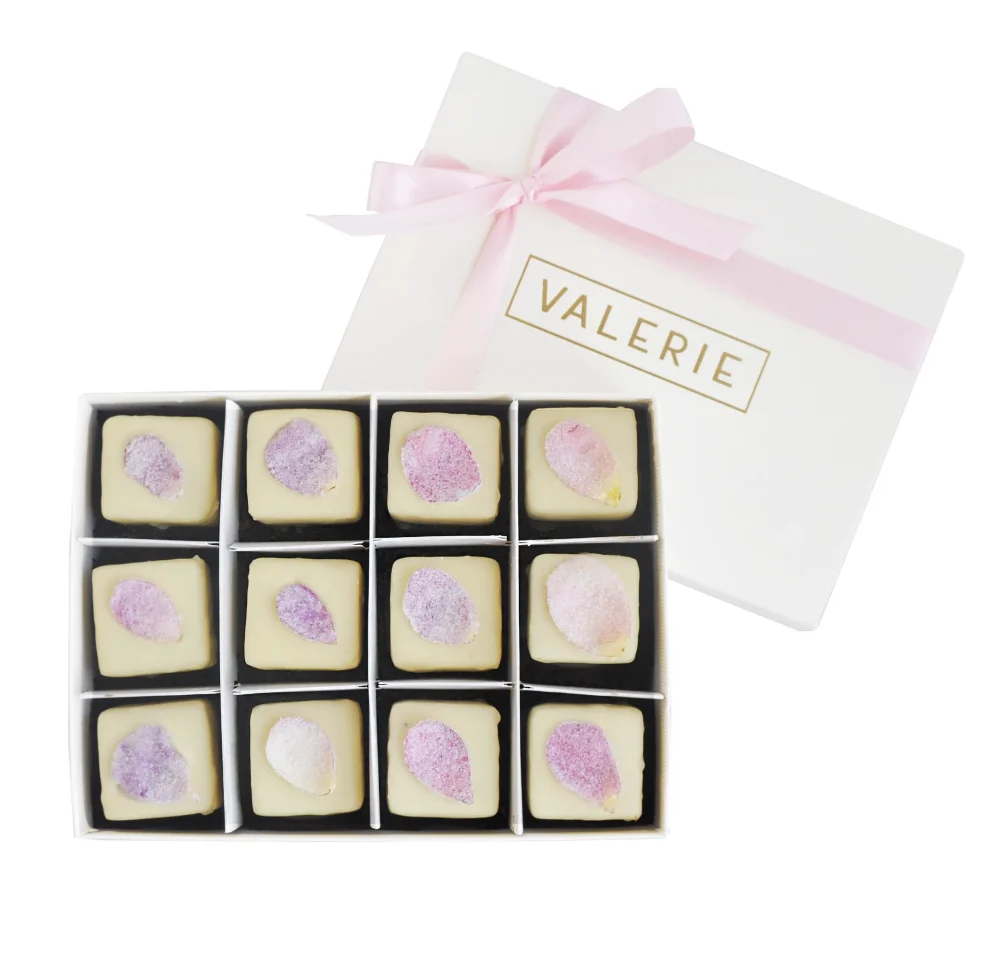 2
Rose Petal Petits Fours
Valerie Confection's
$55.00
These Petit Fours by LA based chocolatier Valerie Confections are insanely delicious.
I send them as thank you or holiday gifts all over the country.
Since Valentine's day is a lot more low key than it used to be, I'm ordering a box to celebrate with my husband, with a glass of bubbly, in pajamas, while watching some Netflix.
Checkerboard Microfiber Throw Blanket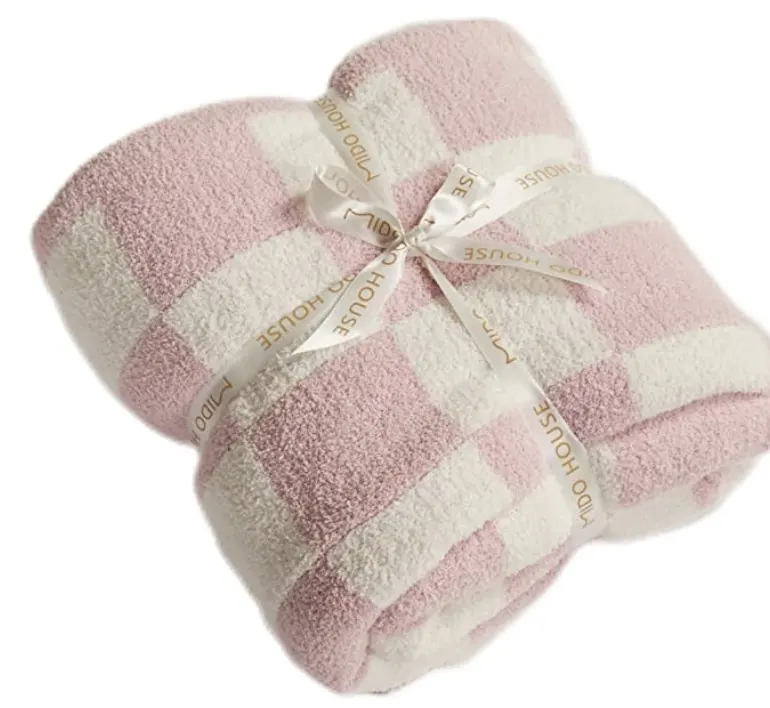 3
Checkerboard Microfiber Throw Blanket
Amazon
$55.00
I have purchased three of these blankets.
They are so soft and cozy, and half the price of a Barefoot Dreams blanket.
Wonderful for high school or college age girls (mine LOVE theirs), or anyone really.
Available in a variety of colors in two sizes.
Lululemon Belt Bag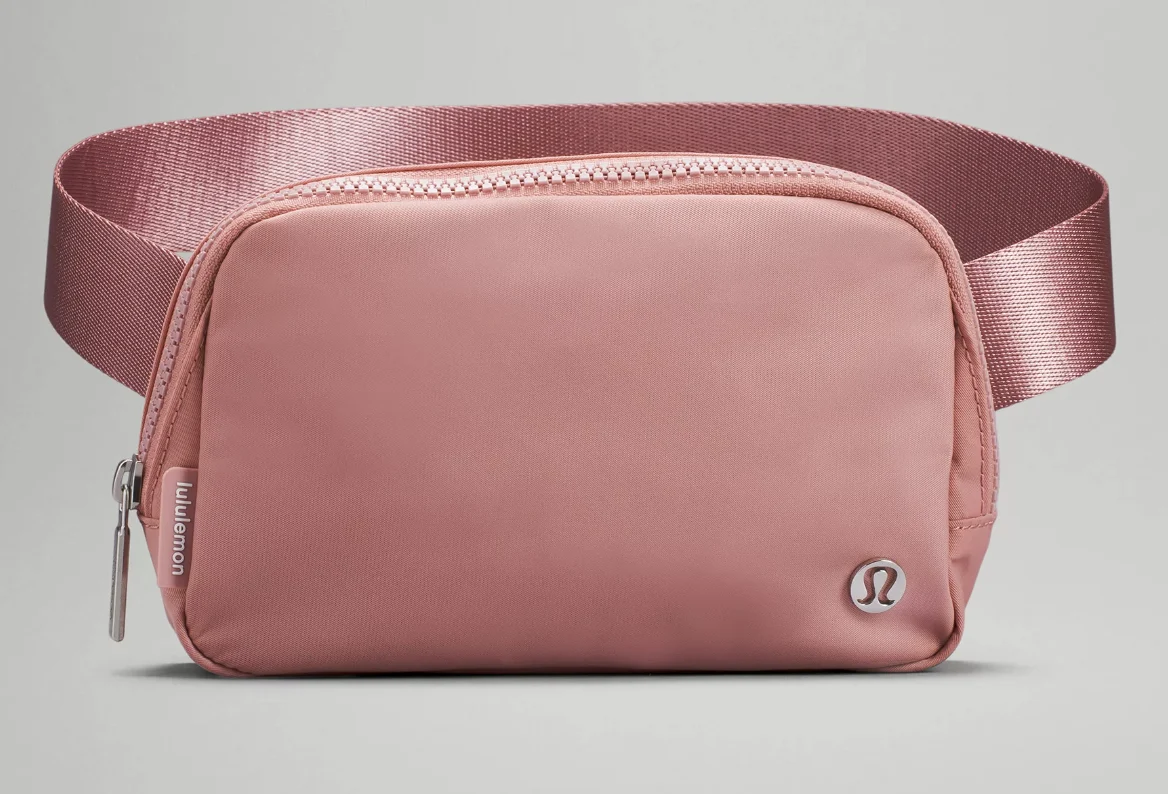 4
Everywhere Bag
Lululemon
$38
As a child of the 80s it's so crazy that belt bags are all the rage, but, gosh, if they aren't wonderfully practical.
And they go anywhere and everywhere.
Going to the grocery store? Belt bag.
Running out for drinks with friends? Belt bag.
Kids soccer game? Belt bag.
The Lululemon Everywhere Bag sells out constantly, but is back in stock, for who knows how long.
Available in several colors including black, silver, olive and pink (above).
Le Creuset Heart Mug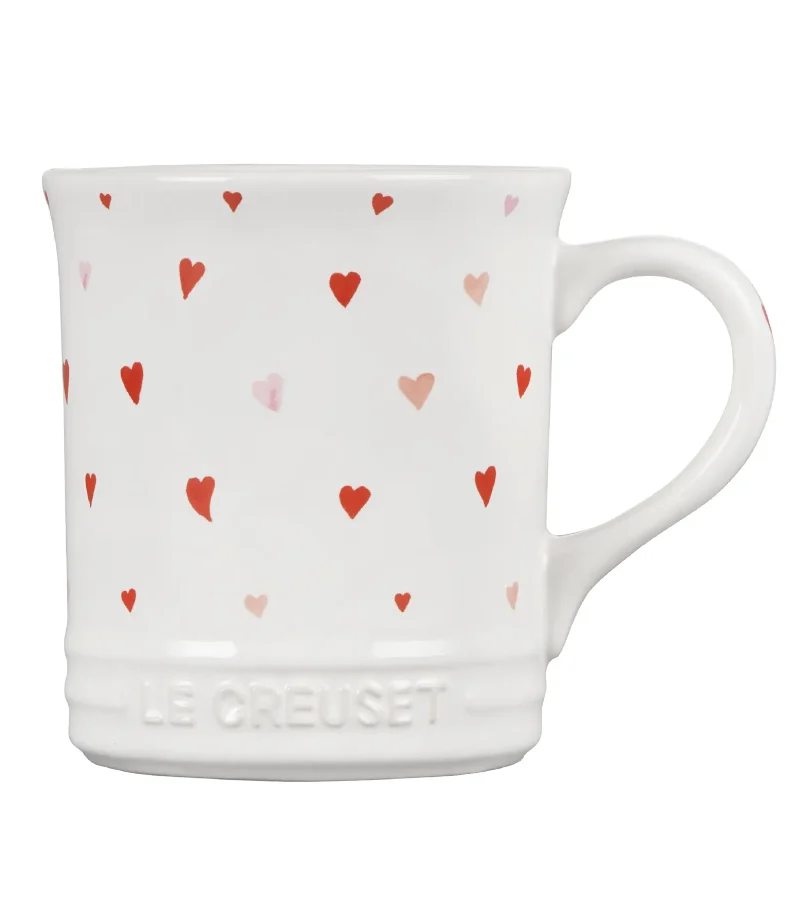 5
Heart Mug
Le Creuset
$30
One of my go-tips for gift giving is find an inexpensive item in a premier brand and build a gift around it.
I ordered two of these mugs for Vivi's teachers (she's in preschool) to fill with candy and a gift card as a little treat for Valentine's Day.
Capri Blue Scented Candle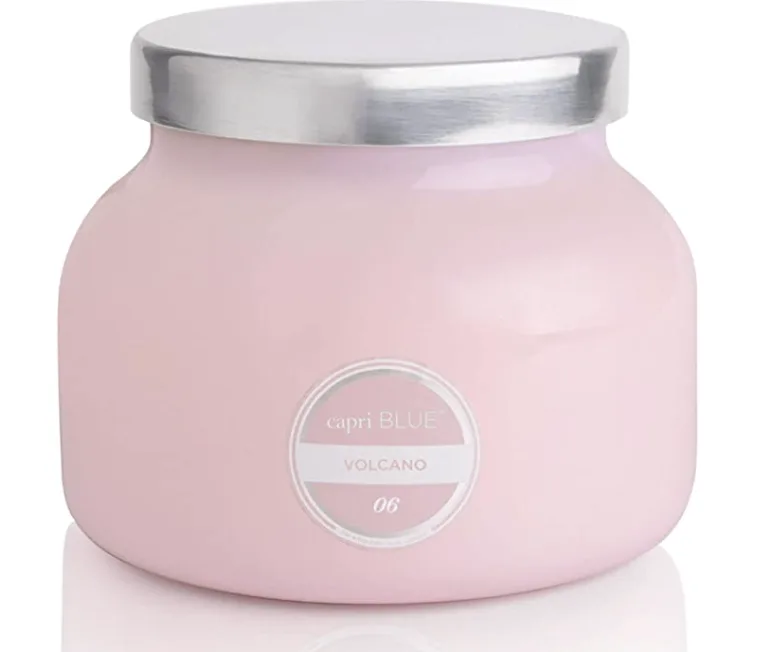 6
Capri Blue Scented Candle
Amazon
$35
Hands down, the Capri Blue Volcano Scented Candle is my all time favorite, year-round scent.
And it makes a fantastic gift.
If you want to gift it in February, you can get it in pink – it's the same scent, just a different color vessel, or keep it in the classic blue.
Nodpod Gentle Pressure Sleep Mask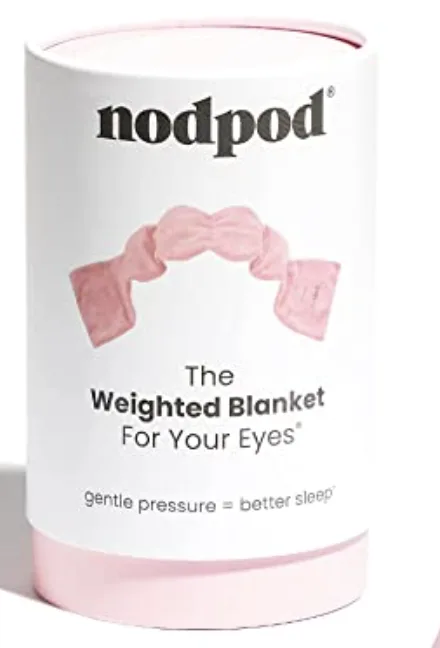 7
Gentle Pressure Sleep Mask
Nodpod
$34.00
It's well documented that I love sleep masks, and my weighted blanket.
I recently shared this sleep mask that introduced me to the idea of a weighted sleep mask!
But it's not the prettiest so if you wanted to gift one, this option from Nodpod is called The Weighted Blanket for Your Eyes.
It comes in a ton of pretty colors and chic packaging, and gets rave reviews from side and back sleepers.
Glitter Mini Bag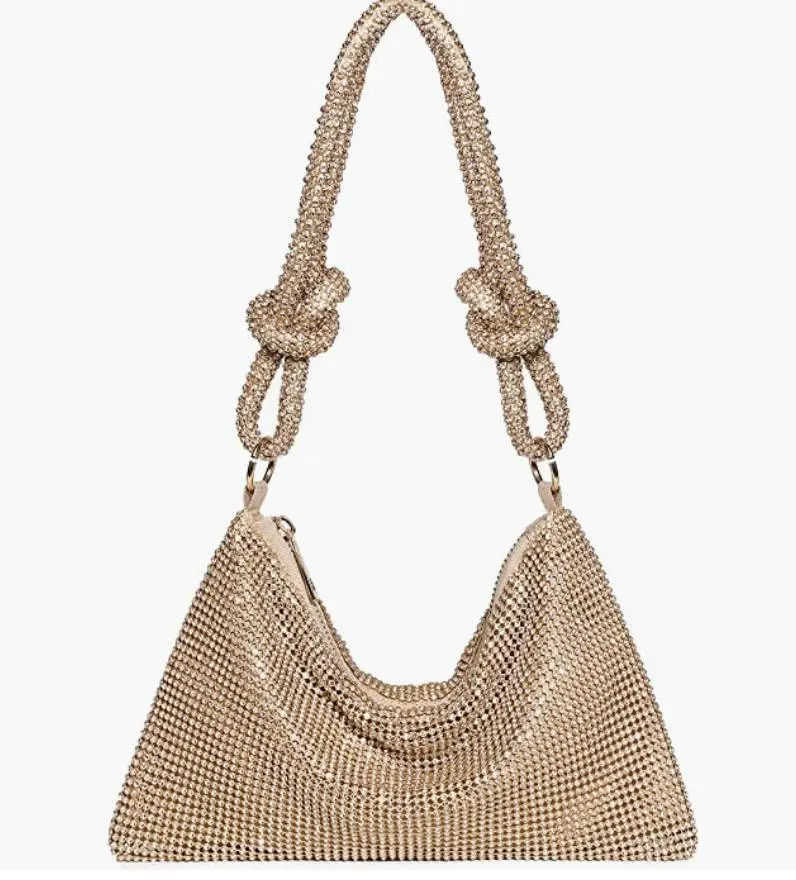 8
Glitter Sparkly Mini Bag
Amazon
$35.00
I had to include this glittery, sparkly bag because I don't have anywhere to carry it, but maybe you do?
We're seeing bags like this for SO MUCH MORE, like this one for $500 – you read that right, which is just dumb.
So if you have a wedding, or dress up party, or you're getting festive for a Valentine's date, this might be just the thing, for under $40. In gold or sliver.
Cloudspun Fleece Sweatshirt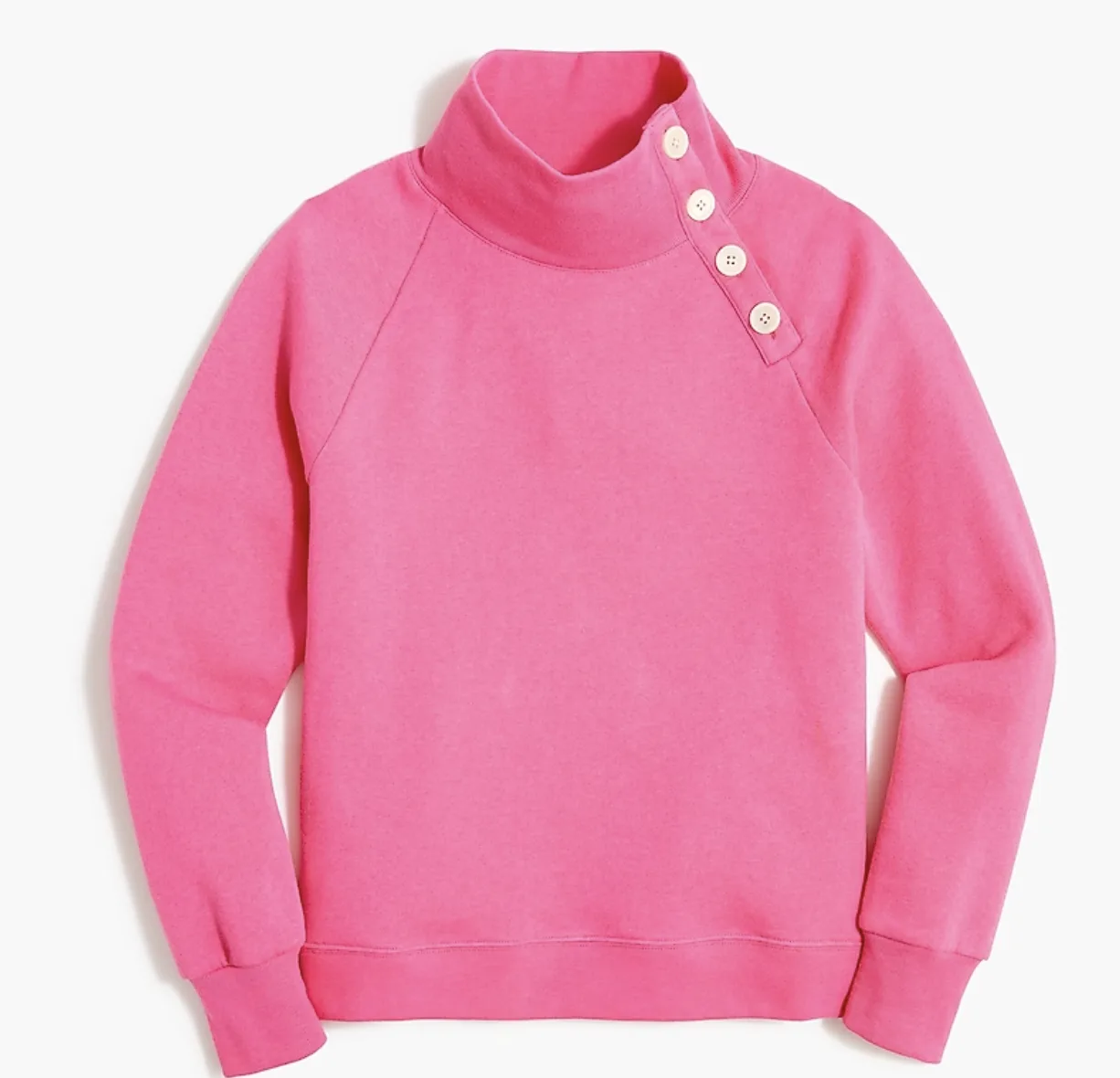 9
Cloudspun Fleece Sweatshirt
J.Crew Factory
$46.00
A best seller last year, J.Crew Factory has brought back their Cloudspun Fleece Sweatshirt in six colors in sizes XXS – 3X.
Himalayan Salt Scalp Scrub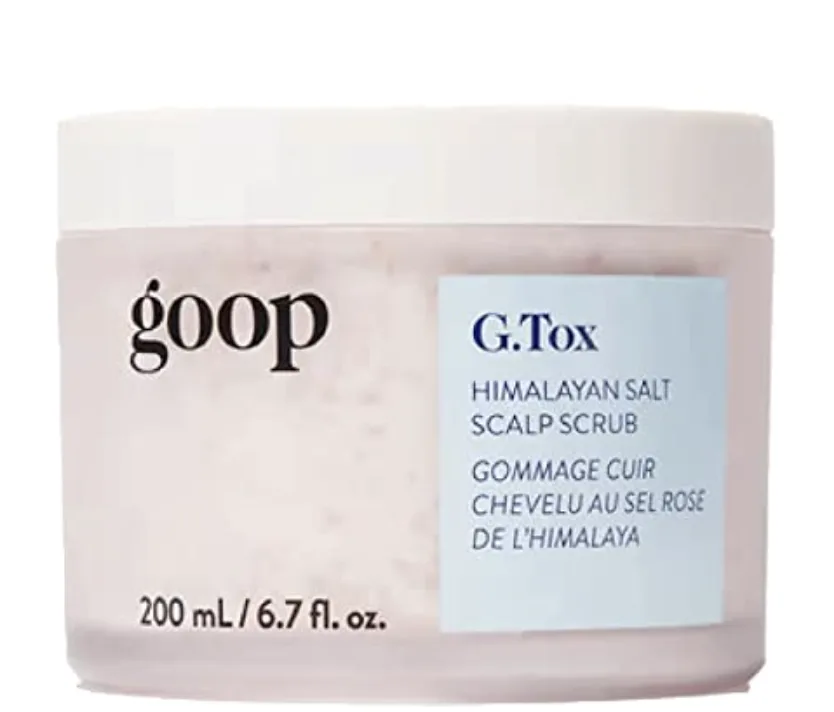 10
Salt Scalp Scrub
goop
$50.00
This salt scalp scrub by goop is DIVINE.
I don't even know what jar I'm on, but I'm scrapping the bottom while reordering.
I've been doing a lot of hot yoga for the last few months, and it feel incredibly after an extra sweaty workout.
It's very effervescent – and gives your scalp a deep, powerful clean.
I use it at least once, sometimes twice a week and feel like I walked out of a spa when I step out of the shower.
Tip: Use it with this scalp massager, feature above or give both as a gift. Trust me.
PAVOI 14K Gold Colored Lightweight Chunky Open Hoops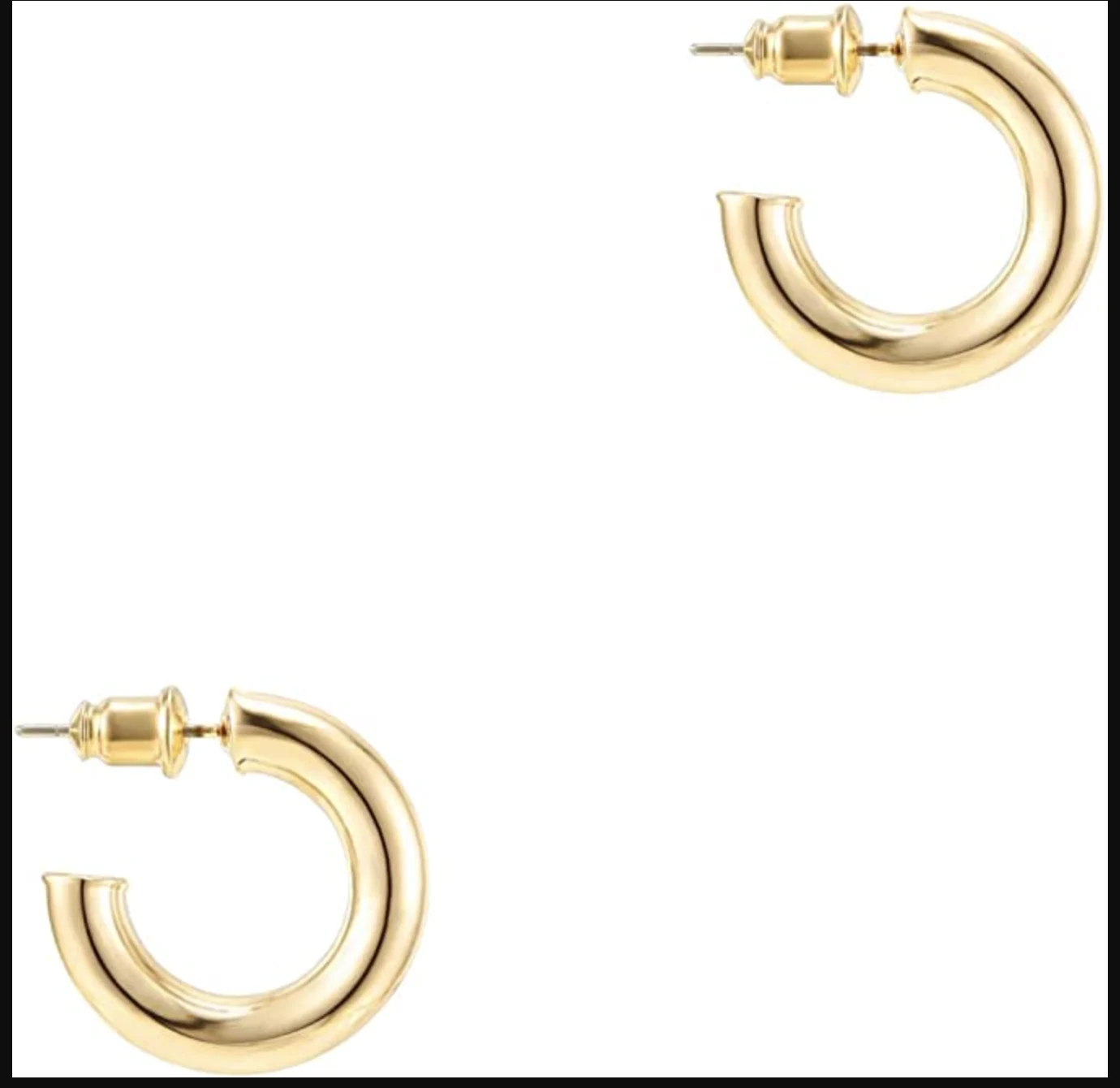 11
PAVOI 14K Gold Colored Lightweight Chunky Open Hoops
Amazon
$14
These are my everyday, under $15 hoops.
I have recommended them a 1000 times at this point.
Available in different sizes, I wear the 20 mm.
They are lightweight, great for sensitive ears, and available in gold and silver.
Pearl Dangle Earrings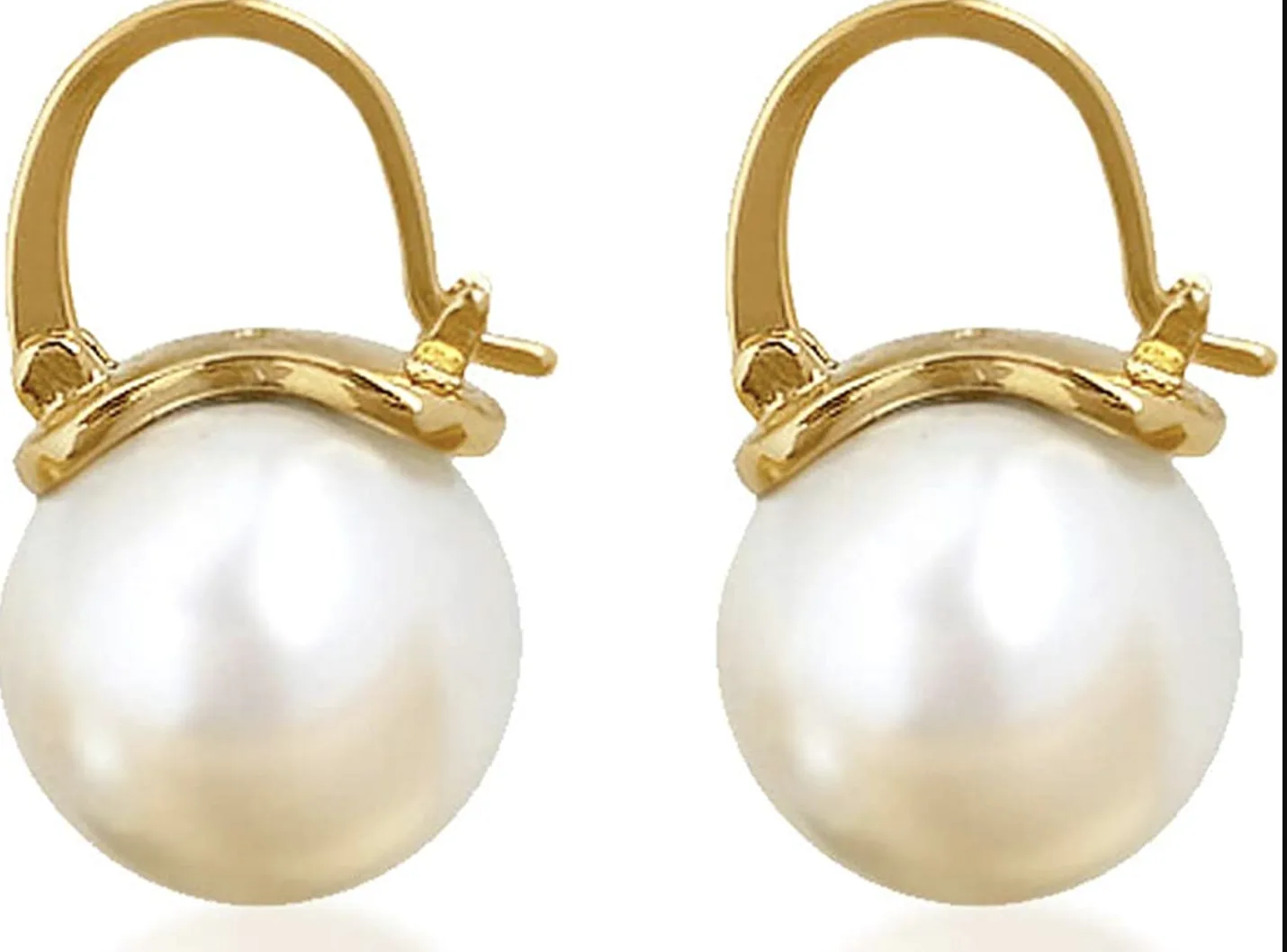 12
925 Sterling Silver Simulated Shell Pearl Dangle Earrings
Amazon
$15.00
Finally, these are new to me, and quickly climbed to the top of our best seller list.
They area lovely, significant size (12mm) and available in various combinations of gold and silver for only $15.