Growing up, my dad was my first Valentine. Every year he brought me home a card, a box of candies, and a stuffed animal. He worked shift work (he was a police officer) and would often be at work when I came home from school, so he would leave it on my bed, or our dinning room table.
I looked forward to it every year. But, of course, it wasn't until I was older that I realized just how special it was.
These days, Bri does that same for our girls. It's such a sweet way to use a rather insignificant holiday and show our daughters how much they are cherished and respected, just like my dad did for me.
Personally, I like to use it as a chance to send something small to my friends. Life is extra busy right now, and I don't get to see them as much as I use to. So I pick a little treat and mail it out.
This year, try flipping the script on a day that focuses so much on romantic love, and instead celebrating all the different kinds of love that fill our lives.
Today, I rounded up some of my favorite self purchases, and those that I love giving out. There are plenty of options here whether you send a token of love to your best friend or mom, need the perfect birthday gift, our just want to splurge a little on yourself.
These are all sure to delight with my personal stamp of approval.
Great Valentine Day Gifts 2020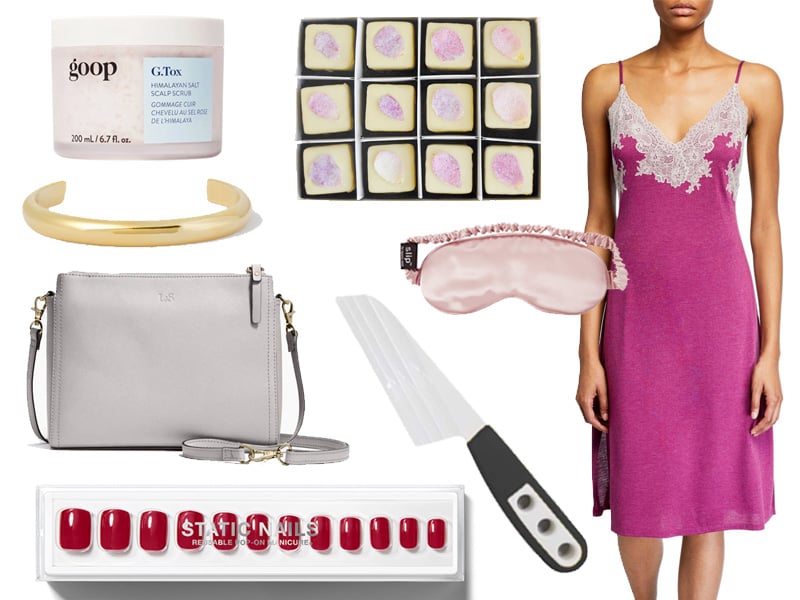 Himalayan Salt Scalp Scrub, $42 | Eye Mask, $50 | Reusable Nails, $14 | Rose Petal Petit Fours, $55 | Nightgown, $130 | Cheese Knife, $14 | Cuff Bracelet, $85 | Crossbody Bag, $248
This salt scalp scrub by goop is my divine – DIVINE. I buy it for myself and am on my third jar. It's expensive, but you don't use it every day, and with three kids, and a full life all I have are the little things right now.
It's very effervescent – and gives your scalp a deep, powerful clean. I use it at least once, sometimes twice a week and feel like I walked out of a spa when I step out of the shower.
I'm a big fan of Slip Sleep products. I use the their silk pillow case and this eye mask every night. They are decadent, yes, and make fabulous gifts. Most recently I gifted them to two of my girlfriends on a recent weekend away in Austin. They were big hits, perfect for that $50 gift price point when you really want to treat someone.
I re-discovered press on nails in 2019. While the Target/Drugstore versions are fine, they feel a little heavy on my fingers. These, by Static Nails, are not only lighter, but reusable, so a win win all round. You can still apply these in under 10 minutes, and they cost just a few dollars more than drugstore brands.
These Petit Fours by LA based chocolatier Valerie Confections are insanely delicious. I send them as thank you or holiday gifts all over the country. Since Valentine's day is a lot more low key than it used to be, I'm ordering a box to celebrate with a glass of bubbly, in pajamas, while watching some Netflix.
Back when I was cute and didn't have so many kids, I made a decision to splurge on one gorgeous piece of lingerie a year. Over the past few years, being pregnant, and then postpartum, I didn't. So I'm using this year to get back in the habit. After almost two decades of marriage, I have a lovely collection. Natori makes incredible, high quality pieces that last as long as they fit – so while the upfront cost seems steep, it's really all about quality over quantity.
After sharing a cheese board for dinner at a girlfriends house, I discovered this phenomenal cheese knife. It cuts through anything so you can chop and serve quickly. A few days after that dinner, my friend sent me this to me, and I squealed with delight. (I'm officially in the phase of life called "squealing over cheese knives.")
Net-a-Porter is a go-to for me for gifts because their product assortment is beautiful and their packaging is even better. That makes a big difference when you are looking for a high impact gift in a price range. This simple gold plated cuff bracelet by Jennifer Fisher is ideal for layering or to wear on its own. It's a jewelry wardrobe must have if someone in your life likes sleek, classic pieces. Be sure to sort their site by price, you'll find lovely items well under $50 too.
I left my Lo & Sons Pearl crossbody bag in a hotel somewhere – I can't even remember where. So I finally picked up a new one, this time in tan. It will go with everything, from early morning softball games to our next big trip – Santorini in the summer!
If you need a "going out" option, or want to give a truly versatile and generous gift, check out their entire selection of bags.