One of our most frequently asked questions this time of year is how to wear tights. A quick search on Pinterest will show you with a million different ideas, from how to wear purple tights with a leather skirt to fishnets with denim shorts.
I'm thinking, when our readers ask how to wear tights, that's not exactly what they are after.
So today, I thought we would break down the basics and create a simple and straightforward guide showing you how to wear tights.
How to Wear Tights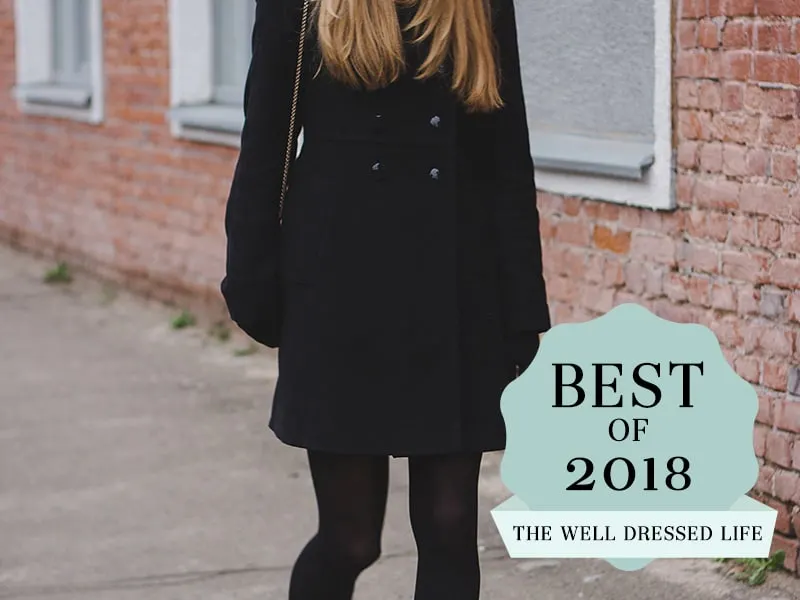 Let's talk about the difference between an opaque tight, a sheer, and pantyhose. It all comes down to their weight, or "denier" which is just the term used to measure thickness.
An opague tight is 30 denier and above. At 30 denier, you cannot see the leg through the tights. From 30, you can go all the way to 70 – 99, which is like wearing a sweater on your legs. In general, 30 denier is the most popular and comfortable.
Anything lower than 30 denier, typically starting at 20, is considered a sheer. At that weight you can see the leg through the sheer. The lighter the denier, the sheerer the tight, at the lowest denier, around 10, you get pantyhose.
Next up, when to wear what.
Pantyhose
Every time I give a talk, or presentation, the number one question I get is, "can I still wear pantyhose?"
To which I always say, of course! If they are good enough for Kate Middleton, they are good enough for me. It's just a matter of which kind you choose.
You want them to look as natural as possible. I avoid the drugstore brands, because really, is anyones skin actually "suntan"?
Hands down my go-to favorite is Donna Karen The Nude Collection. They come in every skin tone, from ghostly pale (me) to deep and dark. Your legs will look flawless but not artificial, and match the rest of your body. They aren't the cheapest option, but they are worth it.
I tend to wear them in the fall and winter, usually to more professional or formal events, with a light to medium weight dress.
Favorite Pantyhose: Donna Karen The Nude Collection
Sheers
For slightly more formal, to formal occasions a sheer can be appropriate. There is some debate around whether they are frumpy – I think they can look chic, especially if you wear them with either a timeless or more contemporary dress. They work well with cocktail dresses and a suede or leather pointed pump.
Be sure you buy a pair that evenly distributes the color saturation. You'll look sloppy if the color is blotchy across your legs. Again, I go for Donna Karen or Wolford.
Another question that comes up is about sheers with a pattern.
Personally, I'm not a fan. They rarely do anything to enhance your outfit, can end up looking too busy and fight with the other elements in your look.
I think they look cute on some people, but too kitschy for most. They are not appropriate for work unless you are in an über creative office. Of course, if you like them, wear them, but if you're going for elegant, opt for a traditional sheer.
Favorite Black Sheers: Wolford Individual 10 Pantyhose
Tights or Opaques
Best practice for tights or opaques is to pair them with skirts and dresses of equal(ish) weight. Sweater dresses, double knits, or stretch ponté fabrics all work well.
Then, pay attention to your shoe, avoid a pump, or ankle strap shoe and instead go with an ankle, knee-high or over-the-knee boot.
Favorite Opague Tight: HUE Opaque Control Top Tights