One of the most searched topics on this site is appropriate heel height for work. A statistic that delights me because, by the time I stopped working with personal styling clients last year, I felt like all anyone was interested in wearing was one step above an orthotic. Certainly, you don't have to wear a heel. Flats are completely appropriate (we'll follow up with a post on that soon). But you do want to consider your outfit choices if you are limited in your footwear options.
A heel can elevate your look by balancing your proportions while the wrong one can, quite literally, visually pull your look down. Take, for example, a long pair of wide-leg trousers, one of my most favorite looks. You cannot wear these with flats, or kitten heel. You need a heel to maintain the line of the trouser. Same with a midi length skirt, to balance your proportion (aka not look frumpy) you need some kind of height to your heel.
At work, there is a fine line between looking fashionable and wearing what's appropriate for the office. Your industry and office culture plays a big part in how high is too high. Of course, if you work in a conservative, business professional environment err on the side of a lower heel. If you work in a fashion-forward and creative industry (lucky!) you can get away with so much more. Best practice, with rare exception, keep your heel hight at or under 3.5″.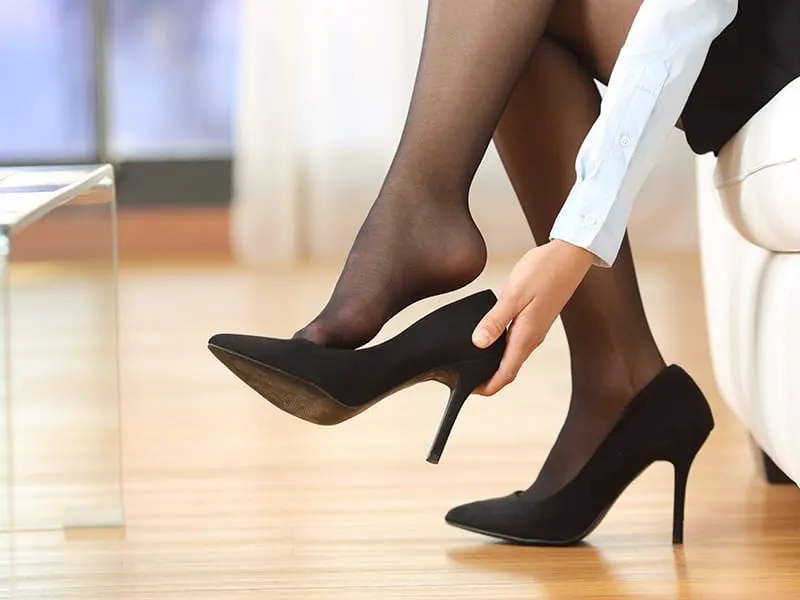 You should also ask yourself, what can you manage in all day? When a woman struggles to balance in heels, she loses her sophistication and power. I've seen countless women in offices across the country stumbling down hallways like newborn fawns. No one is going to take you seriously if you are tipping over, and more important, you won't feel confident.
We created a scale to help you get a visual around how high might be too high.
The Most Appropriate Heel Height for Work
Personally, I usually wear a 2.5″ heel, sometimes a 3″. After that I'm walking like it's my first day with legs. To make sure your look is professional, remember these important tips:
Alter your pants and skirts to the specific shoe you plan on wearing. This makes all the difference in the world. If you have something tailored for a 2.5″ heel, and then wear a 3.5″ heel, you'll look like your clothes don't fit.
Play with proportions when you put your looks together. Pair long, drapey pants and mid-length skirts with a slightly higher heel. Ankle pants and above the knee skirts tend to look better with a lower heel.
To get you started, we rounded up some well priced options from a kitten heel, to a 3.5″ pump below. A couple are on sale so be sure to check them out, most sizes are still available.
Kitten heel: Louise et Cie, $49 (on sale, scoop these up today)
2.5″ pump: Nine West, $59.99
3″ pump: Sam Edleman, "Tristan", $120
3.5″ pump: Sam Edleman "Hazel", $120 (lots of color options available)
Read also: The Best Skirt Lengths for Work
Have questions you'd like us to answer? Be sure to add them to the comments below and we'll feature it in an upcoming post.