If there is one item sure to be hanging in all of our closets, it's a pair of black dress pants. They are our go-to, the most basics of the basics. And while the practicality of being able to turn to them over and again is part of their appeal, they are the first piece to feel redundant.
One of the most common complaints I heard from clients, looking for a style update was, "All I wear are my black dress pants." This typically meant they were wearing their black pants the same boring way and not styling them.
Over the years I've featured dozens of black pant outfits, with recommendations on the kind of cut and style that will work best for all different body types.
So today, I thought I would share a guide to creating cohesive outfits around a simple pair of black pants by featuring the top black pants (chosen by our readers) and rounding up some of the best looks we've created over the years using them.
Reader Favorite Black Dress Pants
Talbot's Bi-Stretch Barely Boot Pants – $109. All sizes, including petite and plus. Runs full.
Spanx "Perfect" Black Pants – $128. All sizes including petite and plus.
Banana Republic Mid-Rise Straight Pant – On Sale: $44. All sizes including petite and plus with choice of inseam
Vince Camuto Wide Leg Trouser – $79. Sizes 00 – 16
Theory – $295 Limited sizing 0 – 12, runs small.
10 Ways to Wear Black Dress Pants to Work
Black Pants with a Statement Jacket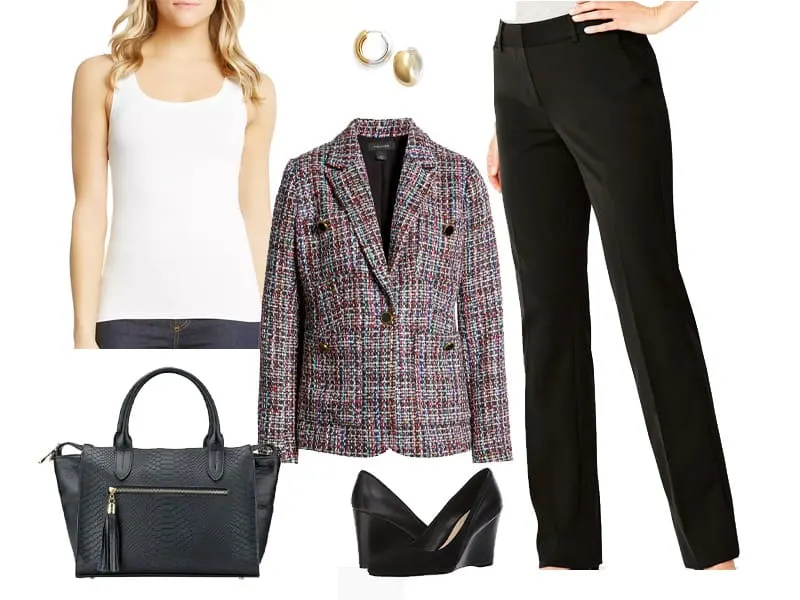 Tank, $40 | Tweed Blazer, $70 | Tweed Blazer, $70 | Bag, $450 | Pants, $109 | Wedges, $30 | Earrings, $68
Let's start with today's featured look, ideal for a professional office. Here, I'm using black pants like a pedestal to show off a statement jacket. Working with toppers (blazers, jackets, and structured sweaters) with interest like texture and subtle pattern is the easiest way to elevate a basic pair of black pants.
Pro tip: To create a cohesive look, pay attention to the buttons on a topper. If the button is black, pair with black bottoms. Many inexpensive jackets have cream or white buttons; in this case, it's helpful to have your tailor/dry cleaner replace them with either a gold or silver-tone OR one wrapped in the same fabric as the jacket.
I'm using the Talbot pants above because (1) they are a reader favorite, and (2) they have a flattering cut in what they are calling a "barely boot." This means that the leg of the pant only slightly flares at the bottom, giving a lovely line to the leg with a hem meant to break on the top of your shoe.
These are a very traditional trouser, so if you don't like "skinnies" and need an ankle pant alternative, they are worth considering. It's generally a good rule of thumb to size down in Talbots.
When wearing a bootcut pant: your top needs to be fitted to your body (it doesn't have to be skin tight) and if you're wearing a jacket, the bottom of it should stop at your hip bone. Chances are if you wore a blazer any longer than hip bone the look will feel overwhelming on you.
I really like this layering tank by Karen Kane (also available in black). You want to wear a scooped or straight neckline with a v-neck jacket. This creates space between your chin and chest creating a long, elegant neck, and helps extent the line of the body.
For shoes, you can wear a pair of pumps, but you might also consider a wedge. These by Nine West are only $45. A wedge with a bootcut are a nice pairing because the weight and shape of the wedge balances the width of the leg.
I'll be featuring these earrings by Argento Vivo throughout the season. They are reversible hoops so you can quickly switch from gold to silver, depending on your outfit. And they are under $70.
Finally, you can't go wrong with a high quality, classically shaped black bag with a little tonal texture. This black bag by Gigi New York is an investment. I so appreciate it not being covered in logos, BUT you can have it monogrammed which makes my preppy heart sing.
Another look I created a few years back (in case you still have these pieces) shows the timelessness of this combination.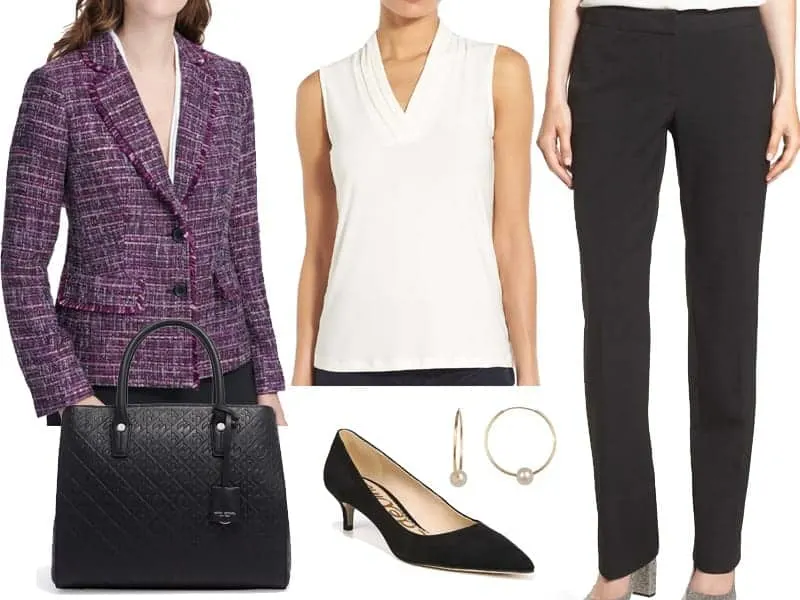 Outfit from Wear to Work: Perfect Tweed Blazer
Column of Color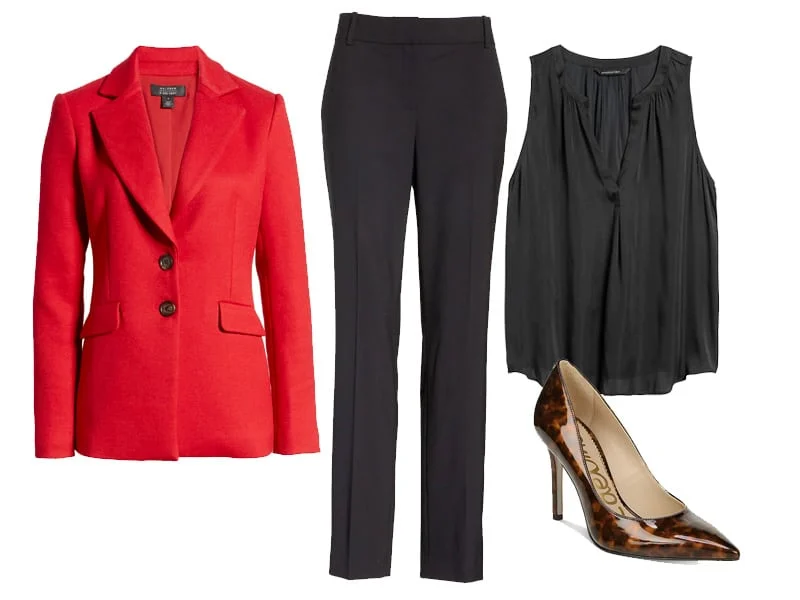 Image from Red Blazer Outfit for Work
Creating a column of color is an old trick that helps you build a uniform-like look. Pick any black layering top, like a shell or sleeveless black blouse, pair with your favorite black pants, and add any topper in a complimentary color.
Here, I used the classic combination of black and red. You can see how the black buttons in the red blazer pull the look together. For fun and interest, I used these popular tortoise print heels instead of the standard black pump.
Suiting Separates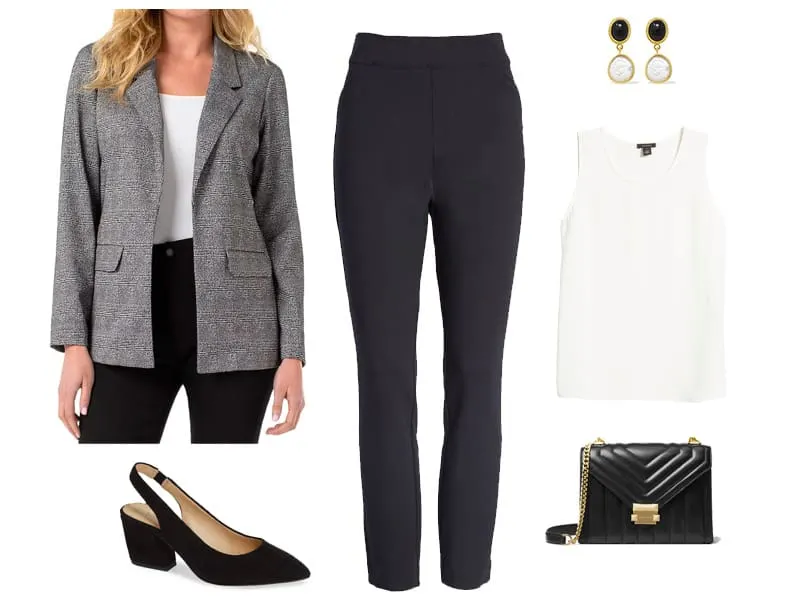 Image from How to Wear Spanx Perfect Pants to Work
Pro tip: Never break up a suit and wear it as a separate. Proper suits (bought together, cut from the same fabric, etc.) are designed to be worn together. Once you break it apart, you'll notice that it doesn't feel right. You're likely pairing it with the wrong fabric, or the shape of the jacket is not matching the shape of the bottoms.
Instead, have better separates in your closet so you can create suit-like looks with more mix and match versatility.
Here, a casual yet structured blazer is over a pair of skinny leg black pants. The jacket has a bit of texture, the shoes are a brushed suede, and the bag has quilting details. These small elements come together to give what is a relatively simple look, a level of complexity.
Moto Jacket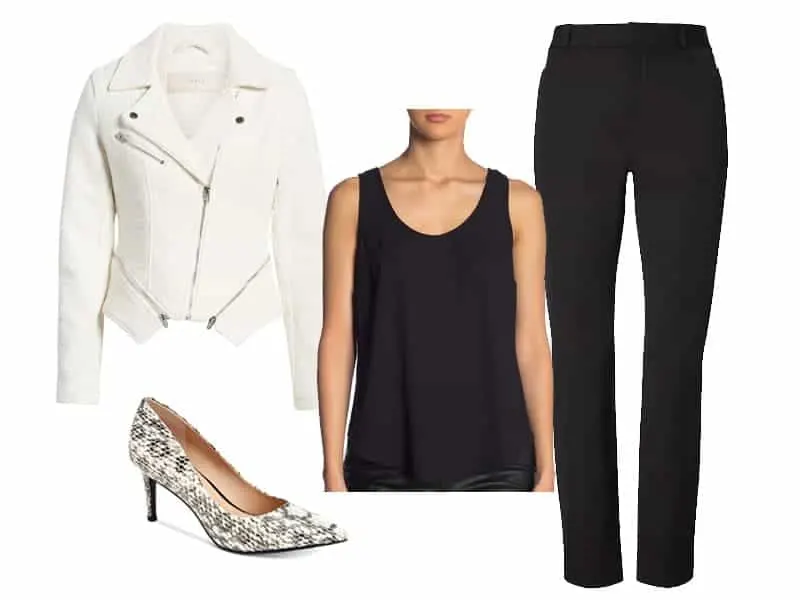 Outfit from How to Wear a Moto Jacket to Work
Because moto jackets look best when worn open, throw one over your black column of color for an updated, edgy yet still professional look. The moto jacket we featured yesterday from Ann Taylor would work perfectly here.
Simple Sweater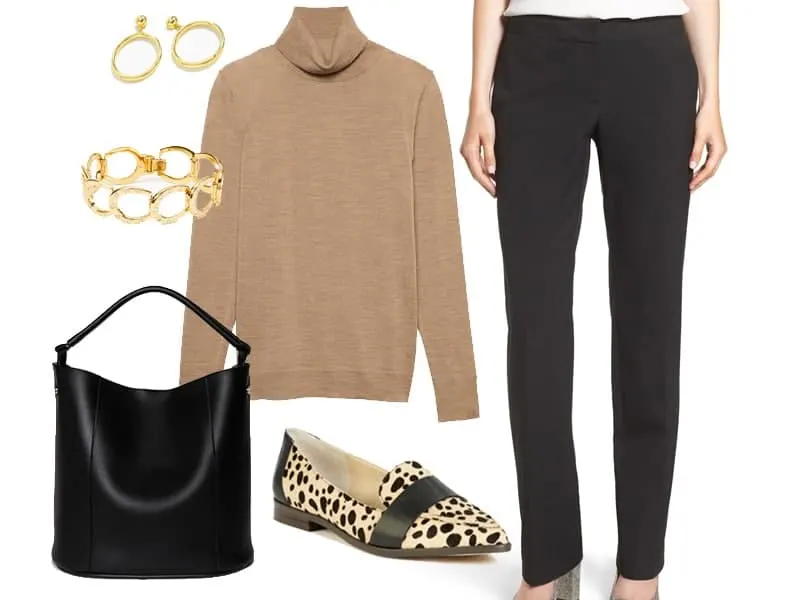 There is nothing as basic as black pants with a sweater. But how do you take it from boring to a styled look?
Here, it's about fit and a sophisticated color pairing, as I did here with black and camel, and below in black and red, and then add lux (not necessarily expensive) accessories.In any look, impeccable fit is the absolute most crucial element. It doesn't matter if your pants are $50 or $500; fit is what creates that well-dressed look.
The same goes for quality. Buy the best you can afford and take care of your clothes. When you wear simple pieces, the fit and quality take center stage and make or break your look.
Here, we elevate the look ever so slightly with a pattern loafer in a slim profile, and bold gold tone jewelry.
Or, you can keep it simple like this red and black look below and focus once again on fit and grooming. By adding a bold lip, oversized sunglasses and a dramatic coat, you can take this outfit from nothing special to rather glamorous.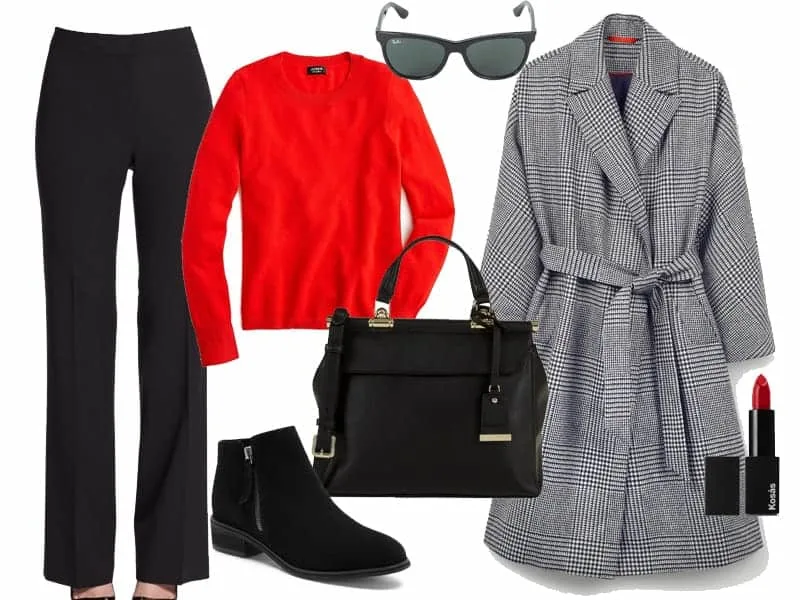 Outfit from Waterproof Boots for the Office
Lots of Layers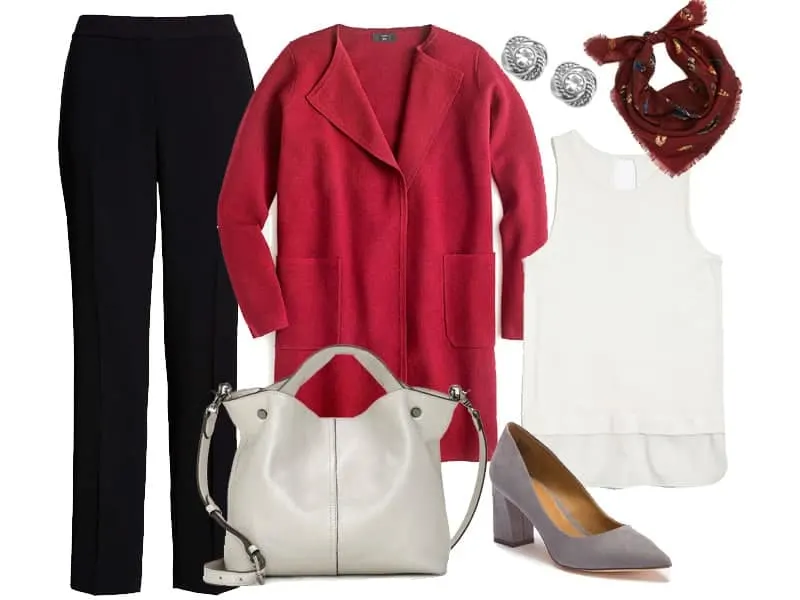 Outfit from Wear to Work: Burgundy Sweater Blazer
Keep black pants from looking lifeless by adding seasonal layers, like this collarless sweater blazer from J. Crew (still available in an array of colors). It's a nice alternative to the more formal looking blazers, mix in a scarf and interesting layering piece for more depth.
Texture and Details
Don't be afraid to add texture and pattern to black pants. This instantly elevates the style factor, especially in the fall.
Below are a few examples of looks created over the years that lean away from the traditional black/white, red, camel combination and mixes things up.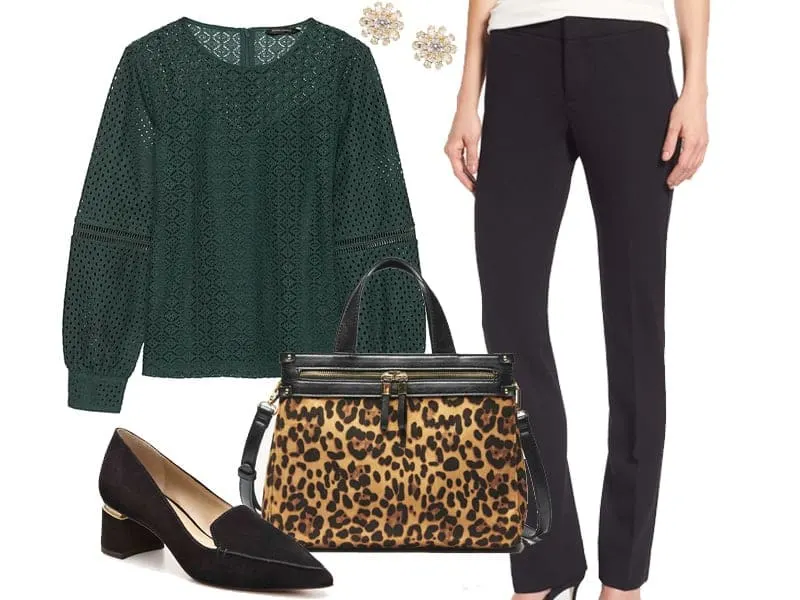 Outfit from Wear to Work: Lace and Leopard
Wearing a blouse and pair of pants to the office is just about as standard as it gets. After a while, though, you can start to feel uninspired. That's why having a closet full of interesting basics is the key to creating a composed work appropriate outfit, that is still easy to throw on.
Everything about today's look is simple, but with the exception of the pants, each piece has something extra. It's these extra details that add the interest needed to create a cohesive outfit.
Luxe Fabrics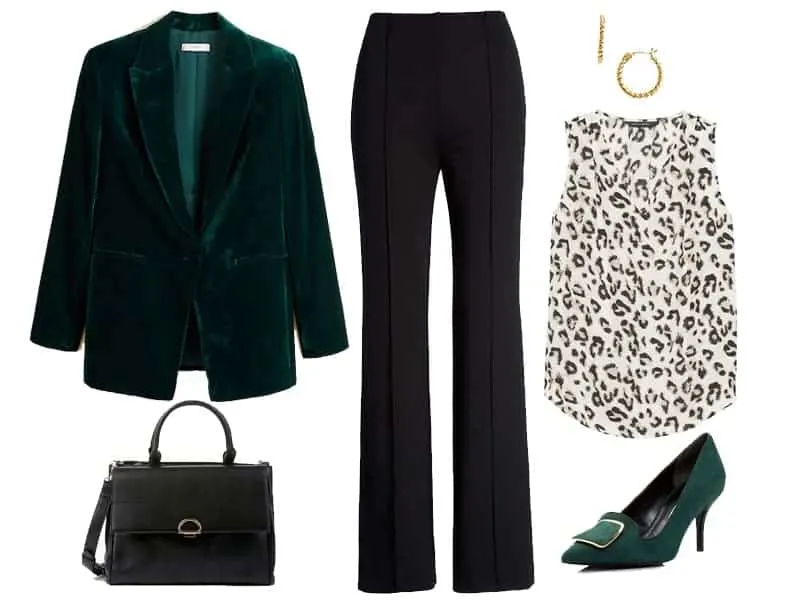 Outfit from How to Wear a Velvet Blazer to Work
I found this velvet blazer and was inspired to create a look I would wear to a formal work event. It's just elevated enough. The cut and style keep it professional, while the velvet adds a bit of drama without being over the top.
By pairing it with workplace staples, you won't look like you are wearing a special occasion piece. The whole look is thoughtful, chic and effortless. Best of all, most of the pieces can be worn several different ways so you get the most out of your purchases.
---
Our Content is Inspired by Our Readers
Our readership inspires all of our posts and is not sponsored or paid for by brands or retailers.
Recommendations are based on my experience as a personal stylist View Post and wardrobe consultant for over a decade. I worked with busy, down-to-earth women who wanted to look chic and feel confident but were often confused by so much of retail.
Some links are affiliate links, which means if you purchase via our site, we receive a small commission.
If you enjoy our content and would like to help us grow, please consider following on Instagram and join our Private Facebook Group to access more advice and exclusive in-depth conversations with other like-minded women.