Today is for you if you are an apple shape or carry extra weight in your middle and struggle with pants.
Real quick, before we dive in, just a note.
I am uncomfortable discussing our bodies in terms of having to disguise or cover certain parts. In a perfect world, we don't give a sh*t about our bellies.
For many/most of us, though, we do care.
We don't like them, wish we didn't have them, and struggle to dress them.
I'm right there with you, trying to be grateful for my body and embracing what it is while deconstructing the last 40 years of toxic media messaging about what I'm "supposed" to look like, but also trying to get in good shape and not feeling guilty about all of it.
It's all so complicated.
But here's the deal: when you put something on your body that fits well, intrinsically, you start to feel better, which can change your entire outlook.

I consider a good fit a confidence booster, and we can all use more of that.
And there is a secret style of pants that works on many body types but is especially helpful if you are apple-shaped OR have a full midsection, and that is the flat front, elastic back pant.
This is a particular cut.
Don't confuse these with a flat front pull-on pant – also an excellent option for many body types, but the actual elastic waist back is what gives such a good fit.
Elastic Back Pants for Apple Shaped Bodies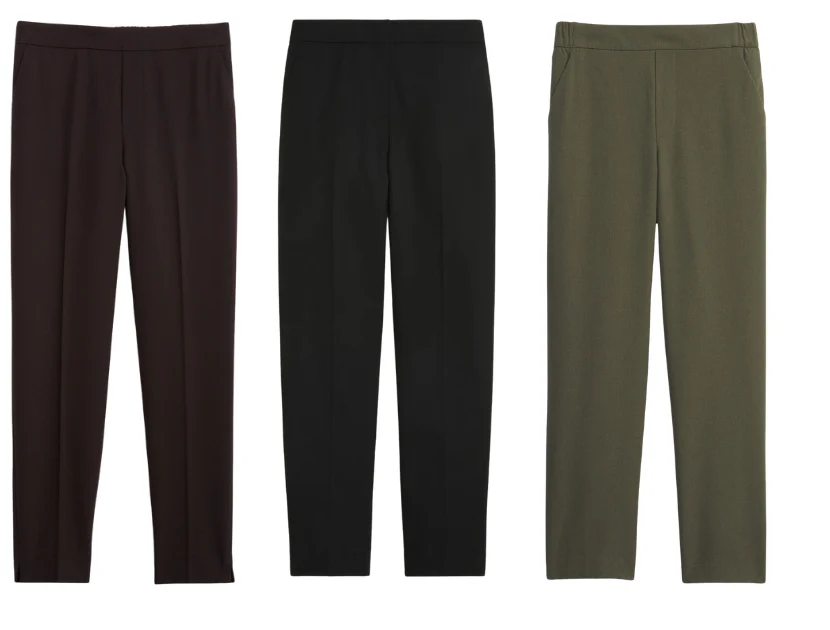 You want to look for pants that are either pull on or have a side zipper so you get a flat front, with a small elastic bunch waist at the back.
This detail is crucial because it (1) helps minimize bulk around the waist and belly, and (2) expands just enough to fit without being too full.
I can't explain why all today's options are from various factory stores. Note that factory stores are not outlets; the merchandise is manufactured explicitly for the store. They tend to be updated items at lower prices than the flagship brand.
And, to be honest, the price points make my head explode because you are getting quality, style, fit, AND INCLUSIVE SIZING for what comes down to a few dollars.
It boggles my mind why better brands can't offer petite, tall, more plus sizes, but I digress.
So here are your options.
Hayden Taper Pant
These Banana Republic Factory pants were the cornerstone of our September Capsule. They are tremendous, and only $45.
Available in chocolate, black, navy and dark grey in sizes in regular, tall and petite in 0 – 20.
Note, these have a tappered leg so the are narrow on your calf.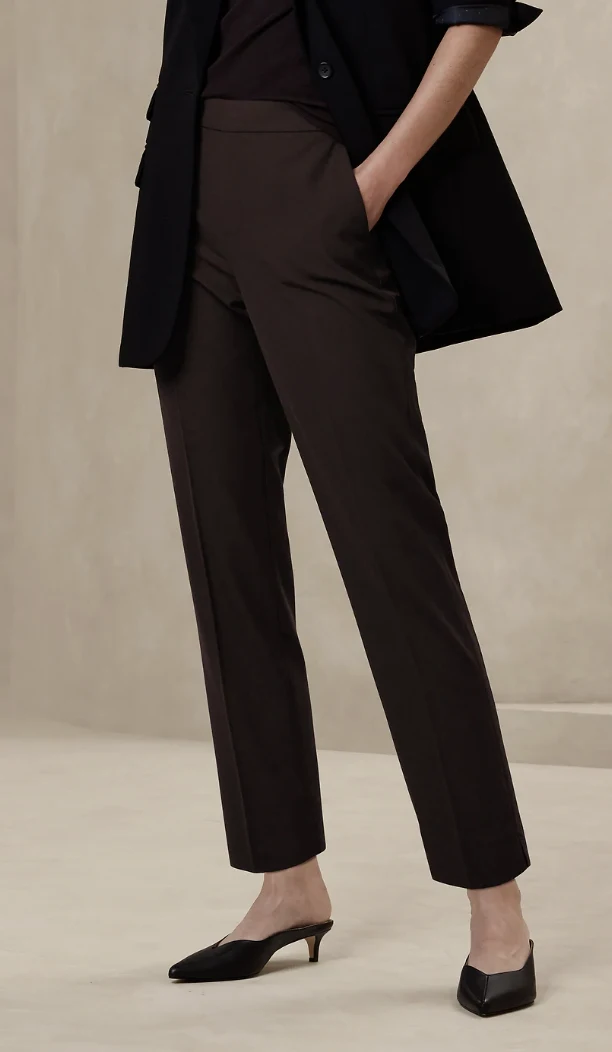 1
Hayden Taper Pant
Banana Republic Factory
$45.00
Elastic Back Straight Leg Pant
Next, we have the elastic back straight leg pant from J.Crew Factory.
These are long-time reader favorites and come in and out of inventory.
Currently they are available in black, in regular and petite in sizes 00 – 24 for just under $60.
They have a straight leg, rather than a tappered leg like the BRF option above.
You can see me in them here. I've worn the with every kind of shoe from a pump, to a loafer, to a sneaker.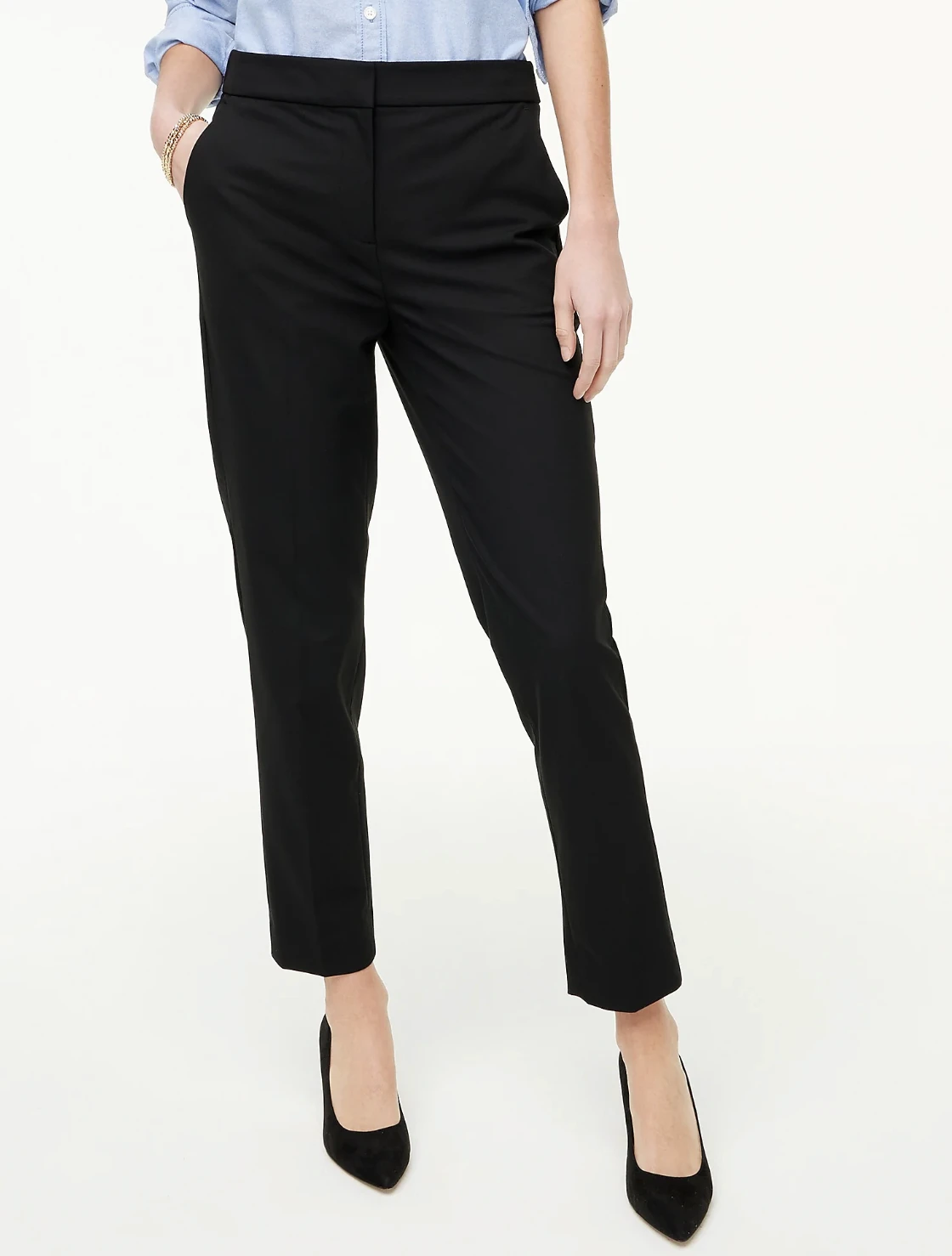 2
Elastic Waist Straight Leg Pant
J.Crew Factory
$58.50
Crepe Easy Pants
Finally, we have this more relaxed, casual pair from Gap Factory for only $25.
Available in black or olive, in XXS – XXL in regular, tall and petite.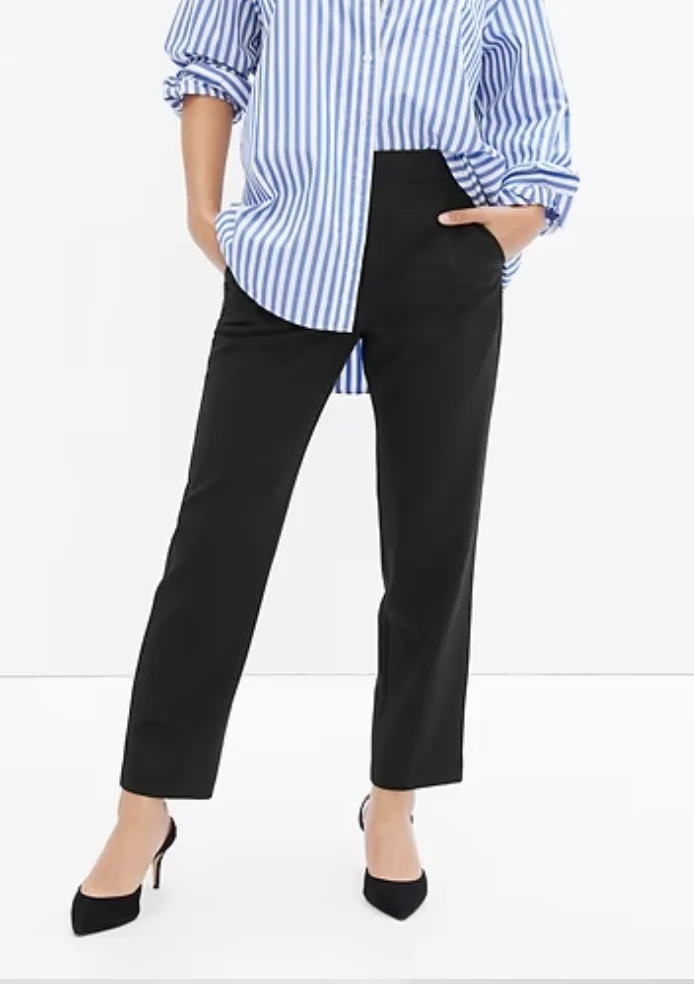 3
Easy Crepe Pants
Gap Factory
$28.00