The color trends for Spring of 2022 are a story of opposites; you'll either have a sea of neutrals or big BOLD poppy color.
So if you've been yearning for color and also happen to pick up these slim red pants from Ann Taylor off our Sunday Sale post, keep reading 🙂
As you have probably already noticed, I am a neutrals kind of girl. And when we talk about building out a classic, timeless wardrobe, neutrals are your best bet. They have the most longevity, and, as long as they fit well, even the most affordable item will elevate your outfit.
BUT, color is fun. And when you have a wardrobe based in neutrals, incorporating them is easy. The key is to do so while maintaining the principles of classic style.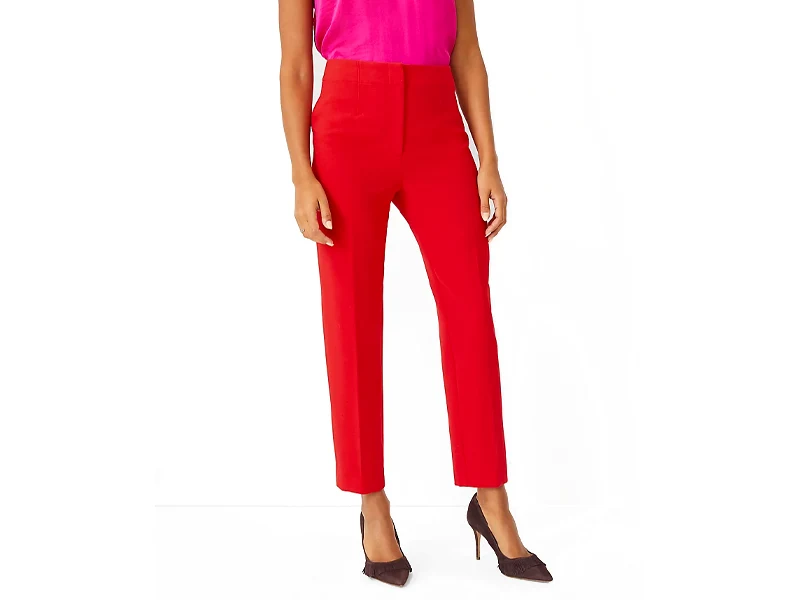 Slim Pants, $80 take an additional 40% off
For example, these Ann Taylor slimline red pants (sizes are limited due to the sale) are classic in shape and trendy in color.
Another option would be these tapered red cargo pants at Banana Republic. They are also slim, with a sporty, casual cargo detail.
The secret to wearing color without looking costumey is to be intentional with it, and requires a basic understanding of the color wheel.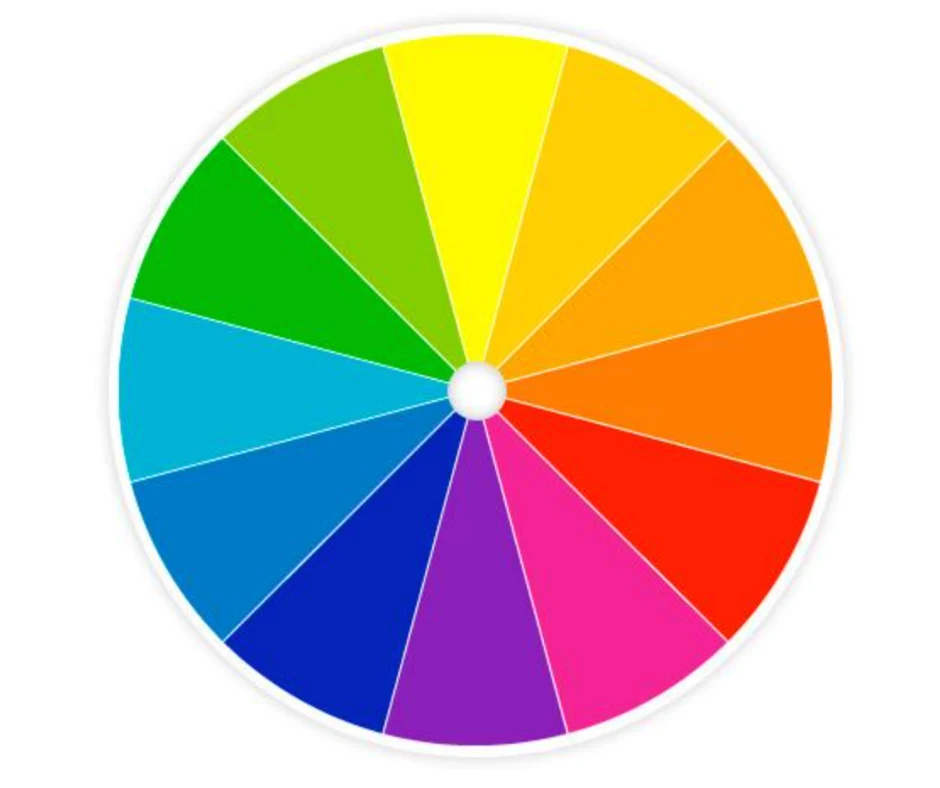 I'll go into more detail in an upcoming post, but let's use red as an example. To figure out what to pair red (or any color with), follow this simple to remember formula. Complementary colors sit across, next to, and at a 90-degree angle.
Using this, we see red works with:
Across: green, the colors of Christmas, and we're not wearing them together. 😉
Next to pink and orange, you'll find a lot of these pairing this season.
90 Degree Angle: blue the patriotic choice, and what I would call marigold – another trendy combination.
How to Wear Red Pants Three Ways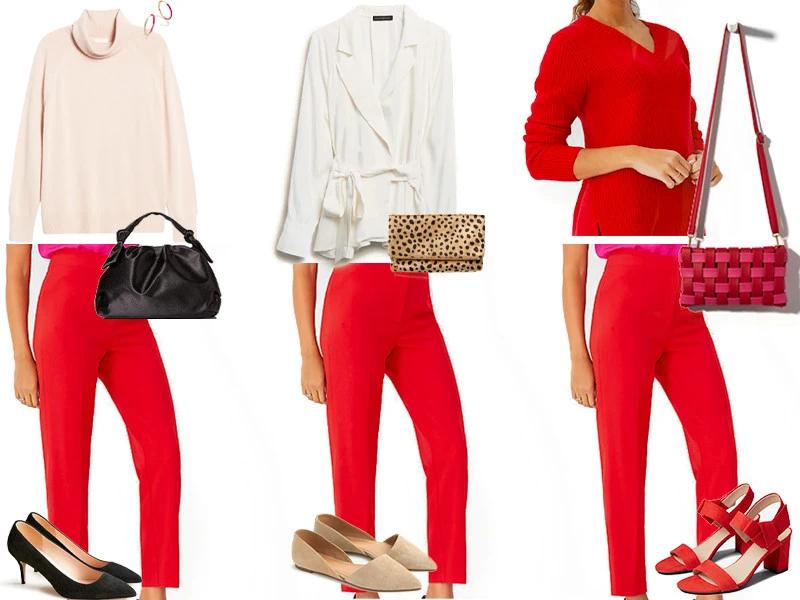 Color Blocked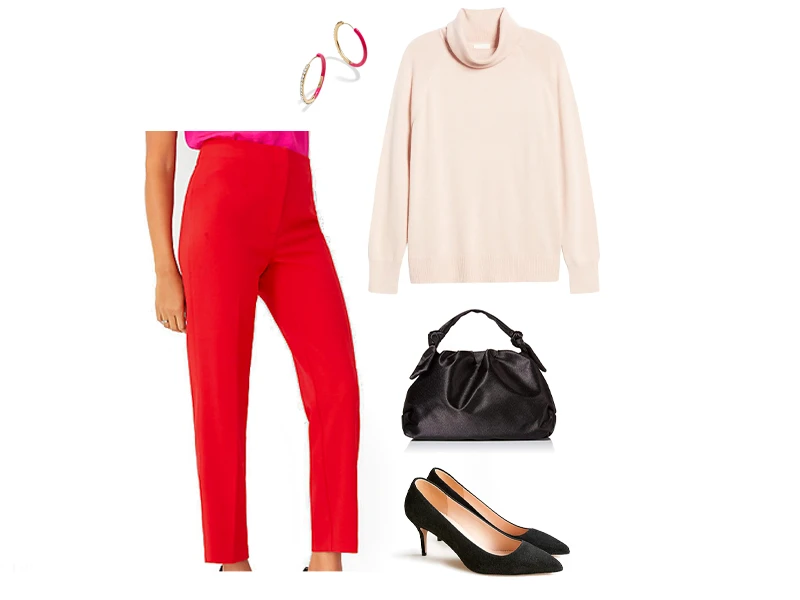 Turtleneck Sweater, $47 | Suede Pumps, $143 | Stain Knotted Handle Bag, $40 | Hoop Earrings, $44
Using the color wheel, you can create the popular color-blocked look.
In this outfit, I'm using a very pale pink sweater because pink sits next to red. You can also use the same sweater in this bright pink. Any shade of pink will work, meaning you can go down the pink scale and create the look you like the best.
To ground the look, I'm using coordinating black pumps and a small bag.
These black suede pumps are worth mentioning in more detail. They are on sale at J.Crew, currently available in all sizes, and are a very manageable and hard to find heel hight.
To keep it fun, these $44 hoop earrings from BaubleBar.
With Basics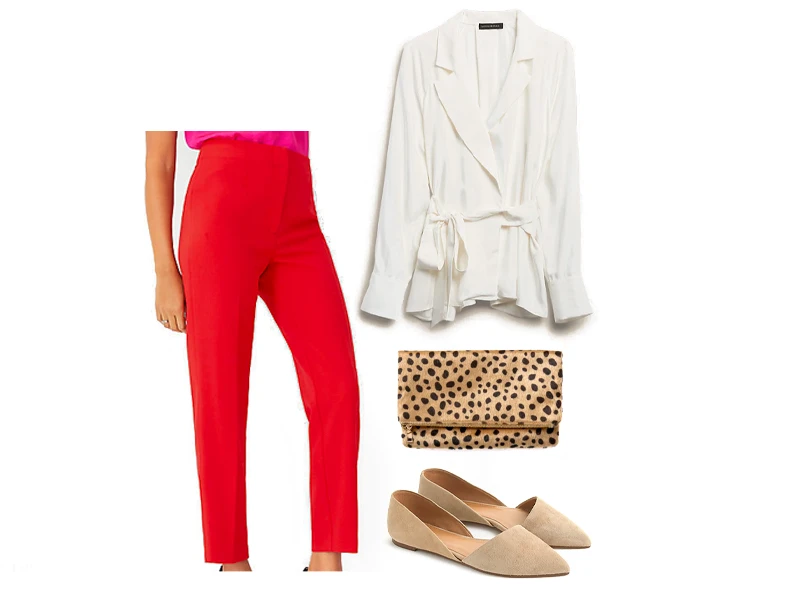 Blazer Wrap Top, $75 | Suede d'Orsay flats, $63 | Leopard Foldover Clutch, $48
If you want the pants to be the focus, pair them with neutrals.
You have so many options here. You could do a black tank and blazer, with matching heels.
Or a simple white tee and denim jacket.
Here, I used this versatile wrap blouse in white from Banana Republic.
If you're wearing ankle-skimming slim pants, flats are a fantastic option for shoes. You just want to make sure that they have an elongated toe to continue your leg line.
I like these d'Orsay flats at J.Crew Factory for just under $60. I've had these for years and am always happy to see them at the start of spring. Also available in black, in all sizes.
Finally, I hope you're not sick of this fold-over leopard clutch because it's one of my favorites. It adds just the right amount of personality and looks designer even though it's $50. I get compliments every time I carry it.
Head to Toe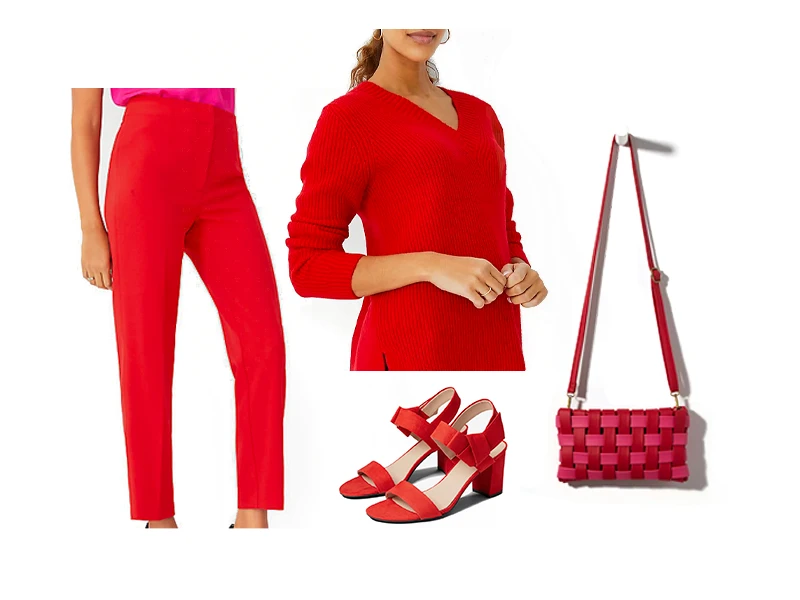 Ribbed V-neck Sweater, $70 (take 40% off a checkout) | Heeled Sandals, $79 | Puffy Woven Cutch, $50
Monochromatic looks are huge right now. And I love it even though I do not have the personality to wear it – you need to like a bit extra attention 🙂
But if you don't mind walking into a room and having heads turn (in a good way!), then go for it.
My best tip here is that the reds need to work together. Meaning these pants have a blue undertone, so you want to pair them with similar shades of red, with the same undertone.
You don't want to pair a blue-based red with a red that reads orange. Make sense?
Here, I'm using a pretty knit sweater, also from Ann Taylor, in the same shade of red they are calling "jubilee." It's also available in black and blue, in XXS – XXL in regular and petite, with an extra 40% off at checkout.
I added a fun pair of red suede sandals that add interest and depth. Of course, if they are too much, a neutral will work just as well.
Finally, I found this pink and red woven clutch on sale for $50 at Anthropologie, and it might be the BEST subtle way to incorporate color-blocking this year.