The Pantone Color Institute™ is a trend forecasting and color consultancy. They determine the top colors or "Pantones" that will be relevant throughout fashion and retail in a given season.
Fall of 2022 was presented last year and introduced a mix of colors ranging from vibrant to understated.
It's been a while since we've seen such happy colors, possibly a reflection of our collective desire for some joy and fun to return to life.
One of those colors is Rose Violet Pantone 17-2624, a hot-ish pink you might hear referred to as "Barbie Pink."
And we are seeing versions of it are everywhere, from small accessories to head-to-toe looks.
Earlier this month, we shared this pink pant suit from J.Crew; each piece was sold separately.
It's a bit impractical, but I'm feeling saucy this week, so let's make some outfits with the pants.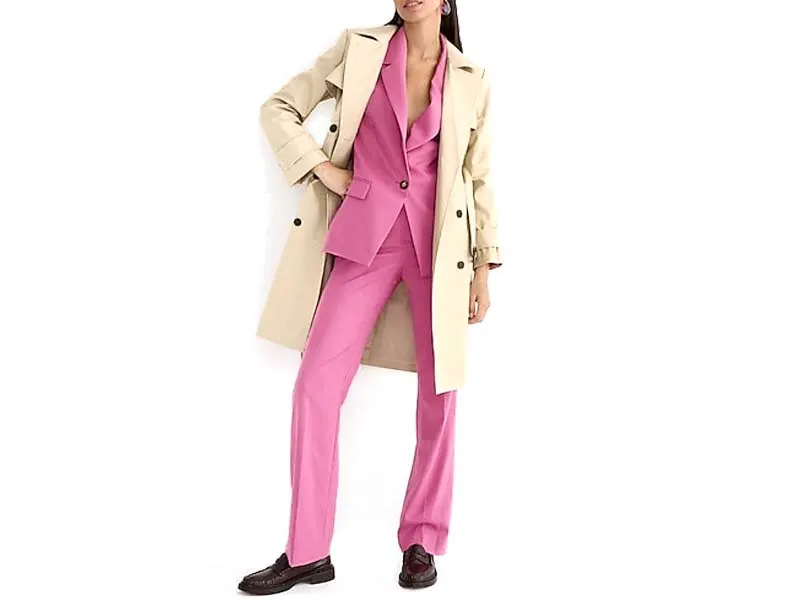 Pink Pants, $198
If you had a pair of red pants hanging in your closet in the 2010's then pink pants feel familiar.
But there are a couple things you may want to change to keep the overall styling updated.
First, skip the skinnies and go with either a straight or full leg pant, like our featured pair.
Second, and most important, be sure these are tailored for you. Spend a little more to have them hemmed for whichever heel height you prefer.
When you wear a bold piece, it needs to be done well, or it will feel costumey.
These J.Crew pants are a traditionally cut trouser, available in 00 – 16 in regular and tall, popular with readers in classic colors, on sale right now for 30% off.
Other options include this pair from Banana Republic, in regular and petite sizes with various inseams.
If Boden fits you well, they also of an option.
Ann Taylor has an ankle length pair, and Eloquii has a plus size option.
See what I mean? They are everywhere.
How to Wear Pink Pants in the Fall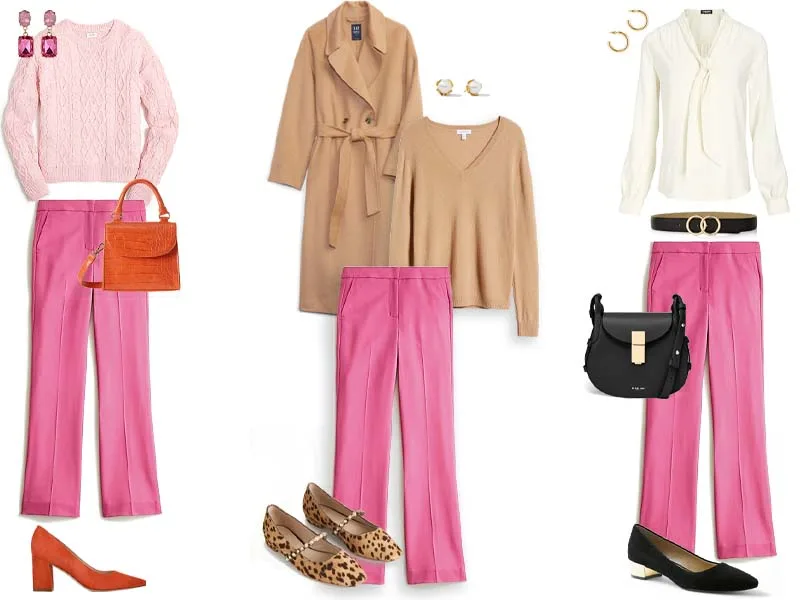 How stinking cheerful?!
Play with Color Blocking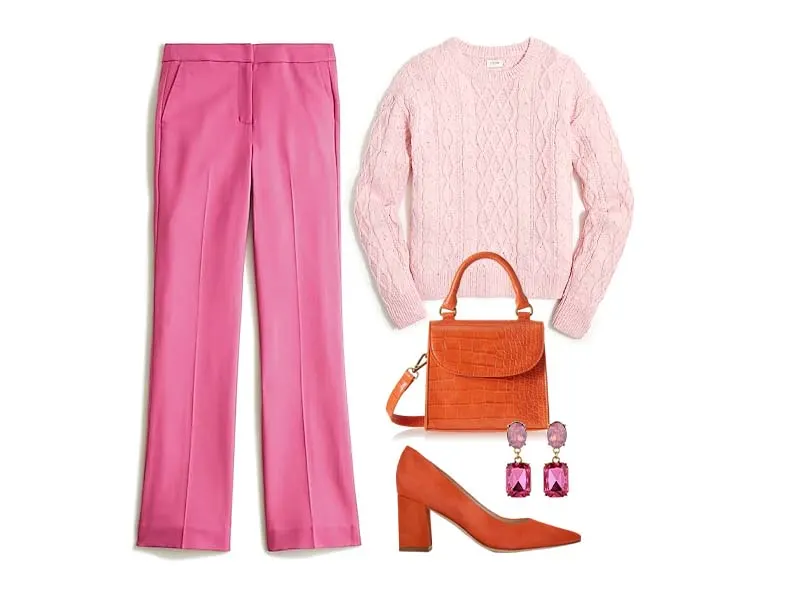 Cable Crewneck Sweater, $58.50 | Block Heel Pumps, $160 | Top Handle Crossbody Bag, $39.90 | Statement Earrings, $12
Pink pants feel like the kind of piece you should wear to a brunch or ladies' afternoon event.
Above, I'm playing with monochromatic and color-blocking elements, and I adore how it came out.
We're starting with this pale pink cable knit sweater from J.Crew Factory to keep the body line long. It has little flecks of color throughout the knit, adding interest and texture.
This is just a great sweater to pair with jeans too. Also available in navy, cream, and green, in XXS – 3X. I went up a size.
Then we're using simple, small orange-tone accessories to create the color-blocking effect.
Why orange? Because orange sits next to pink on the color wheel, they "go" together.
I like these suede block heels from Marc Fisher.
You want the hem of the pants to sit or "break" on the top of your shoe, regardless of the heel height.
Then we're using this fun and poplar tiny purse from Amazon's The Drop for the bag. I have it in tan and frequently use it. It's an occasion bag, so it doesn't fit much, just the essentials.
Finally, we're going big or going home with these blinged-out earrings for under $20 on Amazon.
Ground with Neutrals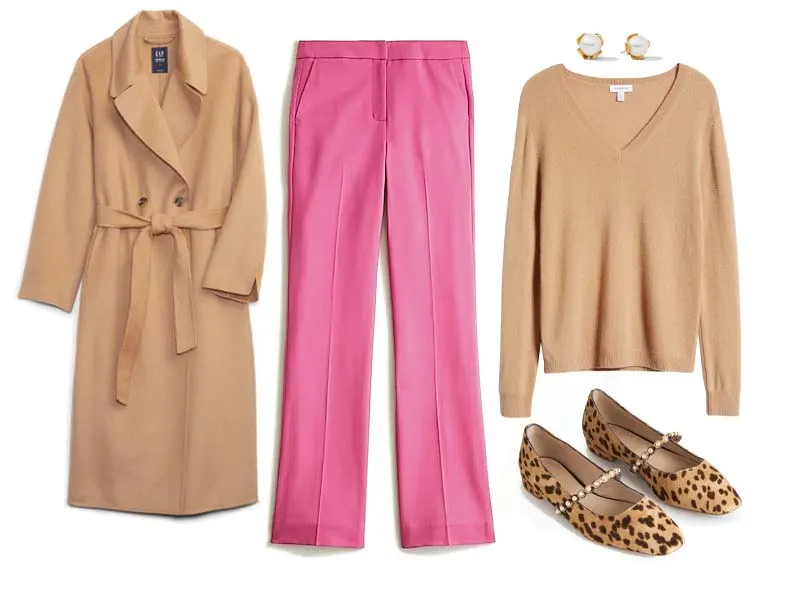 Cashmere Sweater, $129 | Wool Wrap Coat, $228 | Flats, $180 | Pearl Studs, $110
Next up, we're using the elegant pairing of pink and tan.
Starting with this simple cashmere sweater from Nordstrom. It's a thin knit that fits close to the body, so size up if you want more drape.
Lots of colors available in sizes XXS – XL.
For a less expensive option, many readers like basics from Quince. This is a similar style, in 100% cashmere, for $50.
I just placed a big order from them to do a proper brand review, so stay tuned for that.
I also like this soft ribbed knit from J.Crew Factory, in tan to recreate the look above or pink for a monochrome outfit.
We're topping it with a wool wrap coat.
I did a double take when I realized our featured coat was from Gap. It's made of recycled double-faced wool, in XXS – XXL in regular, tall, and petite in tan and black.
Then, can we talk about these ballet flats from Boden? Animal print with a pearl strap detail? They look great here and would be a fun addition to your holiday wardrobe.
And I added these popular Julie Vos pearl studs to play off the detail on the shoe and add some femininity.
Keep it Simple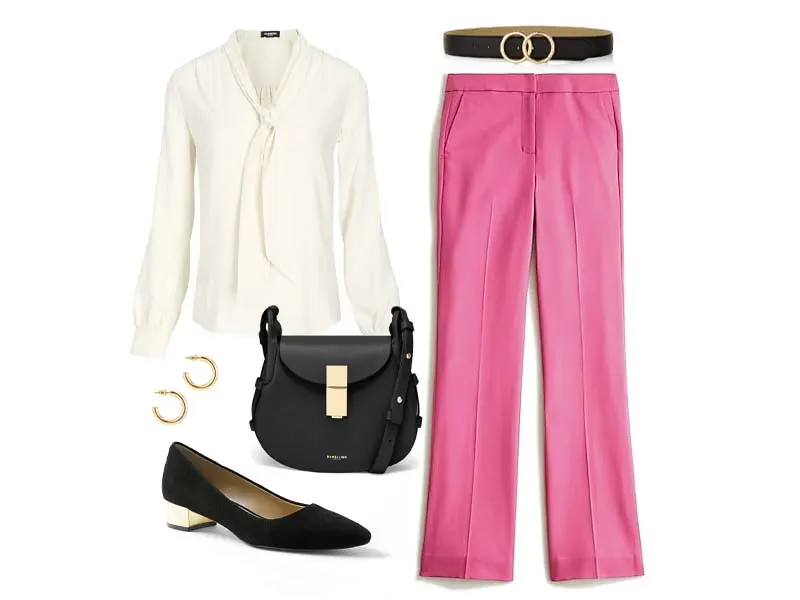 Bow Blouse, $68 | Block Heel Pump, $138 | Gold Hoops, $14 | Crossbody Bag, $395 | Belt, $40
Finally, if you want to tone it down, pair it with classic basics, starting with a bow blouse.
We've featured versions of this several times over the past few weeks.
I love these "pumps," but as I said when I first featured them, they are more like a loafer. The gold heel elevates what could be a boring shoe, and the suede finish adds a little sophistication.
Working with the gold of the shoe, we're threading it throughout the outfit to create cohesiveness.
We're using our go-to gold hoops and re-sharing this crossbody bag, it's an investment, but the style is so unusual it's worth sharing.
And then this belt, from Express, looks expensive but is only $40; it ties back to the shoe, balancing the look.
Register Today!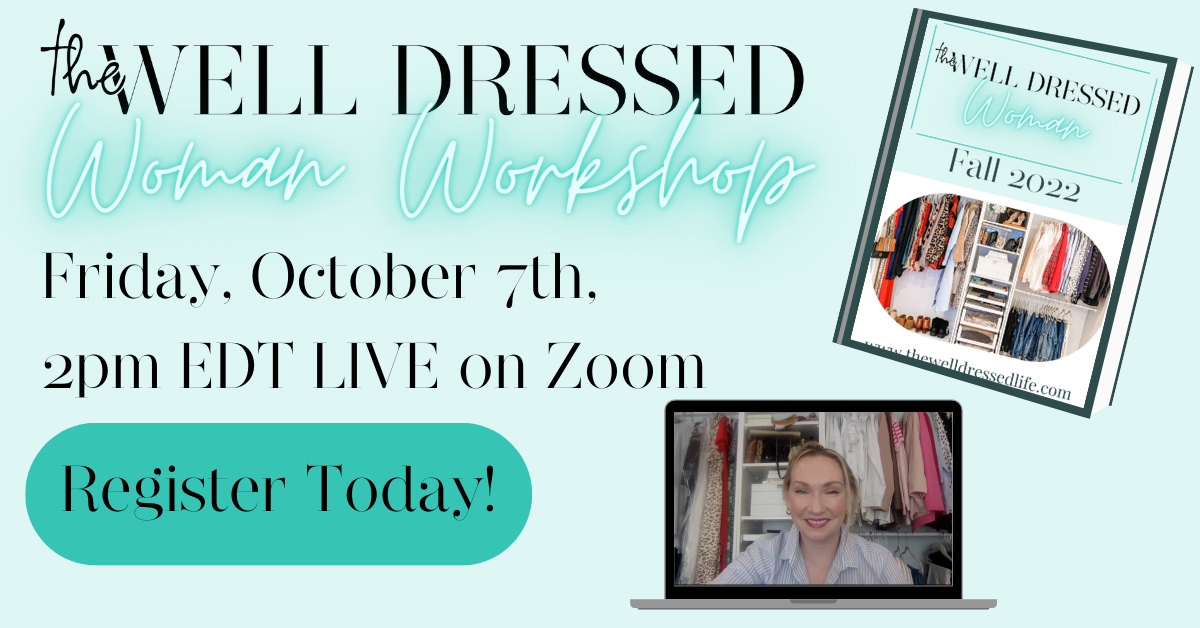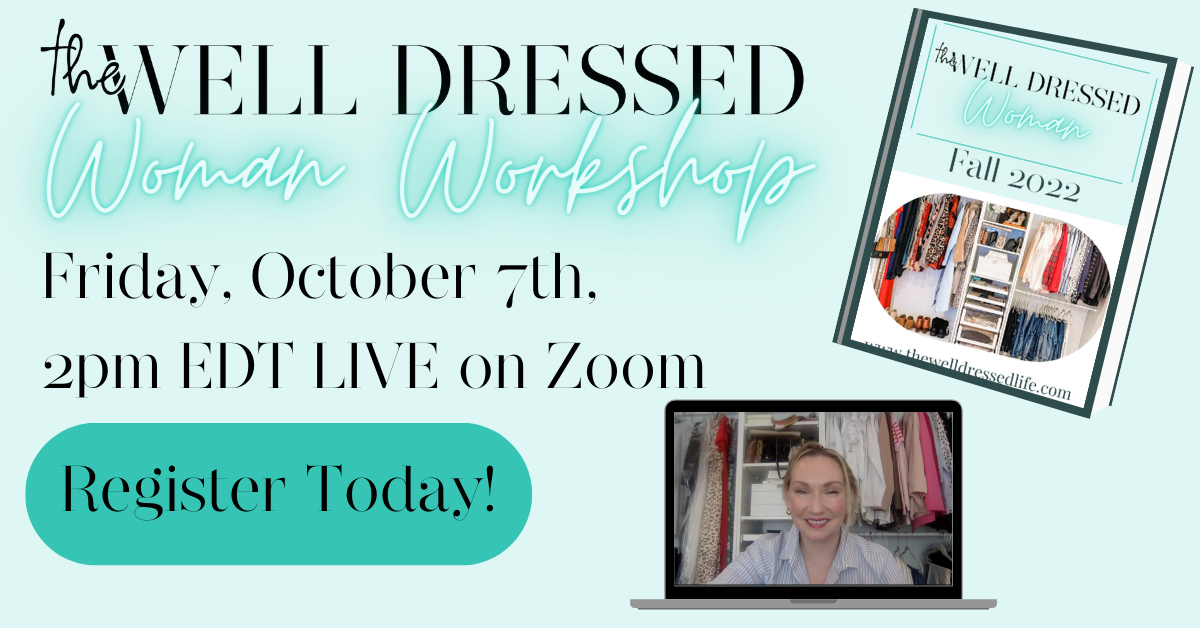 52 in 2022!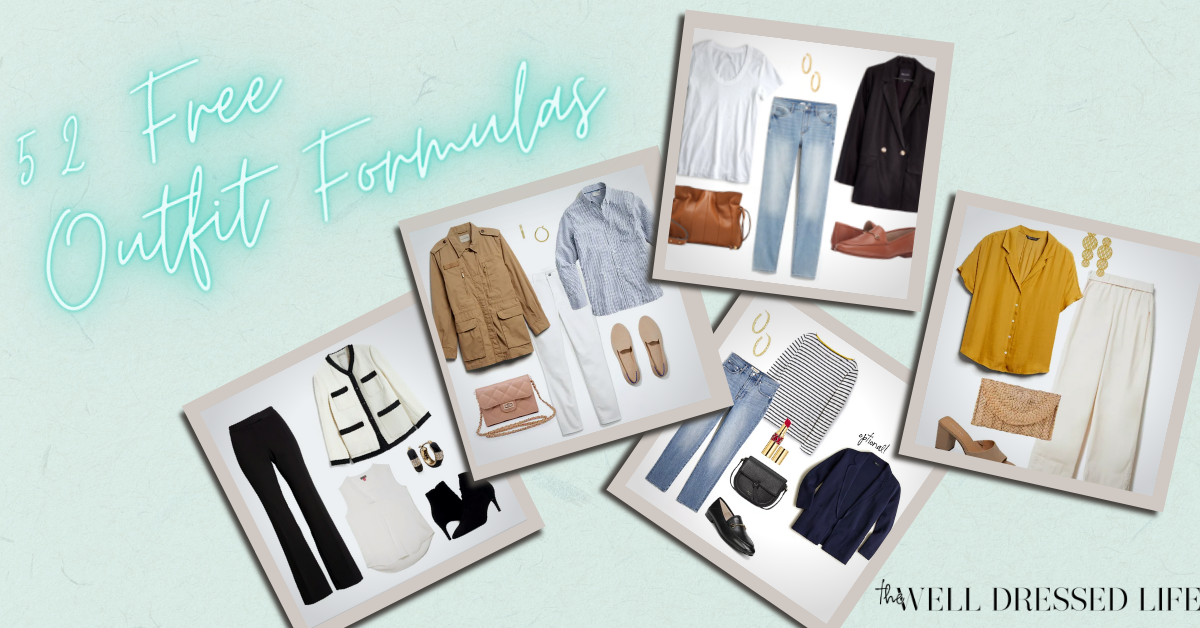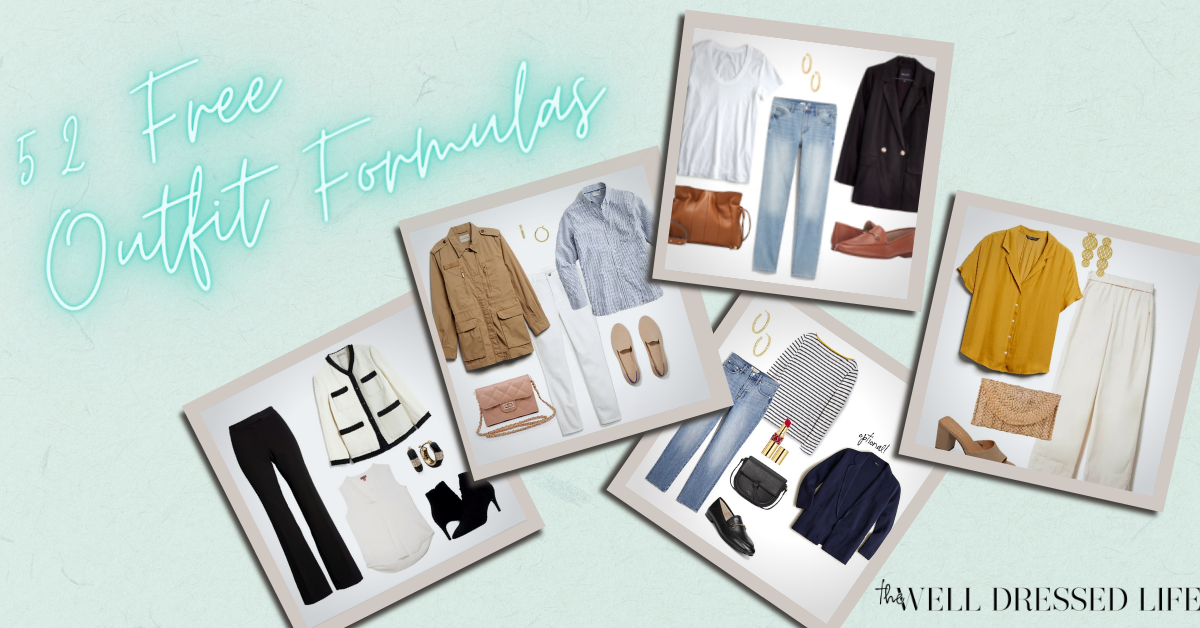 Follow Us on Instagram!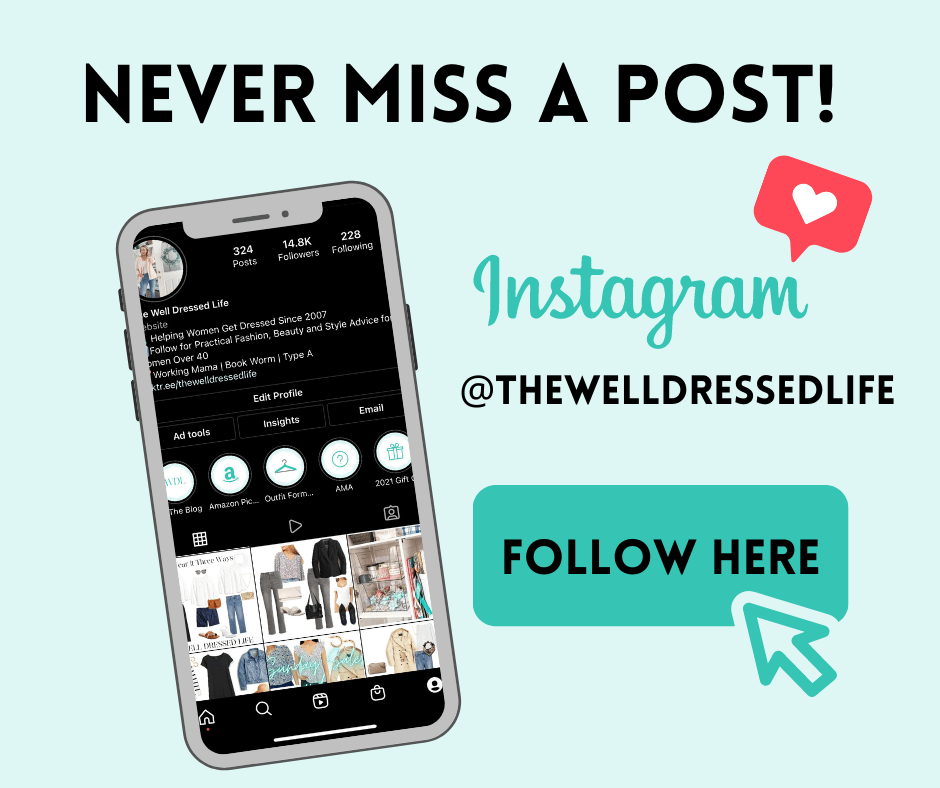 Our Style Content is Inspired by Our Readers
Our readership inspires all of our posts and is not sponsored or paid for by brands or retailers.
Recommendations are based on my experience as a personal stylist and wardrobe consultant for over a decade. I worked with busy, down-to-earth women who wanted to look chic and feel confident but were often confused by so much of retail.
Some links are affiliate links, which means if you purchase via our site, we receive a small commission.

If you enjoy our content and would like to help us grow, please follow on Instagram and join our Private Facebook Group to access more advice and exclusive in-depth conversations with other like-minded women.
Learn about our mission to help women look and feel their very best, every day, here.
Sign Up for Daily Content and Receive Our Free Classic Wardrobe Checklist