The Spanx "Perfect" Black Skinny Pants are among the most popular items we featured during the Nordstrom Sale. With all the comfort of a legging, these better basics can take you anywhere.
Good thing because we're not only transitioning from the summer to the fall, but also from staying home to getting back out into the world. So whether you are working from home or are in the office, you will get a ton of use out of these pants.
How to wear the Spanx "Perfect" Black Skinny Pants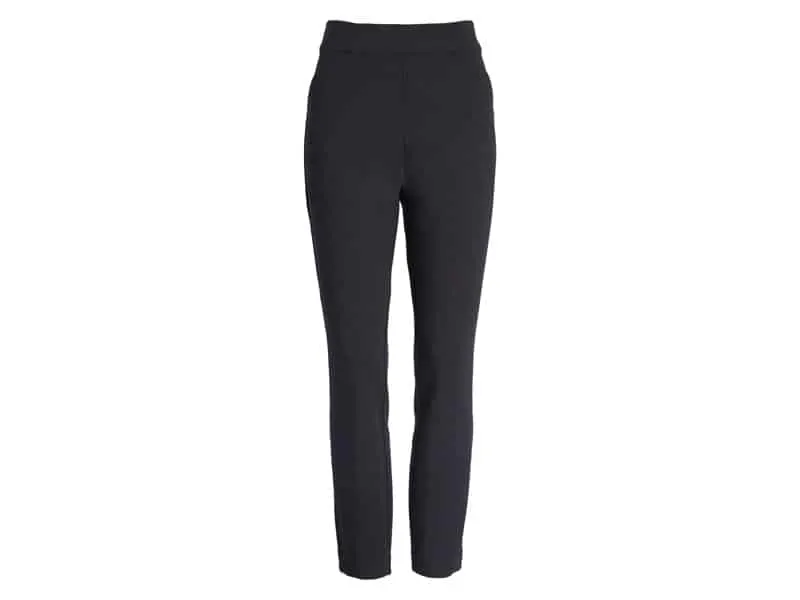 Spanx The Perfect Black Pant, $128
First, let's talking about the pants, available in an XS – 3X.
The comfort is next level. As someone who goes from sitting on the floor with my toddler, to working at my desk, to dropping my big girls off at sports practices, these pants let you move while looking polished.
And now that we are inching closer to sweater weather – their flat front and pull on style are ideal.
Look One: Work from Home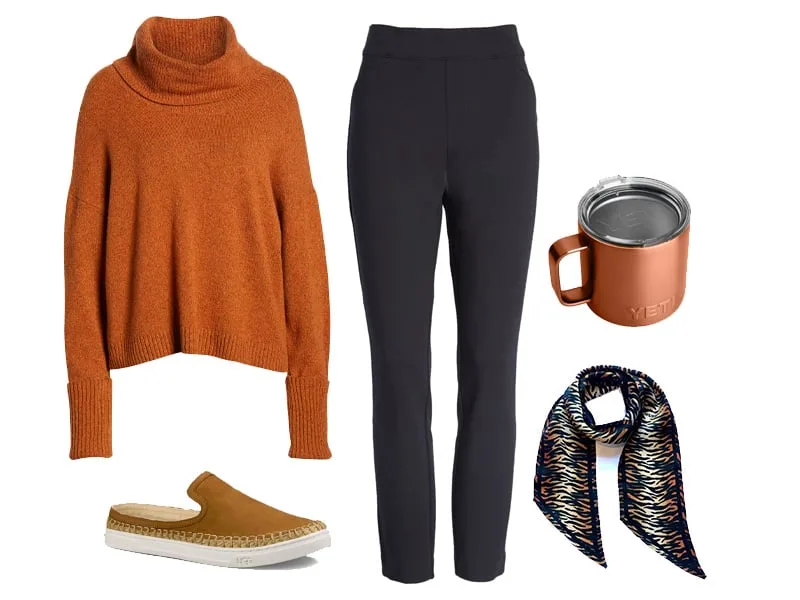 Sweater, $69, Scarf, $51, Mules, $70, Yeti Mug, $29
To work from home on a chilly day, add a cozy sweater. Chelsea28, available at Nordstrom, makes lovely, affordable knits. This particular sweater is supposed to be oversized. The shoulder is relaxed (or "dropped") and the sleeves are extra long, so you can scrunch them up or pull them over your hands.
I happen to love a turtleneck. So here, I would pull my hair up in a messy ponytail and tie it with a scarf, like this one on sale at Wolf & Badger.
Then, instead of a real shoe, this hybrid of a slipper and mule by Ugg. I wear my Uggs all the time. They keep your feet toasty warm, but you can walk around in them to grab the mail or drive to the car line for school pick up. And of course, a mug to keep the never ending stream of coffee warm.
Look Two: Back in the Office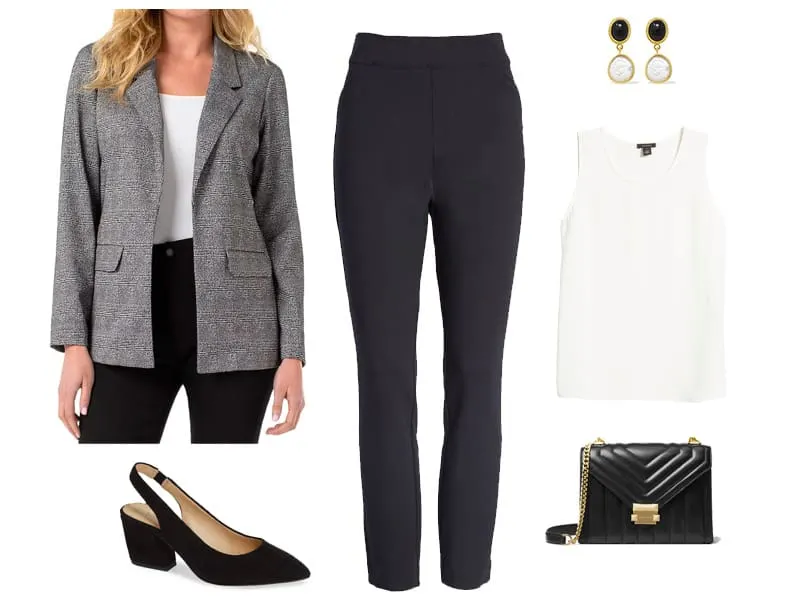 Blazer, $109, Shell, $39, Earrings, $91, Bag, $328, Shoes, $69
I've been hearing from readers who are back in the office and looking to find balance in dressing for a more relaxed environment, but still wanting to look professional.
Grab these pants, and add a few simple workwear basics, starting with this plaid blazer by Liverpool (available at Bloomingdale's). It's a beautiful piece that adds some casual structure to an outfit. It's available in sizes up to XXL, with a little bit of stretch that will match the pants' comfort.
Next, you need a layer, which is often hard to find. This one, by Halogen, is under $40. Scoop it up in ivory (above) and black if you need to refresh your core work wardrobe. There are also six other prints to choose from, including a classic leopard print you can layer under a black blazer or cardigan. Available in petite and missy.
Then, a comfortable but professional shoe. I found these suede slingbacks with a block heel on sale for under $70. For jewelry, you have so many options. You could add a long necklace to create a lovely layered look under the jacket's neckline or a bold earring, like these black onyx drops that mix classic and modern design.
Finally, a splurge-worthy quilted bag by Michael Kors to show how adding textural elements can elevate an outfit. You can see, by matching your hardware and metal tones, you can create a cohesive look easily.
Shop this Post
---
Our Content is Inspired by Our Readers
Our readership inspires all of our posts and is not sponsored or paid for by brands or retailers.
Recommendations are based on my experience as a personal stylist and wardrobe consultant for over a decade. I worked with busy, down-to-earth women who wanted to look chic and feel confident but were often confused by so much of retail.
Some links are affiliate links, which means if you purchase via our site, we receive a small commission.
If you enjoy our content and would like to help us grow, please consider following on Instagram and join our Private Facebook Group to access more advice and exclusive in-depth conversations with other like-minded women.