As you can tell from the theme of the blog posts, we are READY for warmer weather. Since it seems like we are finally headed in the direction of sundresses and open-toed shoes, I thought that I would look into what to do about my lighter-than-pale skin.
I no longer tan like I did in my twenties (cringe), so every year I use sunless tanning products to make me look a little more alive than a vampire. This year, however, I decided that I wanted to find an organic sunless tanning lotion. Megan has mentioned before that she is trying to "clean-up" her beauty routine, and I have jumped on the bandwagon.
I obsessively scoured organic beauty blogs, online reviews, and even talked to some organic beauty aficionados over Facebook and the recommendation that came up over and over was NKD SKN.
I decided to give it a shot since the price was really reasonable. I figured, what's the worst that can happen (other than orange, blotchy skin that makes me resemble a calico cat)?!
Luckily, all of the strangers on the internet were right! This stuff really does work! It's a daily gradual tan, meaning that you can use it in the morning after your shower as you would a regular lotion. Over time, the color will build up. Since I mentioned how pale I am, I noticed a difference after the very first day.
Try this Organic Sunless Tanning Lotion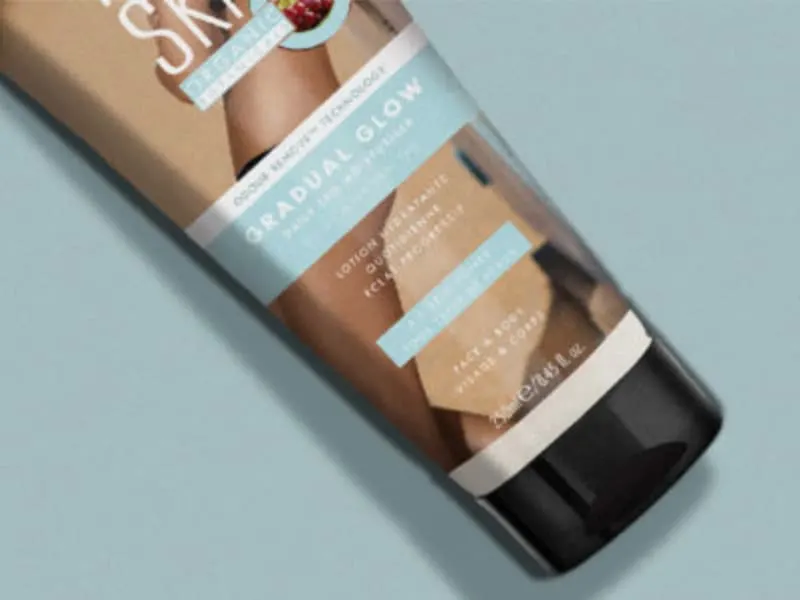 Organic Sunless Tanning Lotion, $15
When applying, follow the regular rules of self-tanning. Exfoliate in the shower prior to use. Don't use over-moisturizing soap in the shower.
Be careful when you apply to knees, elbows, and ankles, and make sure you wash your hands afterwards. It's better to take the extra minute to take care of these steps so you don't end up with blotches should the color develop quickly on you. Better safe than sorry!
The lotion dries quickly and you can put your clothes on right after without any worry of transfer. Did I mention that it's odorless? It is!
As I mentioned, this lotion is free of all of that bad-for-you stuff that we are trying to avoid. Keeping track of what ingredients I should be avoiding is tedious, so I rely on two different apps to help me, Think Dirty and EWG.
Between these two apps, I can find information about most of the products I am already using or about products I want to use. Neither database is fully comprehensive, so I have to look in both places sometimes. NKD SKN is rated a 0 on Think Dirty, which is the best rating there is. That's amazing!
Let me know if you snag yourself a bottle and try it out. I'm loving it, so I hope you do too!