Long-time readers know I consider myself to be an authority on self-tanning.
I wish I could blame a year of Covid isolation for why I look like I live in a cave, but I am just naturally as pale as a ghost. And as I age, I'm getting paler and my skin thinner, so you can see everything. A little healthy color helps make my skin look smooth, slightly toned and hides all those veins, lumps, and bumps.
This time of year, I'm all about achieving a realistic faux tan, whether it's at the local salon or in my bathroom, but I don't always have the time to go through the whole process. And it is a process.
Earlier this month, I found myself getting dressed to go to a wedding (I wore this high/low maxi in red from Nordstrom) and just ran out of time to pull off all the steps for an at home tan. But I knew I would feel better if my legs didn't look like they glowed in the dark so I ran to my local Ulta and picked up St. Tropez One Night Only.
So far, it's my best beauty buy of 2021.
St. Tropez One Night Only Wash Off Face and Body Lotion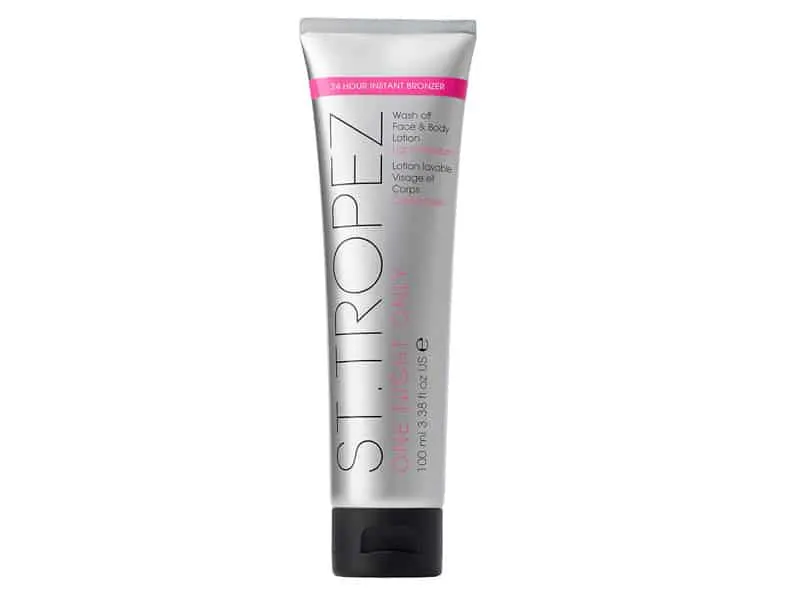 Face and Body Lotion, $18
Meg's Rating: 10/10
Here's how this works:
Apply this while you are in your undergarments before you put on your outfit. You don't have to, but I use this mitt to apply, just like you would with a self-tanner. It helps you cover more area. This lotion goes on dark and sets immediately. It goes on quickly, and a little goes a long way. You can build the color quickly, so start with a light hand and go from there.
You may get a little on your underwear/ body shaper, don't worry, it washes off. I put my dress on 10 minutes later, went to a wedding, and danced my butt off. It didn't sweat off during the night but came off right away in the shower.
Unlike a traditional self-tanner, you don't need to do all the skin prep. This is essentially makeup, so it doesn't have to activate.
The key is to blend it out evenly, which is simple.
Use this for any upcoming event. It works wonderfully on your legs and arms, chest and neck. I added a bit to my face too using my beauty blender. It looked totally natural and was just what I needed for a night out.
Our Style Content is Inspired by Our Readers
Our readership inspires all of our posts and is not sponsored or paid for by brands or retailers.
Recommendations are based on my experience as a personal stylist and wardrobe consultant for over a decade. I worked with busy, down-to-earth women who wanted to look chic and feel confident but were often confused by so much of retail.
Some links are affiliate links, which means if you purchase via our site, we receive a small commission.

If you enjoy our content and would like to help us grow, please follow on Instagram and join our Private Facebook Group to access more advice and exclusive in-depth conversations with other like-minded women.
Learn about our mission to help women look and feel their very best, every day, here.
Sign Up for Daily Content and Receive Our Free Classic Wardrobe Checklist