This week, we are kicking off our annual Beauty Week with my favorite recent discovery. I test dozens of products each season, but only a few earn a permanent spot in my routine. I've been looking for a topical cream to help with fine lines and wrinkles for the last few years.
Over the years, I've spent hundreds of dollars on so many serums and creams. Some are worth it, most are not, but this affordable cream from ROC is only $25 (use code SUMMER and get 25% off) and is terrific.
I have sensitive skin. I burn just looking at the sun and have mild rosacea on my cheeks. So finding gentle, yet effective products to help me age gracefully is my number one priority when putting together my skincare routine.
First, let's talk about the difference between retinoids and retinol. Both are derivatives of vitamin A. You typically need a prescription for retinoid. Retinoid is strong and effective but, in my case, too harsh for the skin. No matter how little I use or try to ease into it, it always leaves me dry and flaky.
Retinol is the over-the-counter version of retinoid. It's less potent, so it's a gentler alternative that can be formulated in a way that works for people with sensitive skin.
After some research, I started to use the ROC RETINOL CORREXION Deep Wrinkle Night Cream, and now I'm on my second tube.
Why You'll Love the ROC RETINOL CORREXION Deep Wrinkle Night Cream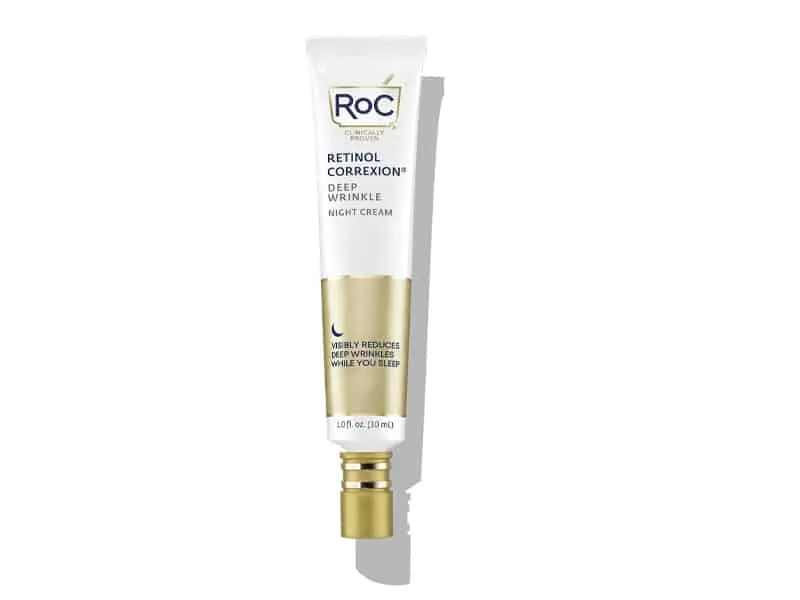 ROC RETINOL CORREXION Deep Wrinkle Night Cream, $25
I use this at the end of my nighttime routine, applying a thin layer over my face and neck before I go to sleep. I let it sit for a minute or two and then follow up with the Drunk Elephant F-Balm Waterfacial Mask, which adds an extra layer of hydration and protection throughout the night.
No topical cream will work like Botox or Fillers, so never believe those claims. However, with consistent use, both retinoid and retinol will deliver noticeable results. If your skin can handle it, go with a prescription retinoid; pick the retinol-based product if your skin is sensitive.
I used this for 30 days and saw a clear difference around my eyes and fading of the sunspots on the top of my cheeks. In addition, my skin looks bright and healthy.
Remember, sunscreen is the most crucial step in your routine, regardless of age. Use it every day, all year long. It's especially important when you use retinoid or retinol products.
Our Style Content is Inspired by Our Readers
Our readership inspires all of our posts and this post is not sponsored or paid for by brands or retailers.
Recommendations are based on my experience as a personal stylist and wardrobe consultant for over a decade. I worked with busy, down-to-earth women who wanted to look chic and feel confident but were often confused by so much of retail.
Some links are affiliate links, which means if you purchase via our site, we receive a small commission.

If you enjoy our content and would like to help us grow, please follow on Instagram and join our Private Facebook Group to access more advice and exclusive in-depth conversations with other like-minded women.
Learn about our mission to help women look and feel their very best, every day, here.
Sign Up for Daily Content and Receive Our Free Classic Wardrobe Checklist