When I was young, I used to make up as camouflage. Like an idiot, I layered foundation and concealer over my smooth, flawless skin. I never considered myself pretty growing up, and I thought, if I used makeup in a certain way, I could change the way I looked. Sad and silly, I know.
Thank goodness with age comes a certain level of confidence and self-acceptance. Now that I'm in my 40s, I've turned my focus to skincare. I spend the time and money nourishing and protecting my skin. And makeup is used to highlight my features rather than hide or reshape them.
These days, I just want to look like myself, like the best, most well-rested version of myself. (lol)
Over the years, I've discovered a few game changers for my makeup routine that help me create a healthy, natural look in minutes. I've mentioned several of these earlier this month.
Today, I want to highlight the Purlisse Radiant Glow Illuminating BB Cream with SPF 30. Ladies, I love it, especially for this time of year when you want something light, that evens out your complexion and gives it that youthful glow we took for granted when we naturally had it 😉
As always, the post is NOT sponsored.
Purlisse Radiant Glow Illuminating BB Cream SPF 30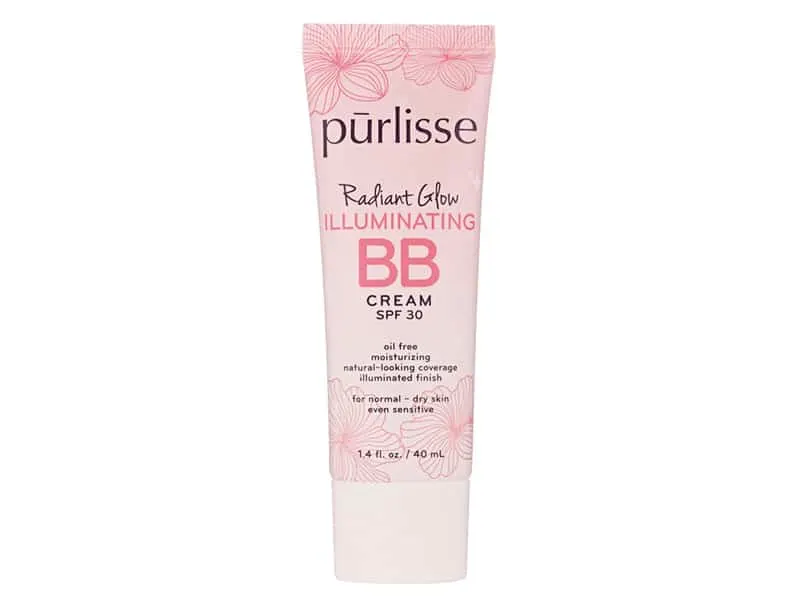 BB Cream, $35
I use their "Illuminating" BB cream designed for fair (me) to medium skin. They also have their "Perfect Glow" BB Cream, which is available for all skin tones. Both are wonderful.
Most days, this is the only product I use for coverage. If I need a little more, depending on what is going on with my skin, I'll add a touch of concealer. That's it.
The product blends into your skin beautifully, allowing you to use a little at a time for buildable coverage. It doesn't end up cakey or resting in your fine lines or wrinkles after a long day. And I swear, I get complimented all the time when I have it on.
BB creams are designed to be skin-focused, meaning they nourish the skin while also providing coverage. The formulation is designed to hydrate and protect, which is why they have SPF in them.
I still apply a stand-alone SPF in the morning, let that sit for a few minutes, and then layer on the BB cream. Give the BB cream a minute to set as well and you'll get a smooth finish, with a touch of glow, that looks like your skin only better.
Our Style Content is Inspired by Our Readers
Our readership inspires all of our posts and is not sponsored or paid for by brands or retailers.
Recommendations are based on my experience as a personal stylist and wardrobe consultant for over a decade. I worked with busy, down-to-earth women who wanted to look chic and feel confident but were often confused by so much of retail.
Some links are affiliate links, which means if you purchase via our site, we receive a small commission.

If you enjoy our content and would like to help us grow, please follow on Instagram and join our Private Facebook Group to access more advice and exclusive in-depth conversations with other like-minded women.
Learn about our mission to help women look and feel their very best, every day, here.
Sign Up for Daily Content and Receive Our Free Classic Wardrobe Checklist