A night out with your special person, or your girlfriends, may feel like a rare treat, but it's so important to keep our grown-up relationships a priority in these busy chapters of our lives.
Easier said than done, though.
Bri and I have always been good about carving out time together without the kids, but it's become more and more of a challenge in recent months, especially since Maddie started high school.
The girls are older, with full lives and schedules of their own, and we have a toddler who likes a firm 7 pm bedtime.
So the balance is a little off in our house, lol.
Sometimes we have a "date" on the calendar, with Vivi's babysitter lined up. But more often than not, we just find ourselves on a night with a window, like grandparents coming over or sports getting canceled.
The key to a spontaneous date night is being able to get dressed and out of the house quickly.
And one thing I hear from girlfriends and readers, when it comes to a night out, you do not want to spend your night in the same thing you wore all day.
You might want something a little more fun.
So let's talk about pretty, well-priced tops to pair with your favorite jeans to create a quick casual date night look in minutes.
5 Affordable Date-Night Worthy Tops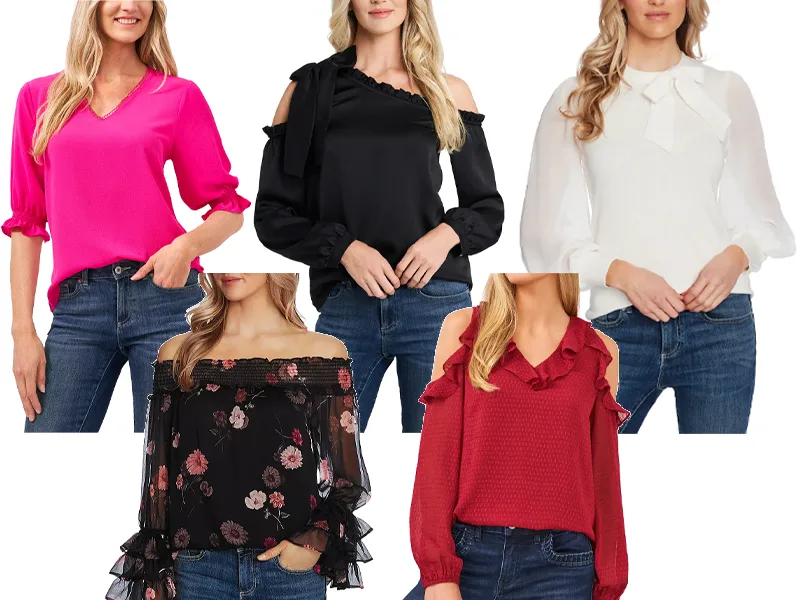 CeCe is a brand you can find at department stores like Nordstrom and Macy's that specializes in well priced novelty tops. As you can see, they are the perfect top for dark jeans, or black pants, and are all under $100, with most tops ranging between $69 – $80.
Their size range includes XXS – XXL (about an 18) and some plus options up to a 3X.
Here's the deal, these sell out all the time. I don't know if they keep a lower inventory or if they are just that popular but new arrivals become limited quickly.
I featured a few at the end of last year for holiday celebrations, and our readership loved them.
So I thought I would shine another light on them, with a round-up of some of their new arrivals, ideal for a Valentine's night dinner or a much needed night out with your friends.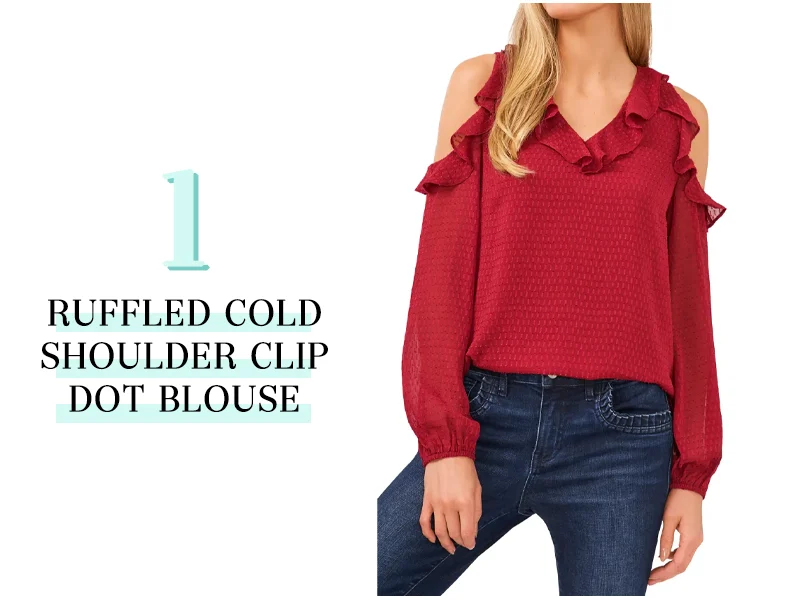 Ruffled Cold Shoulder Clip Dot Blouse, $89
I'm not a fan of the cold-shoulder blouse, but this one I can get behind.
It's made of a pretty "clip dot" fabric, that has lovely, subtle texture. The neckline is flattering and I love how it drapes off the shoulder.
I'm highlighting the red, but it's also available in pink, white and what they are calling, cabernet.
Available at Nordstrom, in sizes XS – XL.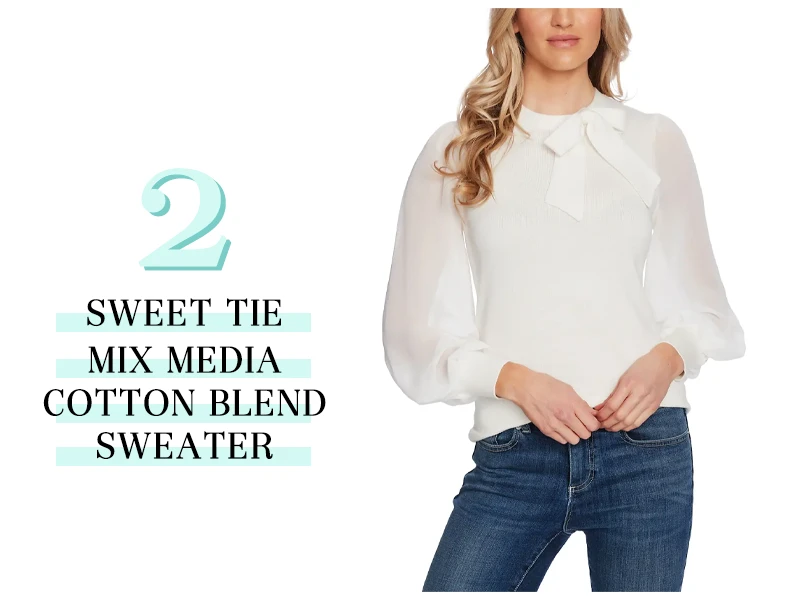 Sweet Tie Mix Media Cotton Blend Sweater, $79
With sheer sleeves and a sweet tie neck, this sweater adds elegant elements to a casual staple. I love it in the white paired with dark jeans, but it's also available in red, cabernet, green and black, which looks fabulous with slim cut black pants.
Available at Nordstrom, in sizes XS – XL.
Similar style in plus size here, I vote for the red!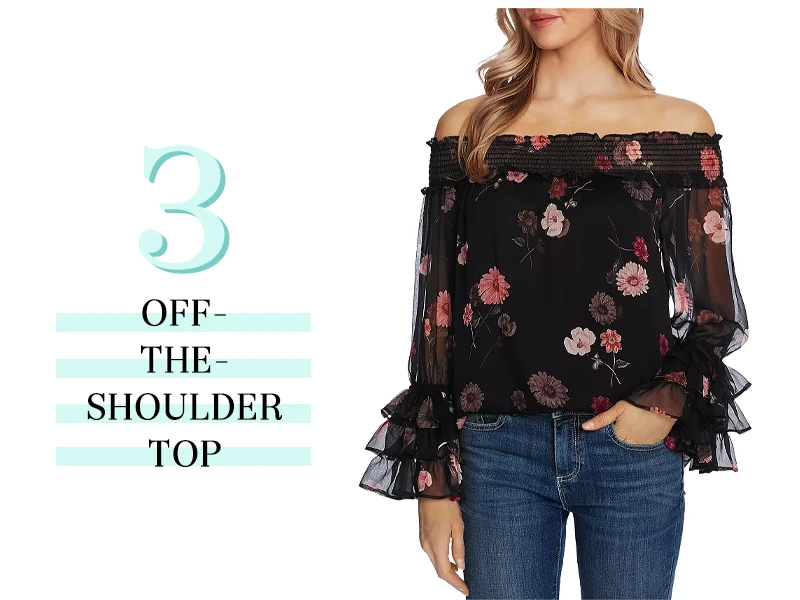 Off-The-Shoulder Top, $89
If you like some romantic elements in your otherwise classic wardrobe, this blouse is ideal: off-the-shoulder, soft, a little dramatic.
Available at Macy's (limited sizes), in XXS – XXL.
Plus option here in a soft leopard print.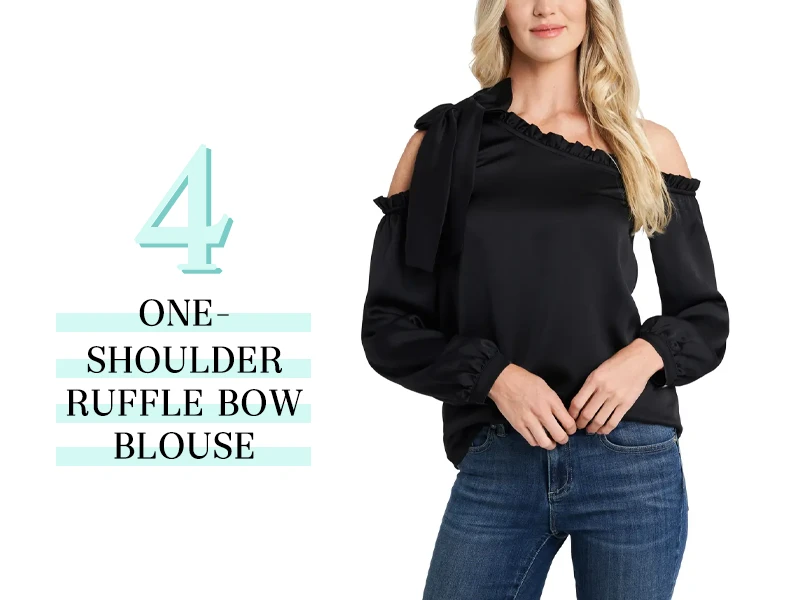 One-Shoulder Ruffle Bow Blouse, $89
I. LOVE. THIS. BLOUSE.
When your wardrobe is filled with classics, it can be difficult to find these kind of novelty tops that still fit in your style. But this one-shoulder blouse feels elegant and fun.
Available at Nordstrom, in black XS – XL.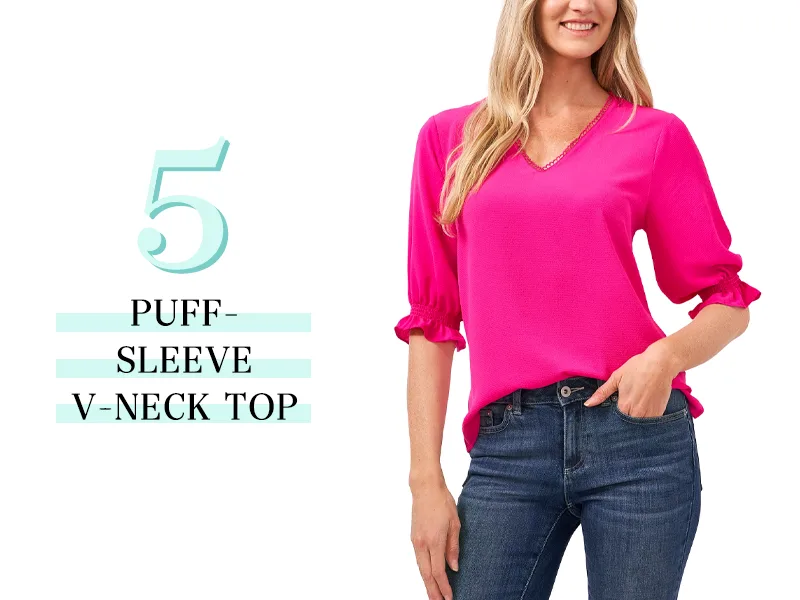 Finally, if you'd like something sweet and simple, this V-Neck Top may be for you. The "puff" sleeve is very soft, not dramatic at all.
Add your favorite delicate jewelry and wear your best-fitting jeans, and off you go.
Available at Macy's in XS – XL in pink.
Similar Plus Size option here in leopard.