The summer is a challenging time to get dressed if you don't feel confident in your body or love all your parts.
One question from readers rising in popularity is, "What can I wear when I don't want to show my arms in the heat?"
So let's talk about it, and before someone comments that we should all "just wear whatever we want," – yeah, no kidding.
But it's not that simple.
That's not the point, it's not what's being asked, and comments like this are dismissive.
We can't control what makes us feel uncomfortable.
Right now, I would rather swim with sharks than wear a bathing suit in public, and no campaign encouraging me to get in the pool with my kids will make me suddenly feel any different.
Am I proud of that?
Absolutely not. I'm working on it, but that's my truth right now.
And while I appreciate the sentiment, we have a lot of damage to undo.
I'm in my 40s. I grew up in chapter one of diet culture and the height of the 90s supermodel. By the time I hit college, the media was calling my-age celebrities like Jessica Simpson "fat."
And it's not any better today, from the Kardashians with their million-dollar, surgically created bodies to random influencers on Instagram with massive followings using photoshop and filters sharing their "real life."
Modern women are inundated every day with a standard of beauty that no one can attain and told at the same time not to care about it and be confident.
It's exhausting.
I'm a well-educated woman who knows better, and every day I have to convince myself that my body is okay as it is.
Let's not oversimplify our insecurities.
We all have something we're not crazy about. So why not highlight what we love, and minimize what makes us uncomfortable?
There are ways you can dress for the heat if you are not comfortable with your upper arms or just don't like sleeveless shirts.
Truly the only thing I care about is you feeling fantastic in the clothes you put on your body.
In my opinion it goes hand in hand with feeling happy and confident in your life. It's baby steps.
So let's breakdown some options.
What to Wear When You Don't Love Your Arms in the Summer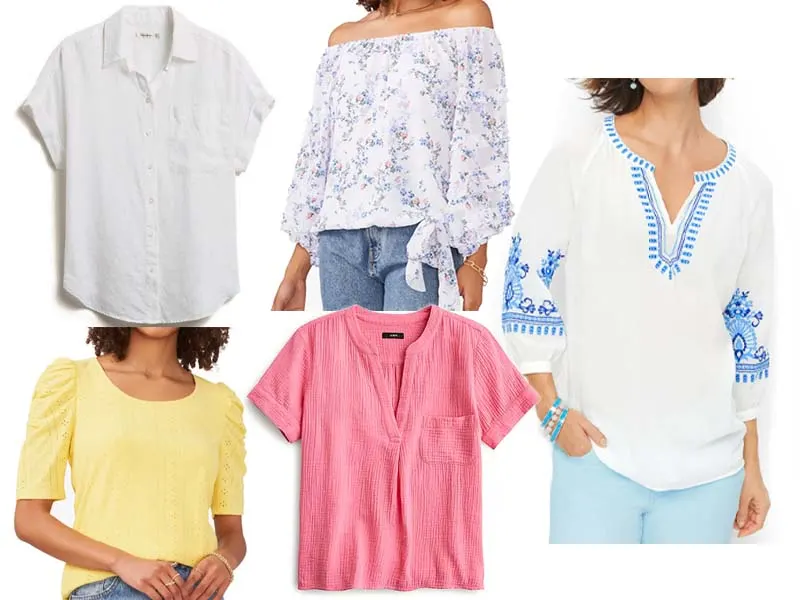 Some of these will look familiar, others are new features, all of then are fantastic options that cover your arms but keeps you cool in the heat.
And within each option are tips to help you build out an arm-friendly shirt collection for the summer.
Off the Shoulder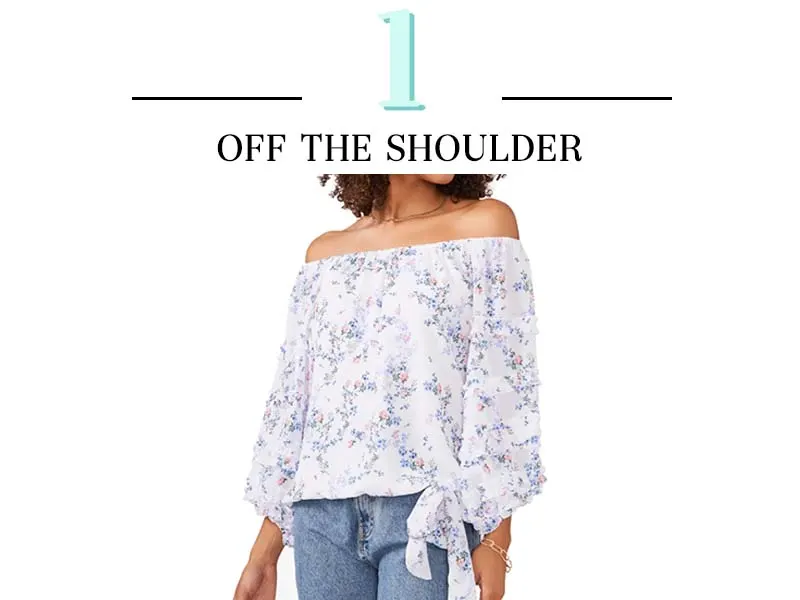 Off the Shoulder, $89
For a feminine, dressed up option, look for an off the shoulder top, like this one from Vince Camuto available at Nordstrom.
This is a better, more modern alternative to the popular cold-shoulder tops we saw a few seasons ago.
You get the benefit of an open, airy neckline, while still covering your upper arms.
V-Neck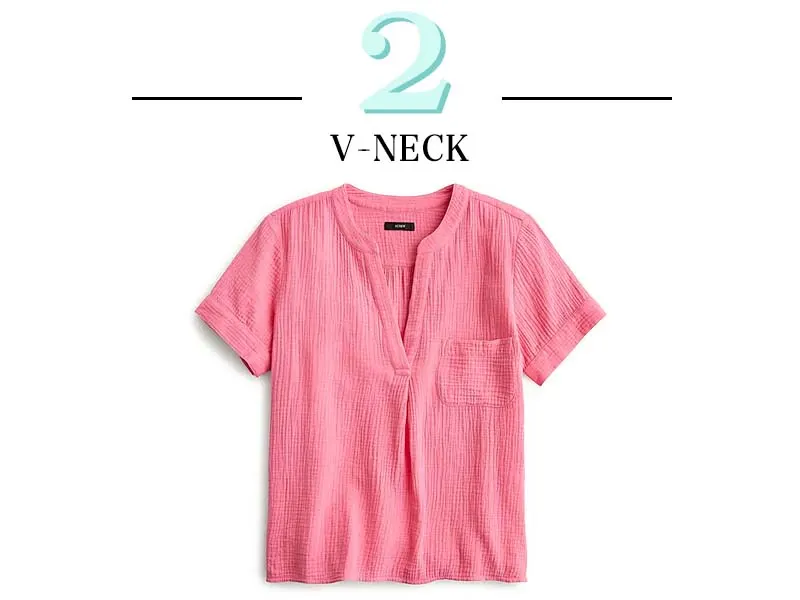 V-neck, $79.50
A short sleeve shirt may seem like an obvious suggestion, but the neckline is what makes it a great choice.
When you want to cover your arms and still keep your look light it's important to create balance. A v-neck or scoop neck top will help you do that, and keep you cool.
And pick a light-weight fabric. A thick cotton is often too heavy, but a breezy gauze can be a nice choice.
This short sleeve, v-neck guaze top from J.Crew checks all the boxes and is a current Reader Favorite available in five colors in XXS – 3X.
Eyelet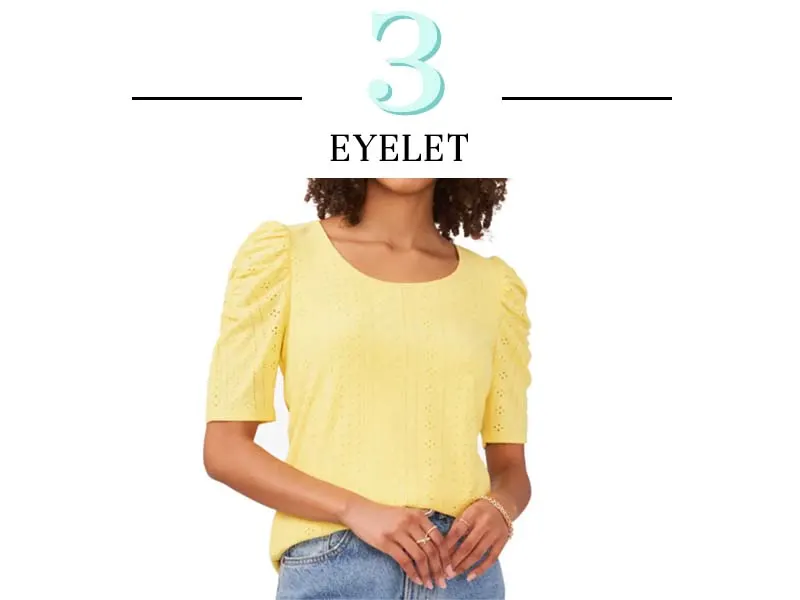 Eyelet, $59
Another option from our Reader Favorite list is this eyelet sleeve tee with a scoop neckline, featured in our Midi Skirt Outfit Formula.
This one is also from Vince Camuto at Nordstrom, available in yellow, white and black.
When you need a sleeve, get creative. Here, the sleeve is done in an eyelet, which is stylish and practical as the perforations will help keep you cool and the shape of the sleeve sits away from your arm.
You could also look for a mixed-media top; that's a term retailers use when they combine more than one fabric. So something like a knit body with a sheer sleeve would be pretty.
Linen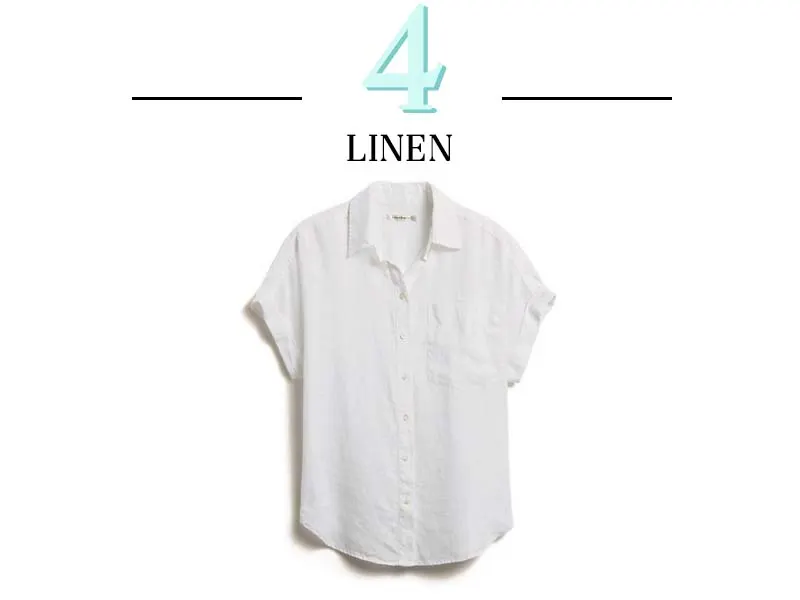 Linen, $85
Choose classic styles done in summer weight fabrics, such as gauze or linen.
A short sleeve linen shirt, like this on from Banana Republic is ideal. Available in regular, tall and petite sizes in XXS – XXL.
3/4 Sleeve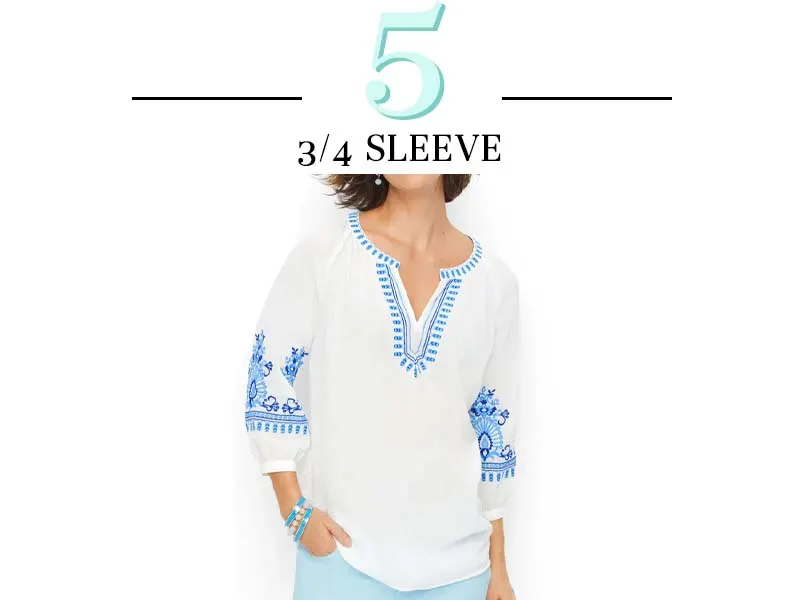 3/4 Sleeve, $89.50
Finally, a 3/4 sleeve tunic is a lovely option.
Again, look for something in a lightweight fabric with an open neckline.
This pretty tunic is done in a gauze is available in all sizes, including regular, petite, plus and plus petite. For $89 with 30% off at checkout.
52 Outfits in 2022!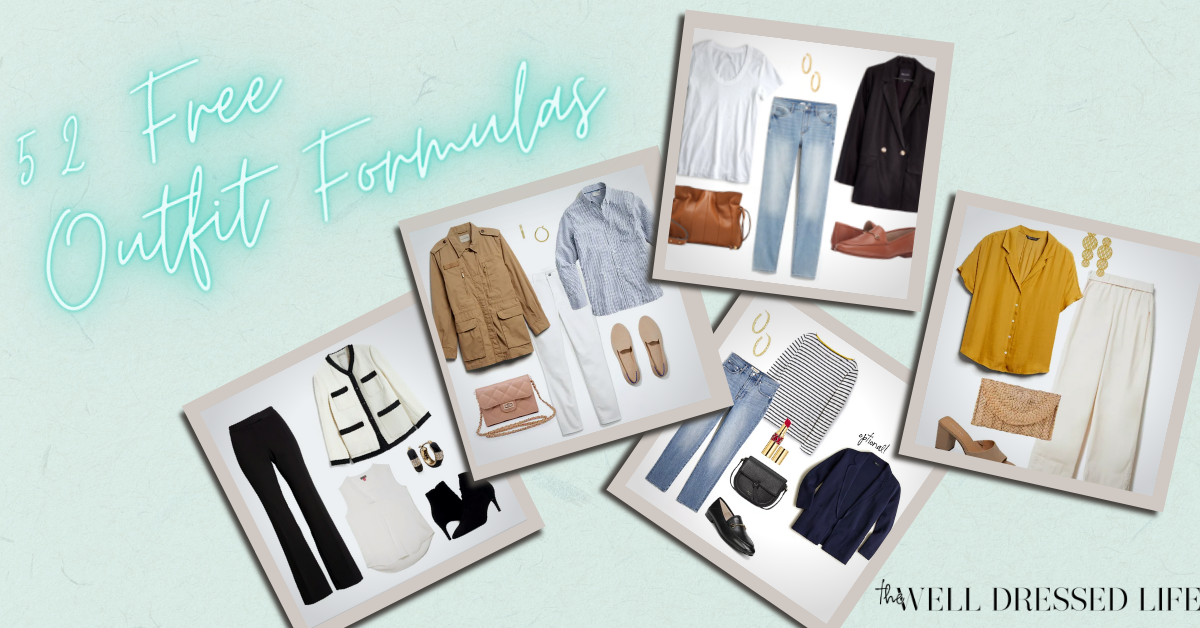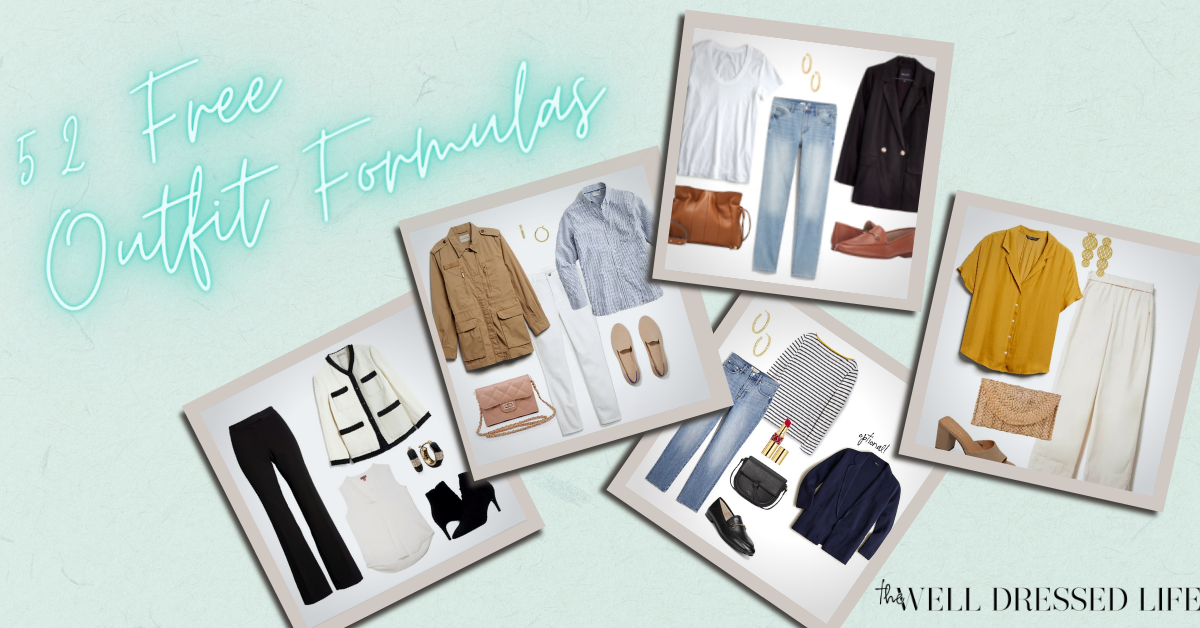 Follow Us on Instagram!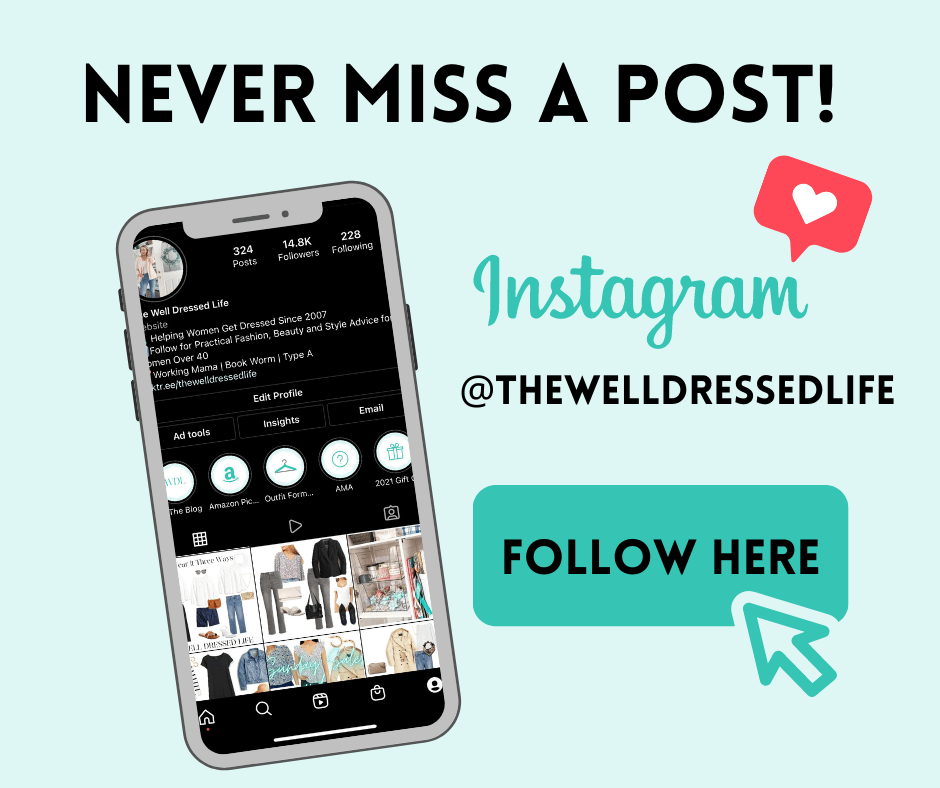 Our Style Content is Inspired by Our Readers
Our readership inspires all of our posts and is not sponsored or paid for by brands or retailers.
Recommendations are based on my experience as a personal stylist and wardrobe consultant for over a decade. I worked with busy, down-to-earth women who wanted to look chic and feel confident but were often confused by so much of retail.
Some links are affiliate links, which means if you purchase via our site, we receive a small commission.

If you enjoy our content and would like to help us grow, please follow on Instagram and join our Private Facebook Group to access more advice and exclusive in-depth conversations with other like-minded women.
Learn about our mission to help women look and feel their very best, every day, here.
Sign Up for Daily Content and Receive Our Free Classic Wardrobe Checklist