Last week, as I was organizing content, I came across several pieces from Anne Klein, and all I could think was how practical they would be for many of our readers.
Now, the fashion world is not exactly known for practicality. And even if a piece is practical, it's often styled in a way online and in stores that makes seeing its versatility difficult.
But the pieces I ended up saving from Anne Klein are wildly wearable, straightforward, and fill voids I know many readers are feeling in their wardrobes.
We're talking go-to pieces you can wear to spring events, basics that build out your wardrobe and layers that finish a look.
So I rounded up our top picks from Anne Klein, available at a variety of retailers. All of the images below are from Nordstrom, but a few pieces sold out before I could publish this post.
In those cases I found them at other retailers like Macy's, Dillards and Amazon.
What to Buy from Anne Klein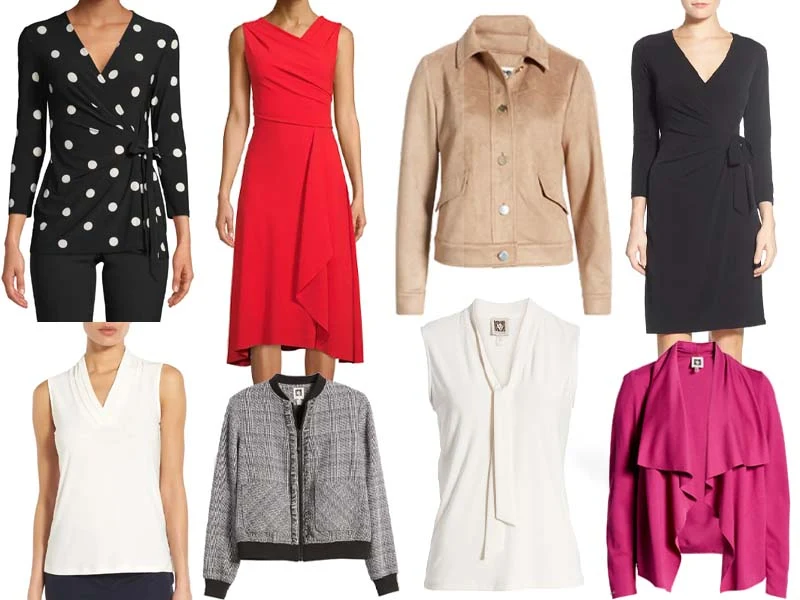 A quick note about sizes.
Anne Klein fits like Talbots.
So if you take a size 8 in Banana Republic, you're likely a six in Talbots, and Anne Klein follows a similar scale.
Even on their website they tell you they run full.
Be sure to read the measurements provided when deciding what to order. I also find they run full, but that perspective depends on the other brands you regularly wear.
Anne Klein offers XXS (00) – XXL (18) and plus sizes in limited styles.
Let's jump into our top picks.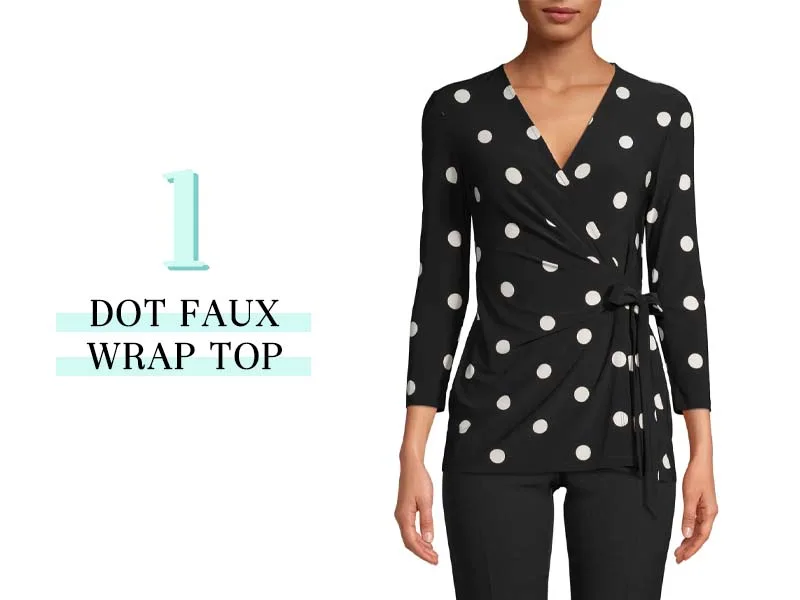 Dot Faux Wrap Top , $69
Black and white polka dot is a timeless print for spring. And it's so easy to wear with black bottoms (above) or your favorite white pants.
The faux wrap style is universally flattering, drawing the eye to the side and pulling your waistline in, so any body type can happily wear it.
It's extra nice if you don't have a defined waist and want to create the illusion of one.
Available in XXS – XXL and a similar plus option here.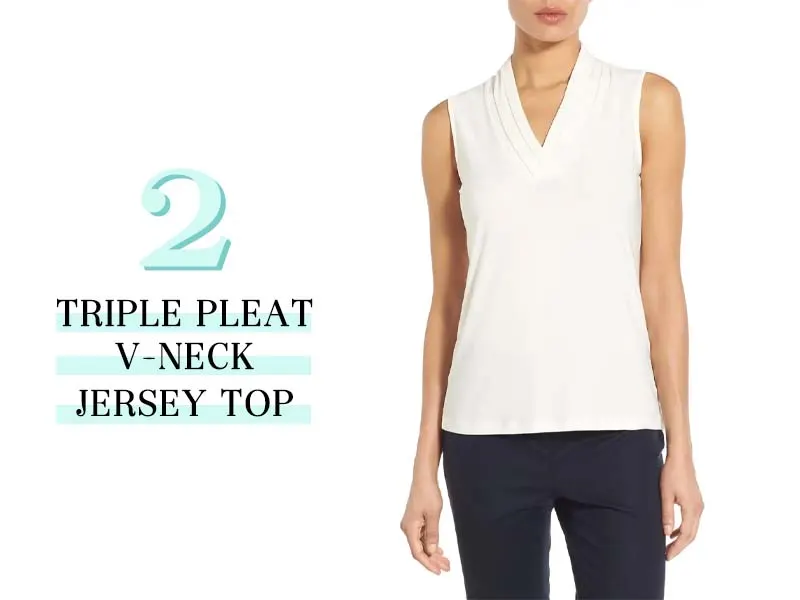 Triple Pleat V-Neck Jersey Top, $39
We frequently feature this jersey v-neck top, but it never gets its own shout out.
Better under pieces are so hard to find, especially one like this that can be worn casually and to the office. The v-neck is again flattering on everyone and I like the pleat detail at the neck.
White is available at Nordstrom here.
Black and other colors (not white) are available at Macy's here.
Limited plus sizes are available at Dillards here.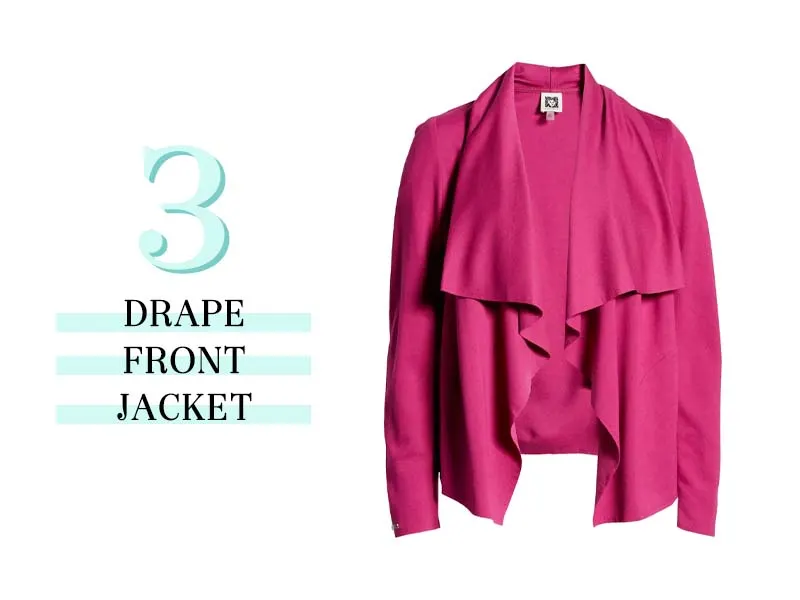 Drape Front Jacket, $119
If you like a jacket or blazer but want a softer shape than the tailored pieces we tend to feature, this drape front jacket is lovely.
Often, soft outer layers are too long on most women, so I appreciate that this one hits at the hip, allowing the leg to look long and giving you some height.
To style this, keep the underneath simple; go with all black. And wear a tank or shell with an open scoop neckline so the jacket's fabric doesn't overwhelm you.
Available in XS – XL, in elderberry (above) or anise here.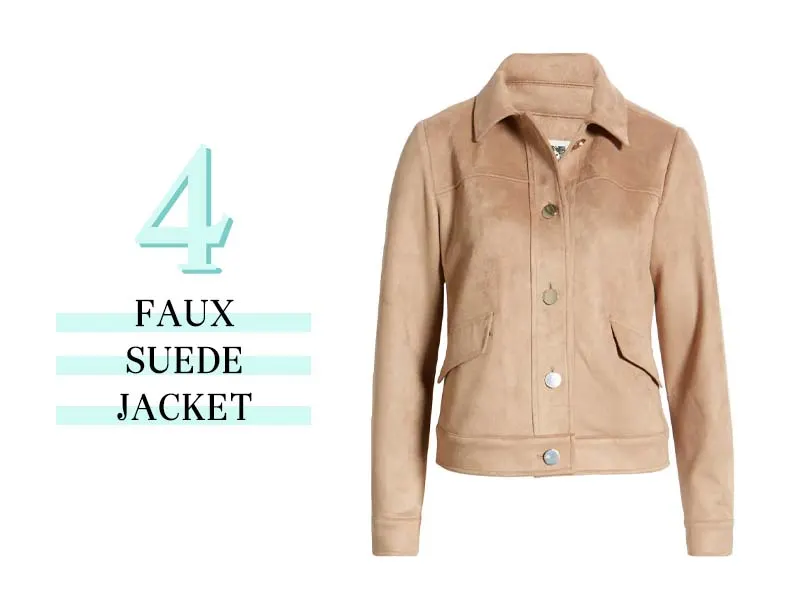 Faux Suede Jacket, $149
Another layer option is this gorgeous faux suede jacket. Cut to fit like a denim jacket this will give you a finished yet casual look.
I'd love to see this styled with a white tee shirt and blue or black jeans, or all white or cream underneath.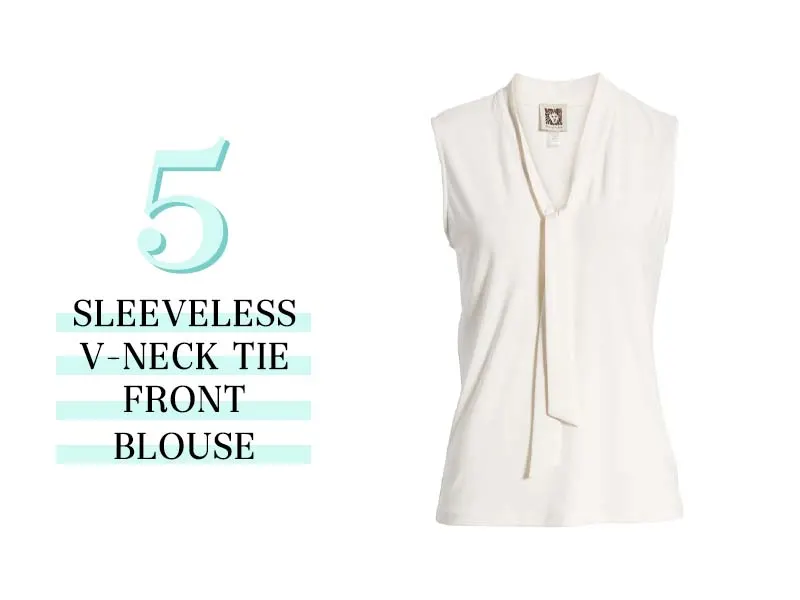 Sleeveless V-Neck Tie Front Blouse, $49
This tie front blouse has been around forever.
So long that I use to put it in clients dressing rooms all the time. It's an ideal layer with the front tie adding some interest.
This looks wonderful under any style cardigan. You can also wear a one or two button blazer on top.
Available in white in XXS – XL here.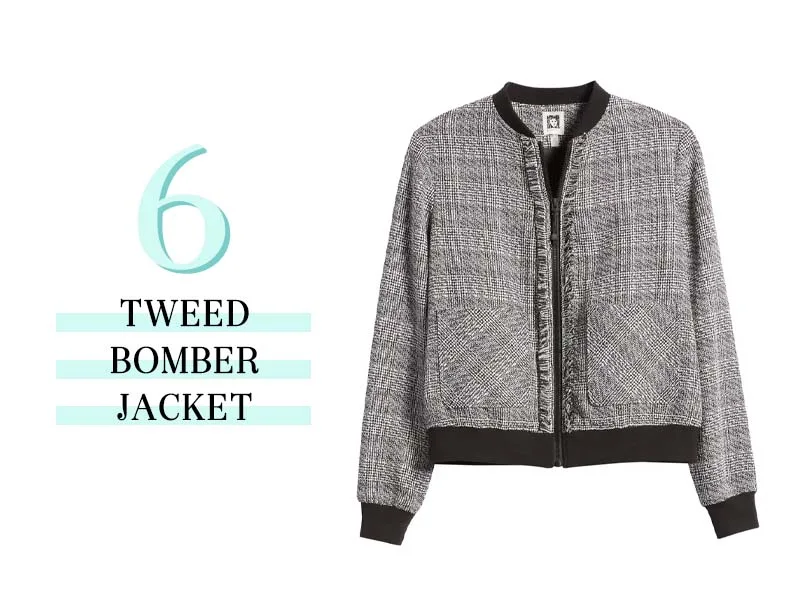 Tweed Bomber Jacket, $149
I think this tweed bomber jacket is a fun novelty piece. I love the mix of fringe and tweed in a nontraditional shape.
Keep in mind this is cut like a bomber jacket, so it hits at the hip. It will look best with slim or straight bottoms.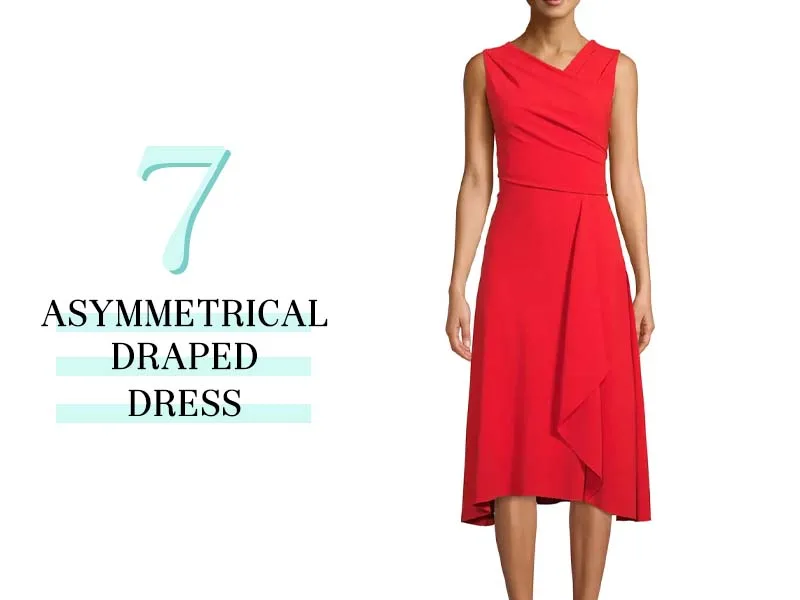 Asymmetrical Draped Dress, $149
I wish there were more dresses like this in the world. It's asymmetrical, drapey, dramatic, and just so gorgeous. And in this poppy red, it's a real show stopper.
By the time I got to publish this, it was already completely sold out at Nordstrom, in black and red.
I did find it on Amazon, in both colors here.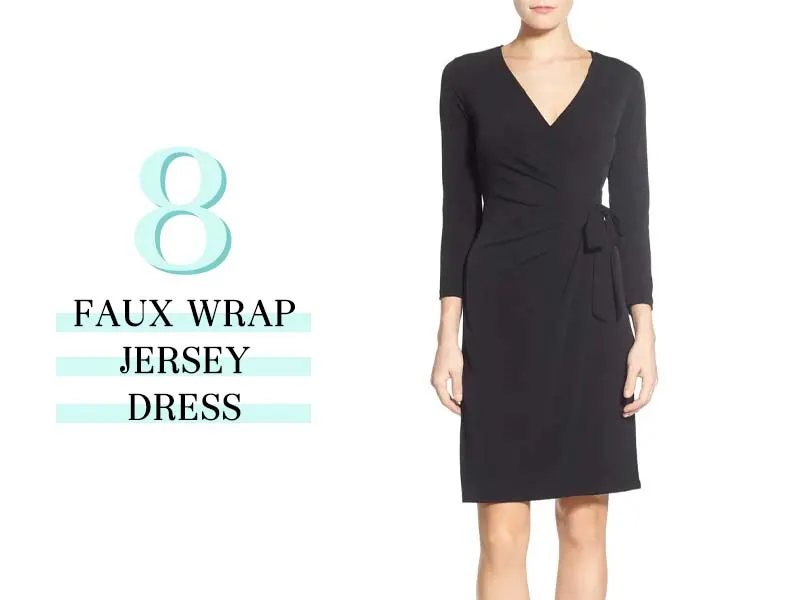 Finally, another dress that sold out at Nordstrom before I could hit "publish."
A wrap dress is on every must- have list if you're building a classic wardrobe, and this one is great and just under $100.
The faux wrap style gives you the flattering look of a wrap dress, but is more comfortable since you don't have to worry about fussing with the tie and unraveling when you move.
You can wear this style dress year round, to just about any occasion.
It's almost completely sold out, but I found a few sizes options at Macy's here.
52 Outfits in 2022!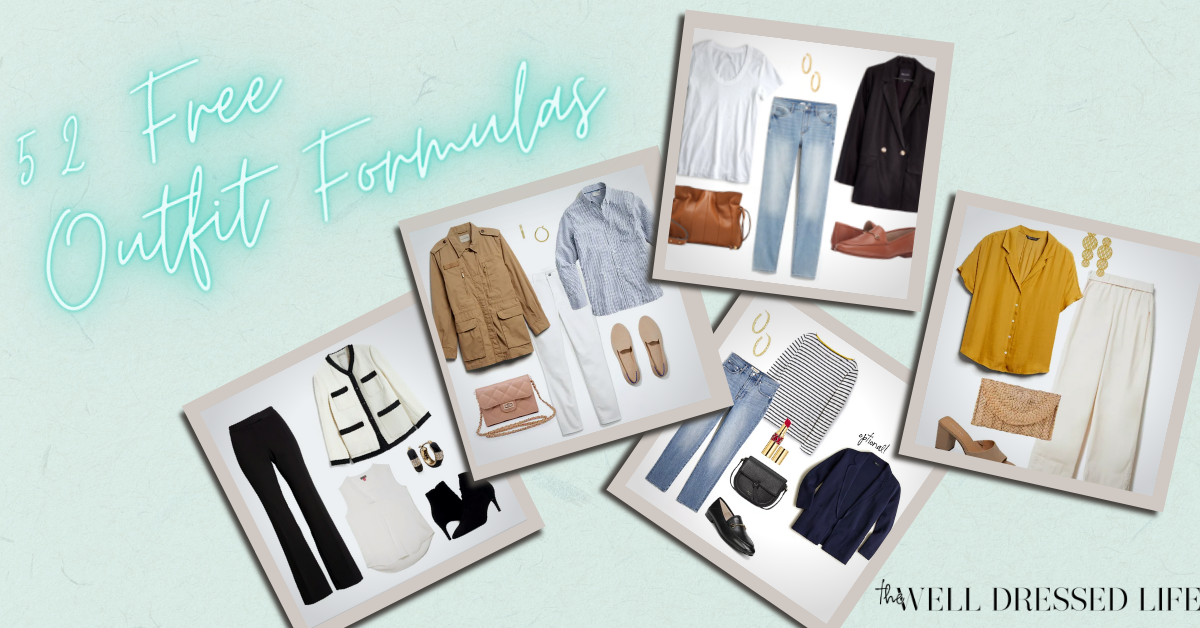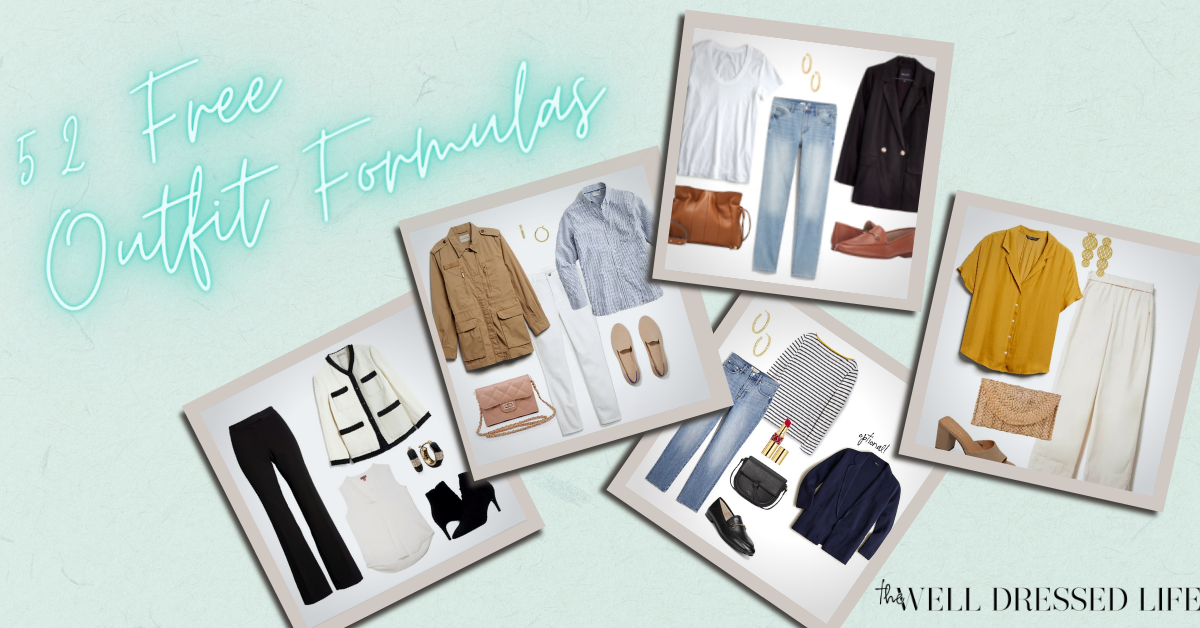 Follow Us on Instagram!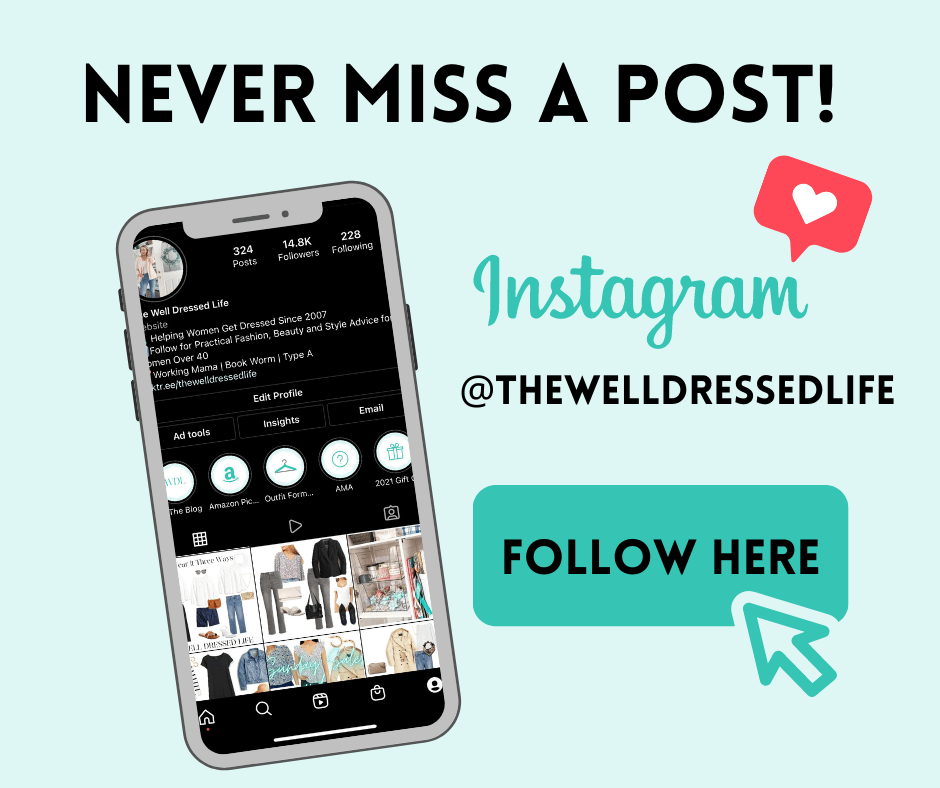 Our Style Content is Inspired by Our Readers
Our readership inspires all of our posts and is not sponsored or paid for by brands or retailers.
Recommendations are based on my experience as a personal stylist and wardrobe consultant for over a decade. I worked with busy, down-to-earth women who wanted to look chic and feel confident but were often confused by so much of retail.
Some links are affiliate links, which means if you purchase via our site, we receive a small commission.

If you enjoy our content and would like to help us grow, please follow on Instagram and join our Private Facebook Group to access more advice and exclusive in-depth conversations with other like-minded women.
Learn about our mission to help women look and feel their very best, every day, here.
Sign Up for Daily Content and Receive Our Free Classic Wardrobe Checklist