What a difference a year makes!
Last April, I was sitting at my desk wondering how I would keep my business going as we watched the world go into what felt like a free-fall.
Like everyone, I had a million daily thoughts, and my career felt so frivolous.
Who cares about any of this when we're just trying to survive each day?
But then something extraordinary happened; in an endless cycle of bad news and professional roadblocks, I started to see our audience grow. Slowly, at first, and then more steadily.
It seems we were all looking for some sense of normalcy and a much-needed distraction.
The community that has come out of last year is incredible. And thanks to you and your willingness to be open, we've been able to create several new programs and series, all based directly on your feedback, to serve your needs.
So, from a year ago, when I had no idea what to write about to now as I'm bursting with ideas, I'm excited to launch Brand Spotlight. In this monthly series, I'll highlight one brand that offers something our audience is looking for.
As always, these posts are not sponsored.
Today, we're starting with Gorjana, an affordable line of delicate, everyday jewelry you can incorporate into your classic style, with gold and silver-tone options.
About Gorjana
Gorjana is a California-based jewelry company creating fresh and casual pieces you can layer or wear individually at affordable prices. I discovered them a few seasons ago and have collected several well-loved pieces for myself.
You've probably notice I use many Gorjana items in our outfit inspiration posts. I love mixing a little west coast style into my very east coast perspective. It helps keep my look relaxed and casual.
These make a wonderful self purchase if you are looking to expand your jewelry capsule or a lovely gift for friends. Below I rounded up some of my favorite pieces for the spring and summer.
* Pieces are 18K gold or silver plated.
Necklaces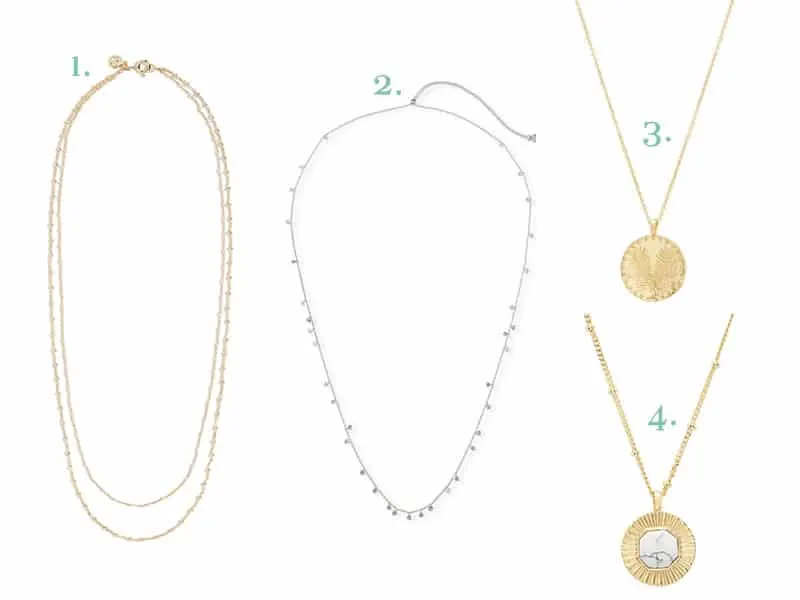 (1) Capri Layer Necklace, $39 | (2) Mini Long Necklace, $65 | (3) Palm Coin Pendant Necklace, $60 | (4) Power Gemstone Pendant Necklace, $35
If you are looking to create an elongated silhouette go for a necklace with length. Their Capri Necklace ($39) will help you easily created the popular layered look or go with the Mini Long Necklace, ($65) in either silver or gold for some movement and interest.
I have both the Palm Coin Pendant Necklace, ($60) and the Power Gemstone Pendant Necklace, ($35 ) and I wear them simply over white tee shirts or in the opening of my collared shirts.
Earrings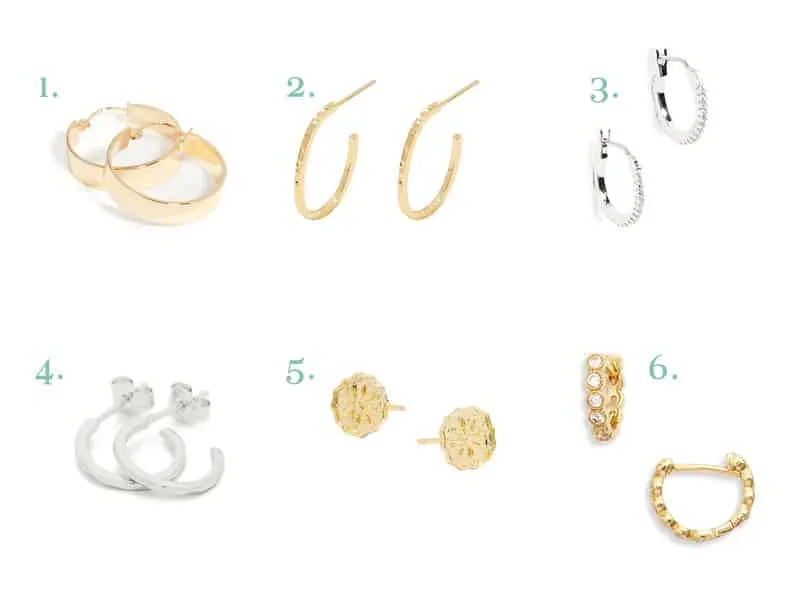 (1) Jax Small Hoops, $60| (2) Alice Hoop Earrings, $50 | (3) Shimmer Huggies, $27 | (3) Taner Mini Hoop Earrings, $45 (4) Mosaic Coin Stud Earrings, $35 | (5) Madison Shimmer Huggie Hoop Earrings, $45
What I appreciate the most about Gorjana earrings is how lightweight they are. You can wear them comfortably all day. And, as someone with sensitive ears, these don't bother me at all.
The size of all of these hoops works for casual or work. The Taner Mini Hoop Earrings ($45) are available in silver and gold.
I ordered the Madison Shimmer Huggie Hoop Earrings ($45) as an alternative to my everyday studs.
Bracelets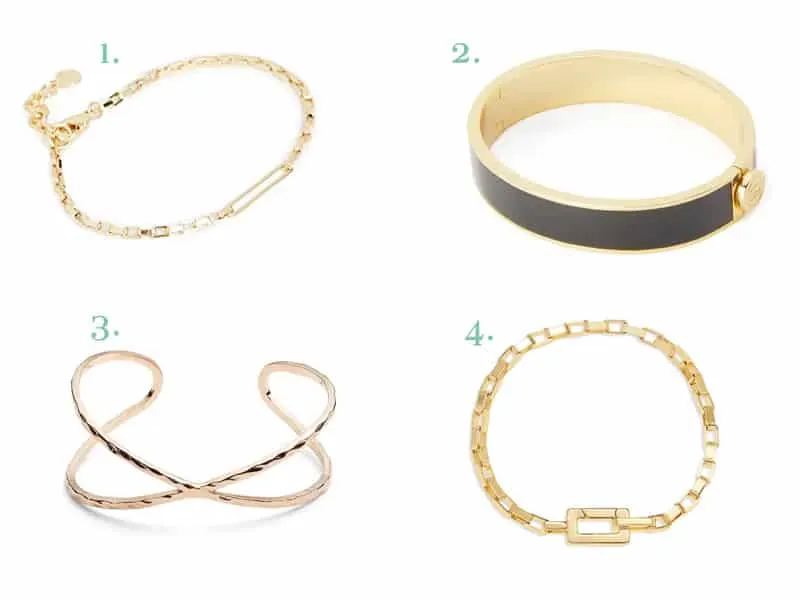 (1) Nicole Delicate Bracelet, $50 | (2) Black Enamel Hinge Bracelet, $48 | (3) Crossover Cuff Bracelet, $55 | (4) Nico Link Bracelet, $65
Finally, let's talk about bracelets. If you want to create a stacked, layered look, Gorjana makes many options. The Nicole Delicate Bracelet ($50) and the Nico Link Bracelet ($65) stand-alone or will work beautifully with pieces you already have.
If you like a bangle, I love this Black Enamel Hinge Bracelet, marked down from $120 to under $50 at Nordstrom Rack. Or, go with this fun Crossover Cuff Bracelet, also on sale at Rack for $55, marked down from $125.
Our Style Content is Inspired by Our Readers
Our readership inspires all of our posts and is not sponsored or paid for by brands or retailers.
Recommendations are based on my experience as a personal stylist and wardrobe consultant for over a decade. I worked with busy, down-to-earth women who wanted to look chic and feel confident but were often confused by so much of retail.
Some links are affiliate links, which means if you purchase via our site, we receive a small commission.

If you enjoy our content and would like to help us grow, please follow on Instagram and join our Private Facebook Group to access more advice and exclusive in-depth conversations with other like-minded women.
Learn about our mission to help women look and feel their very best, every day, here.
Sign Up for Daily Content and Receive Our Free Classic Wardrobe Checklist