Let's go shopping at Athleta.
Athleisure is everywhere, and you can find quality pieces at a wide range of price points.
I regularly feature items from Old Navy and Amazon that are a steal.
But let's talk about what to buy if you want to spend a little more or treat yourself to some staples.
I've been on a journey to get my pre-Covid fitness back.
Well, really, my pre-pregnancy fitness back since having Vivi, turning 40, and life shutting down happened pretty much all at once.
It's no small feat, and it's not happening as fast as I would like, but I've been consistent since November and can see my strength coming back and weight coming off.
We've also received many questions about what to wear on weekends filled with youth sports.
Spring weekends are about to get busy if you have kids or grandkids playing sports.
So I thought I would highlight the pieces I take to the gym and wear to days-long softball tournaments and now, early morning regattas since my oldest rows.
What to Buy at Athleta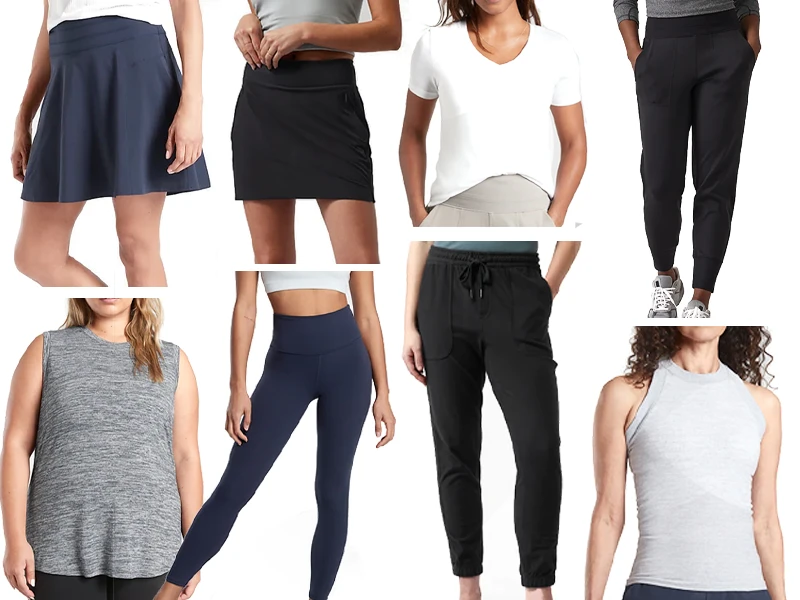 Athleta is my favorite of the better athleisure brands, and I've tried them all.
Their quality is worth the price, and they are truly size-inclusive, ranging from XXS – 3X, with tall and petite options as well.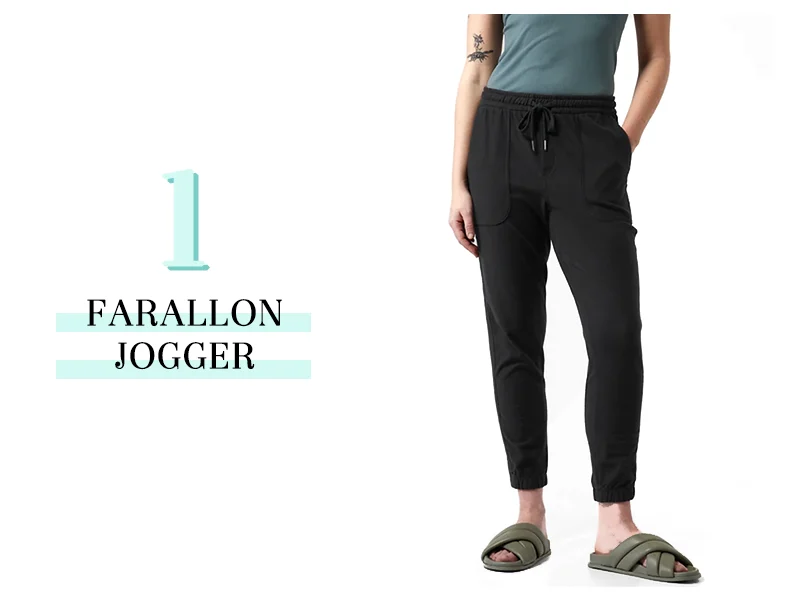 Farallon Joggers, $98
These lightweight, organic cotton joggers are more polished than a traditional sweatpant. I wear these constantly in the spring, with a simple white tee shirt (see below), white sneakers, a denim jacket and baseball hat.
If you don't like shorts, consider these as an alternative since they are super breathable.
Available in black, olive and white in regular, tall and petite, XXS – 3X.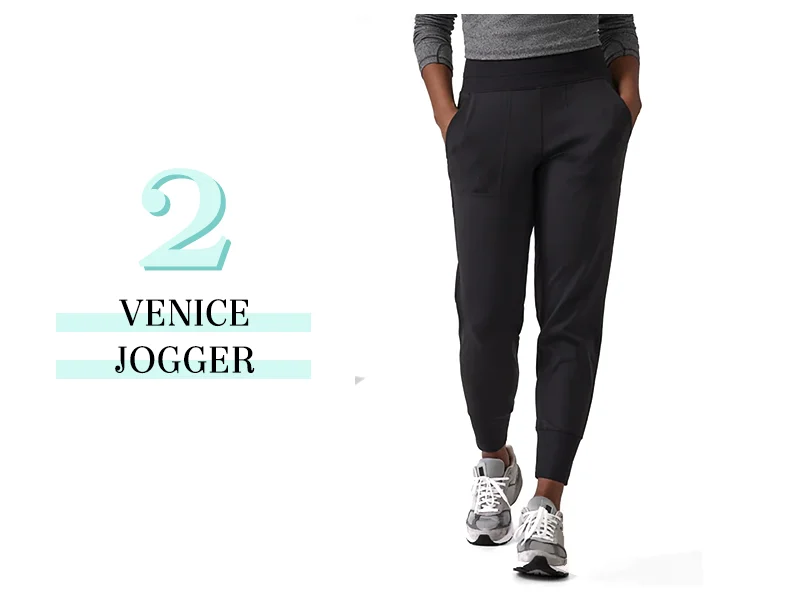 Venice Joggers, $98
The Venice Jogger is possibly the best bottom Athleta has to offer. And it's not just me who thinks that, these guys have over 1700 five star reviews from customers.
Available in black, navy, grey and cream they wear like a sporty ponte pant. I featured them in last week's How to Wear a Sweater Blazer.
They run true, available in regular, tall and petite in XXS – 3X.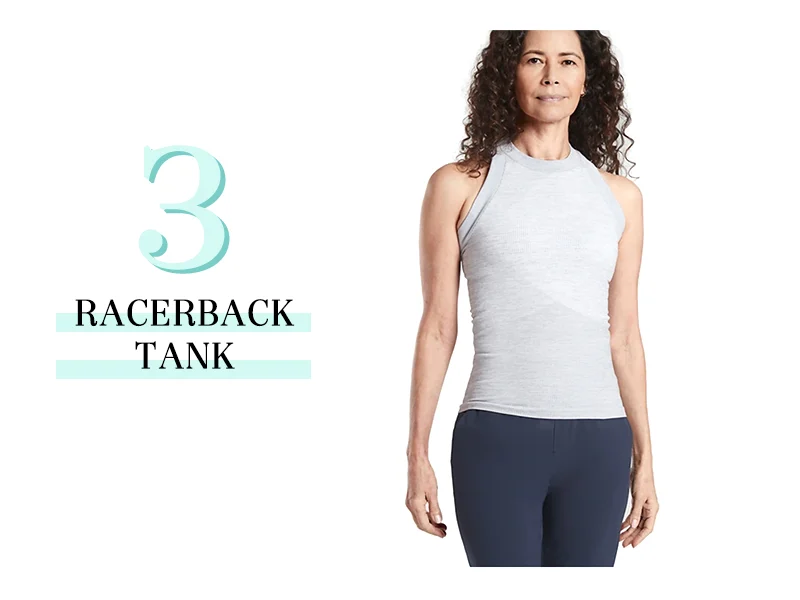 Racerback Tank, $49
This racerback tank is another winner. It fits like a dream and stays in place when you move.
I also just love how it looks on, it's super flattering on and it doesn't ride up.
I know little crop tops are all the rage now, but I can't even imagine walking out the door in one. This makes me feel cute and trendy but … covered.;)
Available in a ton of colors, in XXS – 2X.
Breezy Tank, $44
If you'd like something less fitted but still cute, their Breezy Tank is a lovely choice.
It falls from the body but still holds a shape, has a pretty hem detail and comes in regular, tall and petite in XXS – 3X.
7/8 Tights, $89
The Athleta 7/8 legging are the best leggings I've ever worn.
The high-rise style helps hold you in. They are soft, comfortable, they don't roll down and wash extremely well.
Available in regular, tall and petite, XXS – 3X in four neutral colors.
With over 1600 Five Star Reviews.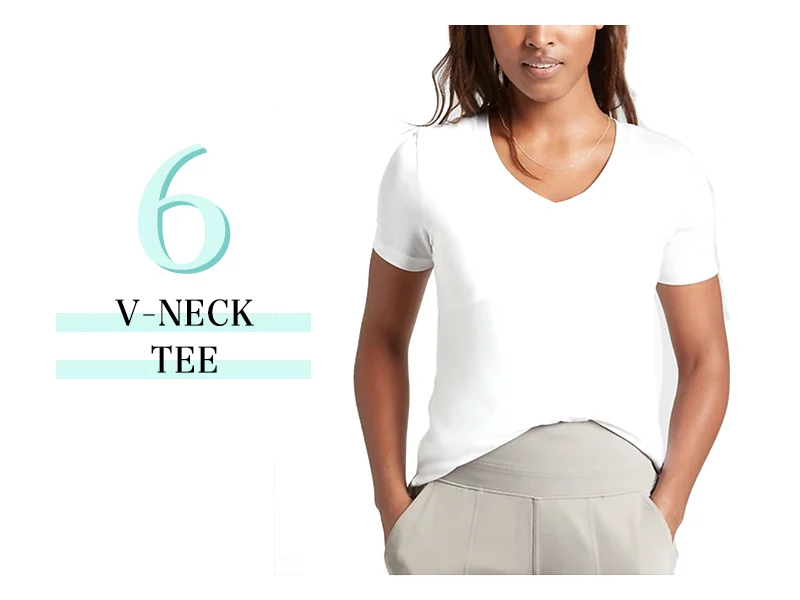 V-Neck Tee, $54
If you'd prefer a sleeve, their Essential V-Neck Tee is wonderful.
You can wear this every day or for workouts.
Available in XXS – 3X in a range of colors.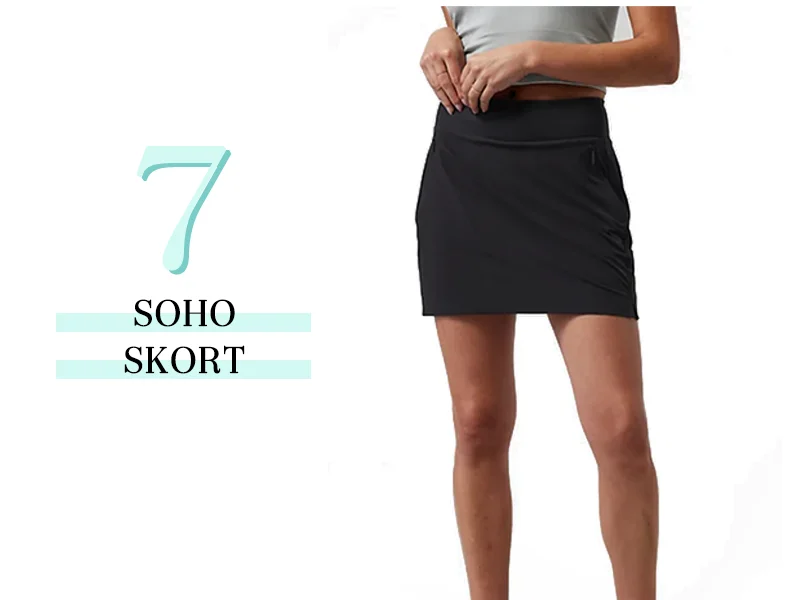 Soho Skort, $59
I like a skort in the summer, especially for busy sport weekends. They are a fun and flattering alternative to shorts. Here I'm featuring two options.
Above is the Soho Skort, which has a sleek fit.
These have pockets (!!!) and a comfortable waistband. You can move, bend, jump – whatever. Pair with the racerback tank featured above.
Available in regular and tall, sizes 0 – 26.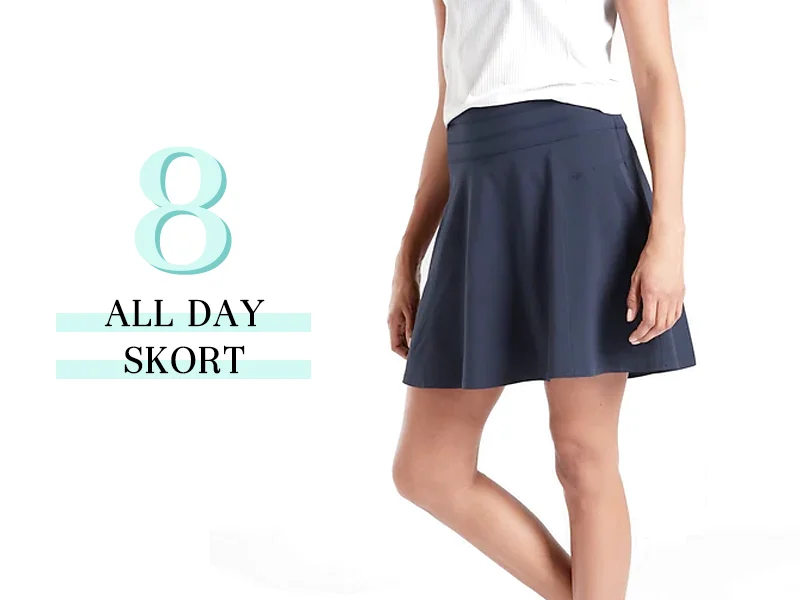 All Day Skort, $59
Alternatively, you can wear the All Day Skort, with a flare style and little more length.
Available in navy and black in sizes 0 -16.
Both are adorable and practical.