In the late nineties, I was a carefree sorority girl living my best life. Back then, my biggest challenge was figuring out how to go to a party at night and write a paper due in the morning.
I can't believe there was a time when I didn't start my night until after 10pm. The current me would be unrecognizable to my younger self, lol.
With 90's trends showing up everywhere, it's easy to get nostalgic.
It was a simpler time, and I'll always be grateful I had those years, and thankful there is no documentation of all my shenanigans. 😉
Back then, Express was a staple in my wardrobe. Their inexpensive, trend-focused clothes were perfect for our nights out, or an off campus date.
One item, in particular, became so popular with my house we called them "sorority pants."
Sorority pants were a bootcut, low-rise, flat front trouser made of a completely synthetic material that perfectly clung to our backsides. They were indestructible, and we put them to the test three or four times a week.
Paired with mid-drift baring tops (oh, my once flat belly) and heavy boots that looked like tanks, we defined 90s style.
Looking back, I guess you could say it was the first time I embraced the idea of a uniform.
But just like us, Express has grown up, and I'm here to tell you they are 100% worth checking out this season.
Their pieces are sleek and sophisticated. Ideal if you want to create classic style with a little edge.
For today's What to Buy at Series, I rounded up my top picks from Express as a former sorority girl, now 40 something-year-old woman who is happily in bed reading by 9:30 at night.
What to Buy at Express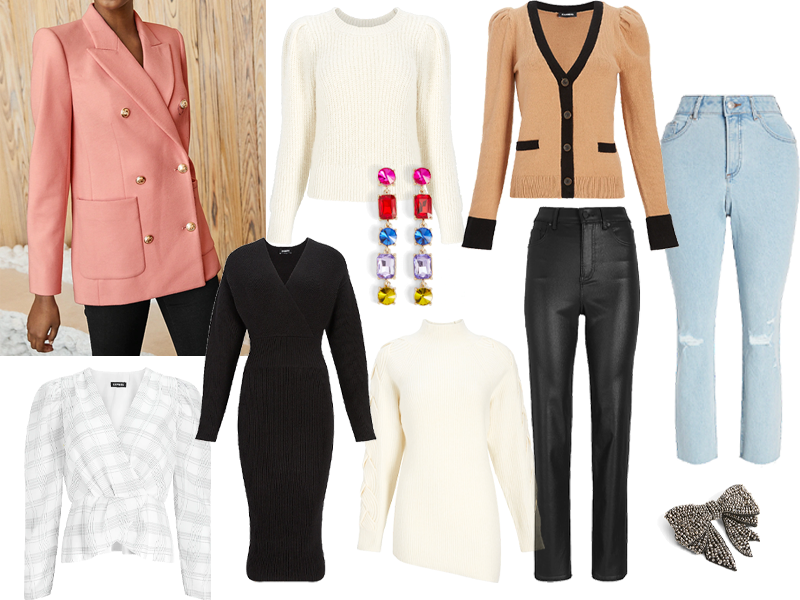 This chic line up looks like a collection you would see hanging in a better department store.
Let's talk quickly about sizes.
Express runs true to size but go up if you are in between. Their size scale includes an XL which is equivalent to a 16/18 and has select petite options.
Express is on of the few retailers that has not offered non-stop sales and mark downs over the last few years, so the price is the price.
Inventory is smaller than what it use to be, so popular items will sell out quickly.
What should you look for? Novelty pieces that will expand and add style to your current basics, dresses, fun tops and accessories.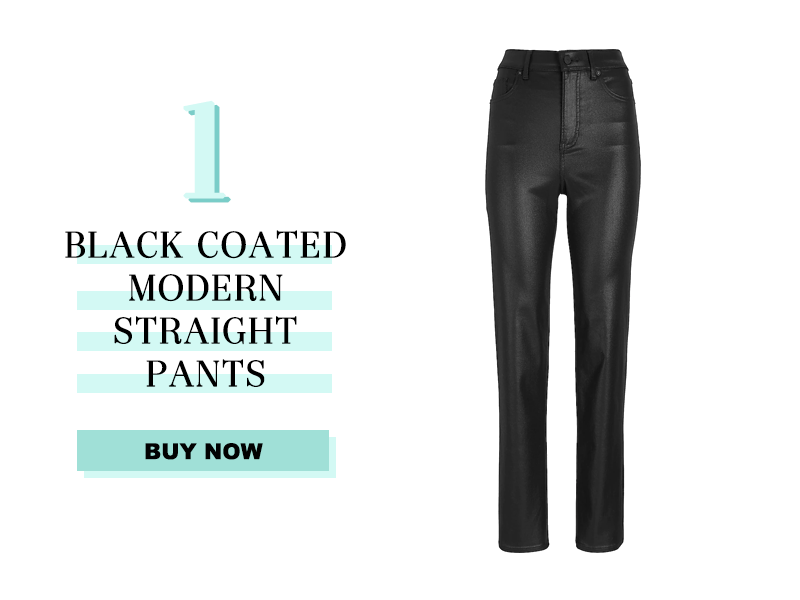 Black Coated Modern Straight Pants, $98
When you create an outfit, it's important to think about finishes. Coated pants give you the look of leather, that you can easily incorporate into your outfit as texture to add depth. It's why leather, and leather -like bottoms are so popular right now.
I love these paired with a cashmere sweater, or blouse (this one from last weeks Nordstrom post would be gorgeous).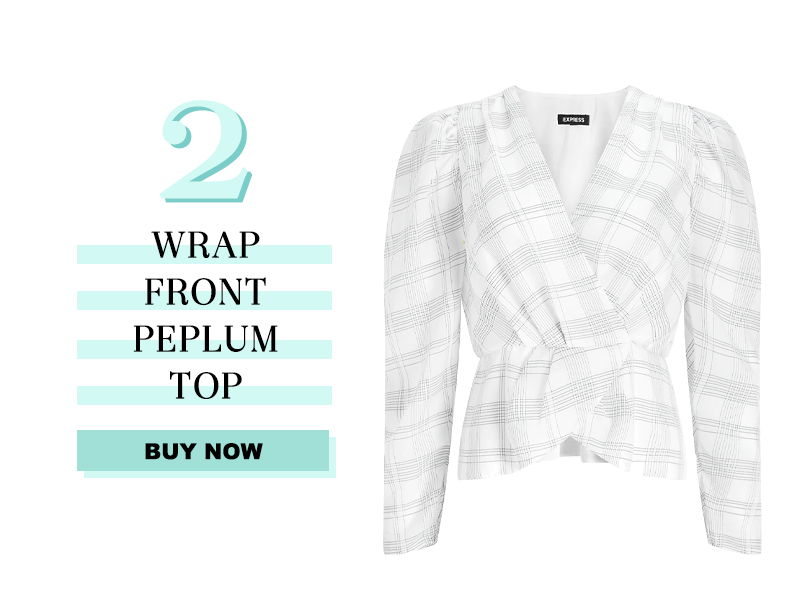 This sweet top would be great for "going-out." The sleeves are not totally sheer, but you will see your arm through it.
And the waist has a faux wrap detail that will pull you in and highlight your shape. You need to wear a high-waisted bottom with this because it's cut short.
Available in white, pink and blue in sizes XXS -XL.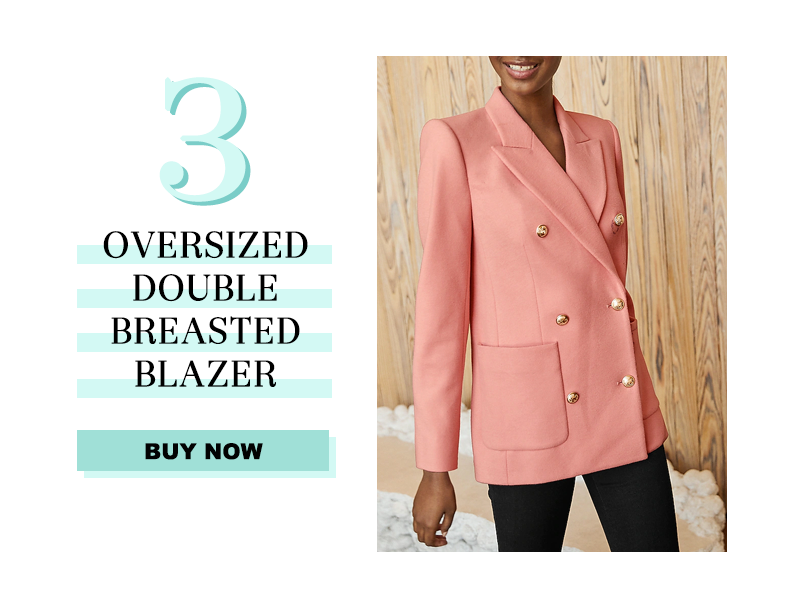 Oversized Double Breasted Blazer, $148
Want to indulge in 90s style but make it current?
You need a blazer, and I am crazy for this double breasted option with exaggerated buttons.
Because of the line of the jacket, with its strong shoulder and length, you want to pair this with a slim pant or a legging and keep it buttoned up.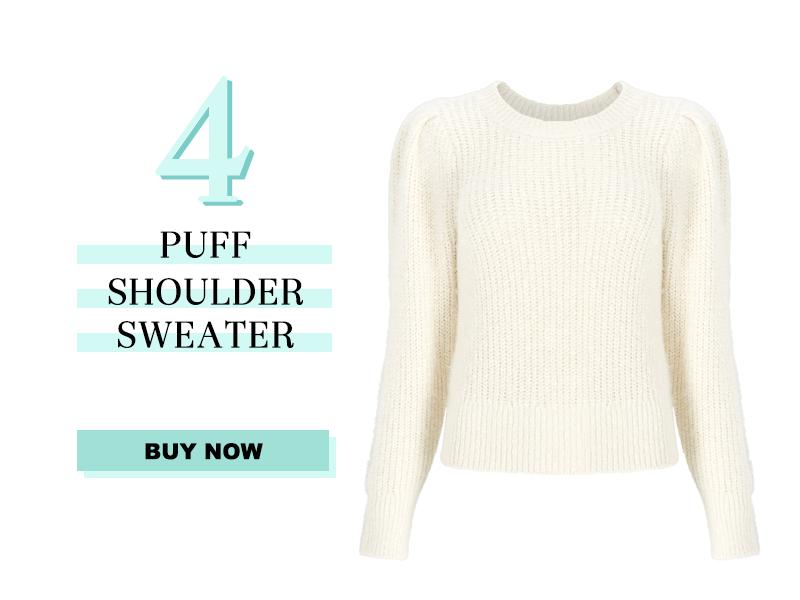 The truth is, I've never met an ivory sweater I didn't love. This one has a subtle puff on the sleeve, so if you have narrow shoulders it will bring balance to your shape. Skip if your shoulders are broad.
Pair with coated black jeans or light wash denim for a modern look.
For more tips see How to Dress a Triangle Body Shape Here.
Available in ivory and pink, in XXS – XL.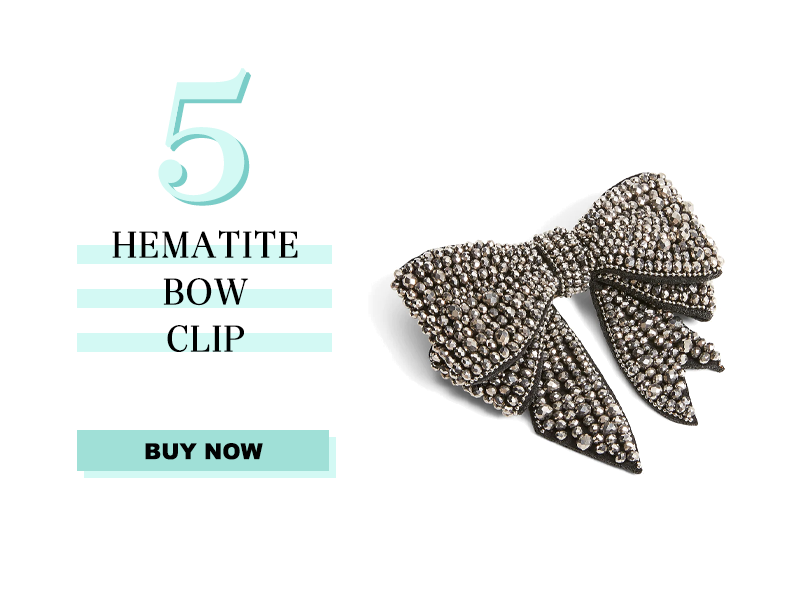 Hematite Bow Clip, $12
Just a gorgeous and inexpensive hair clip.
If you have long-ish hair, pull it half up and clip this in for an instant dressy style.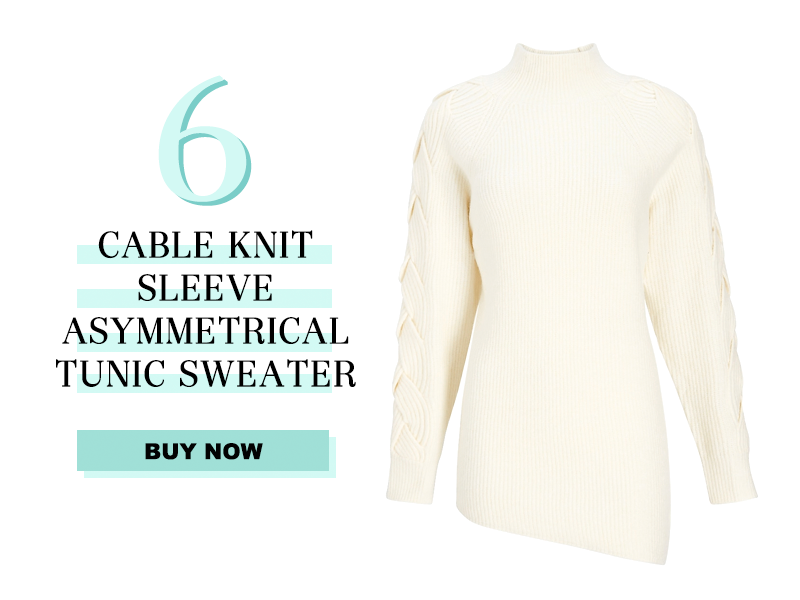 Cable Knit Sleeve Asymmetrical Tunic Sweater, $108
Tunics are one of the most popular styles we feature, and this one has some extra details that elevate it.
The braided sleeve detail kicks it up a notch and the asymmetrical hem adds style and helps elongate the line of your body. Pair with leggings and boots.
Available in ivory, black and red in XXS – XL.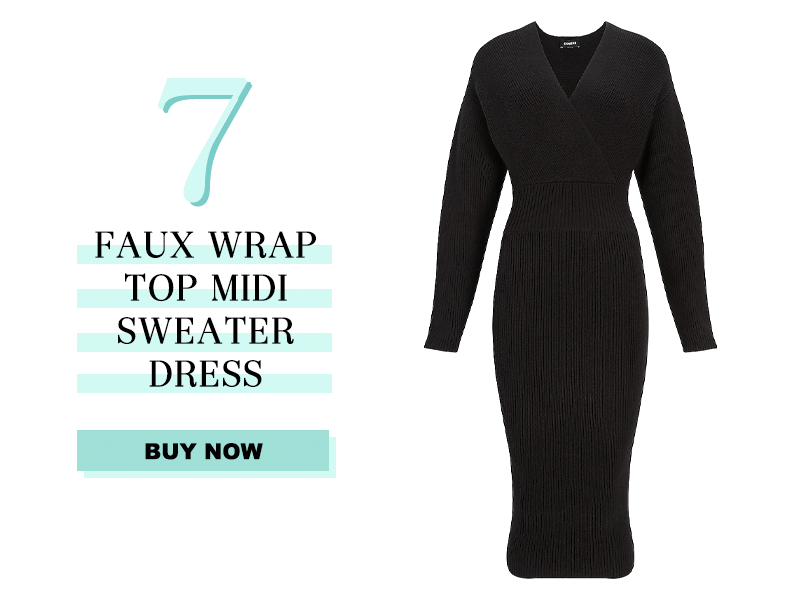 Faux Wrap Top Midi Sweater Dress, $44
This dress reminds me of a classic Donna Karen style, that sits slightly off the shoulder, and hugs your curves. It's sexy without showing anything.
On Sale for only $44, ideal for a dress up date night – something we all probably need right about now.
Available in black and red, in petite and regular sizes in XS – XL.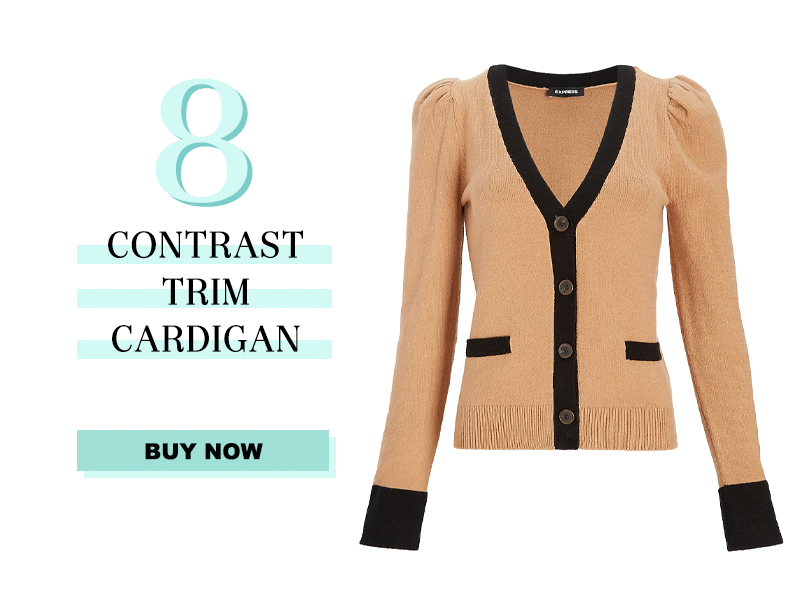 Black and camel is a striking combination. This contrast trim cardigan can go anywhere, form the office with a traditional black trouser, to the coated black pants featured above.
This is not a cardigan you layer over something, instead, you keep it buttoned and wear it as a top.
Available in XXS – XL. Is fitted to the body, size up.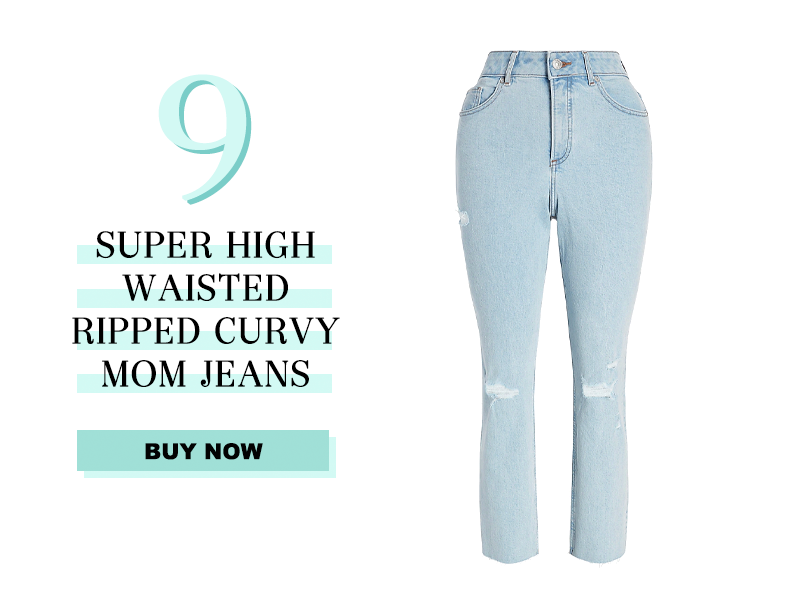 Super High Waisted Ripped Curvy Mom Jeans, $88
Personally, I love a distressed jean. They add a bit of contrast to an outfit, especially when paired with more classic, tailored pieces.
These high waisted jeans are in a modern light wash, with a frayed hem that will hit at your ankle.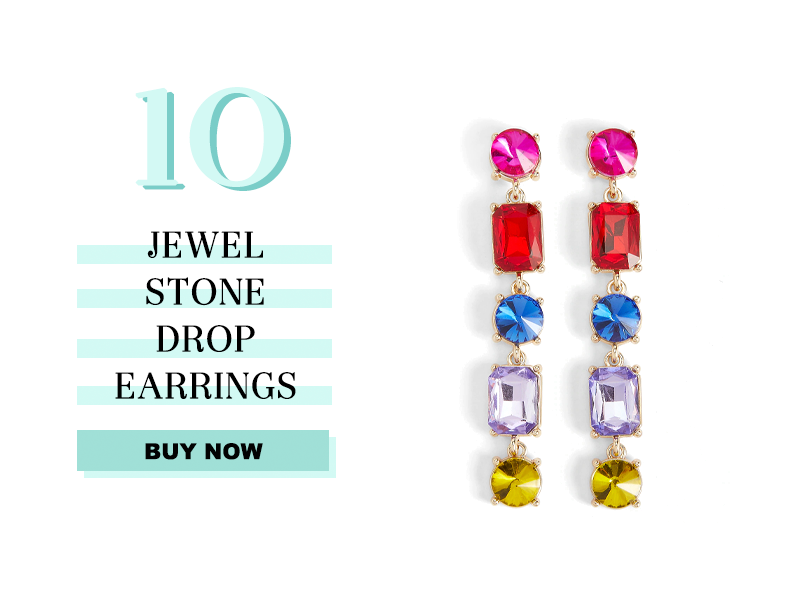 Jewel Stone Drop Earrings, $24
Long drop earrings are a big trend right now. If you want to try it, these are only $24 and will brighten any look.
Shop this Post
Follow Me on Instagram for Real Life Fashion and Style Advice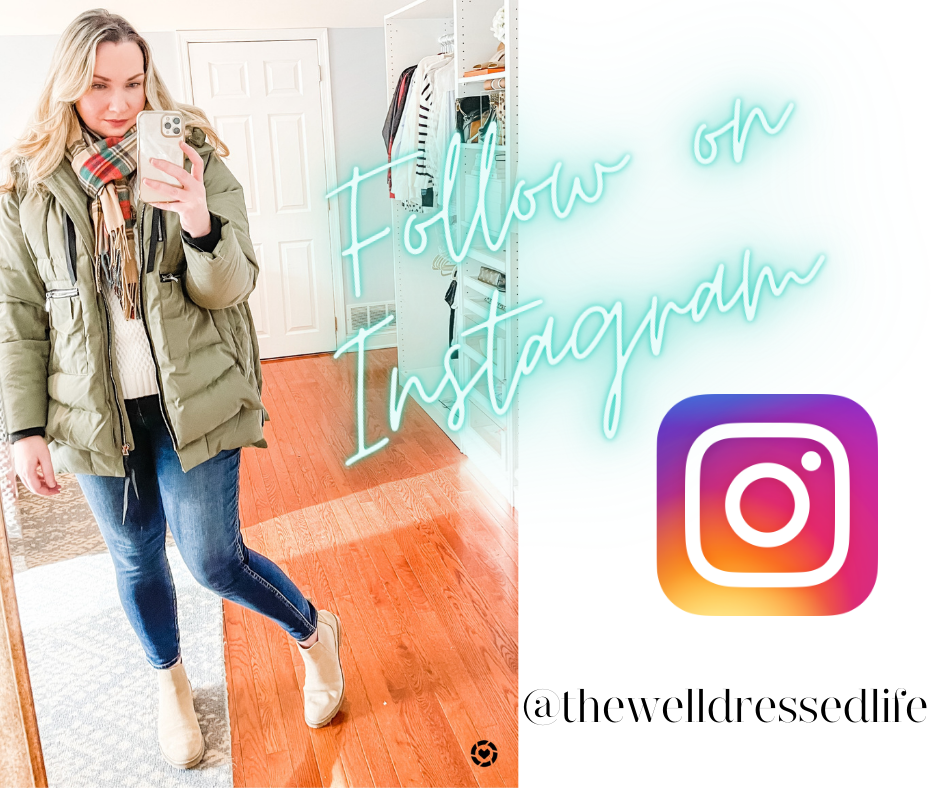 Follow The Well Dressed Life on Instagram for Realistic Style Advice, Fun Behind the Scenes, and Tons of Exclusive Tips and Content.
Our Style Content is Inspired by Our Readers
Our readership inspires all of our posts and is not sponsored or paid for by brands or retailers.
Recommendations are based on my experience as a personal stylist and wardrobe consultant for over a decade. I worked with busy, down-to-earth women who wanted to look chic and feel confident but were often confused by so much of retail.
Some links are affiliate links, which means if you purchase via our site, we receive a small commission.

If you enjoy our content and would like to help us grow, please follow on Instagram and join our Private Facebook Group to access more advice and exclusive in-depth conversations with other like-minded women.
Learn about our mission to help women look and feel their very best, every day, here.
Sign Up for Daily Content and Receive Our Free Classic Wardrobe Checklist