White House Black Market started in 1985, in Baltimore, under the brand The White House, with an inventory of exclusively white clothing.
In 1995, they launched a similar store called The Black Market, and by 1997, after the tremendous success of both concepts, they were converting all of their existing stores and opening new locations under the name White House Black Market.
As WHBM's were exploding across the country, I was graduating from high school and starting college. Who knew a store that only sold white and black clothing would be so necessary for that part of my life?
From white sorority dresses to classic black pants for my first "real job," shopping at WHBM made me feel like a real grown up.
Like so many stores from that era (Express, J.Crew, Banana Republic), they've gone through some phases, but eventually, their inventory caught up to their original customers.
What to Buy at White House Black Market for Summer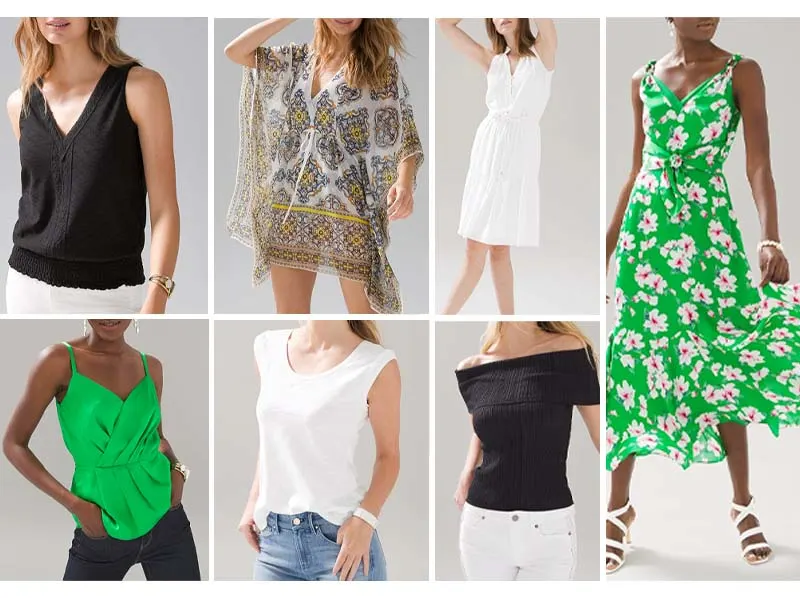 Today, WHBM is owned by Chico's, but their demographic skews much younger than their parent brand. So while I found so many must-haves in my early twenties, I am right back as their target market at 42.
Currently, WHBM offers sizes in regular, or what they call "classic" and petite, from 00 – 18.
A while back, they launched plus sizes, and they were incredible. Unfortunately, they quietly pulled the collection and currently do not offer any extended sizes. This could be for a few reasons but typically any time something comes in and out that quickly it's because the launch wasn't profitable.
Hopefully they can figure it out because it would fill a big retail void.
Their prices are mid-range, reflective of their better quality, so if you see something you love that's within your budget, don't wait for a sale, they don't give away their clothes with crazy promotions.
And because this is not a sponsored post, I can call it the good with the bad. For example, I'm not a fan of most of their prints or accessories.
You can find better options at other stores for much less.
But they also have many gorgeous pieces that look like they came right out of a small boutique instead of a national chain.
Below are my top picks, including the pieces I bought for myself for an upcoming trip to Nashville.
Fit & Flare Dress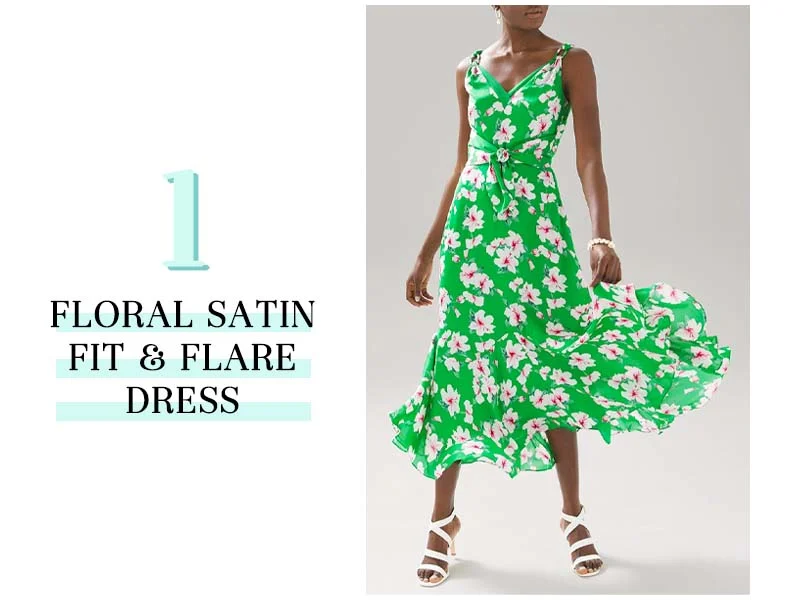 Floral Satin Fit & Flare Dress, $195
For graduations, weekend showers, or even a casual outdoor wedding, this satin fit & flare dress is gorgeous.
While I don't love all of their prints, this one is so pretty and cheerful. And the shape of it is divine.
Look at the detail of the straps, the elegant v-neck cut, and the waist defining knot. Love everything about this.
Available in "classic" and petite sizes, from 00 – 18.
"Perfect" White Summer Dress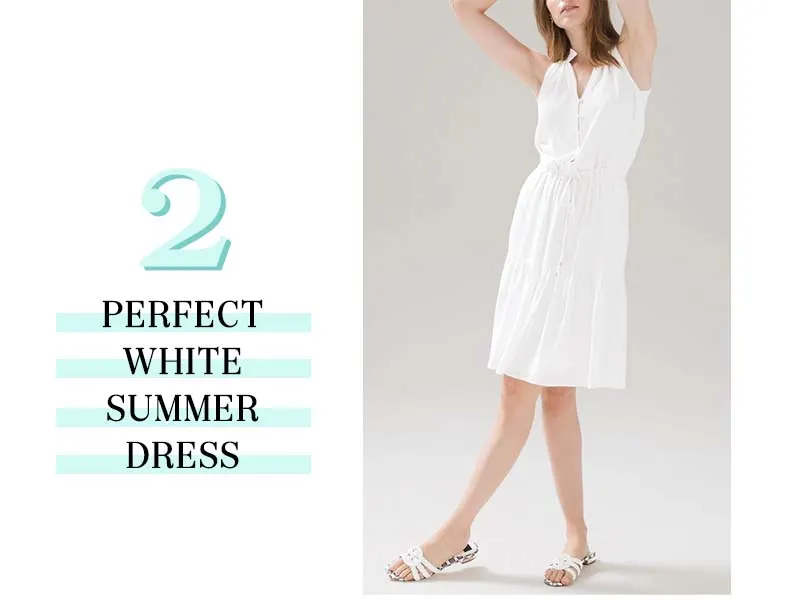 "Perfect" White Summer Dress, $130
You probably know how difficult it is right now to find a dress that doesn't look like a tent.
I can't tell you how many hours I spend scrolling through simply terrible options. But WHBM has a lot to offer and there's a lot to like about this particular style.
A v-neck shape that comes with a face framing color, a defined waist and very subtle tiers that give more visual interest and volume.
And it's light, so you can wear it on hot days when shorts aren't an option.
Pair with sandals or white sneakers and throw on your denim jacket if you need a layer.
Available in "classic" and petite, in XXS – XL.
Off the Shoulder Ribbed Top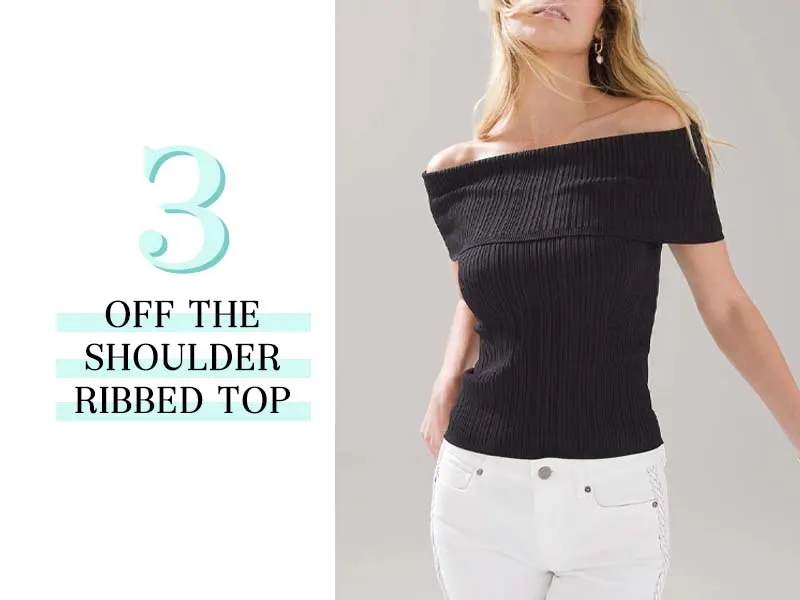 Off the Shoulder Ribbed Top, $69
Did someone say "summer date night top"?
I scooped this up to pair with white jeans just like they have shown above. It's an easy going-out top that feels both grown up and a little sexy.
Available in XXS – XL in black and blue.
Scoop Neck Tank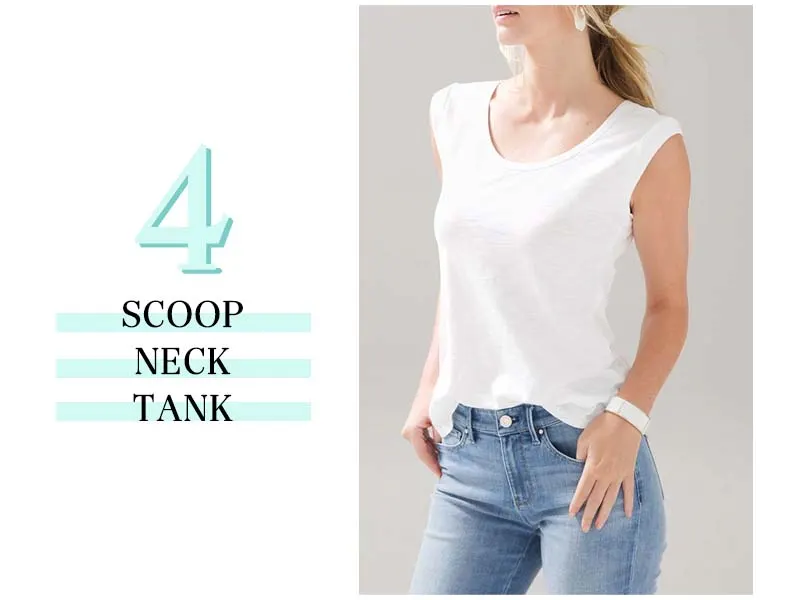 Scoop Neck Tank, $39.50
You may have noticed the muscle tee trend. A simple sleeveless white "tee" with a straight across neckline.
It's currently very chic and popular, and looks great on someone with narrow shoulders.
For the rest of us we look like linebackers. But this version, with a scoop neck, gives you the same easy style in a much more flattering cut.
Available in XXS – XL, in white, black, grey and stripe.
Caftan Coverup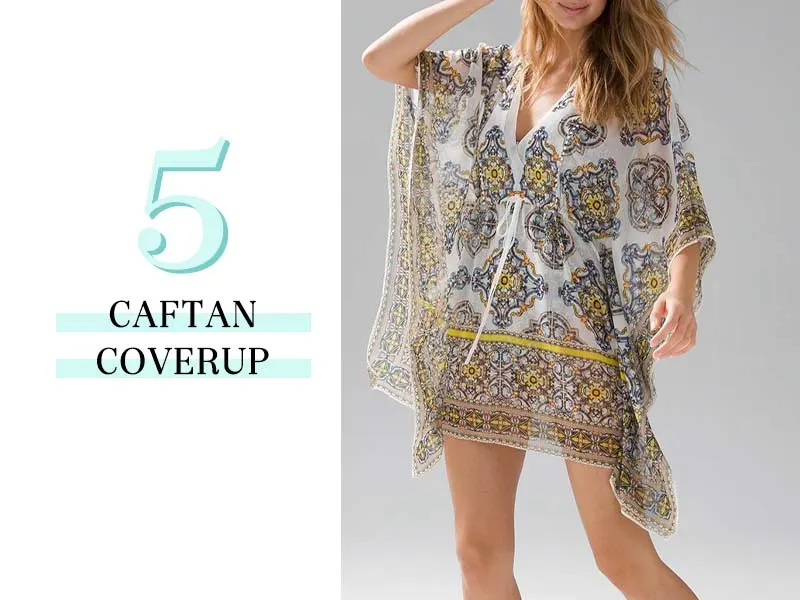 Caftan Cover Up, $98
For me, there is no better way to feel good pool side than with a fabulous cover up. And while this one is on the expensive side, it is so fun and gorgeous.
They are calling this "one size" which is totally unhelpful and also not accurate, so checkout the measurements provided before ordering.
Fit & Flare Cami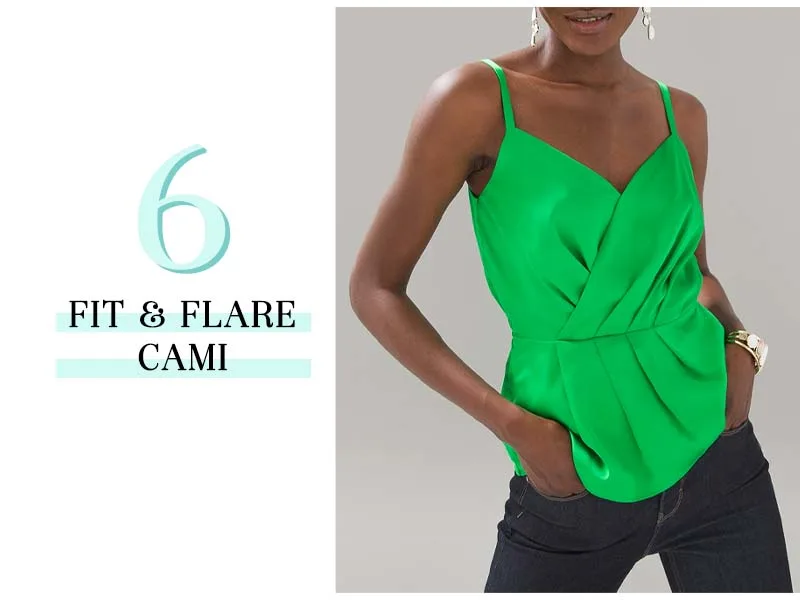 Fit & Flare Cami, $79
Is this the most stunning green you've ever seen?
Pair with white, dark wash or even light black slim ankle length jeans as a fun summer top.
The Eyelet Tank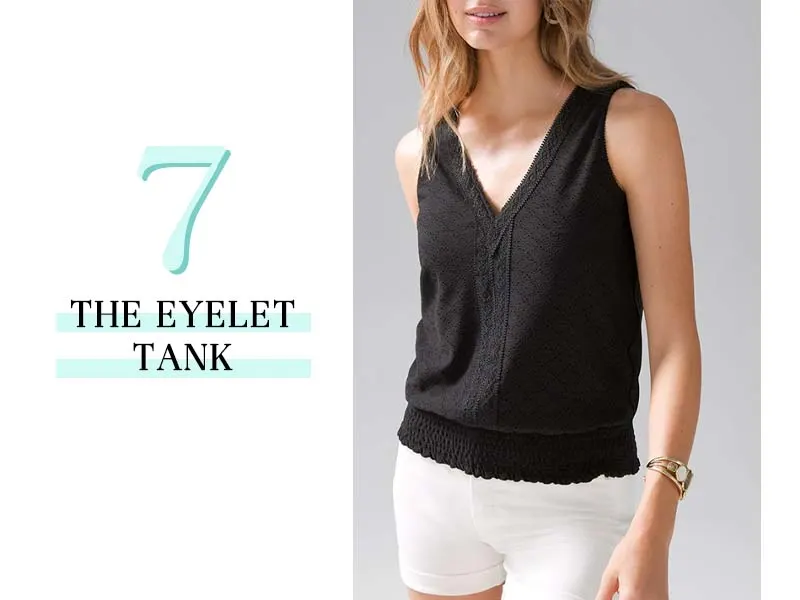 The Eyelet Tank, $89
Last week we talked about tops that are better than a tee shirt, but fill the same need, and I would put this tank in a similar category.
If you struggle with finding tops that look finished but can also be worn in 100 degree heat, this is an option.
It's light, simple but has eyelet detail that elevates it just enough.
52 Outfits in 2022!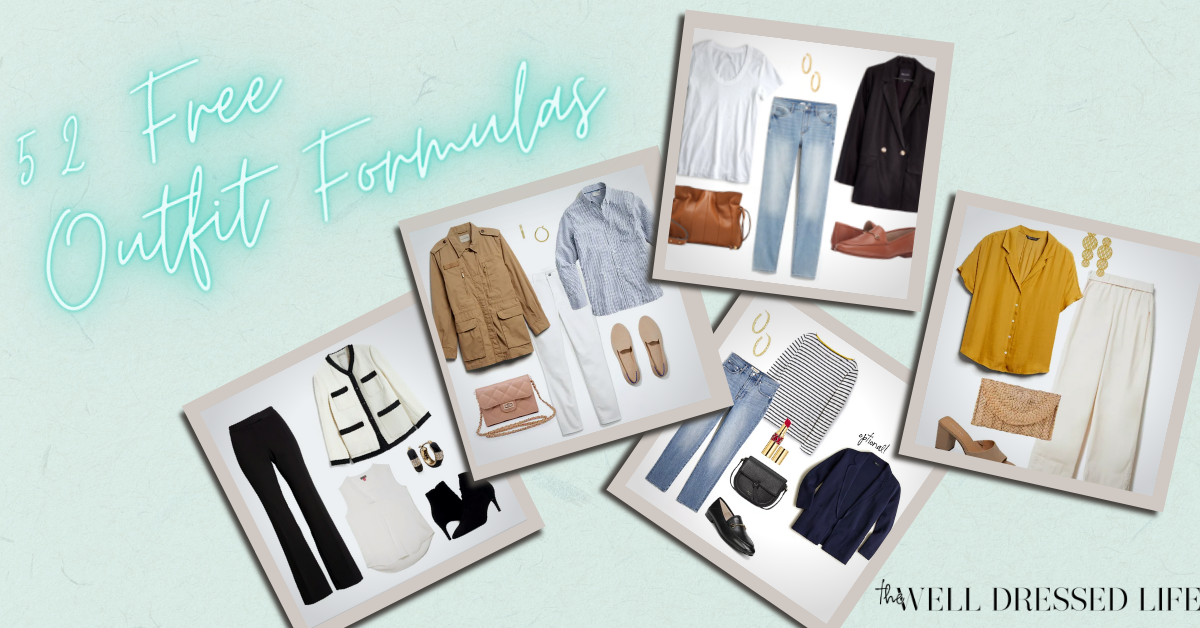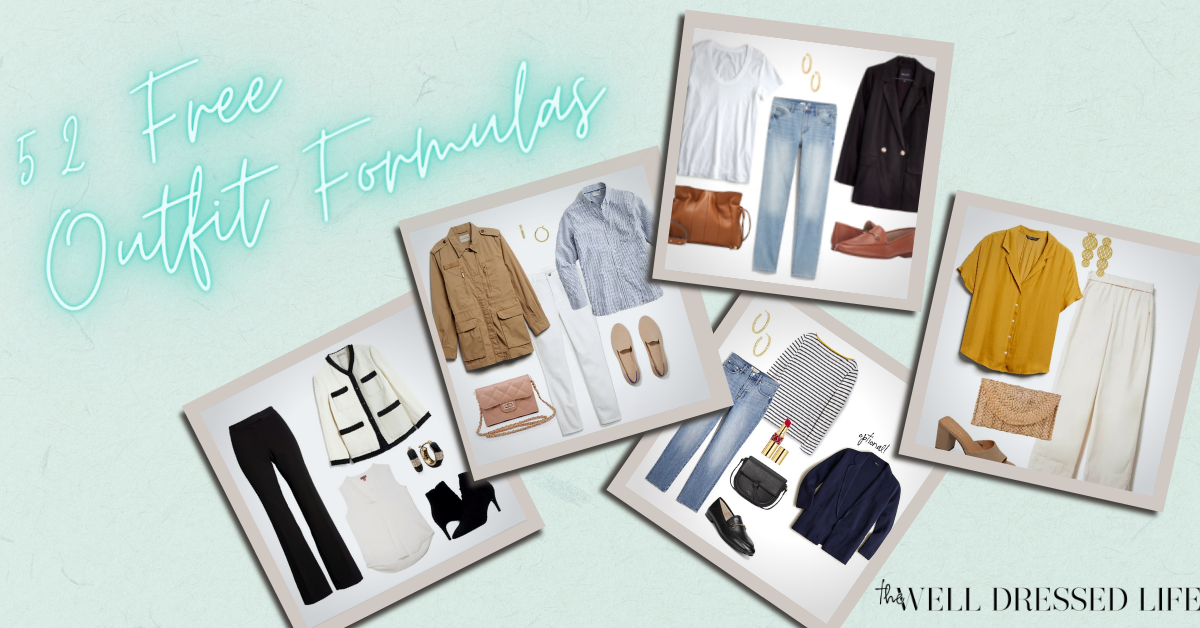 Follow Us on Instagram!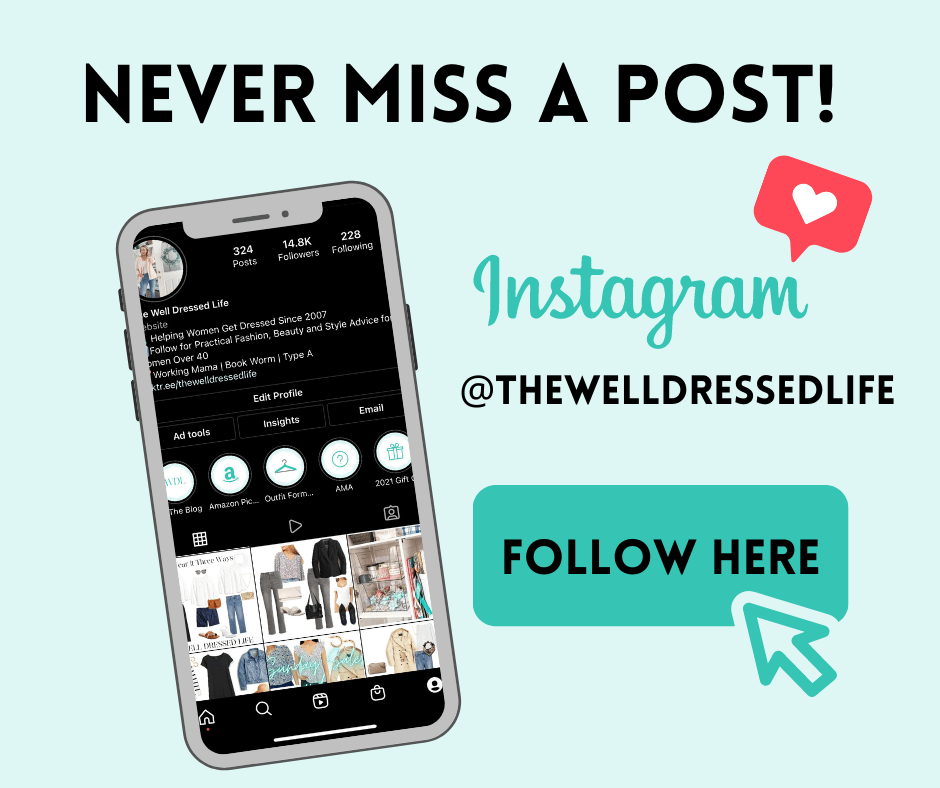 Our Style Content is Inspired by Our Readers
Our readership inspires all of our posts and is not sponsored or paid for by brands or retailers.
Recommendations are based on my experience as a personal stylist and wardrobe consultant for over a decade. I worked with busy, down-to-earth women who wanted to look chic and feel confident but were often confused by so much of retail.
Some links are affiliate links, which means if you purchase via our site, we receive a small commission.

If you enjoy our content and would like to help us grow, please follow on Instagram and join our Private Facebook Group to access more advice and exclusive in-depth conversations with other like-minded women.
Learn about our mission to help women look and feel their very best, every day, here.
Sign Up for Daily Content and Receive Our Free Classic Wardrobe Checklist