What to Buy At is our weekly series, published every Monday, where I shop popular, mainstream retailers and round up my top picks for our readership.
Today, we're at Ann Taylor.
When I was a personal stylist, they were never on my go-to list. Back then, their selection was a little boring, matronly even.
Everything was too matchy-matchy, the fit was off for a while, and nothing seemed special.
It's only been over the last few years that I've noticed a positive shift in their selection.
Today, I could have bought a dozen pieces.
The challenge with Ann Taylor (and stores like Talbots, J.Crew, Banana Republic, etc.) is that you don't want to wear them head to toe.
Instead, you want to find the gems, the pieces that look like you picked them up at a small boutique, and then incorporate them with other better basics in your wardrobe to create a modern look with depth and personality.
And today's round up is just that: elegant, updated classics, in rich, gorgeous colors that you can pair with other pieces in your wardrobe to create an outfit unique to you.
What to Buy at Ann Taylor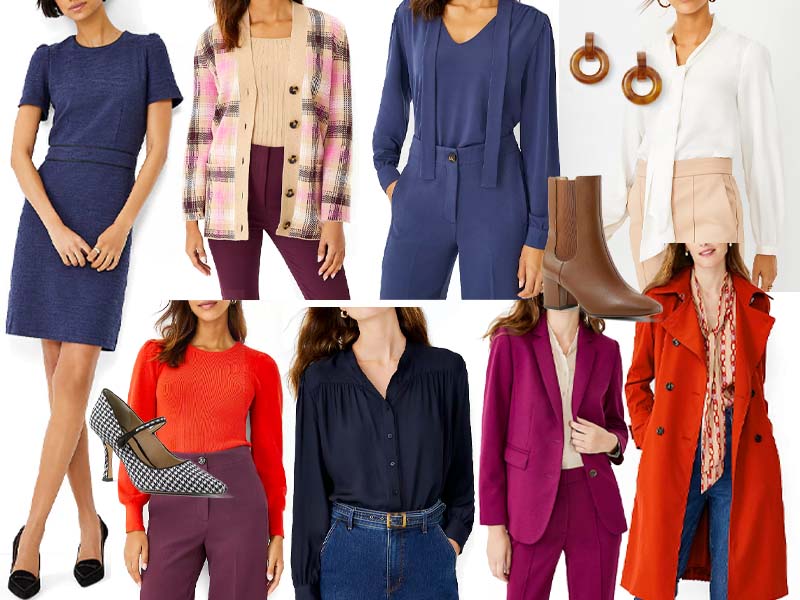 Before we jump in, a note on sizing, all of the items below are available in Missy and Petite. Ann Taylor is a fantastic petite resource, but like most retailers, most items are more available online then they are in stores.
They also have a solid collection of Tall sizes. Most of these categories go up to an XXL or an 18.
As always, this post is NOT SPONSORED.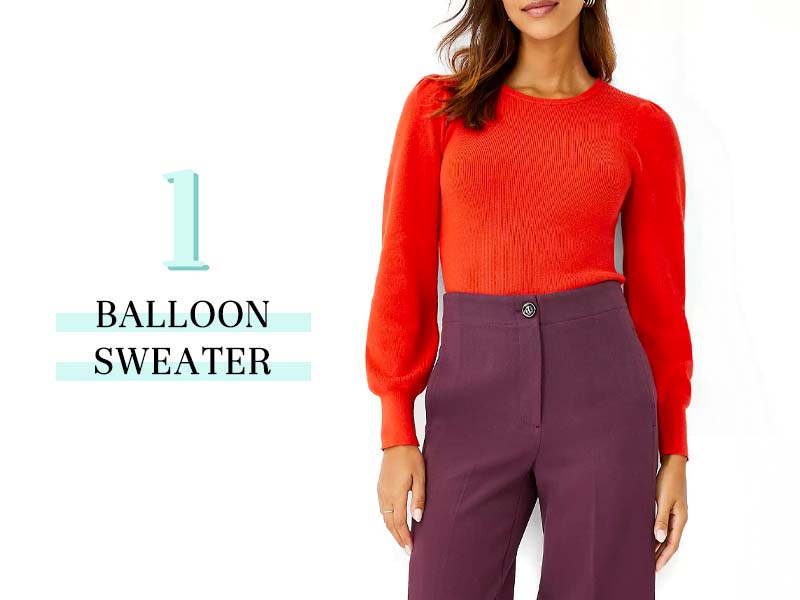 Balloon Sweater, $79.50
The color pallete at Ann Taylor this season is stunning.
For many of us, a simple sweater with jeans and ankle boots is a go-to fall uniform. And this lovely sweater comes in several color options, including "orange twist" above and "plum rose."
You can pair this with your favorite jeans, or simple black or dark navy trousers and take it to work.
Available in missy and petite, in five colors in XXS – XXL.
Double Knit Suit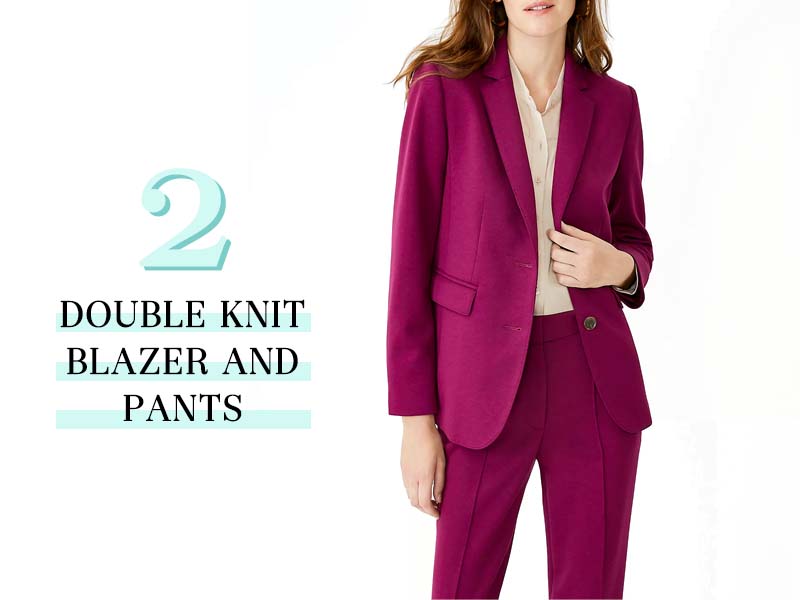 Double Knit Blazer, $198 and Pants, $109
Most of us consider a suit something reserved for a formal business event.
But when they are done in a bold color, a whole world of wearing opportunities opens up.
Take this double knit option, which includes a sleek two-button blazer and slim-cut trousers (bought separately).
You can wear this to a professional office; it would look great with the white tie front blouse featured below. Or, dress it down and layer a graphic tee, and pair it with sneakers for a casual meeting.
And certainly you can break up the pieces for a mix and match look as well.
Blazer available in missy, petite and tall in sizes 00 – 18.
Trousers available in missy, petite and tall in sizes 00 – 18.
Trench Coat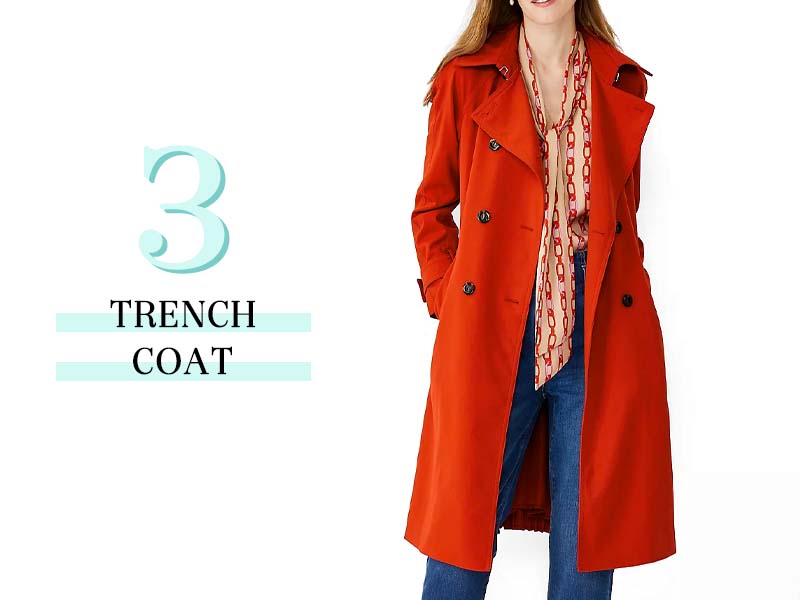 Trench Coat, $248
If you have been reading here for any length of time you know I love a coat.
And this one in their "Firecracker Orange" is divine.
Here's the deal, don't buy this if you don't already have one in a classic color, like tan, black or navy.
But if you have that covered, and want a statement, this would be so fun.
Available in regular and petite in XXS – XXL.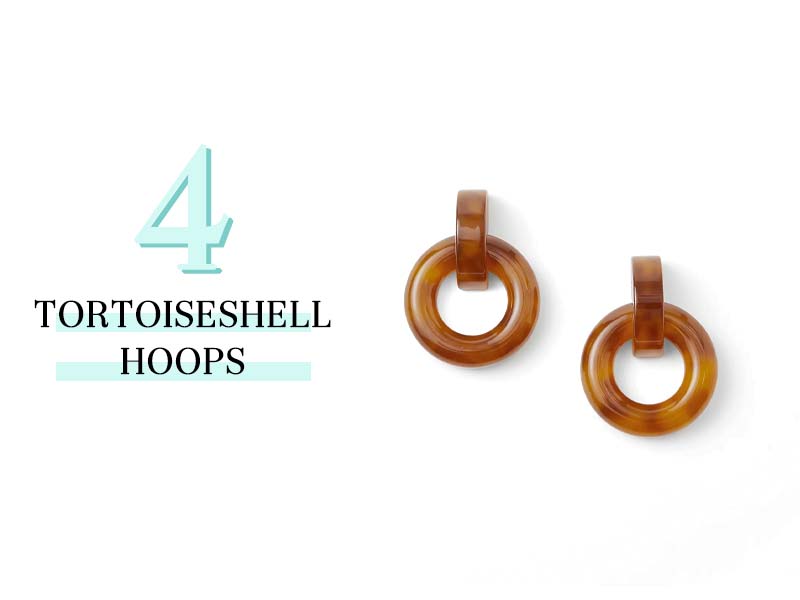 Tortoiseshell Hoop Earrings, $49.50
On my short list of jewelry must haves is always some kind of tortoiseshell earring. They add a natural element that helps add depth and interest to any classic look.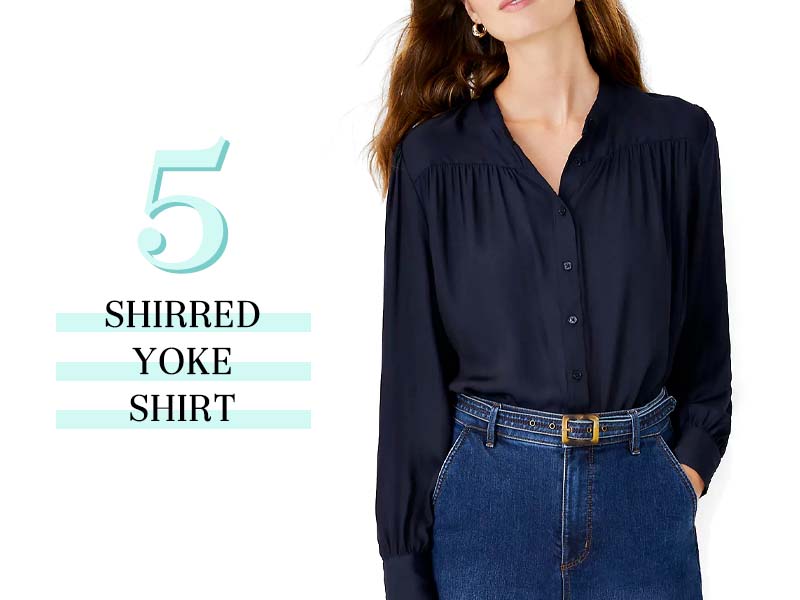 Shirred Yoke Shirt, $79.50
The first of three fantastic, easy-to-wear blouses on our list.
This one is a simple, shirred yoke blouse in a deep navy. Pair with jeans, create a monochromatic look with a navy bottom, or look extra chic with a navy and black combination.
Works with any style bottom, including jeans, trousers and skirts.
Available in regular and petite in XXS – XXL.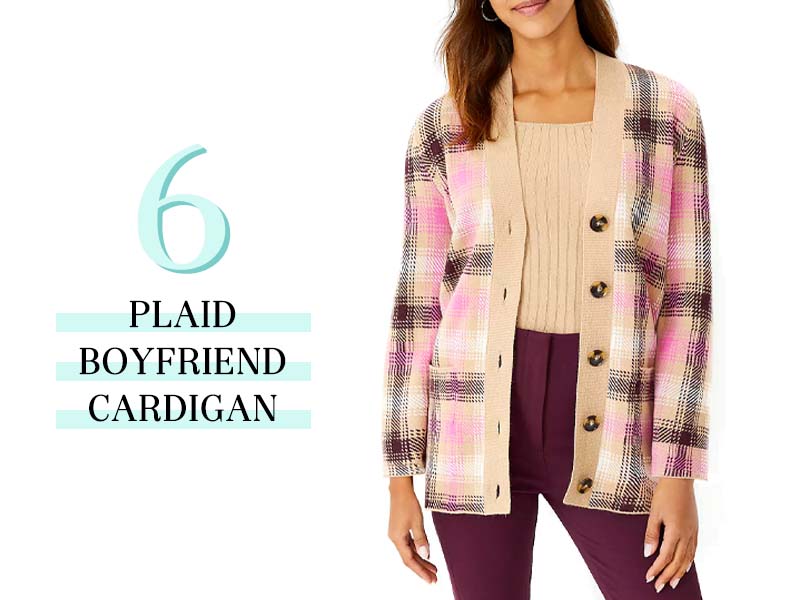 Plaid Boyfriend Cardigan, $119
The color combination of this plaid are so ideal for fall, giving you tons of versatility.
You can wear this with dark denim, winter white, black, and the plum-colored trousers above. Would look lovely over a simple tank or create a layered look and pair it with their white tie top blouse featured below.
Available in regular and petite in XXS – XXL.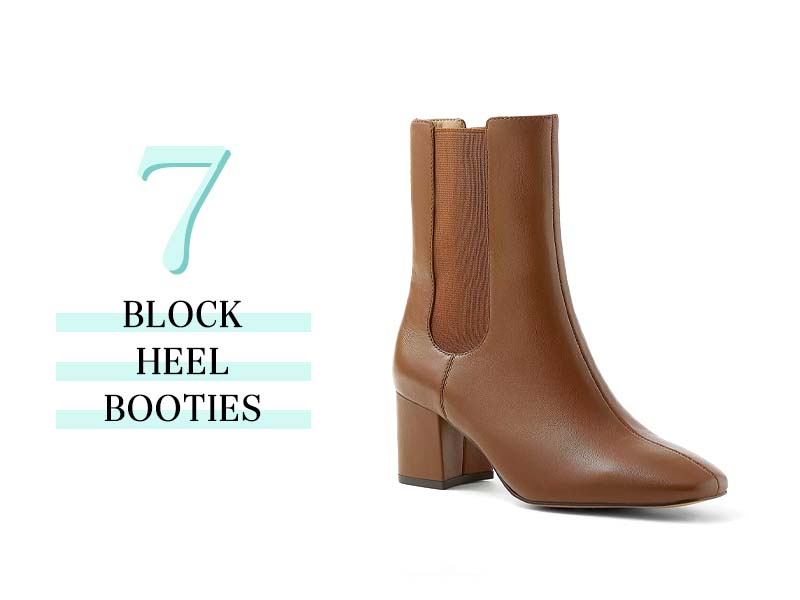 Block Heel Booties, $228
You would think finding classic style booties in the Fall would be a breeze, but, in my experience, the majority of the ones at retail are not quiet right.
But this pair is perfection. Why?
Because it has clean lines, in the most easy-to-wear color and the shaft (the top of the ankle to the top of the boot) is the right height to fit under your pants.
Available in half sizes up to an 11.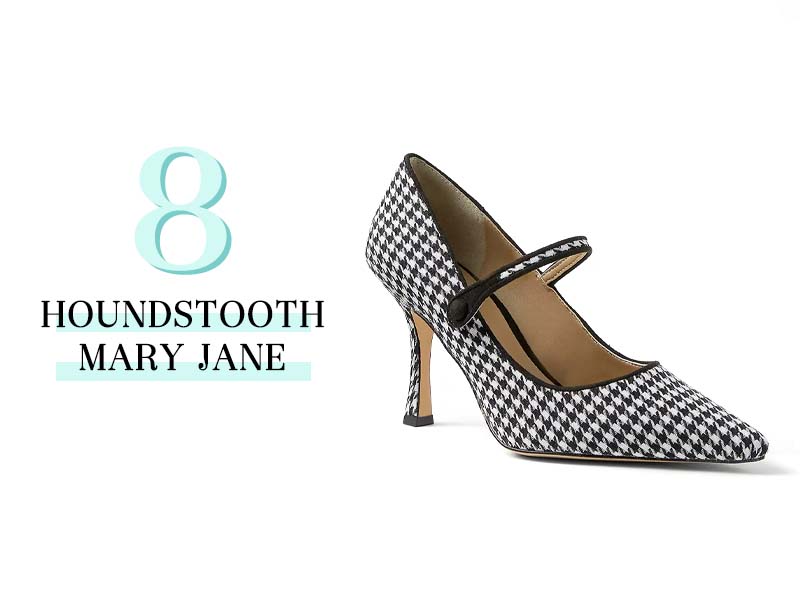 Houndstooth Mary Janes, $158
Another huge trend for Fall is the return of Houndstooth, and I'm here to tell you that some of it is bad.
Even the super expensive designer handbags look cheap, cheap, cheap.
So be discerning with what and how you incorporate it into your looks.
I recommend tiny little winks, like this classic yet modern Mary Jane, or a hat, clutch or oversized scarf.
And keep everything else simple and all black.
Available in half sizes up to an 11.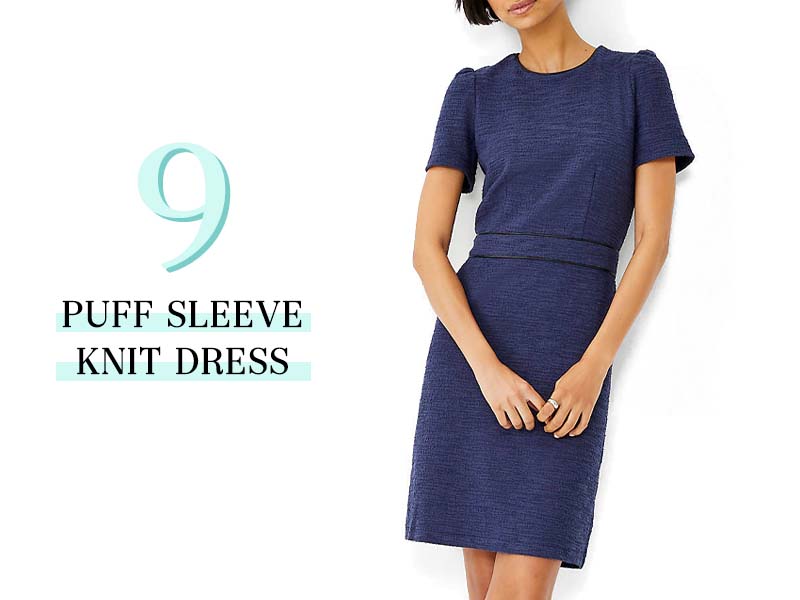 Puff Sleeve Knit Dress, $129
I adore everything about this dress, from its subtle sleeve detail to the color to the perfect cut.
It's ideal for office and travel as it won't wrinkle and you'll be comfortable all day.
Take it to work with a pair of neutral-to-you pumps and simple jewelry, or dress it up with sandals and statement earrings for a weekend shower.
Available in regular and petite in sizes 00 – 18.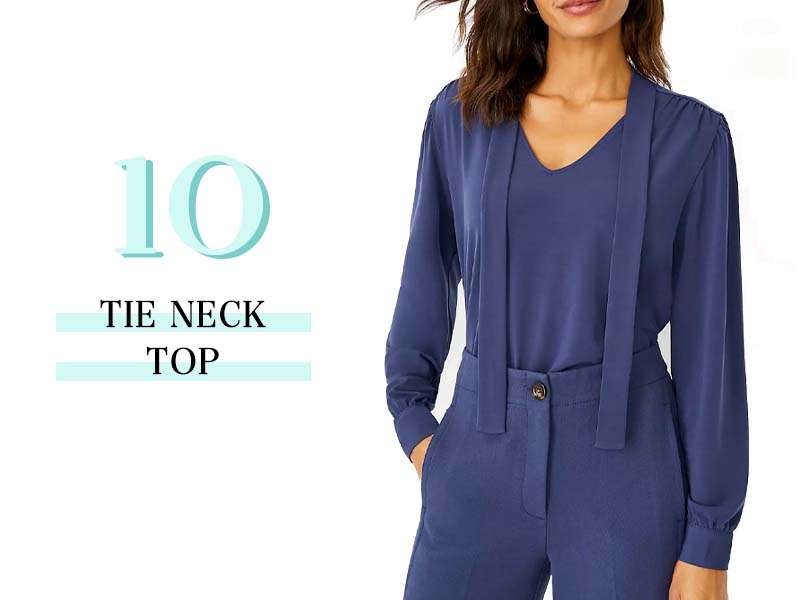 Tie Neck Top, $59.50
These final two tops are very similar, differing only in material blend and cut.
You'll see lots of tie-neck top options this fall, and if my hunch is right, they will sell out quickly, because many of us are looking for more timeless styles.
To start, this first tie-neck top has a more relaxed fit and is only available in XXS – XXL.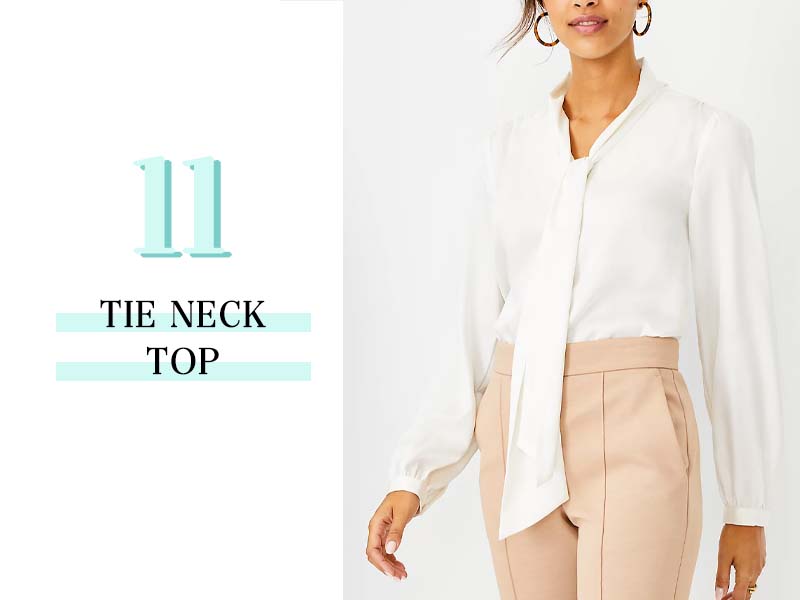 Tie Neck Top, $89.50
Where this tie-top option is only available in winter white, with a fit that will sit close to the body.
Available in regular, petite and tall in XXS – XXL.
52 Outfits in 2022!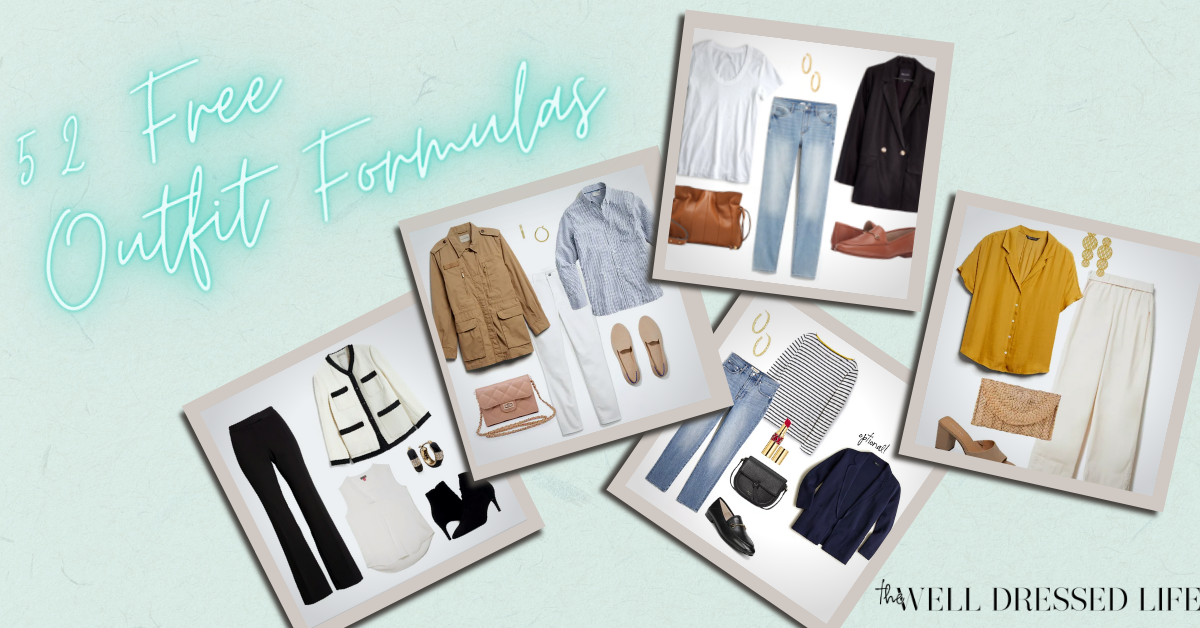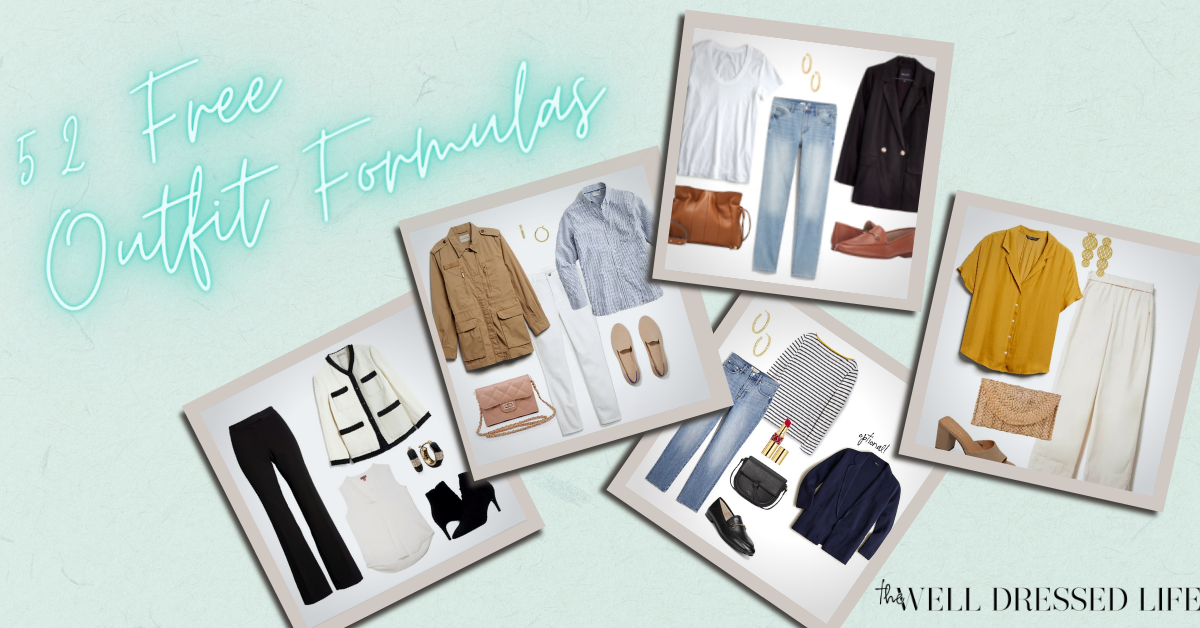 Follow Us on Instagram!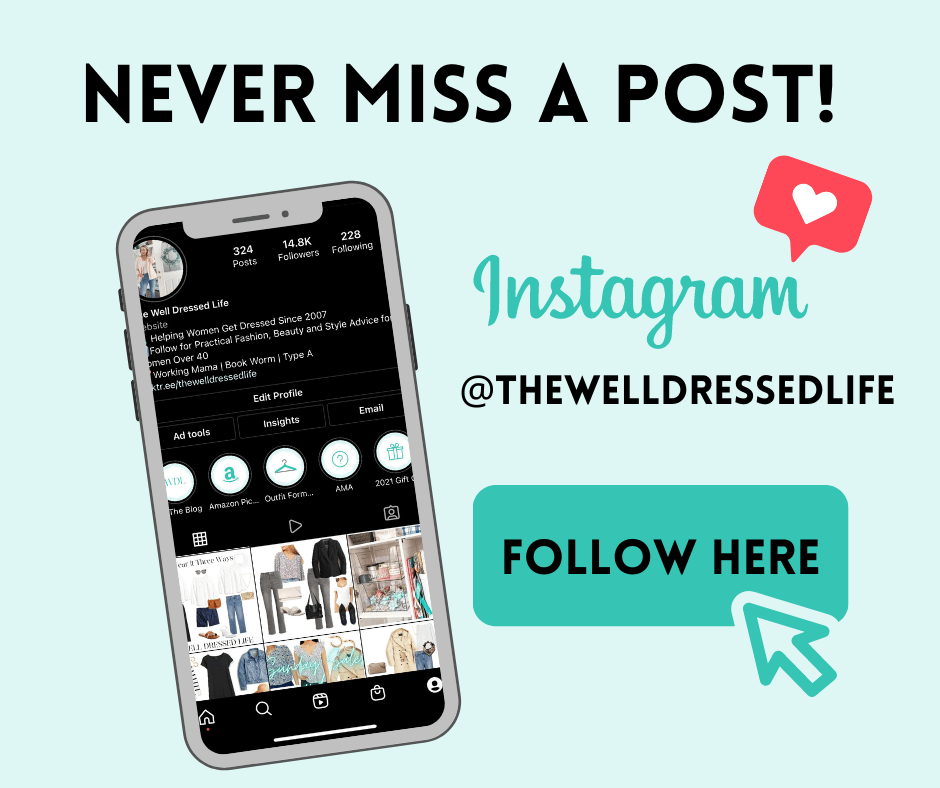 Our Style Content is Inspired by Our Readers
Our readership inspires all of our posts and is not sponsored or paid for by brands or retailers.
Recommendations are based on my experience as a personal stylist and wardrobe consultant for over a decade. I worked with busy, down-to-earth women who wanted to look chic and feel confident but were often confused by so much of retail.
Some links are affiliate links, which means if you purchase via our site, we receive a small commission.
If you enjoy our content and would like to help us grow, please follow on Instagram and join our Private Facebook Group to access more advice and exclusive in-depth conversations with other like-minded women.
Learn about our mission to help women look and feel their very best, every day, here.
Sign Up for Daily Content and Receive Our Free Classic Wardrobe Checklist