What to Buy At is a bi-monthly series, where I stop by a popular, mainstream retailer and round up the pieces worth picking up. Today, I'm focusing on Ann Taylor.
Many of us grew up with Ann Taylor. For me, after college, it was aspirational, and except for a few sale pieces, I couldn't afford anything. A few years later, I found the bridesmaids dresses for my wedding hanging in their window. They were a gorgeous black strapless gown with a white lace overlay on the bodice that my friends to this day swear they wore more than once.
But after that, they got a little boring, matronly even. Everything was too matchy-matchy, the fit was off for a while and nothing seemed special.
When I was a stylist they were never on my go-to list. It's only been over the last few years that I've noticed a defenite shift in their styling.
The challenge with Ann Taylor (and stores like Talbots, J.Crew, Banana Republic etc) is that you don't want to wear them head to toe. Instead, you want to find the hidden gems, the pieces that look like you picked them up at a small boutique, and then incorporate them with other better basics in your wardrobe to create a more layered look with personality.
So that's what we're going to do today, highlight the must haves and since it's Presidents Day weekend – most of these are on sale. Use the code WEARIT for 40% off the marked price.
Before we jump in, a note on sizing. All of the items below are available in Missy and Petite. AT is a fantastic petite resource. They also have a solid collection of Tall sizes. For plus, they go up to a XXL or an 18 in most of these categories.
What to Buy At: Ann Taylor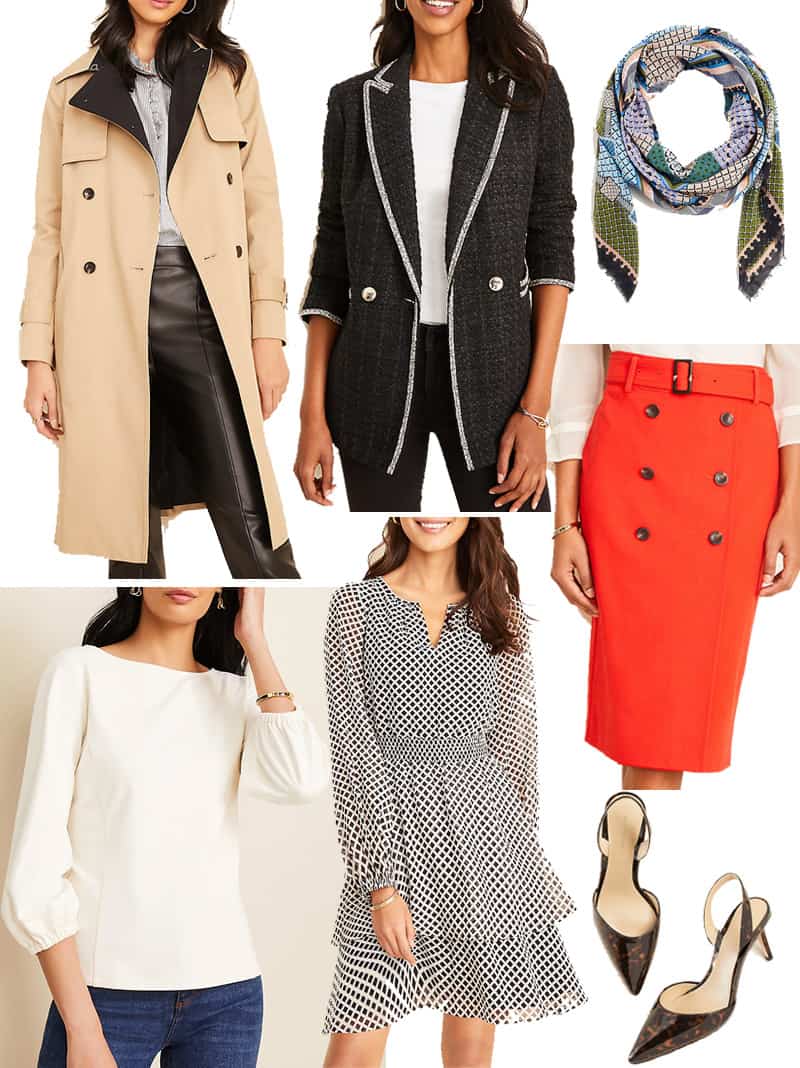 Trench, $198 | Pencil Skirt, $98 | Tweed Jacket, $178 | Dress, $149 | Scarf, $60 | Top, $60 | Pumps, $128
There is a lot to pick from right now, but I narrowed it down to my top seven pieces.
First up, this two-toned trench – good LORD do I love this. It's the definition of classic with a twist, I really can't justify another coat, but someone needs this.
Keeping with the trench coat theme, this high waisted pencil skirt is utterly adorable. It comes in a classic khaki or the cayenne color above in missy, petite and tall. The trick to wearing it is to pair it with a top you can comfortably tuck in, like this simple bubble sleeve blouse (above in white).
This is a fantastic everyday work blouse, that goes with skirts, trousers and jeans, tucked in or out, layer under a long cardigan or add a long necklace and wear on its own. Also available in black, in missy and petite. With the discount code it's around $35 so grab both if it works for your budget.
Also making my heart sing is this double breasted tweed jacket. It's limited in sizes, probably because the length is longer that usual, so you can wear it comfortably with a slim lined pant – maybe even your faux leather leggings?!
Next up, this sweet dress, available in missy, petite and tall. With spring holidays around the corner, this is a modest, yet modern option. I would wear it with black tights and boots, either ankle or knee high depending on your proportions.
I added this scarf at the last minute. It combines so many fresh colors but is grounded in black, so it's super versatile. You could wear a black column, throw on your new trench and tie the scarf around your neck for an instantly polished, easy to run around town outfit.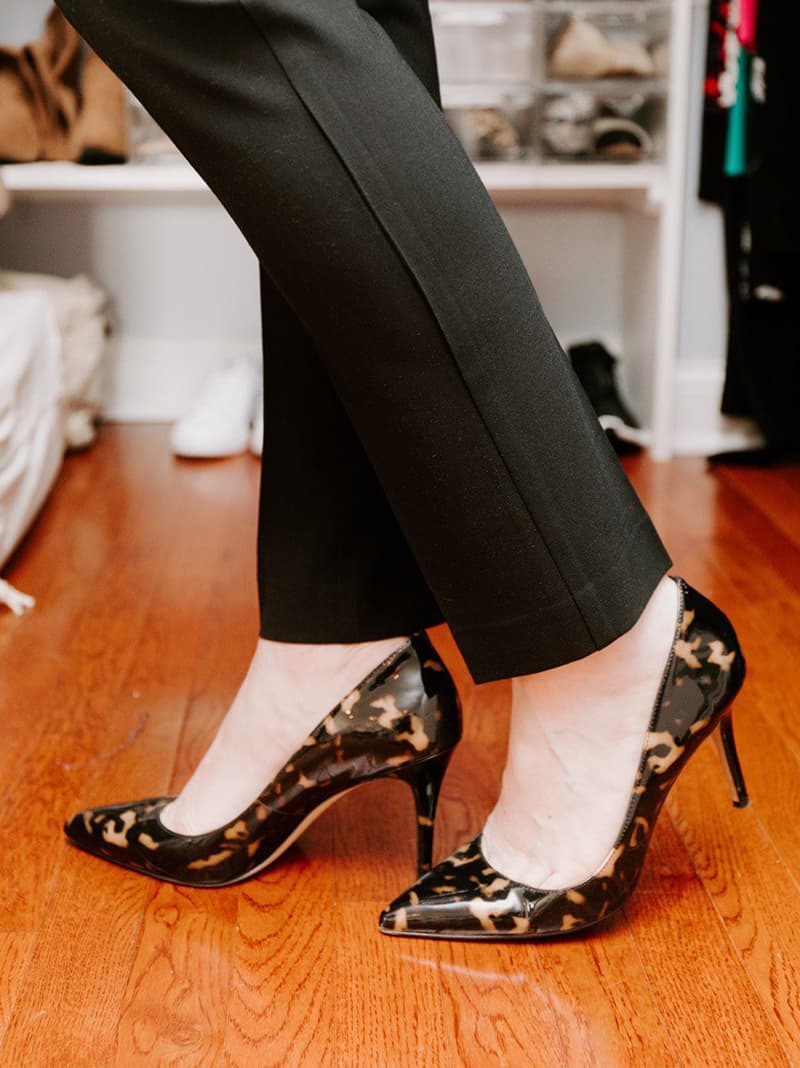 Last, but not least, these tortoiseshell heels are heels are the slingback version of my pumps (above). They are surprisingly comfortable and work with virtually everything, especially if you have a wardrobe full of neutrals.
Be sure to let me know what you pick up and any other stores you want to see featured in this series!
________________________________________________________
Our content is not sponsored or paid for by brands or retailers in any way.
Recommendations are based on personal experience and my time working with women as a stylist and wardrobe consultant for over a decade. Some links are affiliate links, which means if you purchase via our site, we receive a small commission.
If you enjoy our content and would like to help us grow, please consider following on Instagram and join our Private Facebook Group to access more advice and exclusive in-depth conversations with other like-minded women.
_________________________________________________________