After years of fashion leaning to the casual extreme, the pendulum is swinging back to dressing up. We even see athleisure start to incorporate more polished, tailored pieces.
My pandemic years coincided with having a baby and then a toddler at home. As a result, my aesthetic could best be described as "bridge troll." I took dressing down to new levels and forgot how much I love getting dressed and how good it is for my mental health.
Seeing how my descent into ratty sweats paralleled a time when I was really losing my sense of self was eye-opening.
Now that life is filled with things to do, and I'm emerging from a diaper-fill postpartum fog, I can't wait to dive into getting dressed up for absolutely no reason.
And I hear from many readers, in all seasons of life, who feel a similar way.
So let's get dressed, shall we?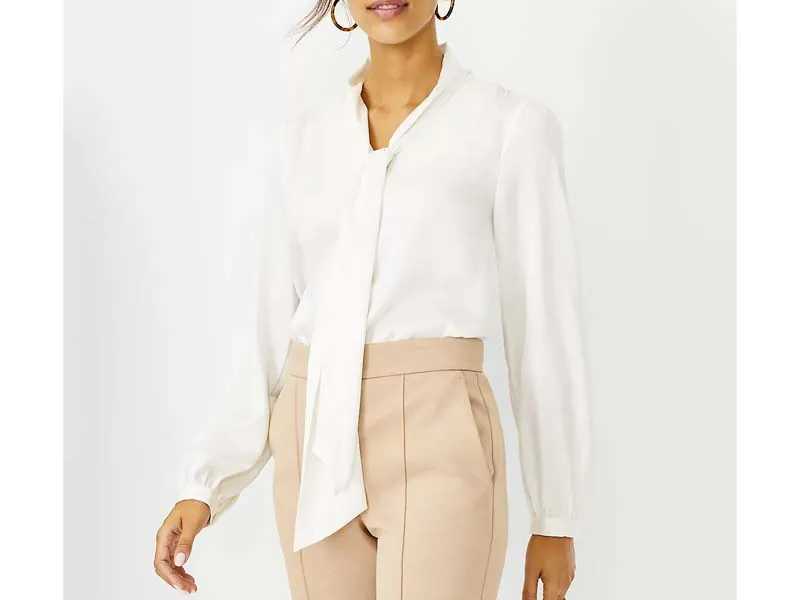 On Monday, we featured an early Fall round-up from Ann Taylor. Right now, you can save 25% off new arrivals with the code FALL.
Available in XXS – XXL in regular, petite and tall.
The best seller was this gorgeous white tie top blouse.
I'm still searching for a plus option of similar quality.
If you'd like a less expensive option, this one from Amazon is under $40 and has a lot of positive reviews. It's also available up to a 3X. You will likely have to wear a neutral cami underneath.
As you'll see, they work in a variety of ways. The most obvious being for work, as a stand alone piece or a layer.
How to Wear Ann Taylor's Tie Neck Top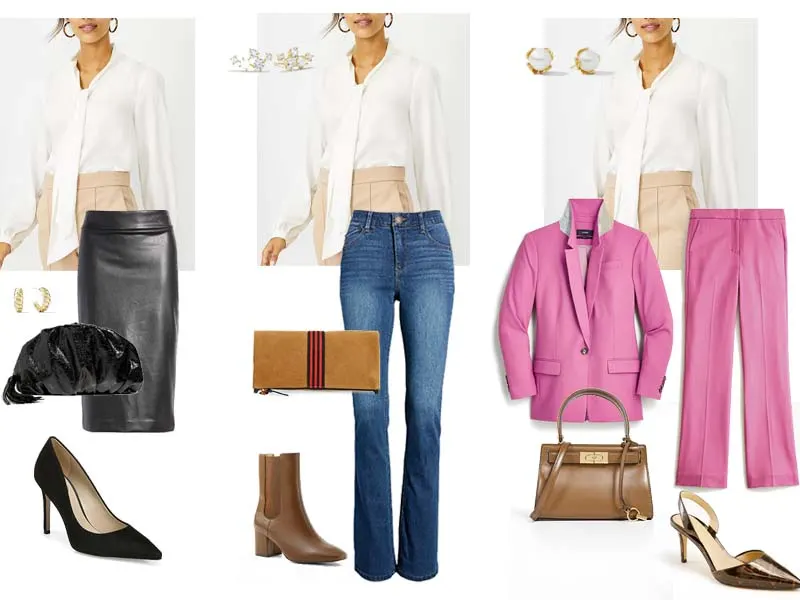 Tie Neck Blouse, $89.50, Regular, Petite and Tall, take 25% off with code FALL
And now is a good time to remind you of a few things.
First, we are starting the season, so sales and deals are limited. However, our Sunday Sales email begins again this weekend, and I'll share anything worth considering.
Second, these outfit posts are meant to be both inspirational and practical.
I take a lot of time to research each recommendation, considering what our readers are looking for, price points, the longevity of wear, versatility, etc.
Anything mentioned in these posts, I recommend.
My intention is for you to work with what you have. So I hope you see, for example, the boot-cut jeans below and say, "oh, I have something similar; let me pull them out."
Or, "I could use a pair," and know that what I recommend will likely work for you.
And if you're new here, you'll start to notice that I repeat popular items throughout features, because that's how you build a wearable wardrobe and get the most out of your budget.
Here we go …
With a Leather Skirt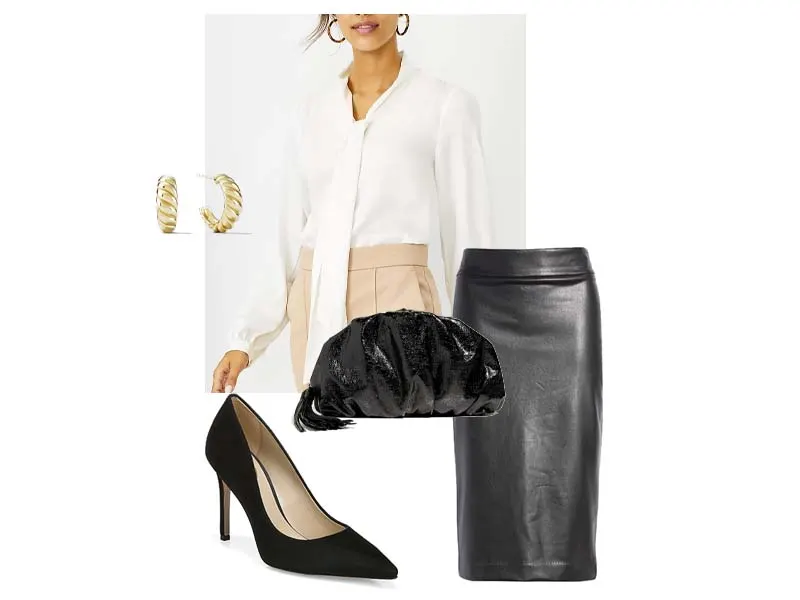 Faux Leather Skirt, $99 more options below | Suede Heels, $140 | Clutch, $98 | Croissant Dôme Hoops, $78
Leather is always in, but this season, it's everywhere.
Above, we're using a faux leather pencil skirt, this one is from Anne Klein. You could also try an a-line cut, like this one from NYDJ (it runs huge).
My pick is this option with a front seam, also from Ann Taylor. Plus size? Try this one from Halogen.
Don't like skirts? Replace with a faux leather trouser, or a pair of coated jeans, like this pair we featured last year.
With this look, you need a heel. I'm using our favorite Sam Edelman Hazel Pump in black suede to play off the texture of the faux leather.
But if you're like me and prefer a lower heel, you can't go wrong with this option from J.Crew.
For accessories, I like this oversized ruched clutch from Rebecca Minkoff for just under $100. If you already have her suede envelope clutch that we've featured over the years, there's no need for another one.
Alternatively, I the popular Clare V Foldover clutch would work here too. I found it on sale for here, marked down from $300.
Finally, I'm using the Croissant Dôme Hoops featured yesterday, so you start to get wear out of them
With Bootcut Jeans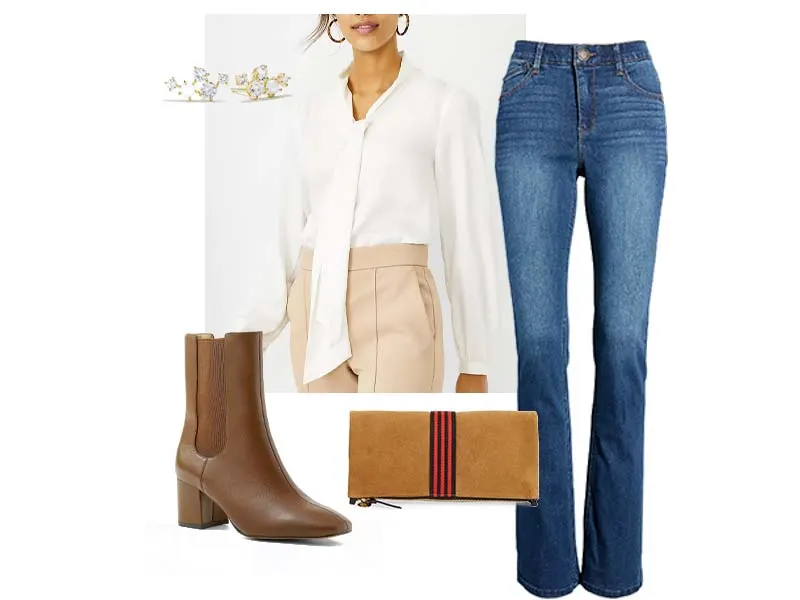 Bootcut Jeans, $88 | Chelsea Booties, $228 | Suede Clutch, $245 | Mini Pearl Topaz Climber Studs, $98
Next, we're wearing jeans.
And for this outfit, we're going with a dark wash option from Wit & Wisdom, one of our readership's favorite brands. They make great under $100 jeans with a nice stretch, available in regular and petite sizes. And plus size here.
Bootcut is fantastic if you want to bring balance to your shoulder and hips.
You can tuck the blouse in or play with a half-tuck. If you like a belt, I recently picked up this Madewell option on Amazon and like it, especially since it's under $50.
And a bootcut jean calls for a boot, so we're using the Ann Taylor Chelsea Booties, also 25% off with code FALL. I adore these for their rich color and clean lines.
Then, have some fun with accessories. Above, I'm reusing the Clare V. suede clutch because many of you picked it up during the recent Nordstrom Anniversary sale.
And then, for earrings, the pearl and topaz climber studs from Mejuri because they are stunning.
With a Suit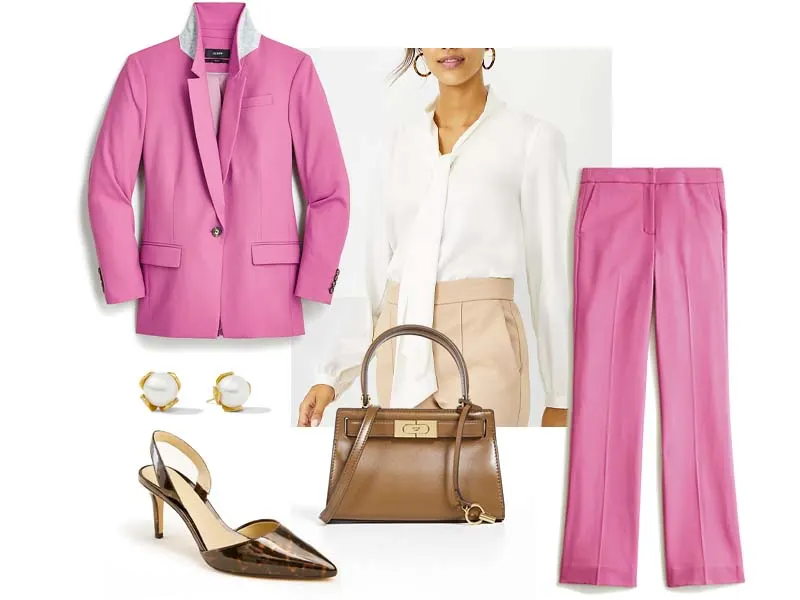 Wool Flare Pants, $198 | Wool Blazer, $278 | Tortoiseshell Slingbacks, $128 Leather Bag, $498 | Pearl Studs, $110
I hope someone, somewhere, has a reason to need and wear a pink suit.
Because pink, Elle Woods Pink, is the color.
The suit above is from J.Crew, made of their Best Selling Italian "City" Wool, and sold as separates. Also available in more practical colors in regular, tall, and petite sizes.
Here's why this all works so well.
You'll notice the button on the blazer is a natural tortoise color.
So we worked with that and used these Tortoiseshell Slingbacks from Ann Taylor. I have the pump version from a few years ago; they truly go with everything.
Then I found this completely impractical yet stunning bag from Tory Burch called the Lee Radziwill Petite Bag; if you know, you know.
I'm not telling you to buy it, it's just pretty, and sometimes, it's fun to look at pretty things.
As an alternative, you could carry something like this Kate Spade Satchel.
You want your bag to be in that tan or saddle color and have structure.
The point is that the bag and shoe work back to the button and create a cohesive, thoughtful feel. If the button were black, I would use a black bag and shoes to tie the look together.
The little details do make the most significant difference.
Finally, our beloved Julie Vos pearl studs are available in large and small sizes. The small or "demi" are like little studs, while the large is substantial, so be sure to look at the measurements if you decide to order.
52 Outfits in 2022!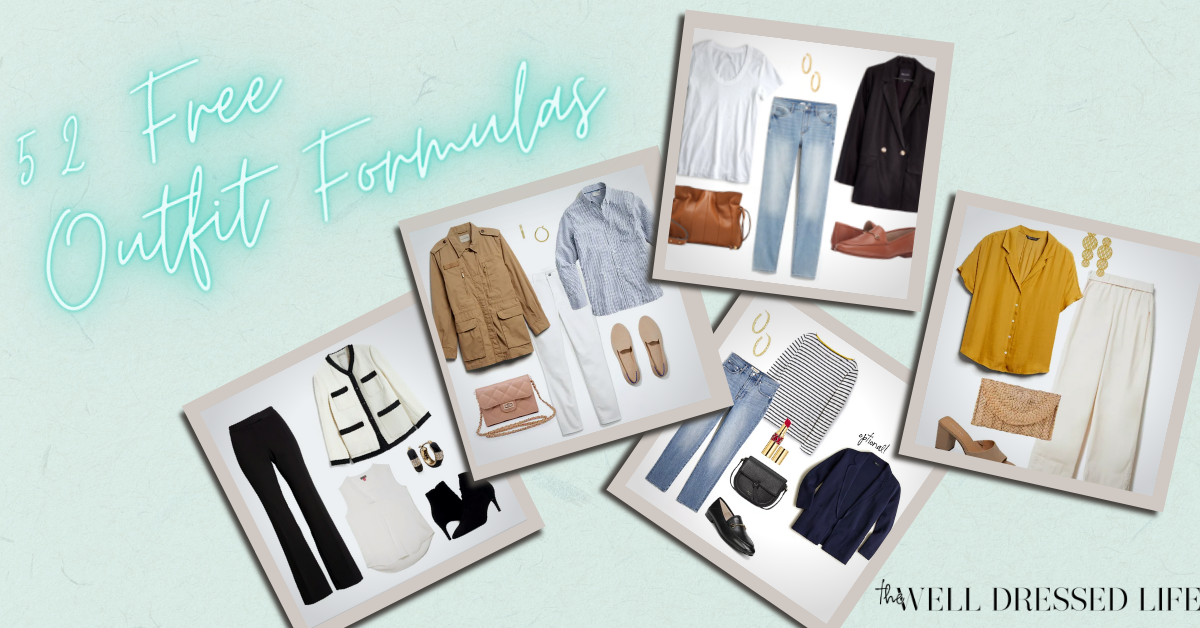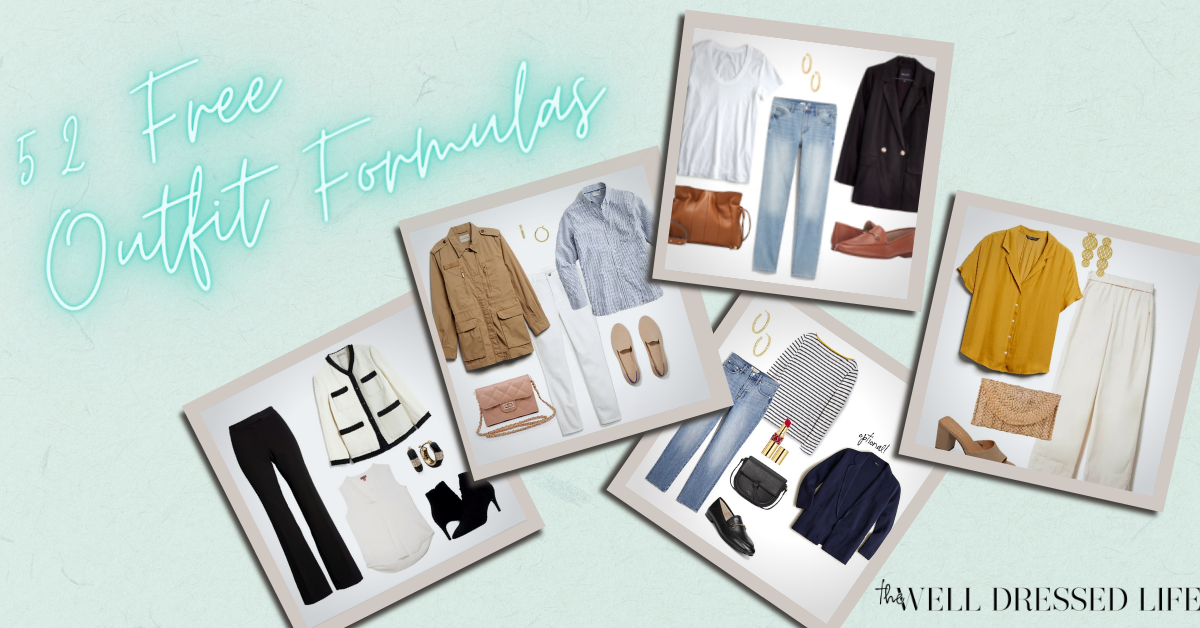 Follow Us on Instagram!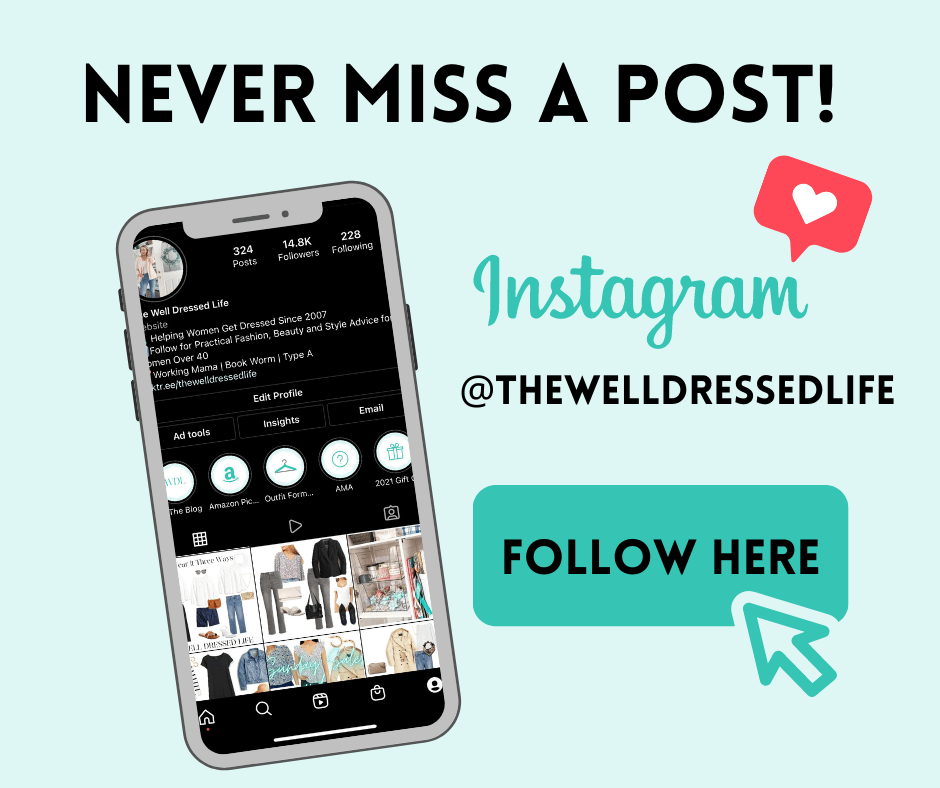 Our Style Content is Inspired by Our Readers
Our readership inspires all of our posts and is not sponsored or paid for by brands or retailers.
Recommendations are based on my experience as a personal stylist and wardrobe consultant for over a decade. I worked with busy, down-to-earth women who wanted to look chic and feel confident but were often confused by so much of retail.
Some links are affiliate links, which means if you purchase via our site, we receive a small commission.

If you enjoy our content and would like to help us grow, please follow on Instagram and join our Private Facebook Group to access more advice and exclusive in-depth conversations with other like-minded women.
Learn about our mission to help women look and feel their very best, every day, here.
Sign Up for Daily Content and Receive Our Free Classic Wardrobe Checklist