Before the world went sideways, monthly HydraFacials were part of my regular skincare routine. They are an absolute splurge, but the best investment I've made in my skin, better than any treatment, product, or gadget I've ever bought.
What is a HydraFacial?
HydraFacials are a non-invasive treatment proven to reduce fine lines and wrinkles, dark spots, clogged and enlarged pores, it evens skin tone and reduces redness and acne.
Have any of that?
I deal with all of it—especially issues with my pores, breakouts, and mild rosacea.
When facials were part of my routine, I saw a difference across the board, most notably, my pores were practically invisible, my acne significantly reduced and my skin generally looking plump and glowy.
During Covid, when facials were the last thing on anyone's mind, my skin started to get problematic again. The stress of everything was showing all over my face, and I knew part of the issue was because I wasn't getting a regular, deep, professional clean.
Thankfully, we're back up and running, and my favorite local salon recently introduced HydraFacials as part of their services. I scheduled one of the first appointments, and let me tell you, my skin was desperate for attention.
What is a HydraFacial and Why You Need It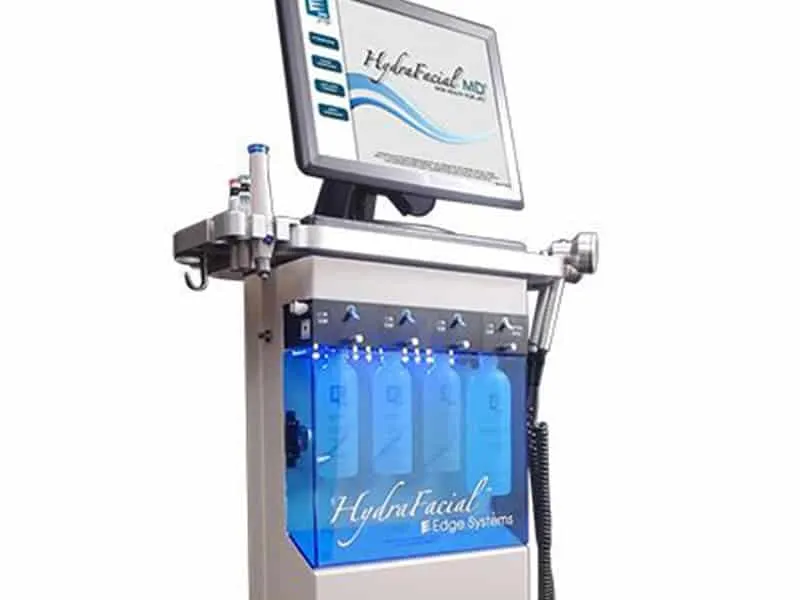 I love learning about it skincare and sharing what I discover with all of you. I try a lot of different things out but never loved anything like I love the HydraFacial. If I had to pick one treatment to spend on, this would be it.
How it Works
To get a true HydraFacial, you need to go to a salon with their patented proprietary machine, which works with a wand that helps exfoliate, cleanse, extract and then plump your skin full of goodness.
The secret is the magic "wand" attached to the machine that first cleanses and then exfoliates your skin.
Next, the technician will turn on the suction mode and pull all the "guck" out of your pores. Seriously, you'll see it all come out. It's gross and highly satisfying. It's like when you Swiffer your floors and can't believe what's been sitting on them. It's incredible.
Finally, the same wand plumps your skin up with antioxidant-rich serums. The machine uses water throughout the process to keep your skin hydrated, hence "HydraFacial," so even super sensitive skin like mine is barely red when I leave and back to normal in 20 minutes. This quick video gives a good overview of the experience.
Depending on your salon, you can add on different options, like eye masks or light treatments. In my last session, I splurged on a lymphatic drainage massage designed to help reduce puffiness by gently moving extra fluid from your face. It sounds like total BS, but it 100% worked. I left looking so much healthier than I did when I walked in.
Amazing Results
You'll see a noticeable difference immediately, like, as you're walking out the door. Your pores will appear smaller, and your skin will be brighter. Over time, you'll notice less and less acne, reduce inflammation, smoother skin, especially on your forehead and around your eyes, and lighten dark spots.
I'm back to going every four weeks. Each session takes about one hour; with the lymphatic massage, it was 90 minutes. Prices will vary depending on your salon. I pay about $200 per session before tip. Again, more if you add on.
At 41, I'm focusing a lot more on my skin than makeup, and so far, it's paying off. I don't wear much makeup on most days, and when I do, I can play up how healthy my skin is rather than covering up with a lot of product.
I go to Salon and Spa by Kimberly Gider in Conshohocken, right outside Philadelphia, if you are local to my area.
Our Style Content is Inspired by Our Readers
Our readership inspires all of our posts and this post is not sponsored or paid for by brands or retailers.
Recommendations are based on my experience as a personal stylist and wardrobe consultant for over a decade. I worked with busy, down-to-earth women who wanted to look chic and feel confident but were often confused by so much of retail.
Some links are affiliate links, which means if you purchase via our site, we receive a small commission.

If you enjoy our content and would like to help us grow, please follow on Instagram and join our Private Facebook Group to access more advice and exclusive in-depth conversations with other like-minded women.
Learn about our mission to help women look and feel their very best, every day, here.
Sign Up for Daily Content and Receive Our Free Classic Wardrobe Checklist