Creating an impactful beauty routine takes time and is ever evolving. What we needed in our 20s (drugstore cleanser and maybe some lip balm) is radically different from what we require in our 30s, 40s, 50s and above. It's becomes more complicated than slathering on some expensive creams.
Today, there are fantastic tools to incorporate into your daily routine to keep your skin in tip-top shape.
A Clarisonic will give your skin an incredible cleaning; a micro roller helps serums absorb and boosts collagen, and face toning devices help maintain your jawline and give your skin a subtle lift. I use all of the above and recently added the beauty blogger product du jour: the jade roller.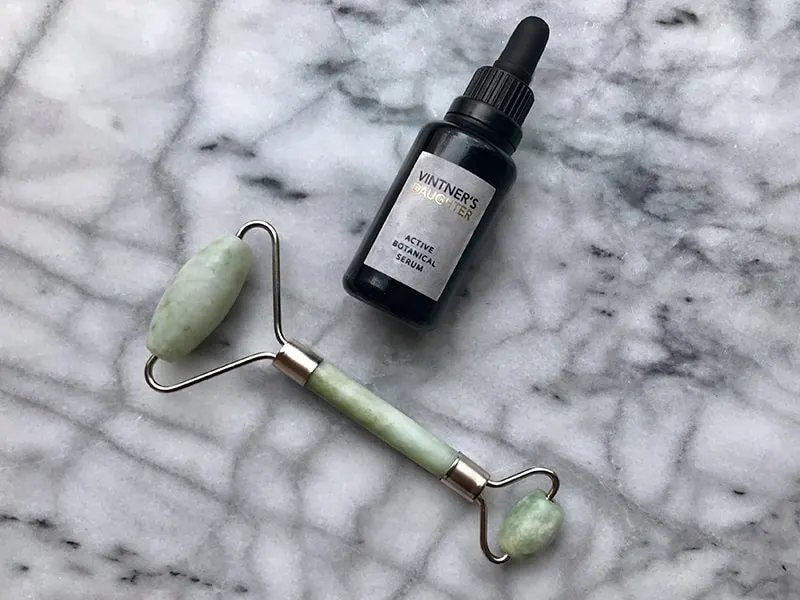 Jade Roller, $25.00, Vintner's Daughter Serum, $185.00
During one of my insomnia induced Instagram rabbit holes, I ordered it on a whim, with no real expectations. Advocates claim that a natural jade roller will improve elasticity and promote lymphatic drainage which is a fancy way of saying it reduces swelling and increases blood circulation. At 2 am this, all sounded great.
I figured at worst; this gizmo would live in my fridge for the mornings I need to roll something cold under my eyes.
It turns out; this inexpensive tool is an effective way to calm angry skin, reduce inflammation and puffiness and helps your skin absorb serums. Here's how it works:
For daily use, wash your skin with your favorite cleanser. Your next step will be whatever you do after you cleanse and before you add serum. I use a glycolic acid pad that helps with my acne. THEN I press my favorite serum (Vintner's Daughter above) into my skin and pull out my jade roller.
Using little pressure, begin to roll the jade up and away from the center of your face. With the larger side of the jade, start on one side with your jawline and roll three or four times, move up to your cheek bone, then move to the other side of your face. Take the roller and move from your eyebrows to your hairline.
Next, use the smaller piece of jade and go up your chin, and gently around your eyes. All in all, it takes about 2 minutes.
The coolness of the jade reduces redness, and the up and out motion helps your skin drink in all the goodness in your serum.
I started using this as part of my nighttime routine. After just a few days of use, I woke up with little to no redness on my cheeks (I have very mild rosacea that makes me crazy). Not only does it do what it promises, but it also helps reduce puffiness under your eyes.
Last week I was traveling for work. My skin freaks out on planes and in hotels when you get no fresh air. I woke up in Houston on my way to a meeting looking like I was drinking and crying all night (I don't remember doing either). I had packed my roller and quickly used it around my eyes for a few minutes. The difference was incredible. The swelling went entirely away.
The good news is you don't have to spend a fortune on a jade roller. You can, if you want, but why? Don't fork over $50, or $100. I found mine on Amazon for $25, and it's well made and works perfectly.