It's easy to slip into the habit of over-consuming.
Constant sales, non-stop Instagram ads, and Influencer culture are exhausting, expensive, and all contribute to unnecessary spending.
I grapple with this in our work because while I have to provide many options so our readership has choices; I don't want to encourage over spending.
Instead, I want your wardrobe to be thoughtful, well-loved and bring you joy.
And you won't achieve that if it's filled with stuff you don't wear.
If you want to focus on conscious spending and only buying items that will create a wardrobe you love, there is one formula you can use to help determine if a new purchase is worth it, and that is: cost per wear.
Cost per wear is an equation you can quickly use to see the real value of an item and if it's worth purchasing.
Understanding Cost Per Wear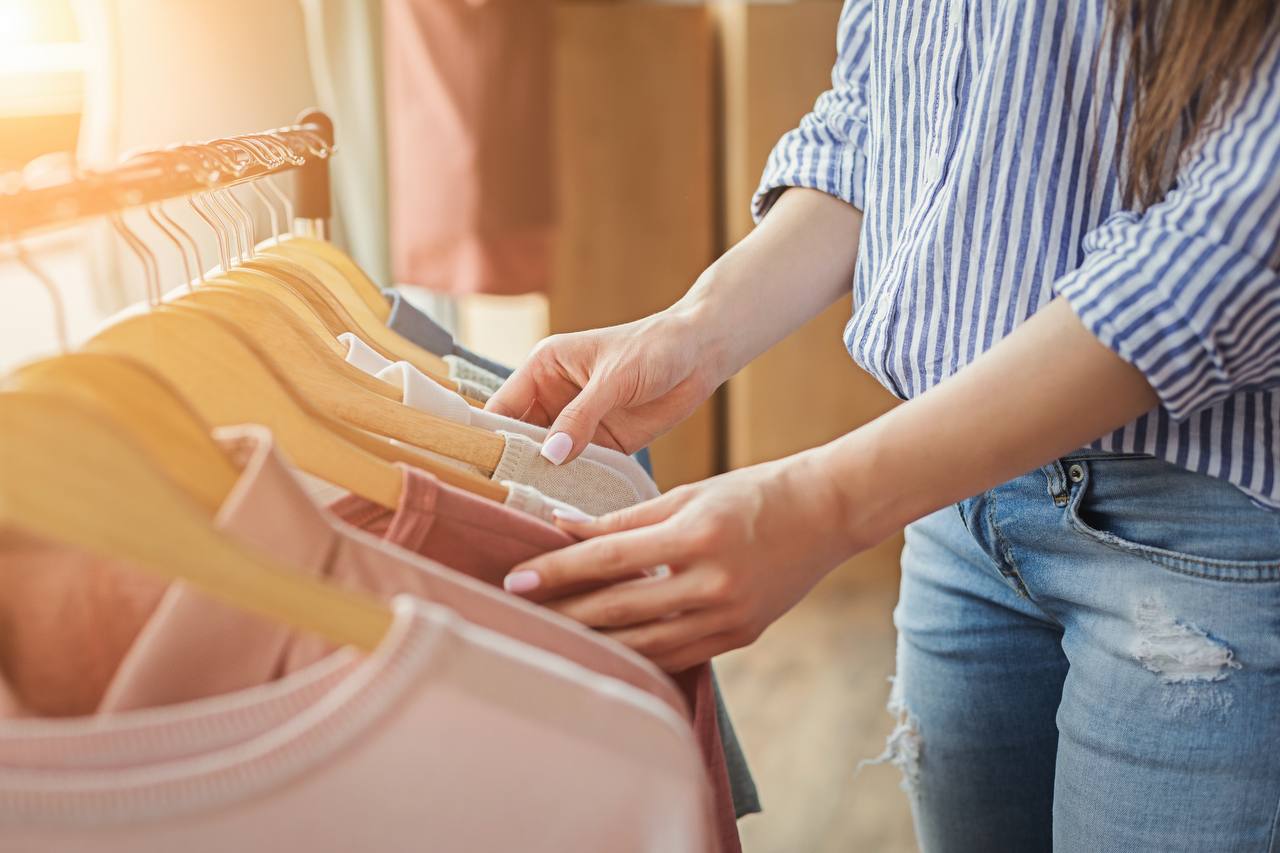 Before we jump in, it's important to remember, this is not an exact science. Rather, this is another guideline to help you determine if you'll get value out of a purchase or not.
Let's talk about the basic formula.
Simply take the cost of the garment and divide it by the estimated amount of times you would wear it.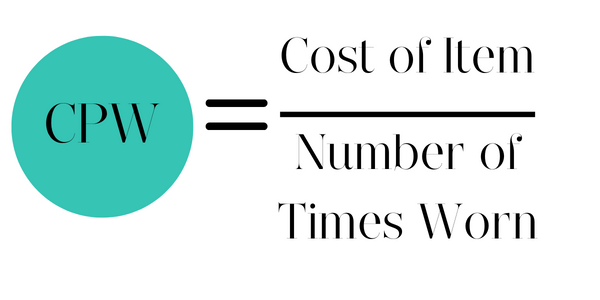 You can use this formula and manipulate it many ways.
Seasonal Pieces
For example, let's take this best-selling blazer from LOFT.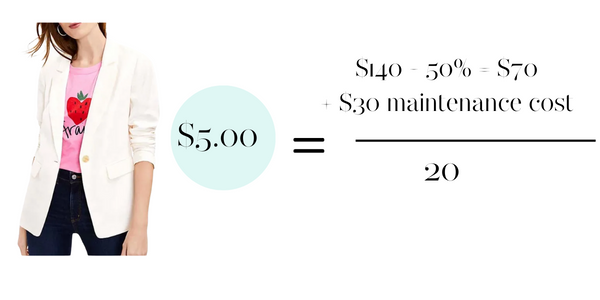 Originally priced at $140, but remember LOFT always has a promotion, so we never pay full price.
It's currently on sale for 50% off, making your upfront cost $70.
Now, you may need an alteration, or perhaps you dry clean it (even though it's machine washable) so let's add $30 for maintenance.
Then, I always base the times per wear over the corse of one season or one year, using the assumption that the first year of an item is when you'll wear it the most.
So if you wear the blazer 20 times your first season with it, your cost per wear is $5.
Not bad, and an excellent value when you compare it to the cost of other white blazers.
Take out the $30, and you're at $3.50 per wear, which, for a blazer, is excellent.
Moving into next season, that will drop even lower.
Now, let's talk about those pieces in our wardrobes that don't owe us anything.
Seasonal Basics
These sandals from Tuckernuck are my new favorites.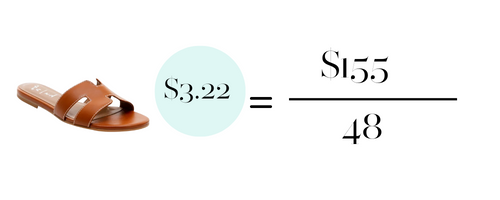 I wear them almost every day.
They are a testament to buying better neutrals and focusing on quality over quantity.
I will end up easily wearing these about 50 times this season because they are perfect with shorts, linen pants and dresses.
For this equation, I put it at 48, averaging four times a week for the summer.
My cost per wear for the summer is $3.22.
If I wear them with the same frequency next summer, my cost per wear will be pennies.
THAT'S at great buy.
Year-Round Better Basics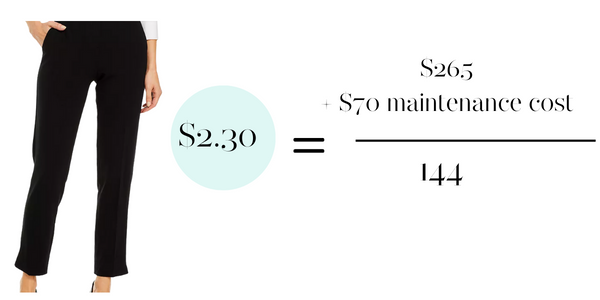 When thinking about clothes as an "investment," there are a few things to consider. Mainly your lifestyle and the longevity of the item.
For example, pre-Covid, when I was traveling for work every month, I bought a pair of black Theory pants in a seasonless fabric and timeless cut.
I wore them as separate trousers, and paired with a matching blazer to make a suite, and I always wore them.
Above, I added an extra $70 maintenance cost to cover alterations and dry cleaning.
And I break down the cost per wear after four years, which is very reasonable, at 144, which is three times a month for four years.
That gives us a cost per wear of $2.30.
Today, this wouldn't be a wise purchase for me because my life is much more casual, and I'm not on the road.
Thoughts on Special Occassion Purchases
For big moments in your life, like being the Mother of the Bride or Groom, I think you should set a budget and buy the most special, stunning dress of your life.
But if you're a wedding guest, or attending a gala, this is were I try to save.
Instead, I either look for something on sale or, more likely, I use Rent the Runway, which is fabulous for everything from formal gowns to fun, novel tops for girls weekends.
How to Use with Designer Buys
This is particularly helpful when making a considered purchase.
A splurge may be a smart purchase if you get real use out of it.
This is why understanding your personal style is so important.
I've been on both sides.
My Louse Vuitton wallet, which I've used for the last eight years and is still pristine, was a fabulous splurge. I use it every day, and it's maintenance-free since you can take it to the store to be cleaned and fixed at no extra charge.
But the sky-high nude Louboutins I got for Mother's Day one year only lasted three wears before I realized they were not for me.
What is a "Good" Cost Per Wear?
There is no right or wrong answer.
Instead of focusing on a specific number to hit, determine a comfortable range and look at your TOTAL wardrobe cost.
Related: Where to Splurge, Spend and Save in Your Wardrobe
For example, I'm fine with the white blazer above equaling around $5 per wear (or more) because (1) I know it's less wearable because it's seasonally specific and (2) while it might be on the high side other items in my wardrobe bring my total cost down.
Meaning, I'll wear that white blazer with a pair of jeans. And because I wear jeans several times a week, all year long, I pay more for better quality and a longer life, and they still work out to be a few cents per wear by the time I donate them.
So I'm pairing a higher cost per wear blazer, with a lower price per wear jean and the two pieces average out.
This is what my mother calls "Megan Math" so I hope you're following along. 😉
Cost Per Wear Helps Avoid Wasteful Purchases
I find this to be most helpful when you want to avoid wasteful purchases. So you'll never see me feature a $300+ print blouse or an expensive trendy item.
You won't wear it enough.
That's why it's essential to know how to wear something before making a purchase, big or small. And why we repeat best-selling items throughout our How to Wear and Outfit Formula series so you can see the frequency of use and the actual value of our reader favorites.
Because if you impulsively spend $40 on a sale skirt but you never wear, that will end up being the most expensive item in your closet.
52 Outfits in 2022!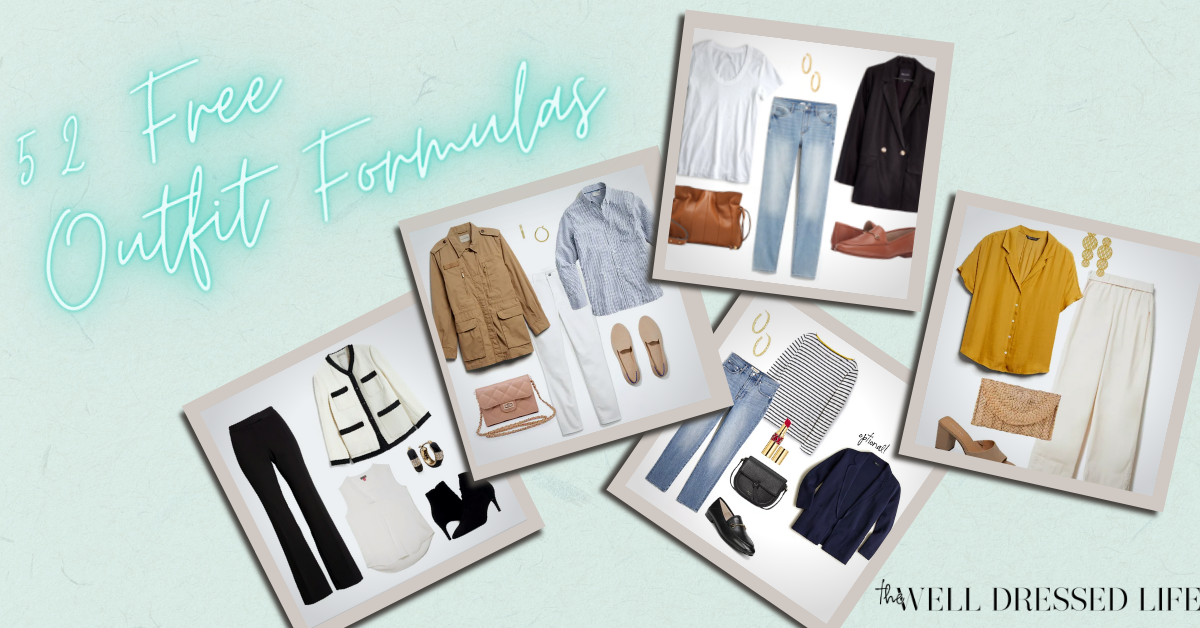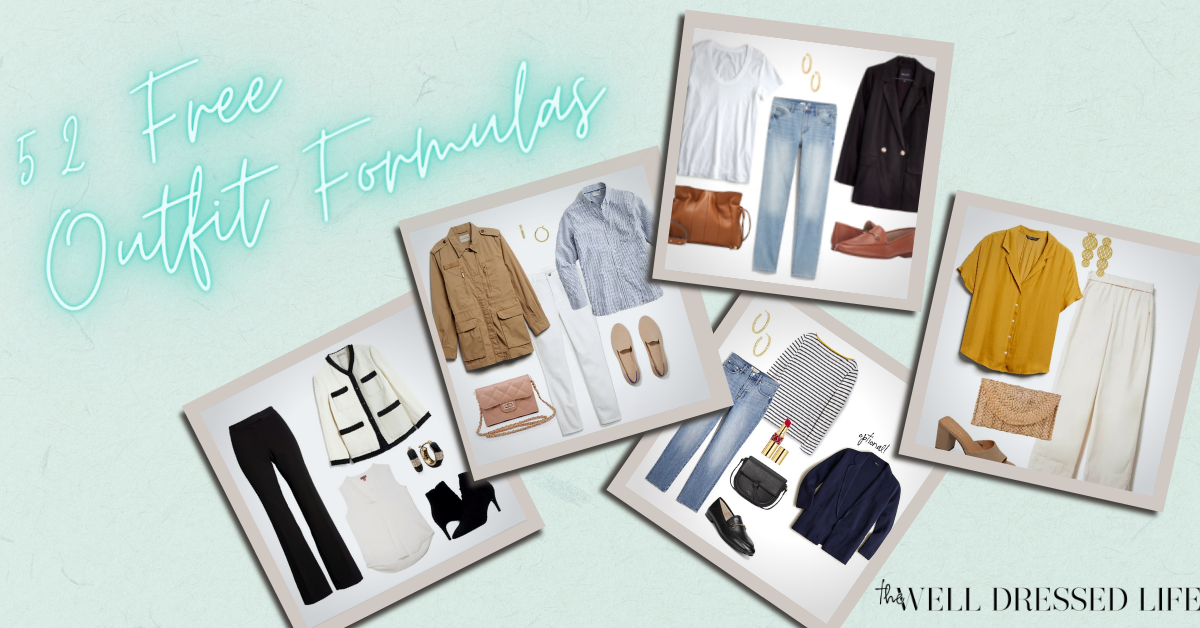 Follow Us on Instagram!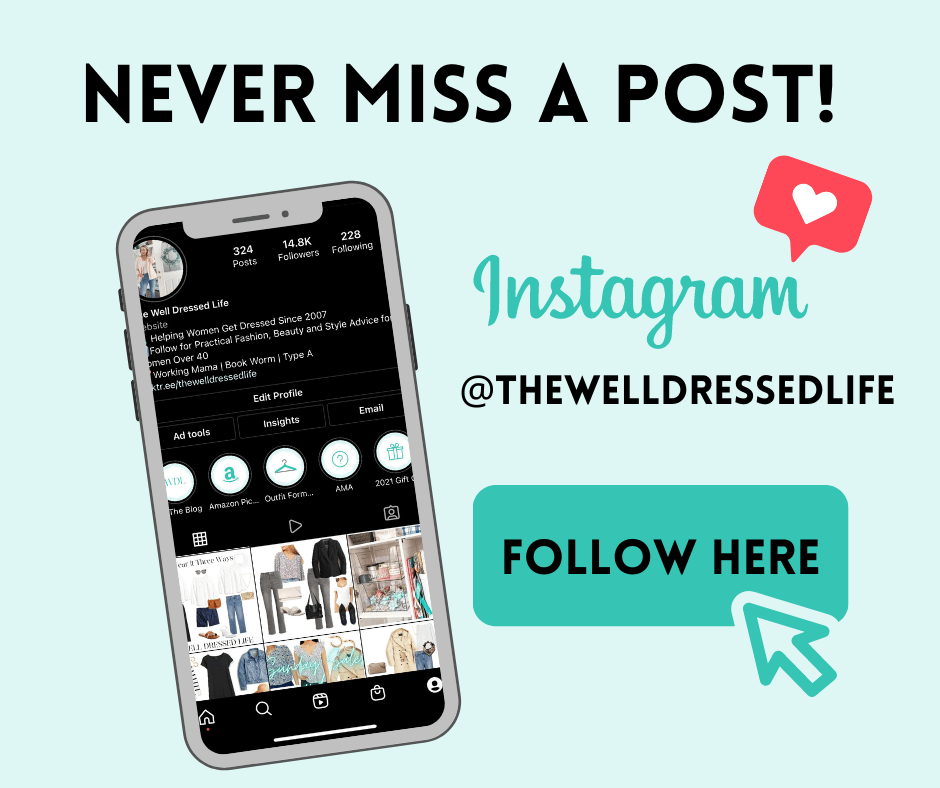 Our Style Content is Inspired by Our Readers
Our readership inspires all of our posts and is not sponsored or paid for by brands or retailers.
Recommendations are based on my experience as a personal stylist and wardrobe consultant for over a decade. I worked with busy, down-to-earth women who wanted to look chic and feel confident but were often confused by so much of retail.
Some links are affiliate links, which means if you purchase via our site, we receive a small commission.
If you enjoy our content and would like to help us grow, please follow on Instagram and join our Private Facebook Group to access more advice and exclusive in-depth conversations with other like-minded women.
Learn about our mission to help women look and feel their very best, every day, here.
Sign Up for Daily Content and Receive Our Free Classic Wardrobe Checklist