You would think, the longer I do this, the easier it would be to come up with content. But it's the opposite. After working with clients for a decade, and writing daily style tips for three years, there are times when nothing feels fresh and exciting.
So I'm always happy to receive questions and comments from readers. If you have a question, I guarantee a few thousand other women do as well. Focusing on your needs makes my time writing much more productive. Instead of spending time thinking about what to write about, I can focus entirely on finding solutions to any of your challenges.
That's what we're doing for the next few weeks as we work through the questions you've posted over the past month. For today's post, we talking lightweight springtime blazers for work.
"I'm not much of a light sweater person when layering and more of a stylish jacket or blazer. I think I like the structure of the jacket/blazer. Do you have any recommendations for light jackets/blazers for the spring/summer?" – Laura
Laura, I will always pick a blazer over a cardigan. You're right, they add some much needed structure to an outfit and really pull together a look, which is especially important for work.
Spring and summer appropriate blazers are tricky. If you want the best selection of style and price points, now is the time to shop.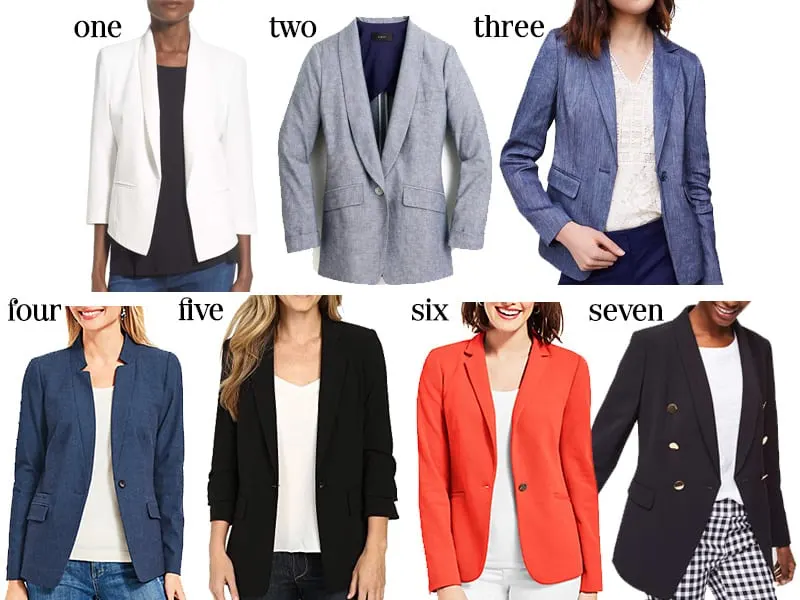 One, $74 | Two, $168 | Three, $118 | Four $111 | Five, $130 | Six, $111 | Seven, $128
For the sake of today's post I kept the price under $200 and made sure there was not only size variety but color within each style. I also wanted these to be extremely wearable.
Almost all of these picks can go with jeans, classic black or white pants, patterned pants, a sheath or a straight line skirt.
One, $74: Mural makes a nice blazer for under $100. The open, no button detail keeps it casual but you still get structure. The elongated front detail will pull the line of the body inward, visually creating a slimming shape. Available in black, white (above), taupe and rust in XS – XL. Runs small.
Two, $168: I've always loved J.Crew style, but for awhile their quality and size selection wasn't great. Over the past few seasons I've been pleasantly surprised by both. Especially their sizes, which now go from 00 – 20. This cotton linen blazer is available in white, deep water (above), red and black. Because of the length, it will work best with any kind of trousers or jeans.
Three, $118: This chambray blazer by LOFT is so lovely and perfect for spring. Pair with dark navy, white or denim bottoms. Available in sizes 4-18 in regular and petite and in plus here.
Four $111: You have to search for it, but every now and then Talbots has an item that is updated, classic and doesn't look like Talbots. Like this notched-collar blazer that comes in blue (above) and black. It will easily be that piece you keep grabbing out of your closet. I special shout out to their commitment to inclusive sizing. This blazer is available in sizes 2 -18 in regular and petite and 14 – 24 in plus.
Five, $130: I love a boyfriend blazer with jeans in a casual or creative office. You can take an outfit that would look frumpy with a long cardigan, swap it for a boyfriend blazer, and instantly look effortlessly cool. I have a similar style I picked up a few years ago and pretty much wear it to death. This style is only available in black, in sizes 0 – 14.
Six, $111: With this knit blazer, also by Talbots, you get the look and benefit of the structure of a blazer, but the comfort of cardigan or sweater. Because the fabric is inherently casual, you want to pair it with other casual pieces, like stretch cotton or denim. If you wear it with more formal items, you will look disjointed. Available in cherry tomato (above), iris, black and white, in any size you need.
Seven, $128: Finally, there is nothing quite like the look of a double breasted blazer. The key to wearing this is to keep it simple, just a classic pair of jeans or black slim pants. Because the buttons are the star of the piece, avoid prints and patterns. LOFT is also killing it with sizes. This style is available in regular and petite in sizes 00 – 14 and in plus in sizes 20 -26.
Have a question? Be sure to add them in the comments and we'll feature it in an upcoming post.