I talk a lot about "better-than-a-tee-shirt-tee-shirts," a term I came up with to describe when you want the ease of a simple white tee with a style that has a bit more impact.
And of everything I wear in the summer, this is the category I turn to the most.
I ordered several recently, all in white, so I have some easy outfits for vacation.
And since I'm still working while we're away, the goal is not to think about anything unnecessary, so when I wrap up my work day, I can focus on family and fun.
I'm sharing some of my finds today if you're looking for something similar.
You'll see all of these featured in upcoming outfit pics, starting with the top I featured earlier this week.
I wore it to meet up with girlfriends last night with light jeans and sandals and it was perfect for a weeknight dinner date.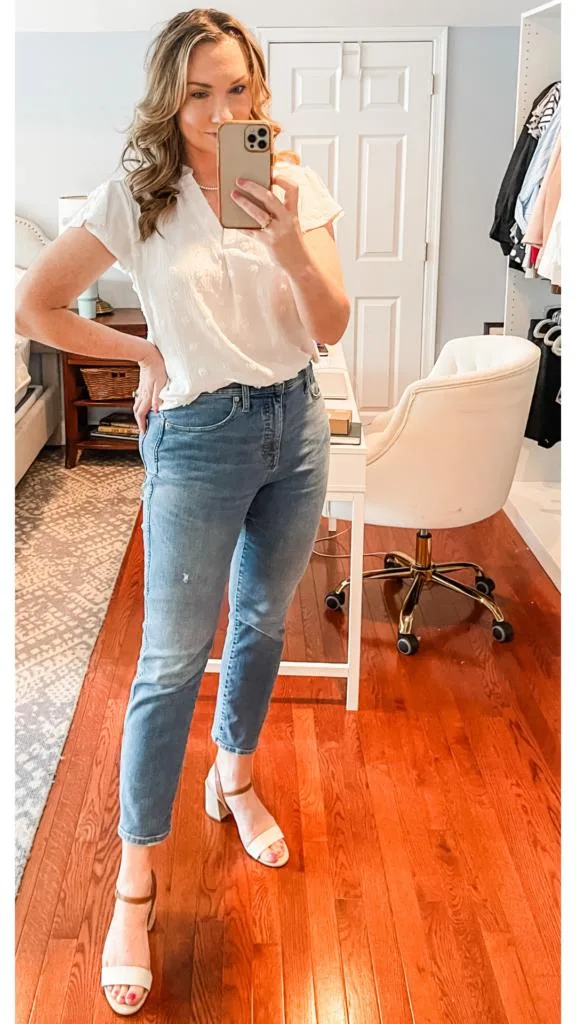 6 Pretty White Summer Tops on Amazon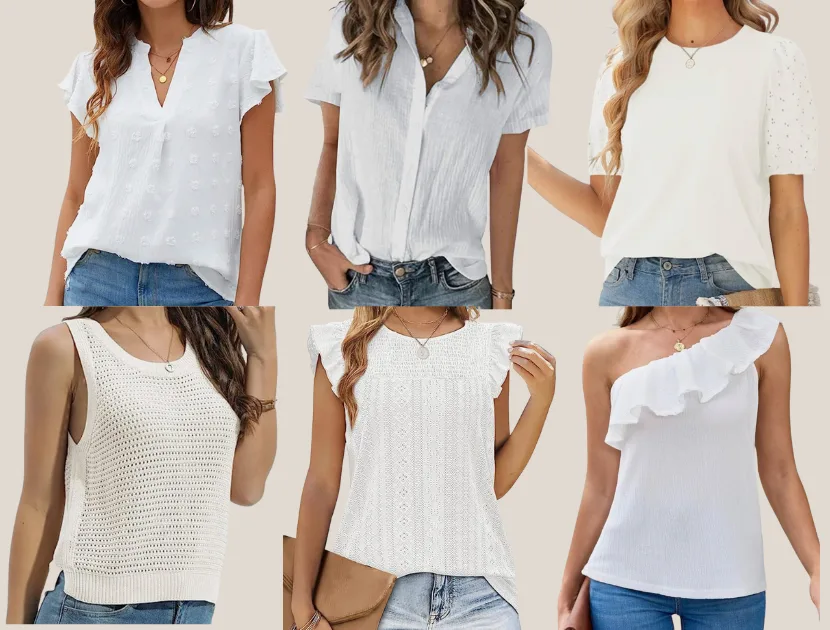 V Neck Ruffle Sleeve Blouse
Starting off strong with my favorite of the bunch featured in the outfit picture above.
It's pretty, fits well, I love the texture and it's about $30.
Available in dozens of colors in XS – 3X. Size up if you are between sizes.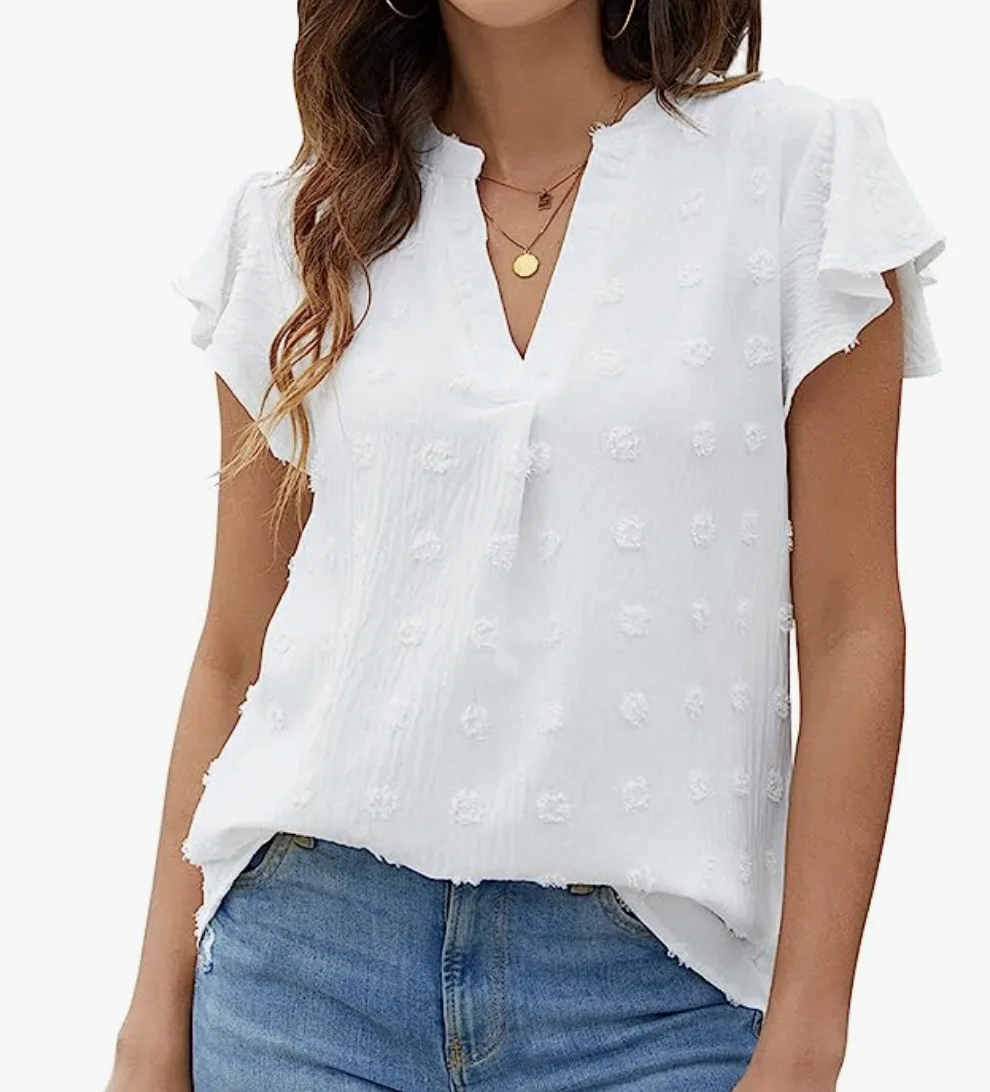 1
V Neck Ruffle Sleeve Blouse
Amazon
$29.00
Eyelet Floral Crew Neck
We're seeing so much eyelet this summer!
It's such a pretty way to add some texture that makes a boring tee instantly elevated.
Done in cotton, with a flattering sleeve length for under $25 in sizes XS -XL. I took the medium.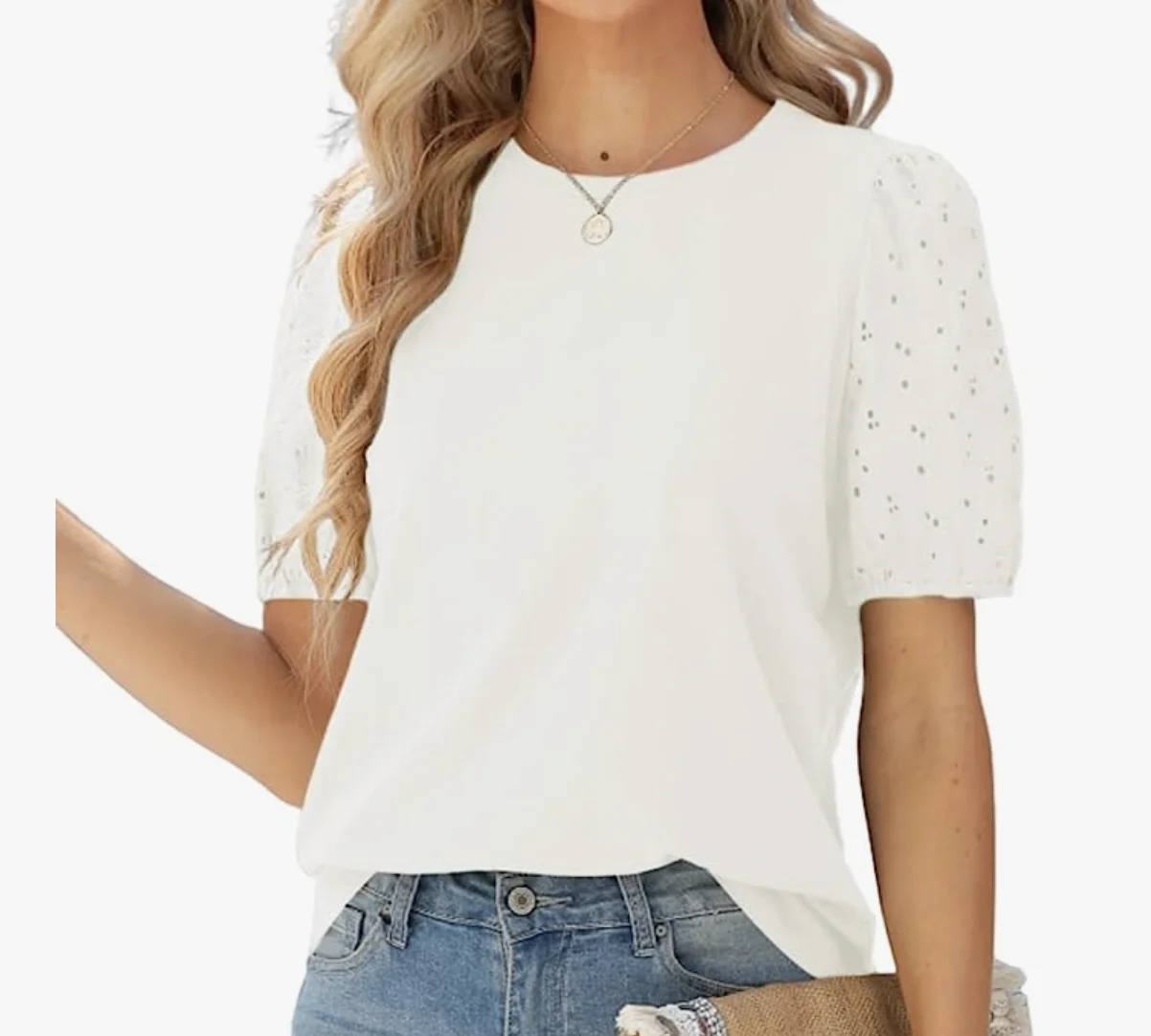 2
Eyelet Floral Crew Neck
Amazon
$24.00
Cotton – Linen Blend Short Sleeve Blouse
Contrary to popular belief, there are a lot natural fiber options on Amazon, you just have to search for them.
I ordered this short sleeve button down in a cotton-linen blend as a polished option to pair with shorts.
Available in several colors in long or short sleeve in XS – 2X.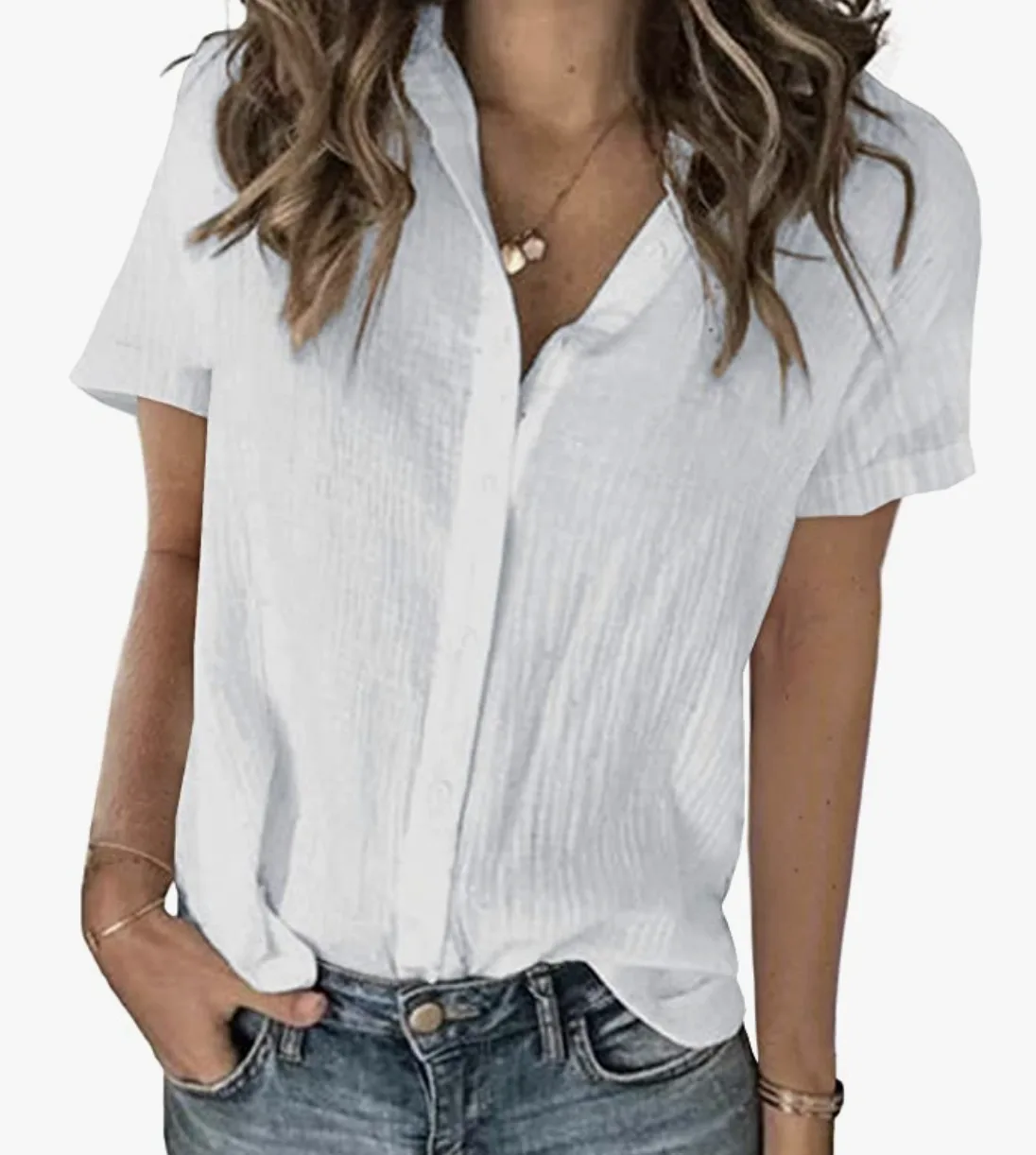 3
Cotton Linen-Blend Shorts Sleeve Blouse
Amazon
$25.00
Eyelet Ruffle Tank
Pretty, pretty, pretty.
If you're okay wearing sleeveless but want something more substantial than a tank, this sweet ruffle option is adorable.
Available in several colors, in XS – 2X for under $30.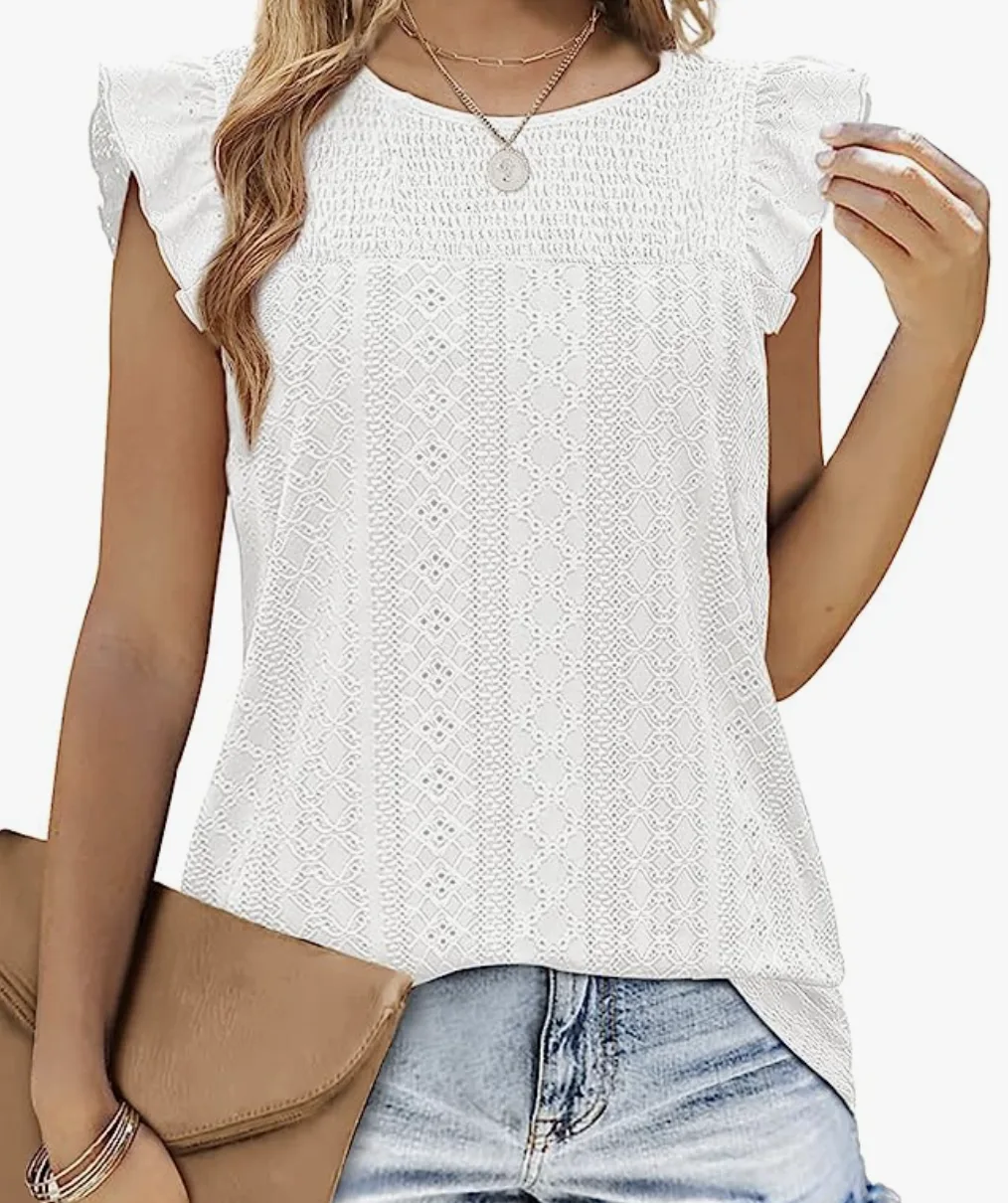 4
Eyelet Ruffle Tank
Amazon
$28.00
Knit Sweater Tank Top
This next option is not going to be fore everyone, but I ordered it in white (and tan) to pair with drawstring linen pants and flat leather sandals.
I like the texture it will bring to a neutral outfit.
It's not cropped, but it is short so skip if you are long waisted.
Available in several colors, in S – XL for $35.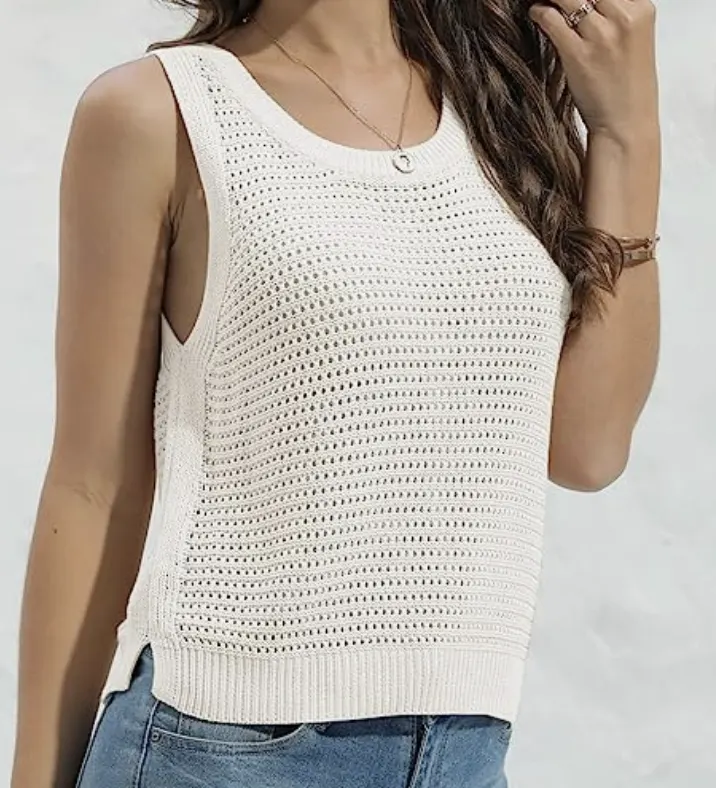 5
Knit Sweater Tank Top
Amazon
$35.00
One Shoulder Ruffle Top
Finally, for an inexpensive "going out top" I scooped up this off the shoulder ruffle top.
It's under $25 and comes in S- XXL in 10 colors.
I'll wear it with cute shorts to a beach bar, nothing fancy but it feels a little different.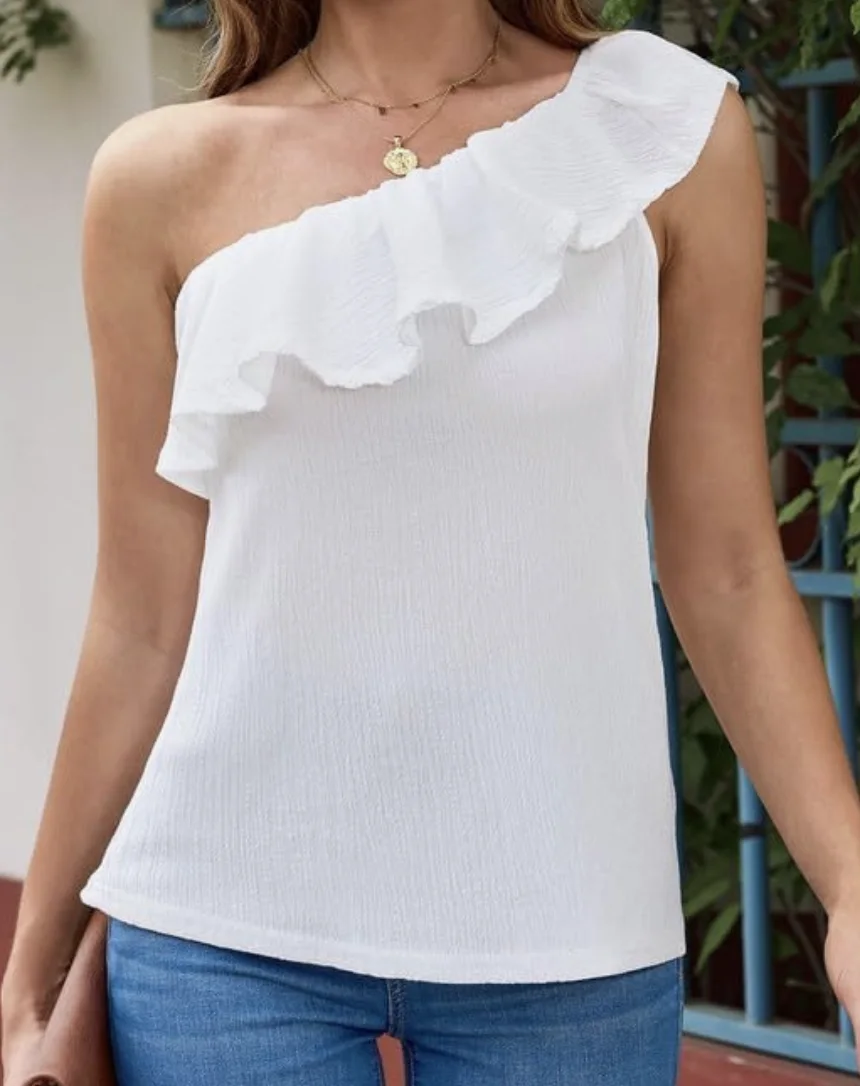 6
One Shoulder Ruffle Top
Amazon
$22.00