Recommendations for summer tops with sleeves is currently the number one request in my inbox.
And the good news is, this season in particular, there are a ton of options.
Before we dive in, a quick note.
Writing about how to dress our bodies is a challenge for me.
I tell you to wear whatever you want and not care about how your body looks.
And I mean it.
But I'm also right there with you, trying to accept and honor my body while not loving all my bits and pieces.
It's a balance I struggle with daily.
And a part of me hates talking about covering our arms or legs or midsections because I think it makes me sound old and frumpy. Lol.
But guess what?
Feeling confident is more important.
So let's give ourselves some grace as we work towards radical self-acceptance while doing what we need to to feel our best.
With that said, if you struggle with loving your arms and want a little coverage this summer, I have six styles to look for and recommendations in a range of styles to help you stay cool while looking chic.
Summer Tops with Sleeves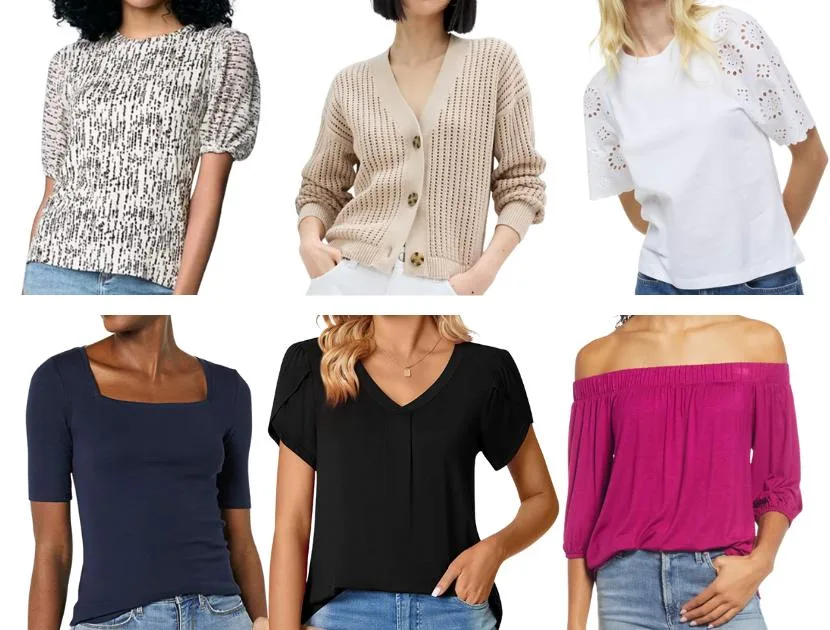 Sheer Sleeves
Thankfully, sheer fabrics are trending this season from the runway to discount stores.
And while the high-end designers are using sheer elements in some very, ahem, creative ways, mass retail is interpreting it more practically.
So if you are not a fan of sleeveless but still want a light and airy look for the warm season, sheer sleeves are not only where it's at but easy to find.
Admittedly, I'm not a Kohl's shopper, but we've featured a handful of items over the last few months, and they are wildly popular.
And I'm pleasantly surprised with this sheer top, available in XS -XXL for only $33.
It comes in five colors, including black and an off-white. I'm featuring the black and white print below, as I can see it paired with black ankle pants and sandals for work.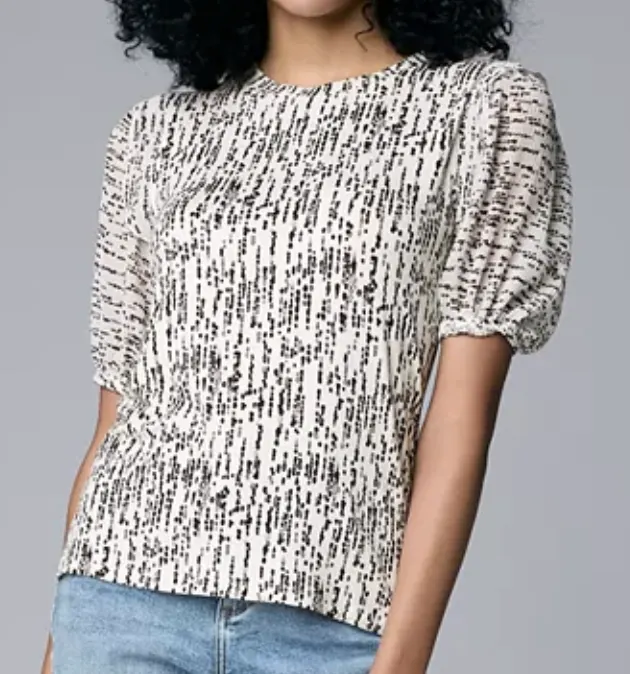 1
Women's Simply Vera Vera Wang Mixed-Media Top
Kohl's
$33.00
Open Stitch Cardigan
Another option to consider is an open stitch cardigan, worn like a shirt with a light cami or tank underneath.
This one, from Gap Factory, in a soft cotton knit, is a great casual option that can work with can denim or twill bottom, long or short.
Available in XS – XXL in three colors for $29.99.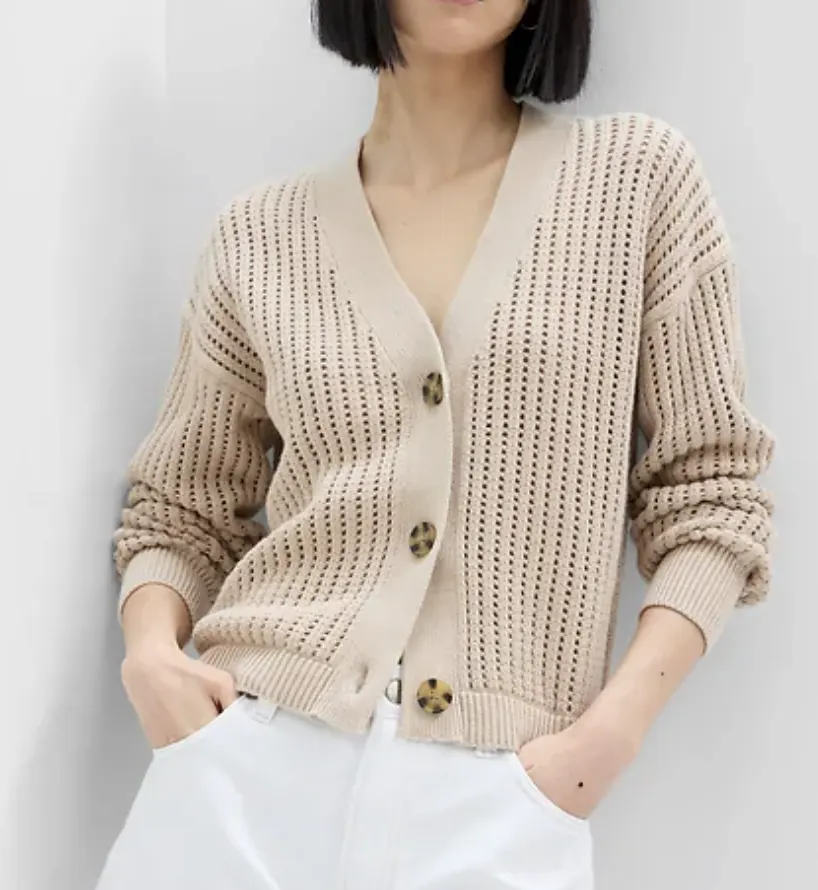 2
Open Stitch Cardigan
Gap Factory
$29.99
Eyelet Embroidery T-shirt
I'm a broken record regarding eyelet detail, but it's such a pretty and useful element that is currently everywhere.
A bit of eyelet detail on your sleeve elevates your look and adds the airiness we look for in summer tops while giving you the coverage you desire.
Featured below is an inexpensive top from H&M available in white and black for $19.99 in sizes XS – XXL.
A slightly more elevated top is the all over eyelet from CeCe, in a range of colors, for $69. (This is the shirt I ordered.)
A lovely plus size option is this pretty tee, in sizes 14 – 28 in black and white, also, this eyelet detail top from Talbots in all sizes.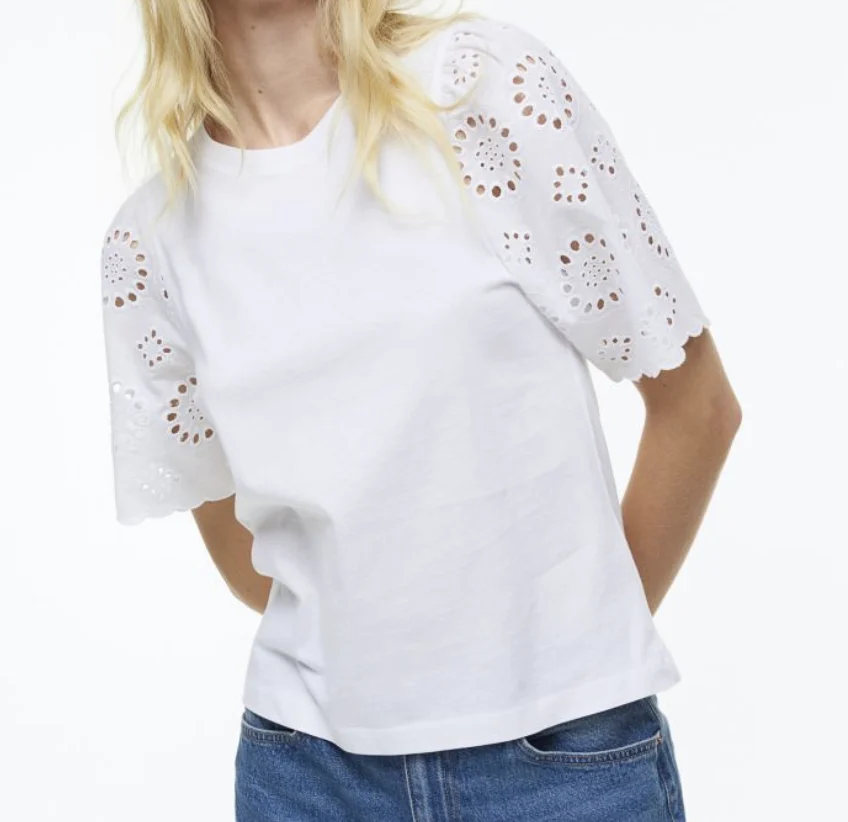 3
Eyelet Embroidery T-shirt
H&M
$19.99
Half Sleeve Top
If you want an updated yet basic tee shirt, look for a half-sleeve top.

A half-sleeve is different than a 3/4 sleeve and tends to look better when the sleeve fits close to the arm – otherwise, it creates a billowing, overwhelming silhouette and might make you look broader than you are.
Featured below is an easy half-sleeve top with a square neckline from Amazon Essentials. Available in a range of colors, for about $17, in XXS – XXL.
This is fitted to the body, so keep that in mind.
It will look great with any bottom, including skirts, etc.
Another, less fitted option is the one from J.Crew, in black, ivory and a poppy orange, in sizes from XS – 3X, on a crazy 60% off sale.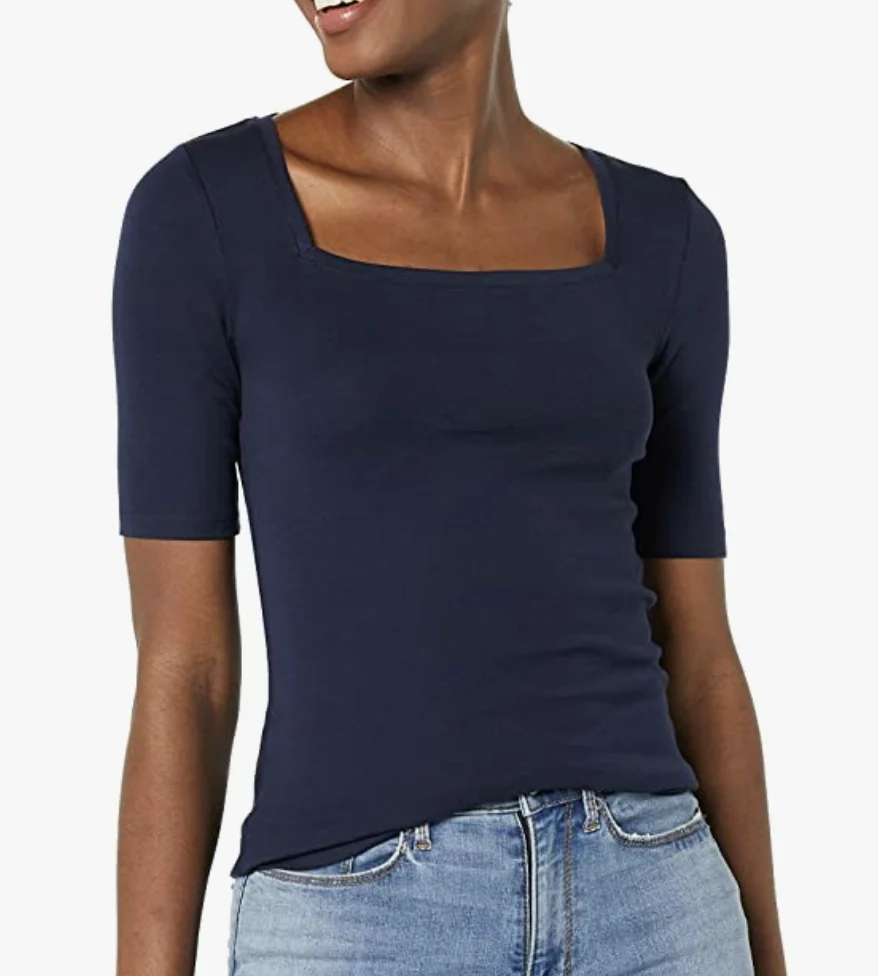 4
Women's Slim-Fit Half Sleeve Square Neck T-Shirt
Amazon Essentials
$16.00
Petal Sleeve Top
I LOVE this next top, with a petal shaped sleeve from Amazon.
There are a few styles in the SKU, some are "flowy" and some have a "ruffle", but I only want you to get the style below, with the cleaner sleeve.
Available in a range of colors and prints. I ordered the solid black, green, and navy to wear with shorts and jeans.
In sizes S – 3X for about $25.
It's longer, so I will at least half-tuck it, but I might have it hemmed to hit a flatter spot for me. Stay tuned. 😉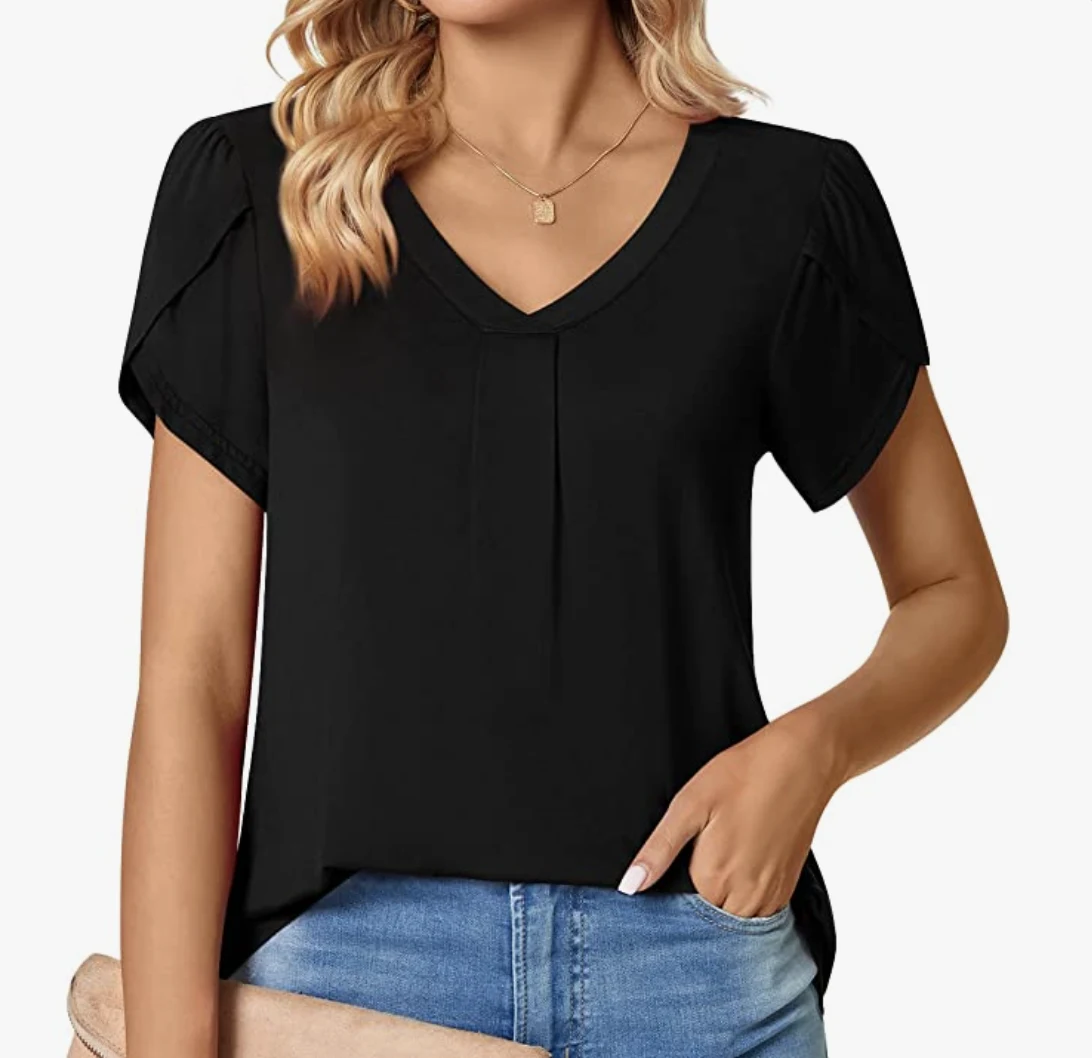 5
V Neck Petal Sleeve Top
Amazon
$25.00
Off the Shoulder
Finally, maybe you don't love your arms but don't mind your shoulders.
If that's the case, consider an off-the-shoulder top when you want to feel a little modern and sexy.
It was Donna Karan you pioneered the off the shoulder style saying, "no matter your age, your size, your shoulders always look good."
So go ahead and show them off.
I like this under $50 option from at Nordstrom, in a few fun colors and black, in XS – XL (16/18).
Avoid a lot of ruffle detail as it's pretty overwhelming.
That's why I don't have a plus size offering, the ones currently available are ridiculous looking.
Keep this clean and simple. 🙂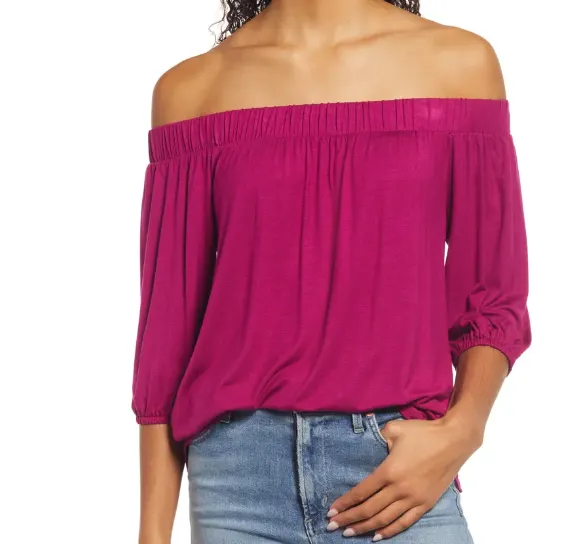 6
Off the Shoulder Top
Nordstrom
$45.00