This content has been archived. It may no longer be relevant
Our 2019 Spring Capsule Wardrobe is ready! There might be snow on the ground but the faintest hint of spring is in the air so I'm fully committing to the new season. This year I'm excited to share a series of capsule wardrobes you can use as a guide to refresh your closet. Today, we're starting with some weekend and everyday outfit inspiration.
2019 Spring Capsule Wardrobe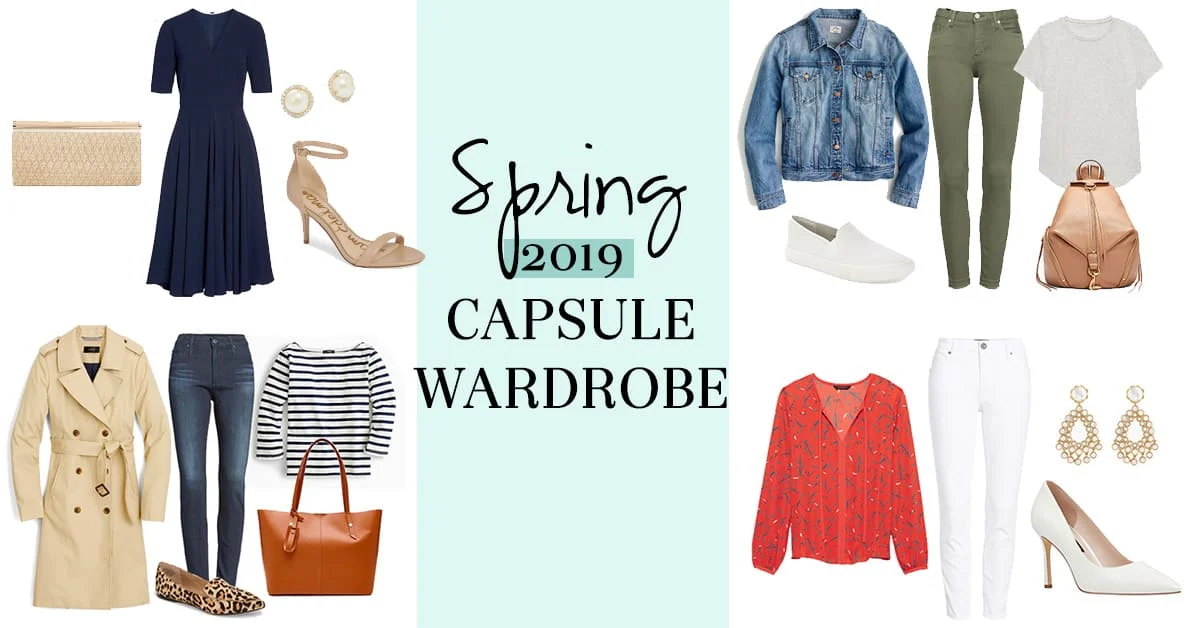 Remember, these posts serve two purposes: (1) to help you discover what you need or show you a new way to wear something, and (2) provide product recommendations if you want to skip the mall and shop directly.
Today's pieces are ideal for pulling together some polished outfits for weekend events. We'll do a more casual, sporty series soon.
Think of these as great basics to have in your collection so you can easily pull a look together.
Let's get started.
How to Wear Our 2019 Spring Capsule Wardrobe
An Everyday Go-To
Trench, $228 | Jeans, $178 | Tee, $35 | Tote, $228 | Flats, $90
Everyone needs a classic trench and J.Crew makes a beautiful and reasonably priced option. They are also doing a great job with size inclusion as this goes up to a size 24.
Next refresh or update your better dark jeans. These are your "dress up" jeans, so buy the best you can afford. I like these AG Jeans for their higher waist. They keep you in and make your legs look a mile long. (We're working on updating our Best Jeans for Every Body Type Post so stay tuned.)
A classic Breton style tee will take you far this season. You can wear it with any style bottom, and then pair it with shorts in the summer. This one, also by J.Crew comes in several color options up to a size 3x.
Many of you picked up this casual tote featured in Wednesday's Wear to Work post. It will be a staple in your spring wardrobe.
Finally, flats in a leopard print will add an element of whimsy to a layered outfit of better basics.
Girls Night Out
Blouse, $80 | Jeans, $89 | Earrings, $295 | Pumps, $89
When you get the rare night to meet with friends you want to wear something that doesn't feel like your just wearing your work clothes in a new way.
This pretty and bold blouse can be worn under a suit, or tucked neatly into a skirt for the office. Banana Republic currently has a nice selection of interesting tops and blouses. Like J.Crew, they are getting major points in my book for size inclusion.
Then pair it with crisp white jeans for a fresh outfit perfect for drinks with the girls. Look for white jeans with a little stretch in a denim that isn't see-through. I used KUT from the Kloth (featured above) and NYDJ a lot when I was a stylist. NYDJ offers a better size scale.
This season, pick up some white pumps but keep them under $100. You can wear them with jeans, trousers and dresses for as a fun, modern trend.
Finally, maybe splurge on one cool, new accessory. I came upon these earrings on Tuckernuck and thought they were gorgeous.
Kid Friendly Weekend
Jacket, $110 | Pants, $83 | Tee, $24 | Sneaker, $195 | Backpack, $118
Running the kids to and from sports consumes many of our weekends. Might as well look chic and comfortable while your sitting waiting for practice to wrap up.
If you don't have a denim jacket, or need a new one, pick this one up, you'll have it a good long time. Layer it over anything from a jeans and tee shirt to a simple black dress.
Olive bottoms are super popular. In fact, our "How to Wear Olive Pants Three Ways" post was one of our top articles last year. They break up the monotony of blue jeans. I like these by Banana Republic for their fit and raw hem – makes it feel a little edgy. Old Navy also has a great option.
Next up, refresh your tee shirts. These from Banana are awesome. They have finished look, are not see-through and under $30. I recommend picking up multiples in gray and white.
Then, consider a new pair of sneakers. Slip on sneakers are the way to go to make a casual outfit look a little more sophisticated. There are tons of options out there at all kinds of prices. I like the styling of these Vince slip-ons. For something less expensive, these quilted sneakers we featured last Friday are a great alternative.
To stay hands free, grab a backpack. Rebecca Minkoff made this one that is so stinking pretty, simple and currently on sale.
Date Nights, Showers, and Functions
Dress, $178 | Sandal, $100 | Clutch, $79 | Earrings, $48
Get organized now and have at least one special outfit ready to go. The spring always means weekends filled with family events and parties, so take the stress out of getting ready and buy one basic dress.
The sleeve and skirt style sold me on this lovely piece from Gal Meets Glam. It comes in navy (above), black and blush up to size 20.
A neutral, and seasonally appropriate clutch for under $100 is a no brainer. Wear it here and carry it on your girls night out too.
Need a new pair of neutral-to-you sandals? Pick up these Sam Edelman ankle straps with an easy to walk in heel. They come in several basic colors, including silver, gold, black and white.
Finally, a sweet pair of earrings for under $50 that you can wear with anything can help build out your jewelry and accessory options.
Shop this Post