Olive green pants are a fabulous alternative to wearing jeans or leggings everyday. A few weeks back we featured a post about how to wear gray jeans, and so many of you told us how much you loved it. So today we're working with a similar pant that brings so much versatility to your wardrobe and showing you how to make three olive green pants outfits.
A few seasons ago I impulsively spent a small fortune on a pair, and to my surprise and delight, still wear them frequently. But you don't have to spend a ton. Many affordable versions look and fit well, like these popular Wit and Wisdom pants.
What to Wear With Olive Green Pants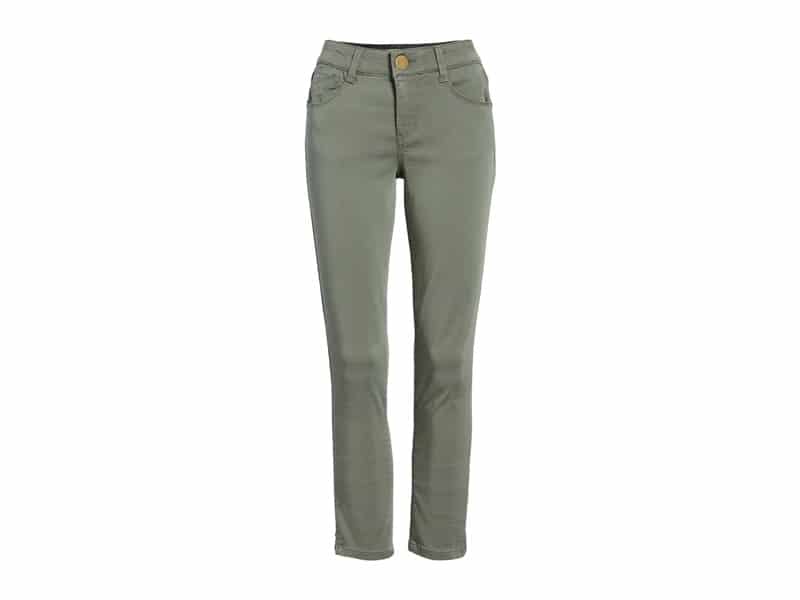 Pants, $68 in missy and petite 0 – 18, or try these from Old Navy available in all sizes
For today's post we're breaking down how to wear these pants three different ways.
A Chambray Shirt and Neutrals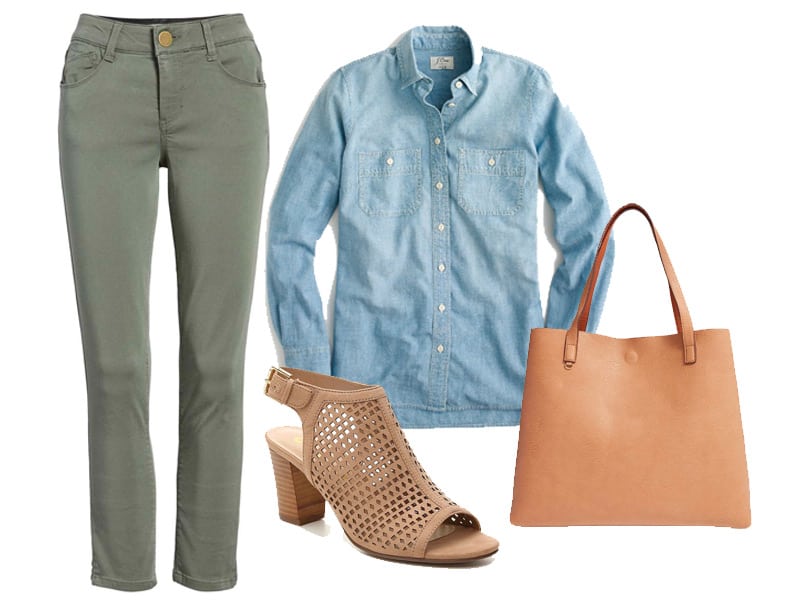 Outfit One: Pants, $68 | Shirt, SOLD OUT similar here | Shoe, $50 | Bag, $49
Over the last few seasons I've amassed quite a few chambray shirts and wear them all the time. They create an easy and casual outfit. I like pairing them with black leggings and flats, dark skinny jeans, faux leather leggings, or even a feminine skirt. So. Many. Options.
Here, I paired a slim, light washed shirt that I would half tuck into the front of the green pants. Be sure to roll your sleeves for extra style. Keep your accessories neutral. I like these sandals with a block heel if you want to dress up the look a bit. A flat works just as well. Because this is an everyday outfit, I used my everyday tote. This Street Level tote from Nordstrom is a great price for the quality and usability.
A Crisp White Button Down and a Bold Print
Outfit Two: Pants, $68 | Shirt, $26.50 | Shoes, $100 SOLD OUT, similar here | Bag, $99 SOLD OUT, similar here for $40
We talked last week about the ageless versatility of a classic white button down. I like the modern twist on this one by J.Crew Factory. The tie front is both chic and easy. (If you are long waisted this particular shirt will not work because it's cut to sit at your natural waist.) Again, roll and zhush your sleeves to keep the shirt from feeling too stuffy.
I used these beige flats that work perfectly with the leopard print bag. The neutrals ground the outfit, and because the colors all work together, the outfit is cohesive.
A Casual Denim Jacket and Classic Pumps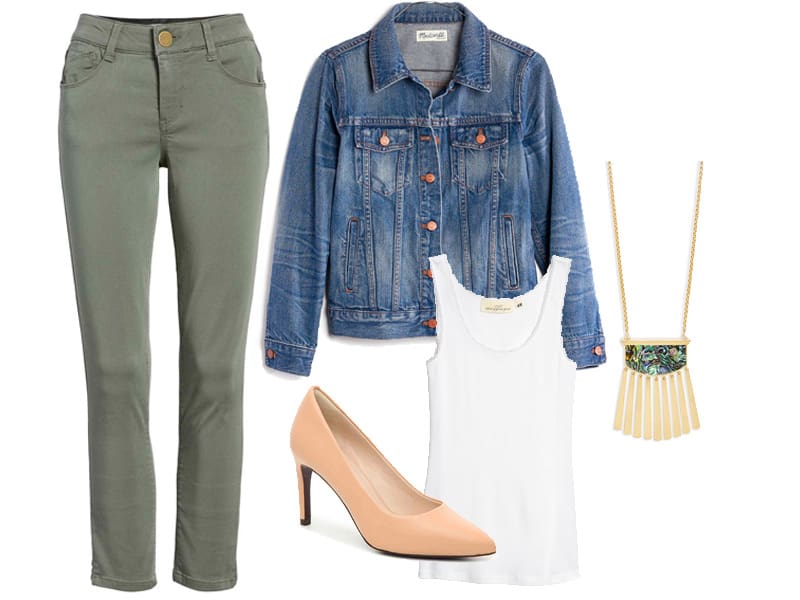 Outfit Three: Pants, $68 | Jacket, $118 | Heel, $70 | Tank, $7 | Necklace, $110
Finally, I wore a version of this outfit last weekend to a fundraiser at a friends bar. It was perfect for a chilly spring evening that found us moving from inside the bar to the adjacent patio throughout the night.
The pants and denim jacket are a match made in heaven.
I used a simple loose tank similar to this one from H&M. If you have the Old Navy scoop tank we've featured a dozen times, that will work well too.
I love a simple outfit that is easily elevated with accessories. A pump (these by Cole Haan are remarkably comfortable) dress up your look. I wore this exact pair and lasted in them all night. And this gorgeous necklace by Kendra Scott pulls all the colors together helping the look make sense. Again, it creates a cohesive feel with makes your look feel purposeful.
Shop this Look
Have a piece hanging in your closet and need some inspiration around how to wear it? Let us know in the comments below and we'll help you out in future posts.