They say variety is the spice of life, but over the last few years, many of our wardrobes have little variety and zero spice. So let's fix that today and talk about how to wear olive green pants.
An olive-toned bottom is a fantastic addition to any classic wardrobe, because it helps provide some range while still very much working as a basic or neutral.
You can make these sporty or chic and casual is just what I want to wear in my hectic lifestyle.
What's nice is if you've been follow WDL for a while now, you likely have everything you already need to recreate at least one, if not all of these outfits.
How to Wear Olive Green Pants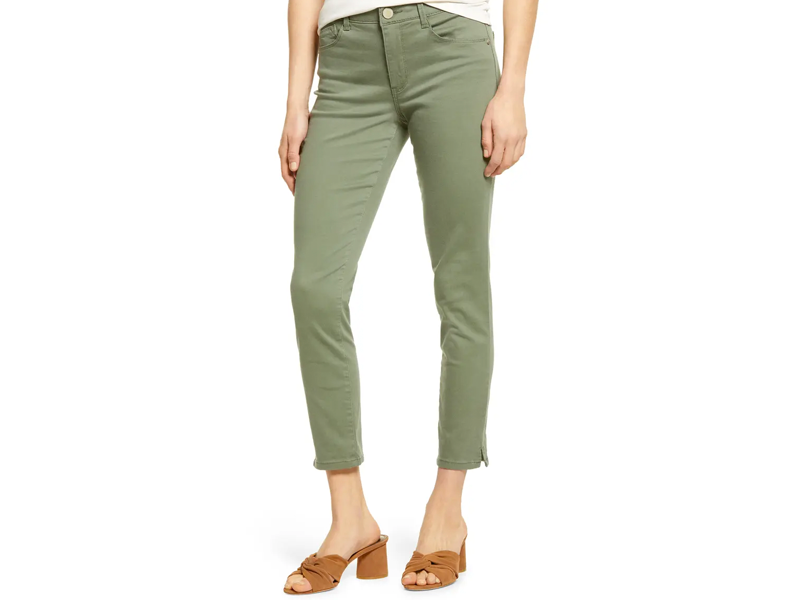 High Waisted Skinny Ankle Pants, $68
First, let's talk about the pants because you have lots of options here.
Above, I'm featuring the Wit & Wisdom High Waisted Skinny Ankle Pants, perfect for spring. They are available in petite and regular sizes from a 00 – 18. They run full so size down.
Can you still wear skinny jeans? Yes, here's why.
If you bought the Old Navy Chino in green, they work too. These have a more relaxed leg and are slightly cropped. Available in sizes XS – 4X in regular, tall and petite.
Finally, if you want this to be really casual, you can wear a cotton jogger in outfits #1 & #3 , like these from Athleta. Also available in all sizes, XXS – 3X in regular tall and petite.
Okay, let's look at some outfits.
3 Chic and Easy Ways to Wear Olive Green Pants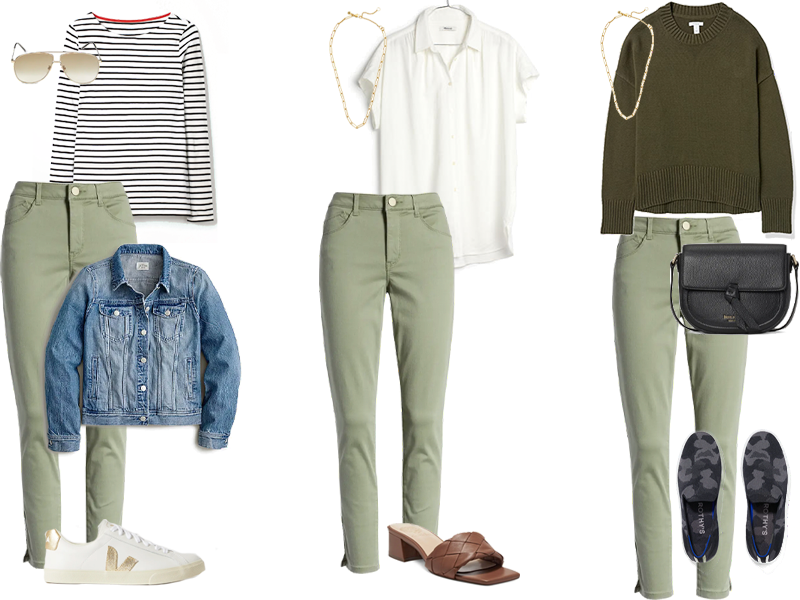 Cute, right?
Classic Daytime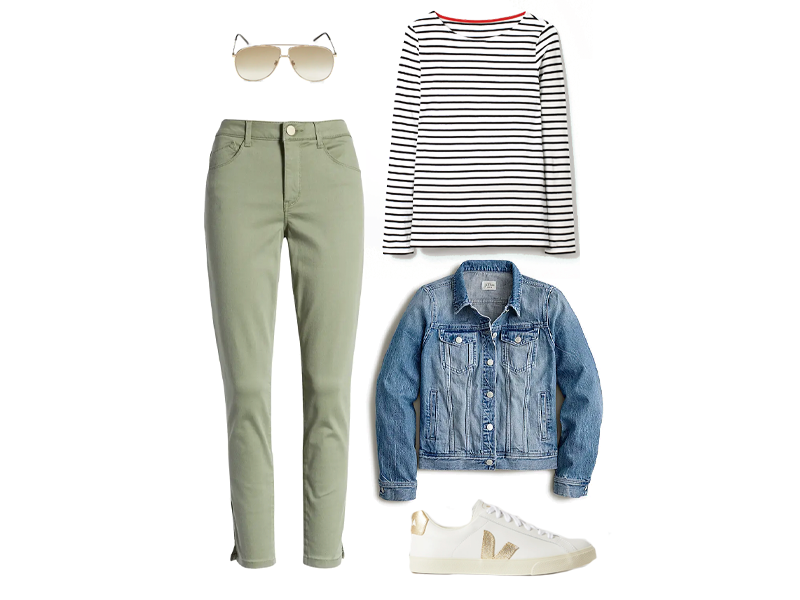 Breton Top, $40 | Denim Jacket, $118 | Sneakers, $120 | Aviators, $180
When I say a classic Breton goes with everything, this is what I mean. The black stripe Breton from Boden is a long-time WDL Reader Fave.
I stock up on these and wear them all year, with tailored black pants in the winter and distressed shorts in the summer.
Then, as a layer, a denim jacket is another wardrobe staple, and this one from J.Crew is a favorite.
The wash and fit are just right. Available in sizes XXS – 3X.
If you don't already have one, consider picking this up while there is inventory.
I'm crazy about these Veja sneakers with gold metallic detail – so fresh and fun. But, any low-profile white sneaker will work.
If you have these Cole Haan's from last year with the tan leather trim, and many of your do, they work really well here too.
And a quick tip, if you are looking for some new sunglasses, Off Fifth currently has an insane selection of designer brands for a fraction of the cost.
I'm featuring these Gucci Aviators because they usually are almost $500 but are on sale for $170 – still not inexpensive but tremendous savings. They are basically the price of a new pair of Ray-Bans. 🙂
Chic and Simple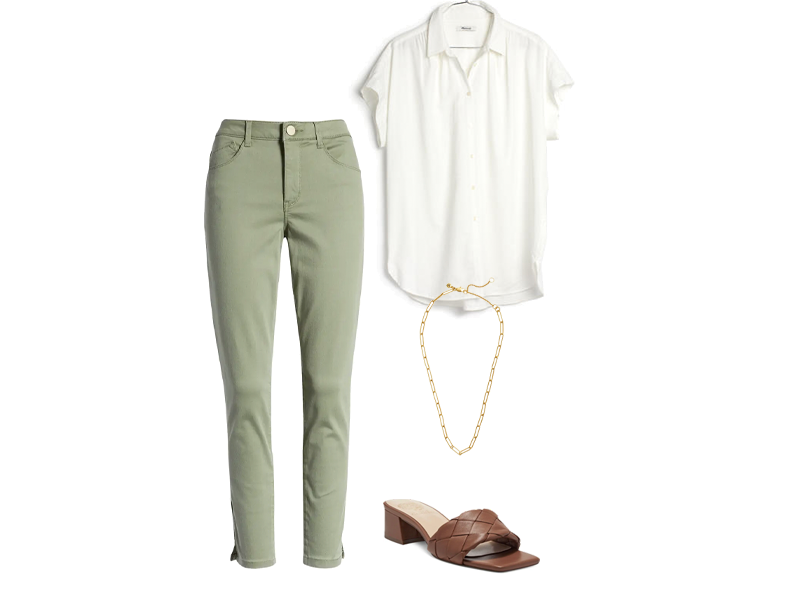 White Shirt, $65 | Block Heel Slide Sandal, $100 | Paperclip Necklace, $38
Sometimes we overcomplicate getting dresses, but when you have easy to work with pieces you can eliminate so much stress.
This soft white shirt went right in my cart. I've been looking for something better than a tee shirt but not a collared shirt – something in the middle, and this is it for me.
Especially because it will work so well with skinny bottoms.
Available at Madewell in XS – 3X.
Then, I used these square toed, braided, block heeled sandals from Vince Camuto in "Barn Brown." but I also adore the "Dulce De Leche" color, which they just restocked.
You'll see this style everywhere this season, and this particular pair is selling out quickly.
Finally, don't sleep on Madewell's accessories.
This paperclip necklace is the perfect, easy piece to fill in your neckline. And for $40 it's an easy way to try incorporate a trend without spending too much.
Monochrome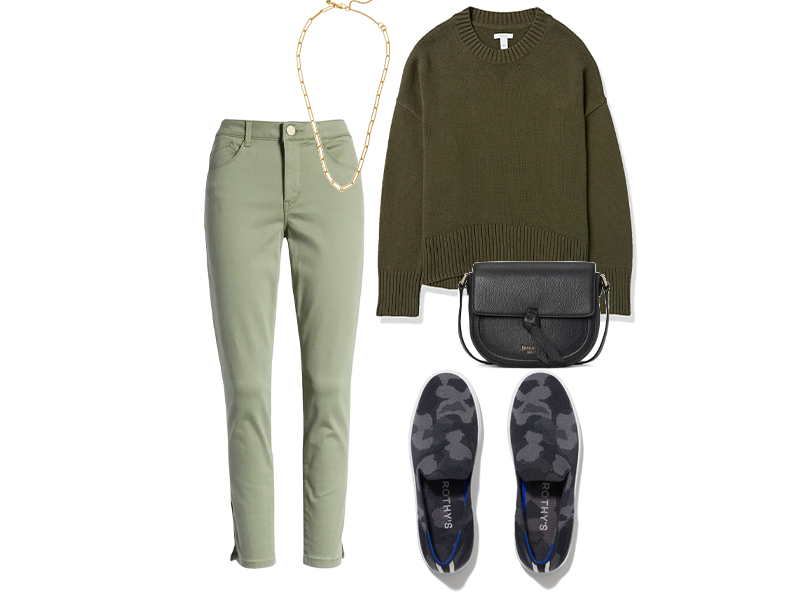 Sweater, $30 | Sneakers, $125 | Crossbody Bag, $178 | Paperclip Necklace, $38
Staying on top of trends is what keeps your look modern. So you want to incorporate them in a way that makes sense to the fundamentals of classic style (because that's our aesthetic around here).
The monochrome look is all the rage, so use pieces in traditional silhouettes to keep it from looking costumey.
Note that the colors are not identical, rather they are the same hue. You can either wear the same color, head to toe or shades of one color.
Think of it like a strip of pant colors, you know, the ones you find at hardware stores. They usually have about 5 or 6 shades of the same color from dark to light. You can think of your outfits in a similar way and use the same color in different shades.
So take your straight or skinny leg bottoms and paired with a classic crew neck sweater. This one is 100% cotton and under $30, so for all my ladies who can't wear wool, stock up.
I played around for a while with the shoes and bag and went with black because it grounds the outfit.
I have these black camo slip-on sneakers from Rothy's, and they are great! Plus, you can throw them in the wash. Seriously, I do it all the time.
Then, this black crossbody bag we featured last month because I happily repeat items you purchased to show you how to get the most out of your wardrobe.
And finally, the same paperclip necklace from our second look.
Easy-peasy.
Our Content is Inspired by Our Readers
Our readership inspires all of our posts and is not sponsored or paid for by brands or retailers.
Recommendations are based on my experience as a personal stylist and wardrobe consultant for over a decade. I worked with busy, down-to-earth women who wanted to look chic and feel confident but were often confused by so much of retail.
Some links are affiliate links, which means if you purchase via our site, we receive a small commission.
If you enjoy our content and would like to help us grow, please follow on Instagram and join our Private Facebook Group to access more advice and exclusive in-depth conversations with other like-minded women.
Learn about our mission to help women look and feel their very best, every day, here.
Sign Up for Daily Content and Receive Our Free Classic Wardrobe Checklist