Over the last few seasons, many of us have been trying to rebuild much of our wardrobes after being either stuck at home or in a weird state of limbo.
It takes more time than we realize.
Maybe you spent the past couple of seasons figuring out what you need and building back your basics.
And now you need the next level, the pieces that still operate as basics while providing more variety.
So today, we're featuring a jean alternative and discussing how to wear olive green pants.
An olive-toned bottom is a fantastic addition to any classic wardrobe because it helps provide some options while still working as a basic and neutral.
So let's create three chic and easy outfits featuring olive green pants with some reader favorites you might already have and a few new finds.
Register TODAY for Our Virtual Spring 2023 Well Dressed Woman Workshop on March 31st!
How to Wear Olive Green Pants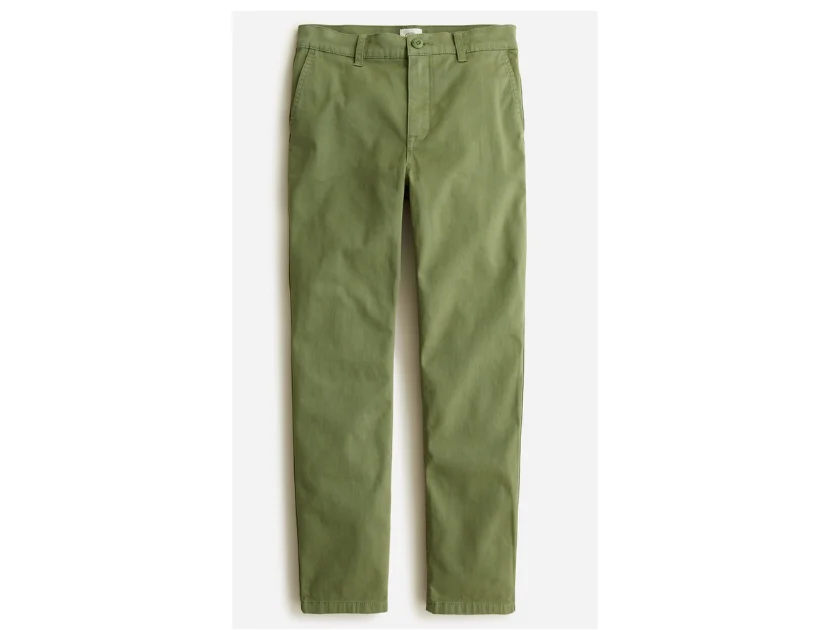 Our featured pants are the J. Crew Vintage Slim-Straight Stretch Chino Pant, perfect for spring.
Available in Classic and Tall in sizes 23 – 37.
Alternatively, the Old Navy Chino in green, are an under $40 option that work too.
These have a relaxed leg and are slightly cropped.
Available in sizes XS – 4X in regular, tall and petite.
3 Chic and Easy Ways to Wear Olive Green Pants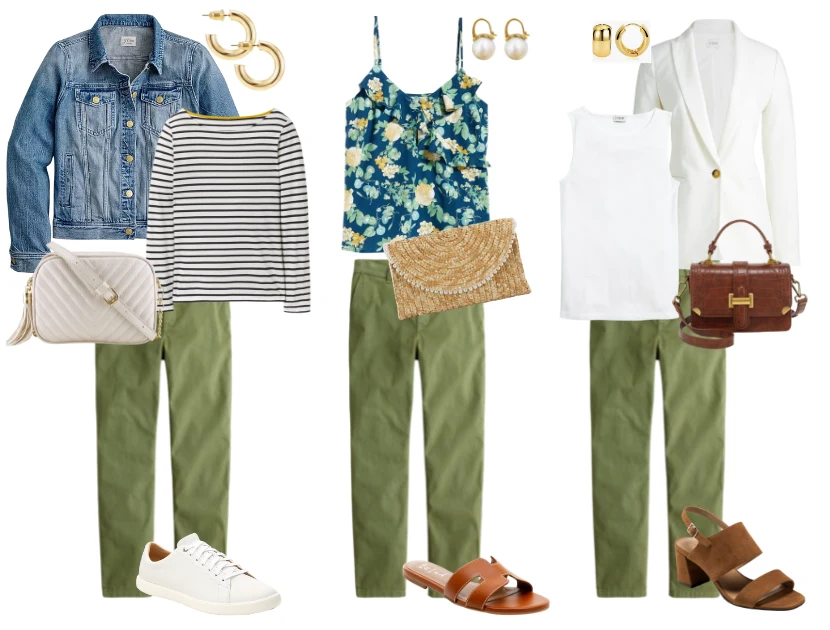 Cute, right?
Let's make some outfits.
With a Sneaker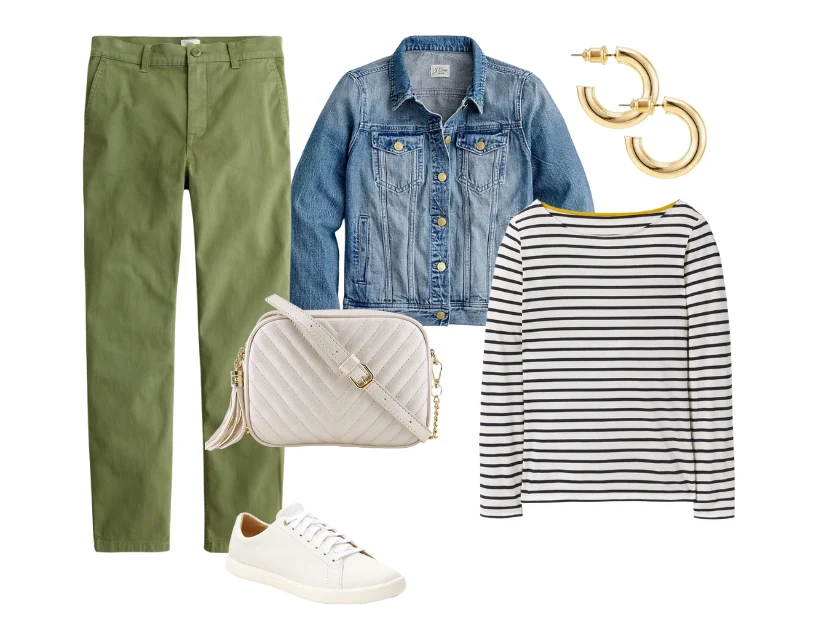 We're starting off strong and casual, with a classic Breton Top.
The navy stripe Breton from Boden is a long-time WDL Reader Favortie.
I stock up on these and wear them all year, with tailored pants and dark wash jeans in the winter and distressed shorts in the summer.
Another option for less with a more inclusive size range is this classic stripe boatneck from J.Crew on sale for under $50. We featured this a few weeks ago, so you may already have it 🙂
Then, as a layer, a denim jacket.
And this one, also from J.Crew is a favorite, especially now that it comes in your choice of either silver or gold buttons.
I can't tell you how delighted that makes me, for the longest time silver-tone was the standard, but if you wear a lot of gold jewelry or have accessories with gold-tone hardware, this makes a huge difference.
The wash and fit are just right. Available in sizes XXS – 3X.
If you don't already have one, consider picking this up while there is inventory.
You can see how it cohesive the look becomes with the gold of the buttons working with the gold detail of the crossbody.
We're using this ivory one with a tassel and chain detail from Amazon for $20.
For sneakers, you don't want anything too chunky, instead, look for a low-profile white sneaker, like these tennis sneakers from Cole Haan at DSW for $90.
Finally, a simple hoop.
This pair is another reader pick, with over, wait for it, over 40,000 FIVE STAR reviews.
They are absolutely worth the hype.
With a Print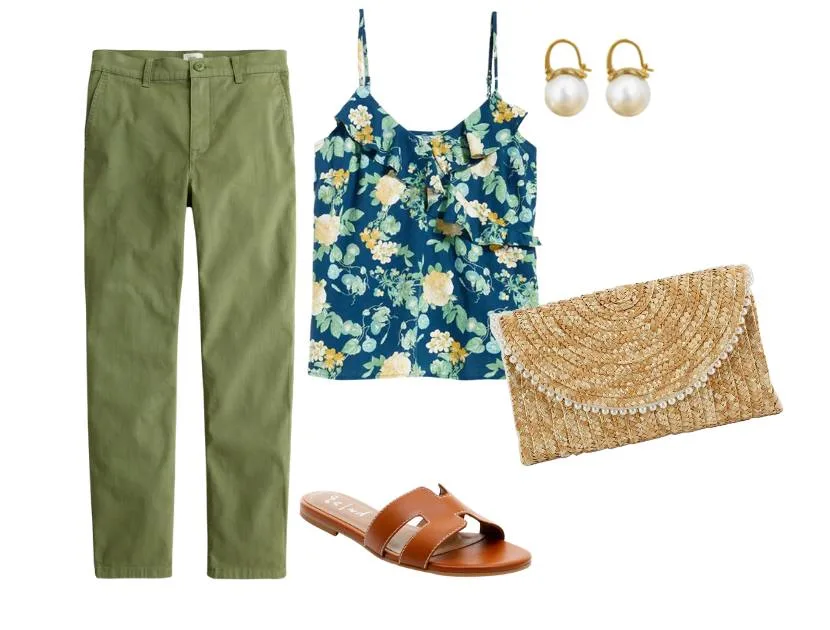 Next, I really wanted to show this with a print so I was thrilled to find this inexpensive summer top at Old Navy.
Available in sizes XXS – 4X for only $15, it mixes blues and greens with a little neutral. I don't usually love prints but this is very pretty.
And if you don't want to wear it on its on, throw on the denim jacket above, the white blazer below or a neutral lightweight cardigan.
To keep with the beachy feel, I found this sweet straw clutch trimmed in pearl for under $20 on Amazon (so cute), and added these popular pearl drop earrings, also from Amazon.
Every time I wear these earrings I get stopped and asked where I found them.
Finally, to ground the look and give it a little bit of sophistication, we're using these best-selling H sandals from Tuckernuck. I bought these last year, lived in them all summer and they still look new.
With a Blazer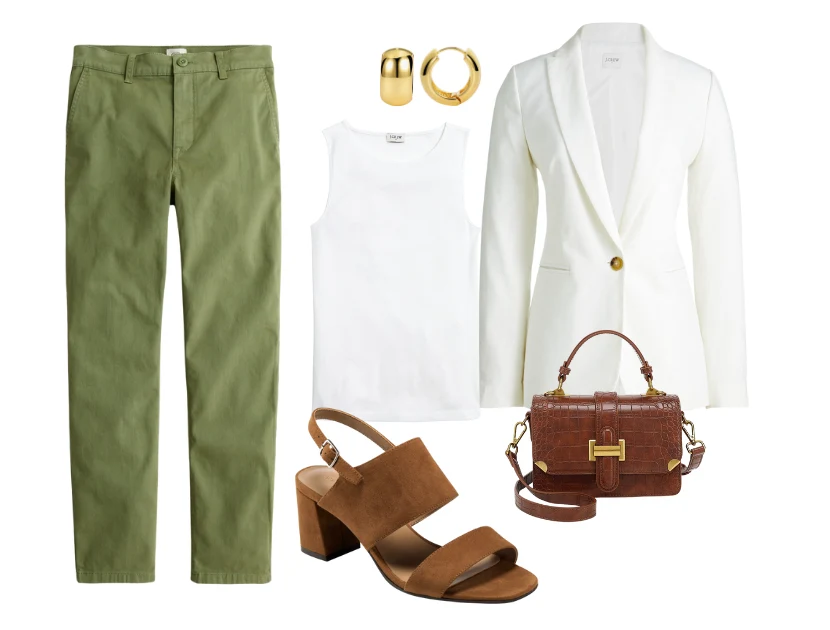 Finally, a look that mixes tailored and casual elements.
Starting with this J.Crew Factory White Blazer.
They have a one and two button option but I went with the one button because it's a more flattering fit.
What's nice here is that the button on the blazer is casual. And that might sound like a silly detail but it makes a huge difference.
For example, if the button was a more formal gold-tone the outfit could feel disjointed.
It's also helpful that the blazer is a linen/cotton blend, allowing it to work well with the chino bottom.
Under the blazer I added this tank cotton tank, available in XXS – 3X for $15. It's a FANTASTIC find.
Working with the button I'm pulling out the tan and brown with these block heel cognac suede sandals from Aerosoles. I like the styling and addition of a suede textural element.
And to wrap it up, this top handle crossbody bag is one of my personal favorite finds this year and these chunky gold hoop earrings, both from Amazon.