How about we start the weekend off with a casual, pretty look for under $200? The season is changing soon, thank goodness, which means extra busy weekends and the need for some laidback outfits.
I honestly can't wait until we're spending more time out of the house. My cabin fever is real.
I'm looking forward to a Saturday when we are up and out of the house early to get the kids to sports, run a few errands in the afternoon, and meet up with friends at night.
For days like that, a look made up of slightly elevated basics is the way to go. Today, we created a look that is basically jeans and a tee shirt, but with some interesting details, the look is thoughtful and feels like an outfit.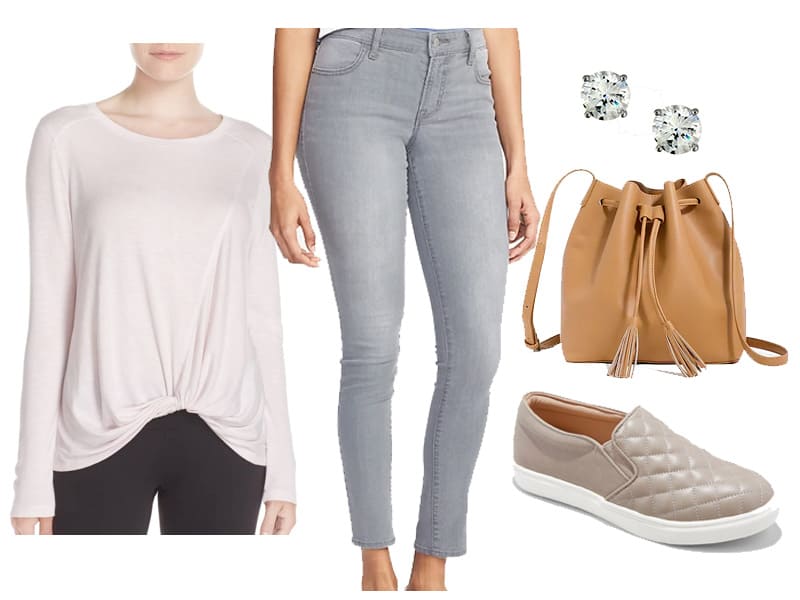 Top, $54 | Sneakers, $25 | Jeans, $27 | Bag, $46 | Earrings, $40
Gray jeans work well with a soft color pallet. Here we used our go-to under $50 jean from Old Navy. Other options are these Articles of Society skinnies for $64 or for more of an investment, these Paige jeans. Plus size? Check out Two by Vince Camuto.
Adding a twist to the bottom of an otherwise ordinary tee changes the feel of it. The drape is flattering and because the "twist" pulls the fabric up it also shows more of your leg helping you look taller. You can achieve the same look when you half tuck a top. This shirt by Zella (maker of our favorite leggings) comes in XXS – XXL.
Let's talk about these sneakers because they are adorable and only $25 at Target. We're featuring them in the gray. You could pick them up in blush, black, olive and white.
Because gray works well with soft, neutral colors, I used a camel bag from J Crew Factory ($46). This one blends a crossbody with a bucket bag so it's chic and also functional.
Lastly, I regularly wear these earrings from QVC. They are perfect everyday studs you don't have to worry about losing. I was a buyer at QVC for a few years before I started my business. They are a fantastic resource for better costume jewelry and beauty products along with products for the home. After Amazon, QVC is my second most frequented website.
Enjoy the weekend, ladies! I'm spending some time on Saturday and Sunday preparing for Our Four Weeks to a Better Wardrobe Challenge, It starts on Friday, March 1st and is filled with new challenges and extra take aways.
To get updates and follow along with the process join our Private Facebook Group.
Shop this Post