Faux leather leggings are all the rage. In 2019, they were in our top 10 best sellers for the entire year. For months I heard from readers who stepped out of their comfort zone, gave them a try, and LOVED them.
Today, I'm showing you how to wear faux leather leggings even more ways, with a casual 2020 spin.
And take your time with this one because there are so many good, wearable items in the post.
Spanx Faux Leather Legging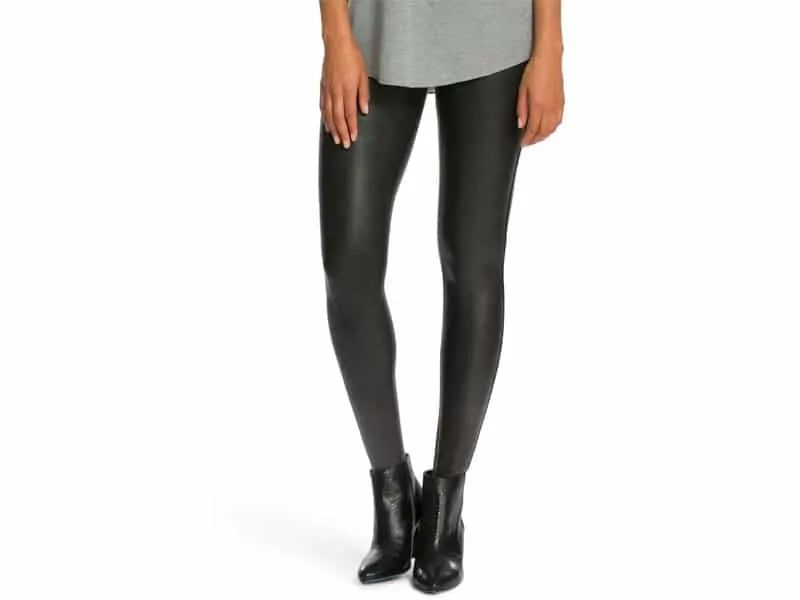 Hands down the best option is the SPANX Faux Leather Legging, available in all sizes, including Petite and Plus. These run small so go up one size when ordering. I wore mine a dozen times in the fall and winter last year and they have not stretched out.
How to Wear Faux Leather Leggings Three Ways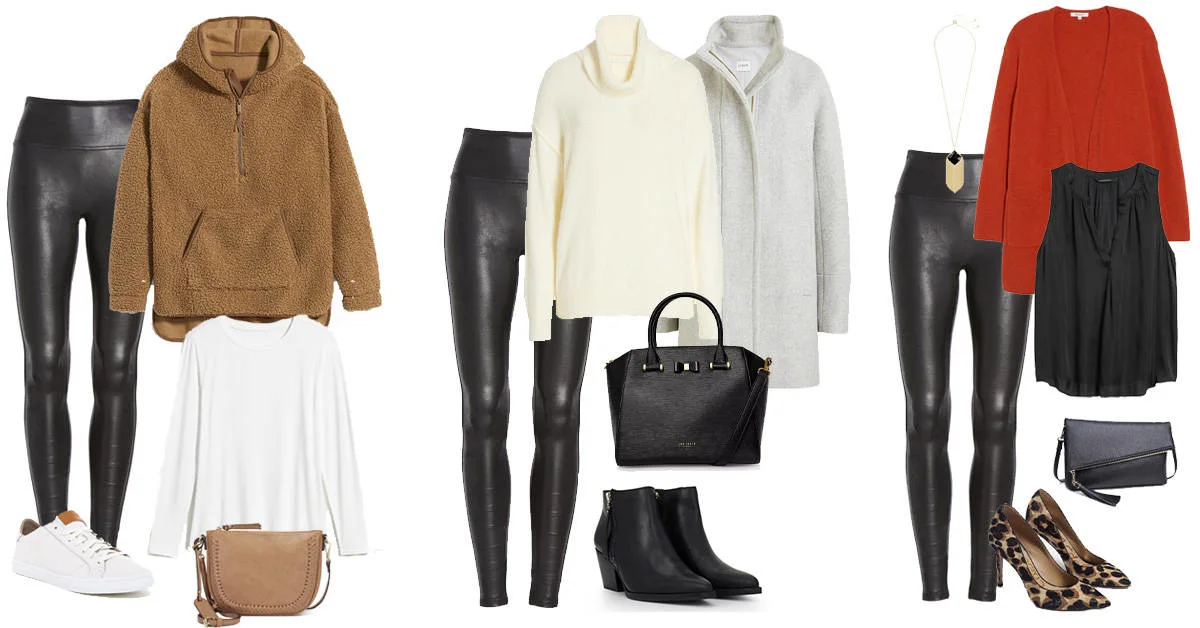 For today's looks I created three easy ways to wear these leggings in your real life. You'll recognize some of these pieces from past posts (remember, we're trying to build a mix and match wardrobe over time), others are new and worth taking a peek at.
Sporty Day Out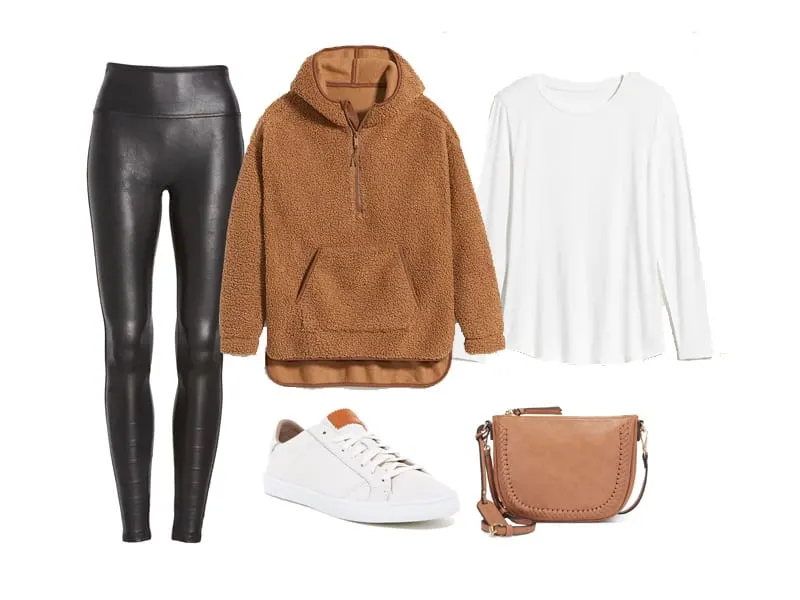 Sweatshirt, $45 (take an additional 50% off) | Long Sleeve Tee, $14 | Sneakers, $90 | Crossbody, $45
While last year we focused on dressing these up, this year is a little different. You can add instant style to a weekend outfit by swapping out your basic leggings for your faux leather ones with a few simple tips.
First, keep your color combinations sophisticated, like the camel and black combo above. Or, work with all black, grey and black or winter white and ivory.
For this first look I found this fantastic fleece zip sweatshirt from Old Navy. Aside from being so cozy, what makes it ideal is the cut of the hem, which gives you a little more length in the back, covering your bum. Right now it's on sale for an additional 50% off, making it about $20. Scoop it up chocolate (above), a pale grey or navy.
Layer a basic long sleeve tee underneath, like this crew-neck luxe top also from Old Navy (also on sale for an extra 50% off). It's a great find for $1o, available in missy, petite and tall sizes.
Then, I used these Cole Haan sneakers so many of you picked up earlier this month and added a chic under $50 crossbody by Sole Society to keep you hands free.
Casual Chic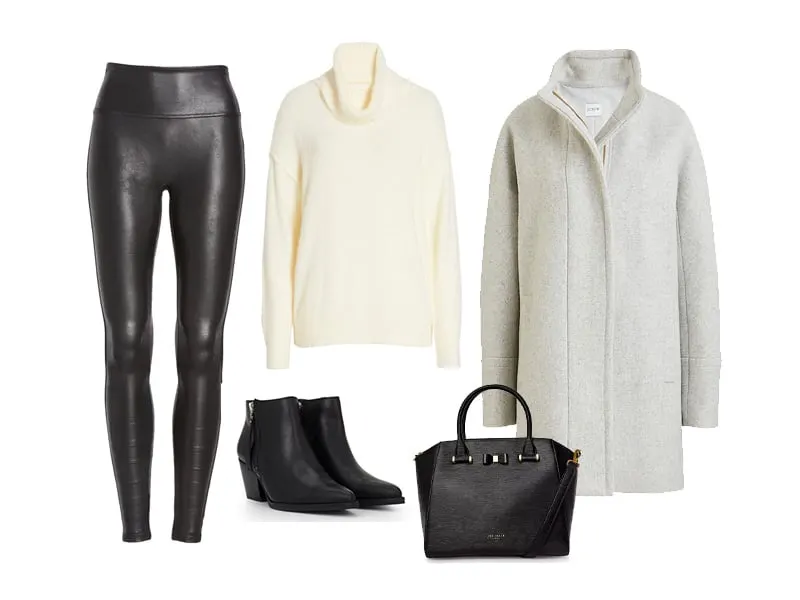 Coat, $95, | Sweater, $26 | Boots, $45 | Bag, $309
Everyone's "normal" looks so different right now, depending on where you live in the country (and the globe, frankly). Maybe you're out and about, back in the office, meeting a small group of friends for lunch … whatever you're up to, celebrate it by getting dressed.
Here, I paired the faux leather leggings with a gorgeous ivory sweater (on special at Nordstrom for $26). Once again, this is long enough to cover everything, while still giving a tailored appearance. Then, I added this popular coat (under $100) from J.Crew Factory. I love the look of an oversized turtleneck with a funnel neck coat.
Next, boots. If you are wearing an ankle book you want leg of the legging to fit into the boot. Don't show any skin between the bottom of the leg and the top of the boot. Instead, have them create one continuous line. This will help keep the eye moving, giving a long lean look.
If you need a new black ankle boot, these from Sam Edelman are on final sale over at The Outnet for only $45. Sizes are getting limited.
Finally, I like a big bag, and this Ted Baker is a both structured and pretty. Lots of room for all the things, but any black bag works here, depending on your needs.
Date Night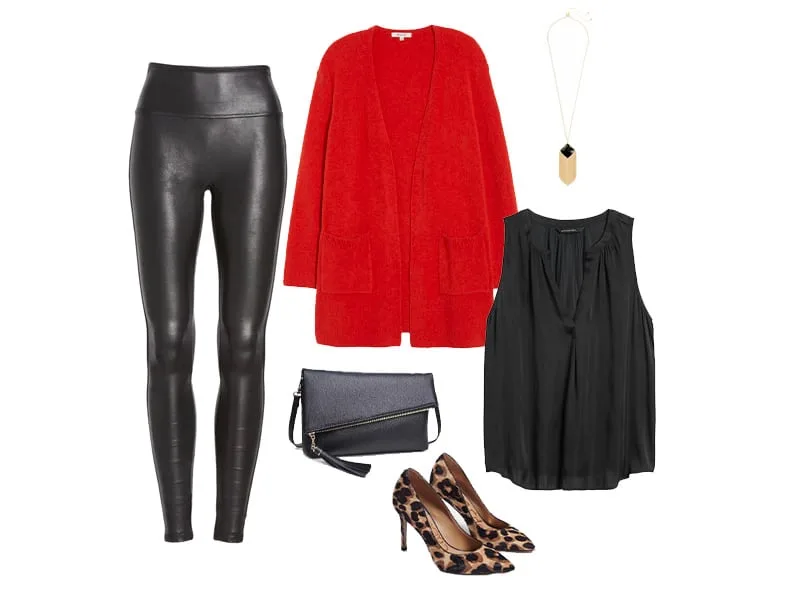 Cardigan, $98 | Tank, $29 | Heels, $150 | Clutch, $48 | Necklace, $65
The one thing that has saved my sanity over the last few months have been date nights. The second our restaurants opened back up (locally, restaurants are at 50% capacity indoors), Bri and I were there to support them and give us a break from the relentlessness of daily life.
Last weekend, we celebrated our anniversary (17 years!) with dinner out and I wore heels for the first time since early March. It felt glorious.
So if you're going out, get dressed up, if only to feel like yourself again.
I took this best selling tank from Banana Republic and layered it under a long cardigan sweater from Madewell in a seasonal red.
Then, I used the Sam Edelman Hazel pumps in leopard print for a pop of pattern and a simple clutch to round out the outfit.
Finally, this long necklace from Kendra Scott adds movement and an extra level of dimension.
Looking Back and Forward
Below is a picture from last November. I dressed them up for my 40th birthday party with a pair of black heels from Sam Edelman and an ivory sweater with some metallic threading.
Sadly, this was the last time I saw all of my friends in one big group!
Here's hoping we're back to normal soon so we can get dressed up and celebrate together because I'm really starting to miss fun.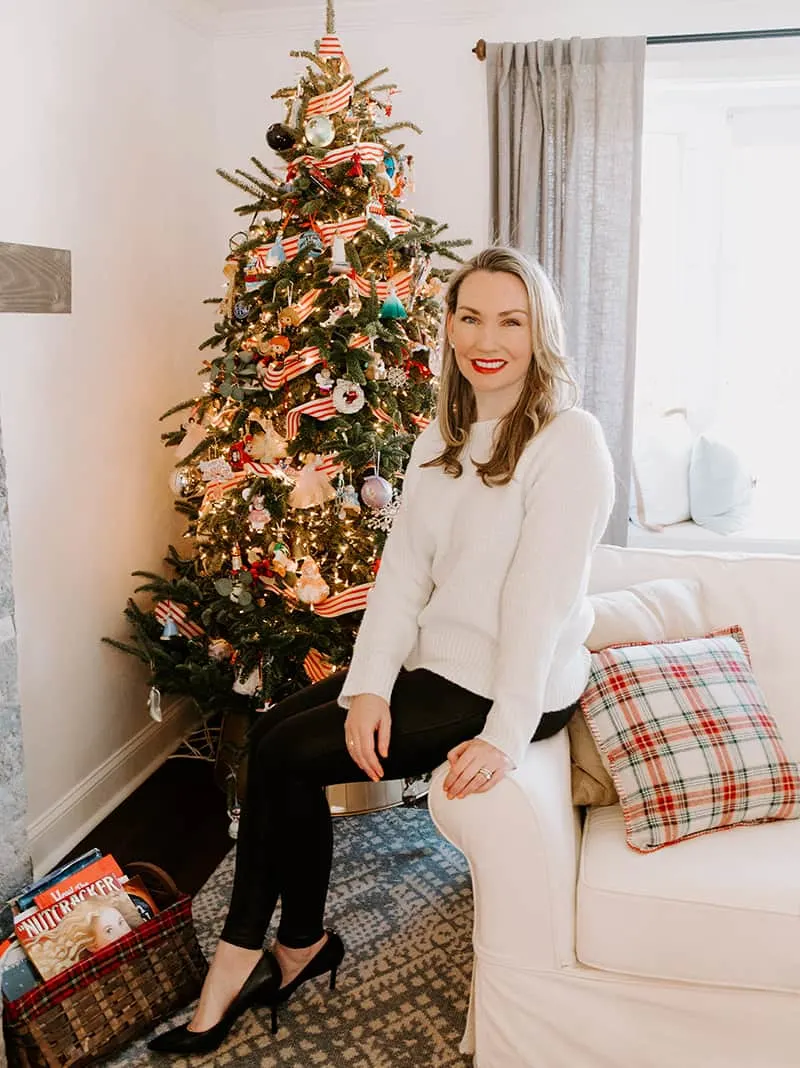 ---
Our Style Content is Inspired by Our Readers
Our readership inspires all of our posts and is not sponsored or paid for by brands or retailers.
Recommendations are based on my experience as a personal stylist View Post and wardrobe consultant for over a decade. I worked with busy, down-to-earth women who wanted to look chic and feel confident but were often confused by so much of retail.
Some links are affiliate links, which means if you purchase via our site, we receive a small commission.
If you enjoy our content and would like to help us grow, please consider following on Instagram and join our Private Facebook Group to access more advice and exclusive in-depth conversations with other like-minded women.