Looking for an alternative to jeans for dates nights or the rare evening out with girlfriends? Consider a pair of faux leather leggings. I know your first instinct is to think they are not for you, but if you wear traditional black leggings, you can wear these. And, despite what you may think, your dress size and age don't matter at all. All you need is a place to go.
Of course, you don't have to wear them if you don't like them. I happen to like them very much. They are a saucy alternative to jeans, and after spending most of last year feeling very much like an alien invaded my body, saucy sounds fun right now. They are not so much a basic, but you can wear them the same way. I call these "second level basics."
What makes these special is the impact of the fabric. The look of faux leather adds edge and an element of texture. With the right combination of separates, the look can be both casual and elegant, and edgy yet approachable.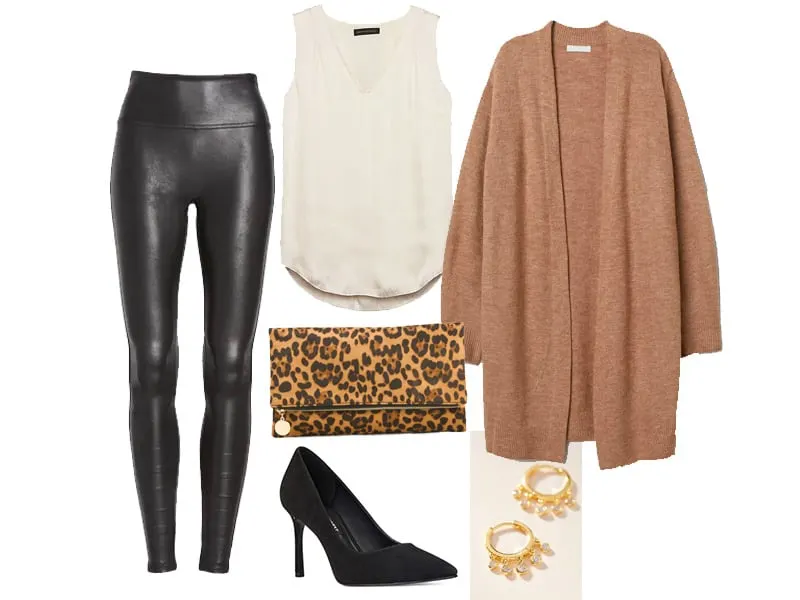 Leggings, $98 | Pumps, $50 | Tank, $59 | Cardigan, $20 | Clutch, $20 | Earrings, $38
The pants are by SPANX. They have great stretch and tummy control. I know they look like a pair of scuba pants, but in person they are much more subtle. Some people love SPANX, some not so much. I've always liked their quality and fit so I don't minding spending here. I'll also wear them enough to get value out of the price. If you want something similar for less, try these Hue leggings on sale for $25 at Nordstrom Rack.
I'm using the Banana Republic drapey tank we featured last week here, only in ivory. You will wear this all the time: under a blazer, with a pair of jeans, or like we have it here, as a base layer for a modern nighttime look. You could also use the J.Crew Factory Drapey Tank that so many of you already own.
I love playing with contrast in a look like this, so when you have something like the leggings, that are bold and edgy, I pair it with something on the other side of the spectrum. Here, it's an oversized, cozy, unstructured cardigan (that's only $20). It's long enough to cover your bottom but not so long that it looks like a bathrobe. Pieces like this are my favorites because you can wear it dressed up, or on your sofa with pajama bottoms. Talk about versatility.
Then, finish the look with some thoughtful accessories. The shoes are a classic, suede pump with a higher-than-what-we-usually-work-with-heel. My friend Neen calls heels like this "valet shoes." All you have to do is walk from the valet to your table.
If they are too high for you, something lower works just as well. The most important element is the pointed toe. They are the best complement for a "dress" legging since they help extend the line of your leg.
STYLE NOTE: When you're wearing a longer cardigan or jacket you do want to wear a shoe with some kind of heel to help bring balance to the look. Otherwise, the layer will overwhelm you, regardless of your height.
This inexpensive fold over clutch is only $20 at TJ Maxx. It's a great example of a super wearable leopard print. Here, it works as a neutral and ties all the colors together. You could also carry a black clutch or a gold one. Even better if it has something extra to it, like some quilting detail, cool hardware or a statement shoulder strap.
Finally, lovely little earrings that "dance" when you move. These are so sweet, they could be part of your every day rotation. Keeping your jewelry simple here is important. The leggings take up a lot of the look, and the clutch is bold. If you were to add big jewelry, or lots of layers, you run the risk of looking overdone.
And no one wants that 🙂
Have a great weekend!
Shop this Post