If you need an affordable wardrobe kick that is easy to incorporate into your current wardrobe today's post is for you. Last week, while running into Target, I spotted this skirt and immediately scooped it up.
It's a nice quality, faux leather skirt, in a classic cut that's perfect for work, and easy to tweak to go from a day in the office to a night out.
The best part? It is only $25. (Actually scratch that, as I publish this it's $18!)
Skirt Details: Available in sizes up to an 18, limited inventory. I love the cut, since so often leather-like skirts are obscenely short. Be sure to check at your local store if your size is not available online.
3 Ways to Wear a Faux Leather Skirt to Work
Today, I wanted to show you how easy it is to wear this in a professional setting. It feels chic while still totally appropriate. Any time you can bring a different kind of texture into a traditional piece, like faux leather, suede, velvet, even a brushed cotton, you instantly add visual interest and that creates a more complex look that makes your outfit sophisticated.
It's the little details that elevate a look.
Side note: If you're new around here, welcome! You should know that the pictures of me below are not retouched or photoshopped in anyway and I don't have professional hair or makeup (I wish!).
This is what I look like every day, I wear between a size 6 – 10 depending on the brand and I am 5'10. In the looks below I'm wearing a size medium or an 8.
I purchase my wardrobe with my personal money and never do reviews or make recommendations in exchange for compensation from brands or retailers.
When available I always list inclusive size options.
Let's jump in.
Outfit 1: Simple Basics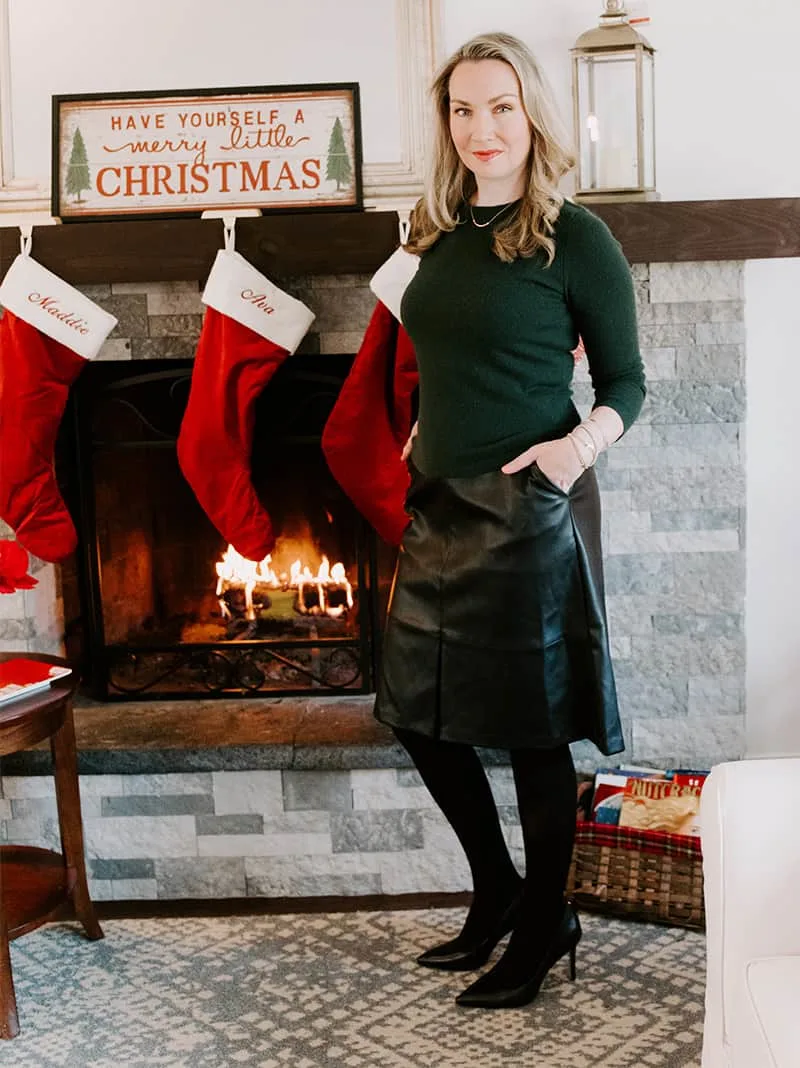 My goal is to help you build out a wardrobe, rather than having to reinvent the wheel every time you get dressed. A big part of that is making sure you have your basics covered, so when you find a little gem like this skirt, you can quickly pull your look together without having to buy anything else.
For the first, incredibly easy outfit, I used this hunter green cashmere crew neck sweater (similar version here). I've had it for a few years and wear it quite often, especially this time of year.
The cashmere, paired with the faux leather, makes it feel lux even though the pieces themselves are a basic as you get.
To stay warm, a pair of Hue opaque tights (these wash well) and my go-to Sam Edelman Hazel Heels in black.
Shop: Sweater / Skirt / Tights / Heels
Outfit 2: Neutral Layers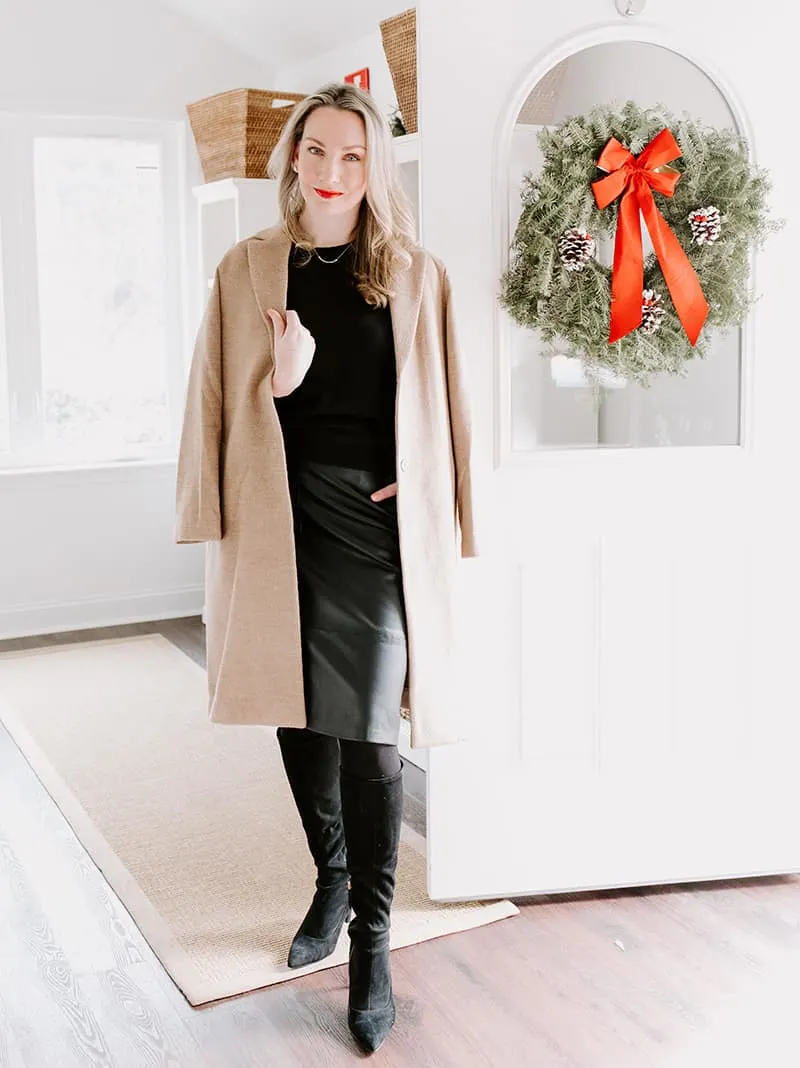 This look is my favorite because it plays with tonal texture and includes camel, which just makes it look so expensive even though it's not.
I added a simple black knit I found at H&M for $12.99 (I'm wearing the medium) and these fantastic Nine West boots (featured in my Best Buys of 2019 post on Monday).
Then, I topped it off with this camel coat, also from H&M, I bought for under $60.
Shop: Coat / Top / Skirt / Tights / Boots
Outfit 3: Print Blouse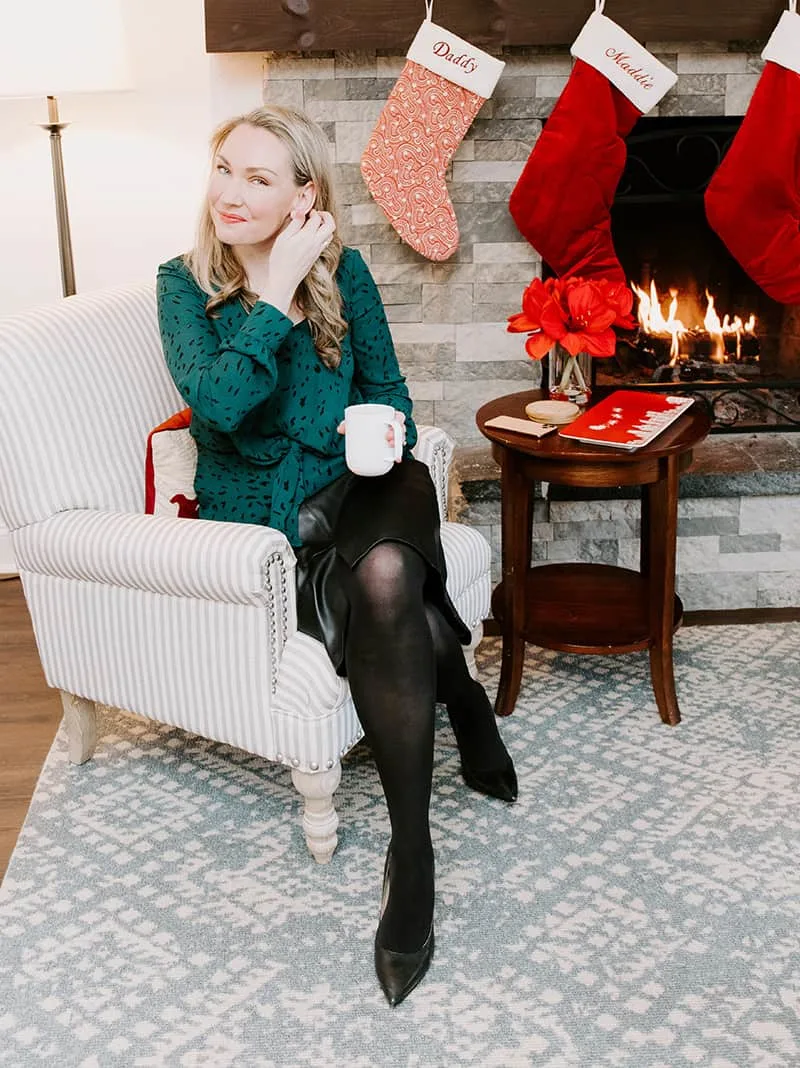 Finally, I found this blouse at Nordstrom last week and absolutely love it.
Isn't it so hard to find a blouse for work that stands on it's on? This one will go with so many things, like the faux leather skirt, or your favorite black pants. You'll look finished without needing an additional layer.
The blouse is available in green print and solid black in sizes xxs – xxl (about an 18 or 16W) I'm wearing a medium.
I kept the tights and heels the same as in the first outfit – but this look is totally different. I like it for an after work holiday party, or a festive lunch, you could even wear it for one of the upcoming holidays.
Shop: Skirt / Blouse / Tights / Heels
Women's High-Rise A Line Faux Leather Skirt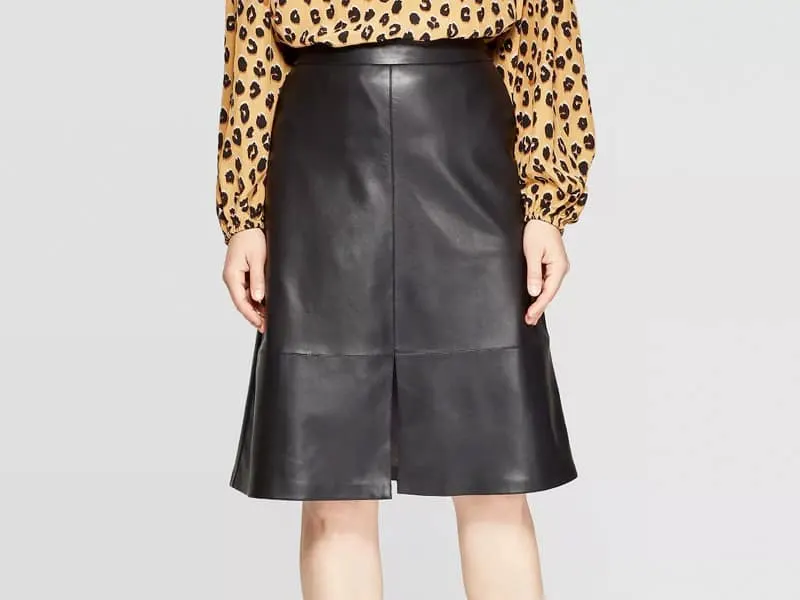 Faux Leather Skirt, $18