Today we are doing a deep dive into how to wear black leggings. I was inspired by a question posted over in our Facebook Private Group.
"Am I getting too old for the tunic over leggings looks? I'm careful to stick with darker leggings, so I don't look like I'm wearing a tiny dress. Thoughts?"
See the entire question and all the thoughtful responses from our community here.
First things first, as long time readers know, I don't believe in worrying about our age when getting dressed. There are other factors to consider that will help you look your best in any situation.
Regardless of our age, there is a way to wear leggings as an outfit AND look chic, modern, and sophisticated.
Wearing leggings is more popular than ever. The athlesuire trend isn't going anywhere.
For today's post I'm focusing specifically on black leggings. Since our goal here is to help you create a timeless and classic personal style, I would recommend ONLY wearing black leggings in these outfit formulas.
How to Wear Black Leggings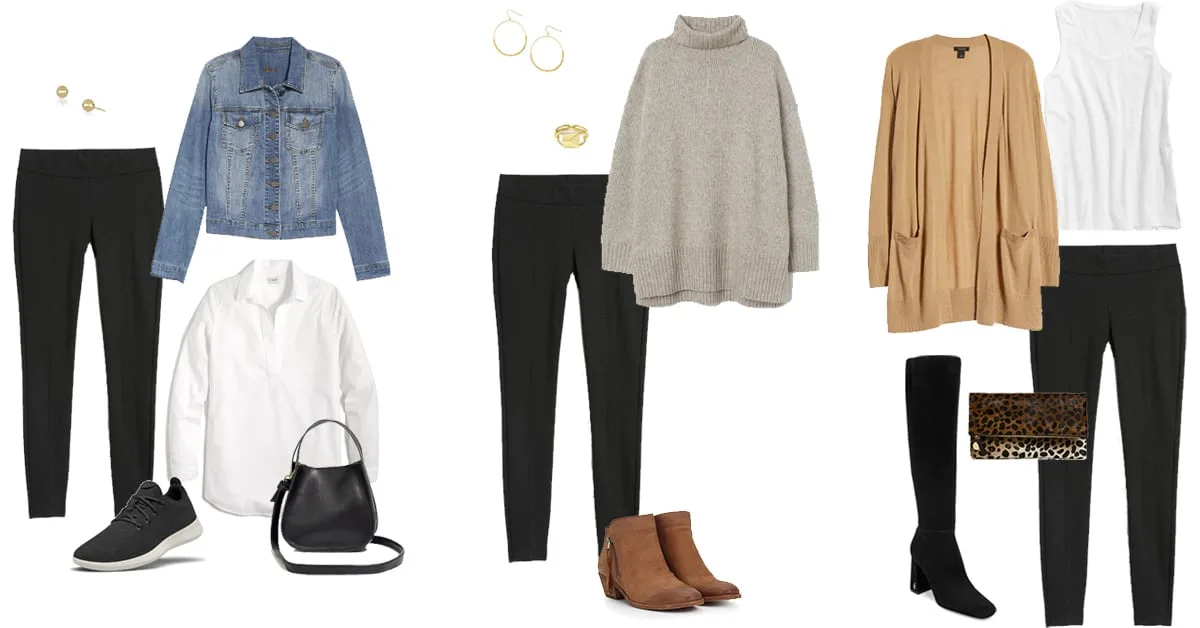 As you can see, I avoid prints and patterns and keep to a solid color palette. If you're trying to create a timeless, classic look, stick with sophisticated tones. Work with interesting texture, and mix neutrals.
Layer in some of your favorite accessories, like scarves and try to wear the jewelry you tend to save for special occasions in your daily looks.
After living in leggings during all three of my pregnancies, I'm not here to recreate any of those looks, lol. That's why it's so important to pay attention to fit and proportions.
Avoid "babydoll" tops, or tunics that are too clingy. They tend to look sloppy and outdated.
Black Ponte Knit Leggings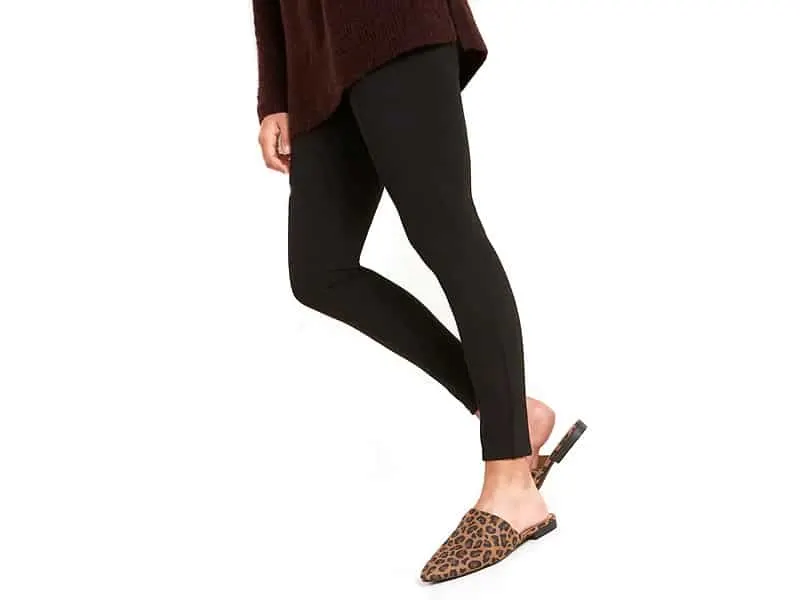 Old Navy High -Waisted "Stevie" Ponte Knit Leggings, $28
Here I am in them:
View this post on Instagram
Let's start by talking about the kind of legging to wear.
Aside from them being black, the style of legging you choose to wear is important and will effect the overall feel of your outfit.
Don't wear the leggings you wear to the gym. They are too thin and not the right kind of sporty. Instead, you want to wear something substantial.
That's why "Ponte" knit is a great choice. Ponte is a double knit, so you get the comfort of stretch with depth and coverage. They'll feel more like a pant.
For an affordable option, I'm a big fan of the Old Navy High-Waisted "Stevie" Ponte Knit pants currently on sale for about $20 in sizes regular, tall, and petite up to an XXL and in plus size here.
These are an excellent alternative to the Zella-Live in a legging.
Alternatively, these "Ponte Legging Pants" by American Giant get rave reviews; they are more expensive, but think of them as actual pants, not leggings.
In the outfit formulas below, I'm featuring the Old Navy bottoms. If you're feeling edgy, you can absolutely replace these with our favorite Spanx Faux Leather Legging.
Pair with: A Tunic Blouse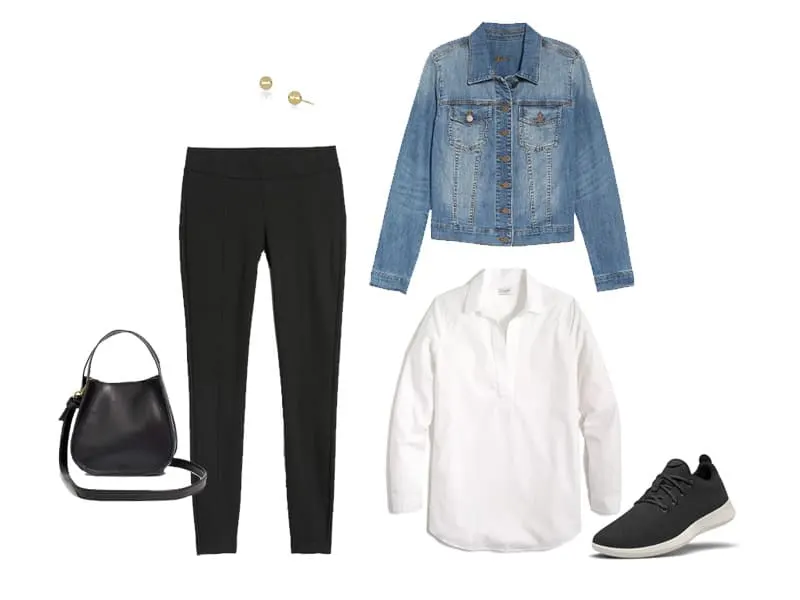 High-Low Popover Tunic Top, $32 + Denim Jacket, $79 +Sneakers, $95 + Crossbody, $158 + Earrings, $98
I love featuring items I know you already own, like this high-low tunic from J.Crew Factory. It keeps showing up on our Faves Lists. It's just a crisp and classic blouse that is ideal for pairing with leggings.
As a layer, I used another Readers Fave, the KUT denim jacket. I've had mine for years and still wear it frequently.
In this look it's okay for the shirttail of the top to peak out under the jacket.
If you are looking for a comfortable, stylish sneaker to wear in your everyday outfits, go with these All Birds. They are of high quality, and you won't look like you're wearing your gym sneakers.
Finally, a straightforward pair of gold ball-style studs fill in your ear without being too much, and a fantastic crossbody bag from Madewell will keep you handsfree with a ton of polish.
Related: How to Dress up Leggings for the Holidays.
Pair With: An Oversized Sweater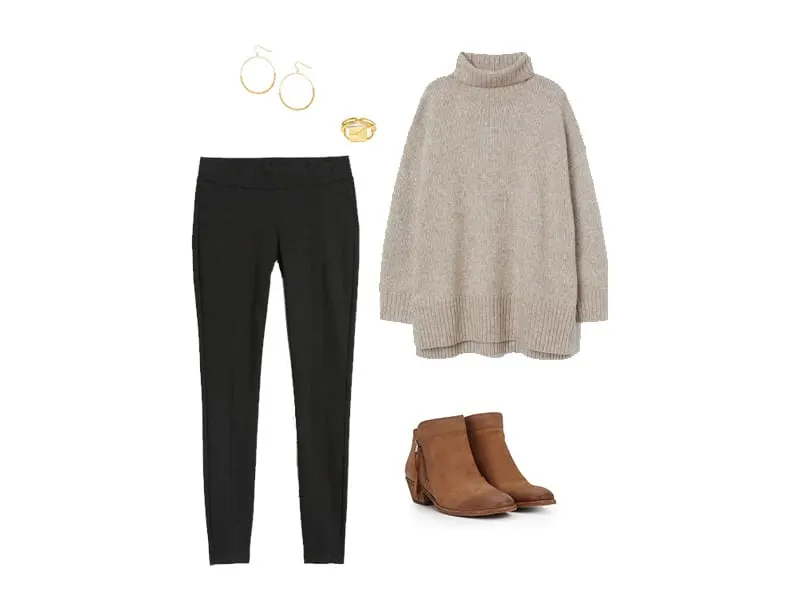 Sweater, $35 + Booties, $52 + Hoops, $65 + Ring, $50
This is the kind of look I wear working from home or hanging with my kids. It allows me to do everything I do in a day, from sit on the floor with the baby to grab dinner out with my husband.
H&M makes some of the best-oversized sweaters to pair with leggings at fabulous prices. Look for one like what I featured above, with a high-low hem; it is the most flattering style for a top paired with leggings. You want something to cover your bum, but often, when the hem is cut evenly across, it can cut off your proportions and make you look frumpy.
The high-low hem allows you to maintain your height while feeling comfortable with how much you expose.
I like to mix neutrals like black, beige, and dark tan. The combination is quite elegant, so I added another favorite, these Sam Edelman booties in "saddle." Scoop these up if you are still looking for a new pair of suede booties; they are on sale for $50, marked down from $130.
Then I added some fun accessories, like a these gold-tone updated hoop earrings and a statement ring.
Related: How to Wear Faux Leather Leggings
Pair With: A Long Cardigan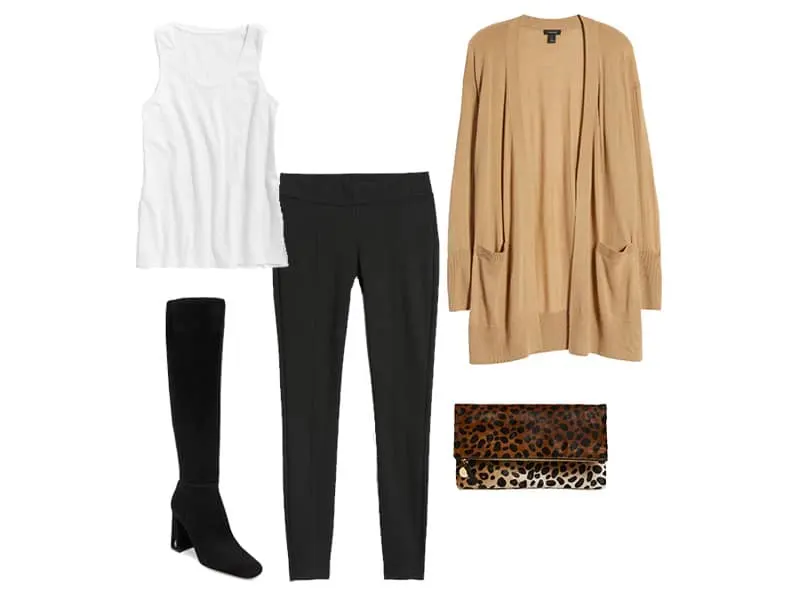 Cardigan, $52 + Tank, $8 + Boots, $140 + Leopard Clutch, $275
Finally, grab a long cardigan. I like this one from Halogen at Nordstrom. It's affordable and not too long, so many right now will make you look like you're wearing your bathrobe if you're not careful.
Layer it over a simple tank. I LOVE this $8 option from Old Navy because it has some swing to it that will mimic the cardigan's swing. You don't want a tank here that is skin-tight; instead, look for one cut away from the body with a little movement.
Zhush up the look with these gorgeous suede tall boots, also by Sam Edelman. Wearing a boot with leggings is an easy way to dress it up.
I added this Clare V. leopard clutch because I want to show you how you can use leopard print as a neutral. It's also on my wish list, but I haven't bought it because we have no place fun to go right now. A good dupe is this foldover clutch from Tuckernuck that is under $50.
Some Real Life Examples:
View this post on Instagram
View this post on Instagram
My 5 Best Tips for Styling Black Leggings
1. Keep your colors neutral and avoid prints and patterns.
2. Wear a "real" shoe, like a boot, sneaker, or even a pair of heels.
3. Accessories! Incorporate some of your favorite pieces, like scarves, hoops and statement rings to add depth and interest.
4. Don't wear your gym leggings, instead opt for a "ponte" knit that will feel substantial, hold you in, and still allow for comfort.
5. Pay close attention to proportions, while you will want something to cover you rear, don't let your top consume you. Look for a top with a high-low hem to help create a long, lean line of the body.
---
Our Style Content is Inspired by Our Readers
Our readership inspires all of our posts and is not sponsored or paid for by brands or retailers.
Recommendations are based on my experience as a personal stylist and wardrobe consultant for over a decade. I worked with busy, down-to-earth women who wanted to look chic and feel confident but were often confused by so much of retail.
Some links are affiliate links, which means if you purchase via our site, we receive a small commission.

If you enjoy our content and would like to help us grow, please follow on Instagram and join our Private Facebook Group to access more advice and exclusive in-depth conversations with other like-minded women.
Learn about our mission to help women look and feel their very best, every day, here.
Sign Up for Daily Content and Receive Our Free Classic Wardrobe Checklist