I have long hesitated to dive into the topic of "age appropriate" dress for many reasons. At first, I simply didn't feel qualified to address the question. I started shopping for and dressing clients when I was 27 and for years I did everything possible to appear older (imagine that). My inferiority complex was fierce.  I looked and felt like a kid.
Today, I don't like the idea of telling women what they should and should not wear based solely on age. In fact, I hate the idea of telling women what to wear at all. Instead, I hope you see this site as a breakdown of how to achieve modern, classic style with a bit of a twist.
"Age Appropriate" is an almost impossible topic to unpack without unintentionally offending someone. With that in mind I want to make a few things clear before we dive into a discussion:
– Our site focuses on timeless, classic style which in and of itself is inherently ageless. You might have to replace a piece I recommend with something that works within your budget or with your body type, but the style tips and theories are all the same. Promise. I think it's more helpful for me to talk at a macro level than get into the micro because we have thousands of readers and everyone is so different.
– There is no more sure fire sign that something is right for you then when it creates a visceral reaction in your gut.  If you feel truly amazing in something, wear it and don't worry about "rules".
– Body type is perhaps the most important "appropriate" factor to consider, then lifestyle or the event your attending, then maybe budget, then age. I've worked with tons of women over a certain age, and no one body type was ever the same. I'm thinking of one client in particular who could pair H&M with DVF better than any 25 year old. That said, being over 50 isn't a life sentence to Eileen Fisher – unless you love Eileen Fisher and if so wear it, it's just a very specific style. You know what I mean.
With all this in mind, I have a few tried and true guidelines when it comes to (gulp) dressing your age.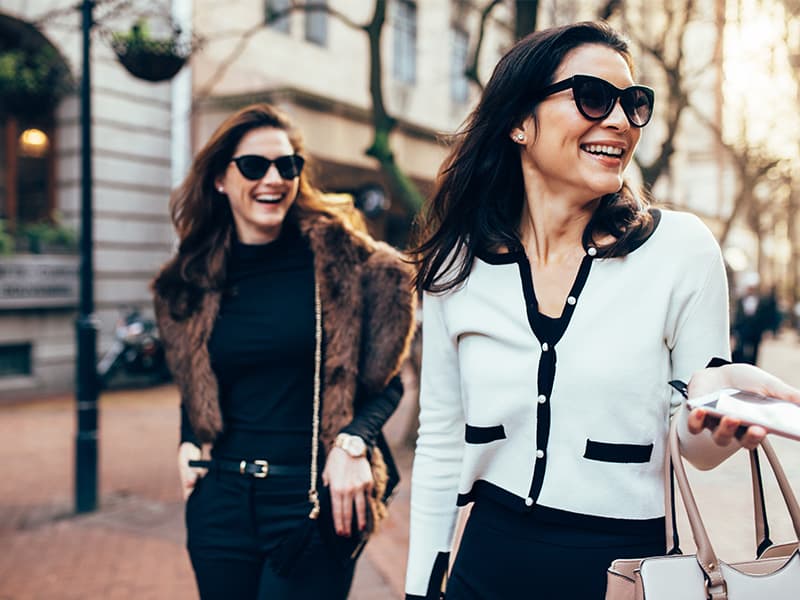 Quality over Quantity
My soon to be sister-in-law is 28. When she wears a $30 dress, she looks like a goddess.  If I wore the same dress I would look like a tragic before picture in a makeover contest.  But I'm ten years older than she.  I also use to be able to wear a tube top without a bra, but then I had babies.  Life happens and bodies change.  I feel stronger and healthier now than I ever had, but I know my limits.
As we age, investing in better quality pieces creates a sophisticated look.
Ditch the Patterns
I take a lot of heat for this, but I am unapologetic about my thoughts on patterns. Do you have inexpensive, v-neck, 3/4 sleeve tops in your closet covered in a random pattern? Keep them if you are going for artsy and eccentric. Otherwise, most pattern, especially done in a stretch fabric, is not going to get you the classic, timeless look you are trying to create.
Ditch the pattern and bring interest to your outfits with textures and layered accessories. Texture adds depth and visual interest in, you guessed it, a more sophisticated way.
Invest in Your Accessories
Nothing elevates a look more than your bag and shoes. Investment is different for every person.  Today, at my age, I would rather have a few better quality shoes than a closet full of heels from the DSW clearance section – which use to be my jam. Maybe Stuart Weitzman or Jimmy Choo is a splurge, perhaps it's Nine West, in either case always look to evolve the quality of your pieces.
When it comes to bags, look for simple, clean designs. Avoid logos, chains, studs, patches or anything that dangles.  You don't want your bag to fight with your outfit.
Shop in the Right Stores
I know what you're thinking, "all this sounds great, Meg, but where am I shopping?"
Retail, especially in its current state is incredibly frustrating.  Most stores cater to the youth culture while ignoring grown, professional women with an actual budget.  I know how hard it is because I use to shop for a living. Here are my go-to stores and brands for our over 35, 40, 50+ clients:
Stores
Nordstrom – has always been my favorite but over the last few years I've found them more difficult to shop.  I like some of their private label brands like Classique and Nordstrom Collection, if you like St. John they have a decent selection that isn't as overwhelming as shopping in their stores.  Their shoe selection is still the best out there, as is the range of undergarments.  I'm less than thrilled with their in-store accessories and their plus section could use a little love.  Service is not what it use to be, but it's still better than anything else out there.
Lord and Taylor – their customer service is abysmal, but they have a nice dress selection for work or special occasions in a range of sizes and price points.
Neiman Marcus – so pricey, often pricey for no reason, but they have a good shoe selection and better separates.  I also love their private label sweaters, especially the cashmere.
Brands I turn to that aren't cut for kids:
Anne Klien
Ann Taylor
BOSS
Clavin Klein
Eileen Fisher
Lafayette 148
MICHAEL Michael Kors
Talbots
Tuckernut
Everlane
Elie Tahari
T Tahari
J Crew
J Crew Factory
I use a site called shopstyle.com to look for a specific item across all of retail.  It's incredibly helpful because you can sort and filter by size, store and brand for a narrow focused result.
Because this topic has been so popular lately, we are working on a weekly or bi-weekly series where we break down certain wardrobe classics and offer options based on age.  I'm still working out the details, but we'll have it up in a few weeks!