With the holidays upon us, friends and family are stopping by and maybe even staying for a night or two.
And while Tik Tok and Pinterest are FILLED with incredibly helpful ideas to spruce up a designated guest room for the season, what are you supposed to do when you don't have one?
When we remodeled our home a few years ago, I gave up a guest room so each of our girls could have their own space and privacy.
It was the best decision, considering we use every inch of the house daily, although I sometimes dream of a space I could keep lovely year-round for company. Today, our four-bedroom home is filled to the brim with kids and all their stuff.
But in this new world of working from home, even if you have a guest room, it's likely to serve double or triple duty.
I shared this last year when one of my best friends, Neen, told me she was flying in for a quick, less than 24-hour trip to visit me and the girls (her goddaughters).
It was the perfect opportunity to figure out what to do with guests other than throwing one of my kids out of their room.
I spent a ton of time researching (and sending back) so many items until I created a space and system we can use anytime we get to host someone; so I wanted to share what I came up with here.
It's now a year later, and taking the time to organize this has been a tremendous time saver.
Not only do I do this when "grown-ups" stay with us, but more often, I'm putting this set up together for the dozens of sleepovers we have during the year.
And, yes, this post is a little different than what I usually do, don't panic, I'm not changing course, but your home can be Well Dressed, too, right?
I thought it would be helpful to contribute something realistic, especially this time of year. This isn't a sponsored post; it's not meant to be"perfect," and it's certainly not staged.
What I'm working with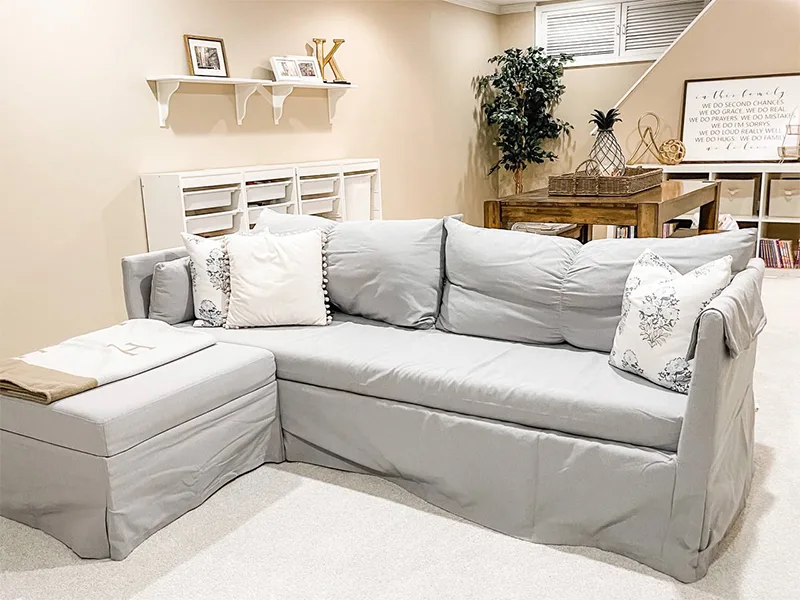 This is our downstairs bonus room. It's a small space used exclusively by our kids.
They watch movies, play video games, and do crafts at the table.
The sofa, an old model from Ikea with a new slipcover, pullouts out to make a queen sized bed, and there is an entertainment center on the wall you can't see.
How to Create a Guest Room When You Don't Have One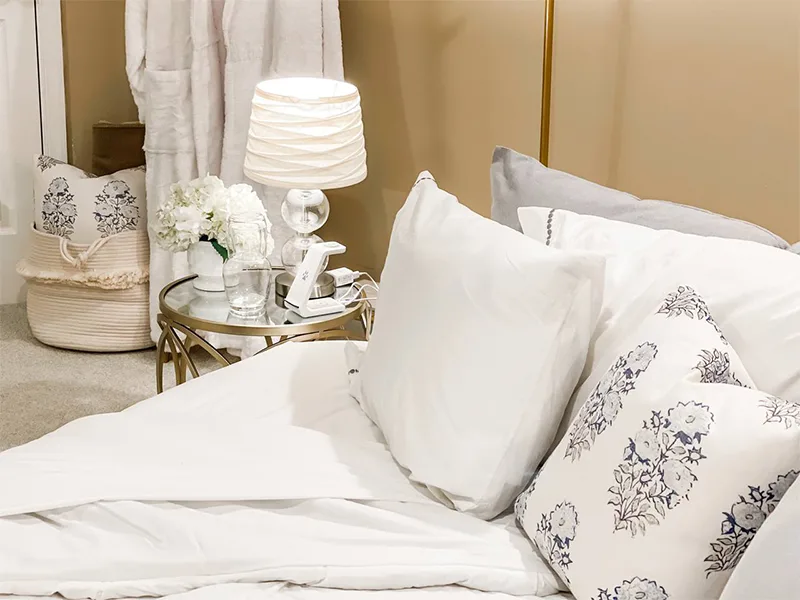 I have two friends who have taught me so much about how to be a proper host, Neen and Maribeth.
I've stayed in both their homes multiple times and whenever I leave I can't believe how rested and recharged I feel.
Everything you could possibly need in their home is at your finger tips, you don't ask for anything and it is comfortable.
So I took inspiration from two of my favorite people in the world and thought, what would they do?
To start, I pulled the bed out and added this comfy pillow top cover.
It's under $100 and is stain and water resistant.
Trust me when I tell you, this makes the bed 1000% better.
Then I put on crisp white sheets and a comforter I already had in our linen closet.
Small Details Feel Like Home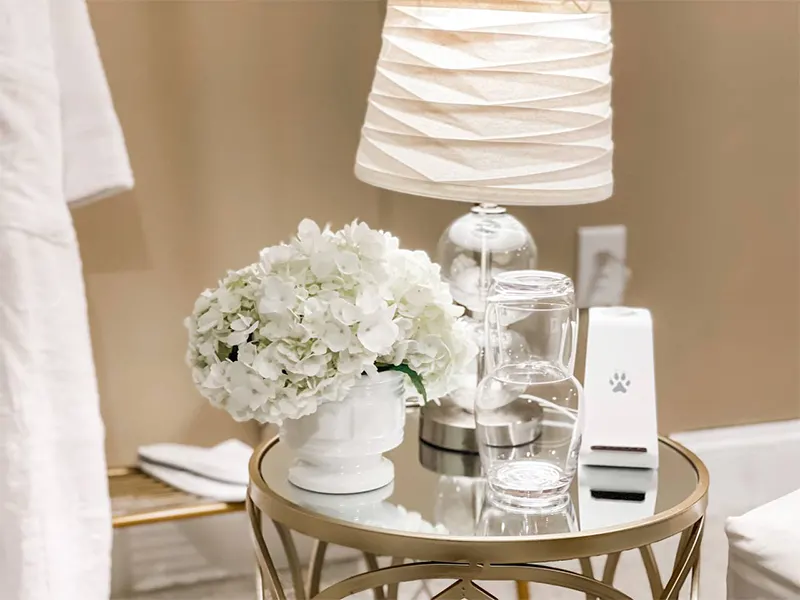 A small end table I wasn't using (that I found on Wayfair ages ago) is next to the side of the bed.
I added a pitcher and cup set ($25), this sleek little gizmo that charges your iPhone and AirPods at the same time, lavender/chamomile sleep spray (under $20), an old lamp I bought at Target that has a plug on the side and some fresh, and inexpensive flowers from Trader Joe's.
Just like when you're putting an outfit together, see what you have first before you buy. I was able to use so many things just sitting around the house.
Hotel Extras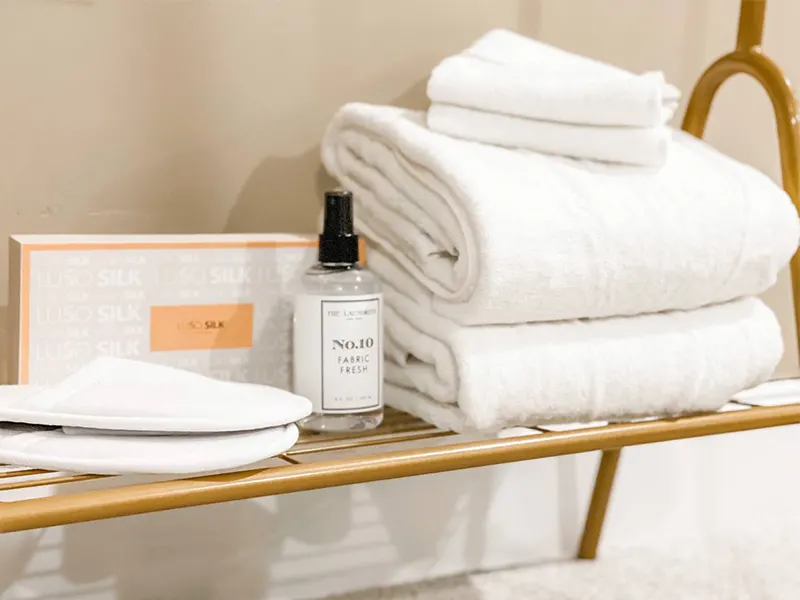 Then I set up a gold-tone garment rack I found on Amazon. I DO NOT recommend it at all, it was a mess to put together, but I got it to work after almost throwing it across the room.
Instead, I highly recommend this rack that might look familiar from some of my previous posts. I'm using it for something else right now, but it's so sturdy, super cute …10/10 from me.
I hung a white robe, and placed a pair of disposable slippers, and new white towels (a whole set for under $30) on the bottom shelf.
Because it's the holidays and I want to be extra, I left a silk sleep mask (under $15!).
Something Neen taught me is to keep things simple by creating a system. Put the work in once and then you just follow the steps the next time.
So to make my life easier, I put an empty Rubbermaid box aside so when I break this down; I can wash sheets, clean up and pack everything away for the next time. And THIS has been so helpful. I don't have to run around looking for everything, it's all in a box – Guest Room in a Box!
Guest Bath Touches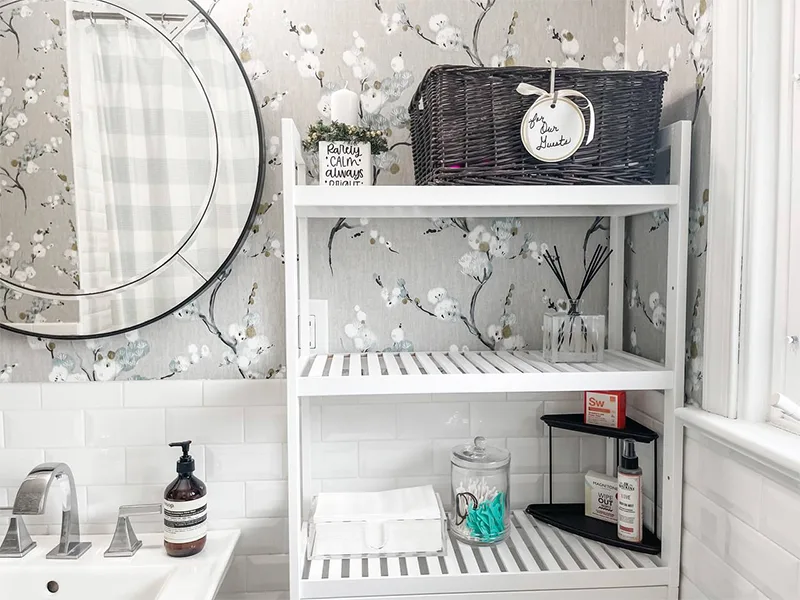 Our guest bath is so, so small, though luckily it has a full size tub/shower combo. We have ZERO storage, except this self that sits over the toilet.
I filled it with products I love and all the things I forget whenever I go on a trip.
Aesop is a totally overpriced hand soap that is incredible. I splurge on it every holiday.
I also added the Nest Grapefruit Diffuser, long time readers know it's one of my all time favorite scents for the home. The fresh grapefruit is especially nice in a small bath.
These disposable hand towels (I have these on auto-delivery) in an acrylic holder seemed like a better idea than a decorative hand towel for everyone to use.
And you can tell I'm getting old when I got so genuinely excited when this toilet paper holder arrived – so much more civilized than having to yell for a new roll.
Don't forget a jar for Q-tips, tooth picks and hair ties.
If she were staying longer, I'd include a hairdryer and put a small clothing steamer in her room, too.
Don't Ask For Anything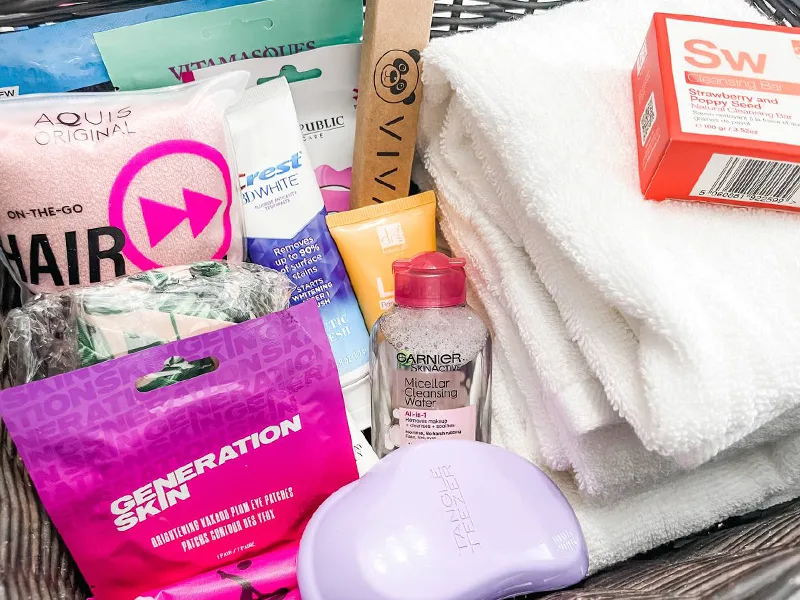 An assortment of everything you could need is in the basket on the top shelf, including extra towels, a hair turban, shower cap, some face masks, tampons, toothpaste, and toothbrushes (these bamboo ones are great to have on hand).
I also like to put in all the extra samples I receive.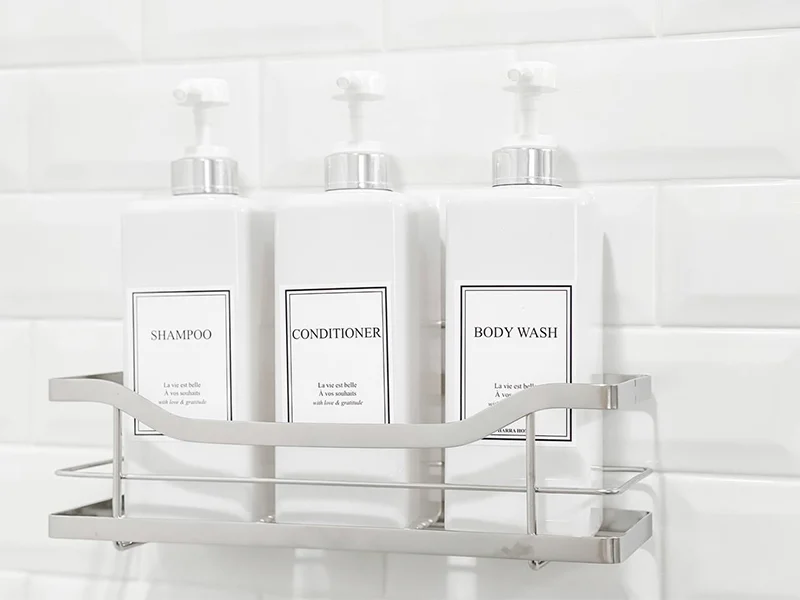 Finally, I'm a sucker for a container with an obvious label. These lightweight, refillable containers with a pump top come in a set of three with a variety of stickers and were a steal.
They fit perfectly into this rust-proof caddy that sticks to your shower wall. It comes in a set of two, I left one empty so guests can place their personal items on it.
Think outside the box when it comes to setting up your guest space.
If you have an area that you can close off with a door, that's ideal. Maybe it's a pull out like we have, or you have to move your coffee table and set up in an air mattress in the living room.
No matter the place, you can make it feel special and comfortable with a few thoughtful and inexpensive touches.
Tell us in the comments, is there anything extra YOU do for guests this time of year?
Shop How to Create a Guest Room When You Don't Have One