December is tricky for me as a content creator. Of course, I always want to provide as much thoughtful, helpful, and entertaining content as possible, but there is only so much to talk about this month since the holidays start so early.
By December 16th, if you're like me, you're probably ready for the New Year too.
My family is about to start a two-week bender of entertaining, beginning this weekend with our daughter's 3rd birthday. Friends will be in and out, and we'll have some overnight guests.
But this year, I need to rest and reset and would love nothing more than to take advantage of that collective break between Christmas and New Year.
Anything I can do once that sets me up for success is good.
Inspired by our very well received guest room post last week, I spent a little time organizing a simple self serve coffee station. This way, everyone can help themselves.
I did this for our guests, but my crew loves it too. My oldest came in the kitchen this morning, up all night studying for finals, and said, "this is adorable."
So I'm just going to leave it like this year-round.
As I was looking for inspiration and researching some options, I realized a few things.
First, people have a lot more space than I do. Even though our kitchen is newer, it's not huge. I use every inch of it. We also don't have a lot of counter space, aside from our island.
Second, people take these coffee stations seriously. Some of the ideas are cute but seem a little unnecessary, especially if you are short on space.
Any guest I've ever had has been more than happy with a simple cup of good coffee.
They don't need a dozen flavored syrups, hot chocolate bombs, or marshmallows that look like snowmen. And if I set out cookies or candies, my kids would destroy them in 30 seconds.
I think what's most important is that whoever is in our home feels comfortable helping themselves and has what they need in front of them. And honestly, having just made my coffee here during a regular school morning, it does feel like a treat.
So, here's what I came up with using items I already had and some inexpensive accessories I didn't know existed.
How to Create a Simple Self Serve Coffee Station

First, we have to talk about, what my husband and I call, our new, grown up coffee machine. Our household splurge of 2021 and gift to ourselves was the Jura A1 Coffee Machine. (This is not sponsored. Jura did not send me this machine. I paid for it.)
Back in August, I used one for the first time at my friend Neen's house, and it was the most delicious cup of coffee I ever had.
I knew this would be a great family gift with a house full of passionate coffee drinkers.
But this guy is expensive. It's what we call a considered purchase. So I did my usual research, read countless reviews, and decided to pull the trigger in late November. After using it for a several weeks I can say I am delighted.
The math works out for us, factoring in how much coffee we drink daily and how long we'll have the machine. I look at it as a piece of kitchen equipment, like my stand mixer.
Is this your 40's? You'd rather buy a fancy coffee machine than designer shoes?
Anyway, I appreciate how simple the setup is. Anyone can make a cup at any time.
You fill the back with water and put whole beans in the top. Push a button with the ounces you want, and you're done. It grinds the beans perfectly for each serving.
Turns out the A1 is the entry-level model. If you have the budget and want to go crazy, you can go all out with a restaurant-quality machine.
But the machine is not the point of the post. I just had to give it a shot out since I mentioned it early this month in our Tech Gift Guide.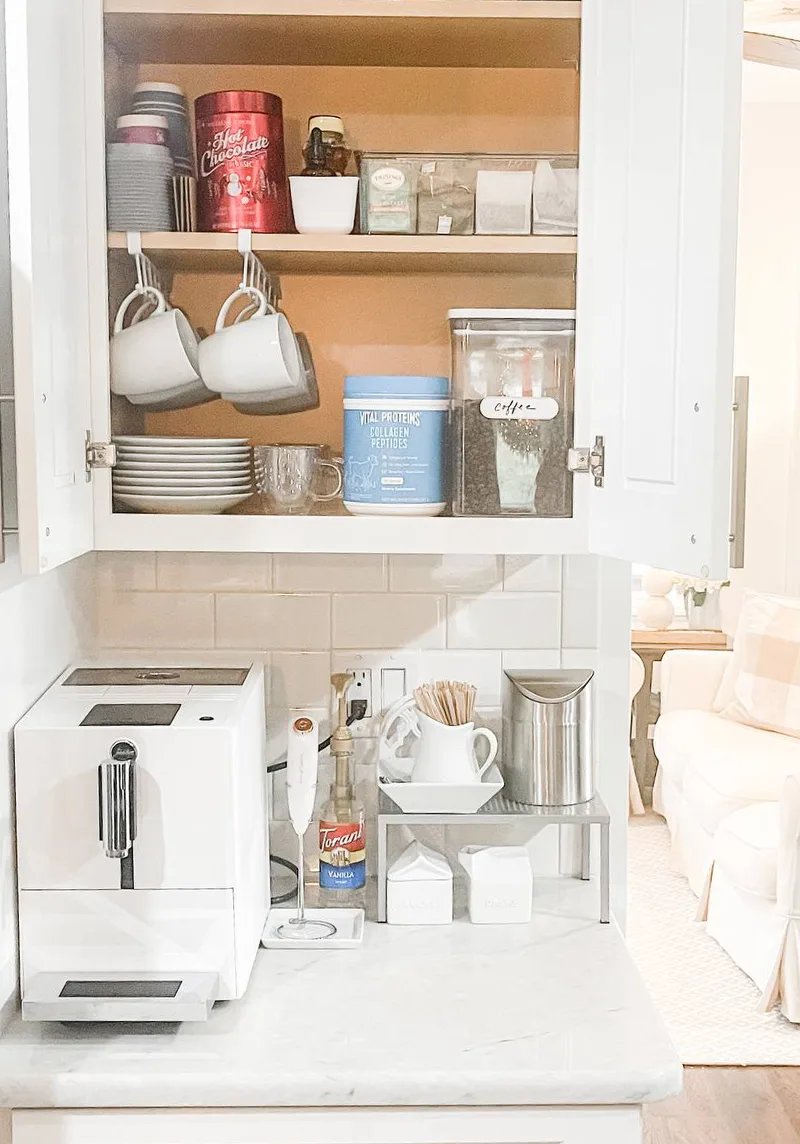 When you're short on space, you have to avoid physical and visual clutter.
That's why I keep all of my daily dishes and serving pieces white to mix and match them together, and then layer them in with my holiday pattern.
Some are from William Sonoma; others are from Target and Home Goods. Just like getting dressed, it's fun to mix investment items with affordable pieces.
A Functional and Welcoming Space
First, let's look at my teeny-tiny counter.
You'll notice the milk frother we featured in one of our recent gift guides. I placed it on a small ceramic tray to catch the drips.
It's only $12 and makes for a fun addition. I like to warm up some Starbuck creamer in the microwave, froth it and pour over with coffee for an at-home latte. It's so good.
Next to that is our favorite syrup with a convenient pump you can pick up on Amazon. Pack of 7 is $13 and they fit most popular syrups you buy at the grocery store. (If the straw is to long, they are easy to cut in half.)
Then I recycled a cabinet shelve used for glassware and put our sugar and creamer jars underneath.
On top, disposable wooden stirs, and a few small spoons I found for a set of six for $7.
Perhaps what I am most excited by is this cute little trash can that sits on your counter so you don't have to walk across the kitchen to throw anything out.
This is extra helpful if you have a Keurig, or a lot of tea drinkers.
How to Create a Simple Self Serve Coffee Station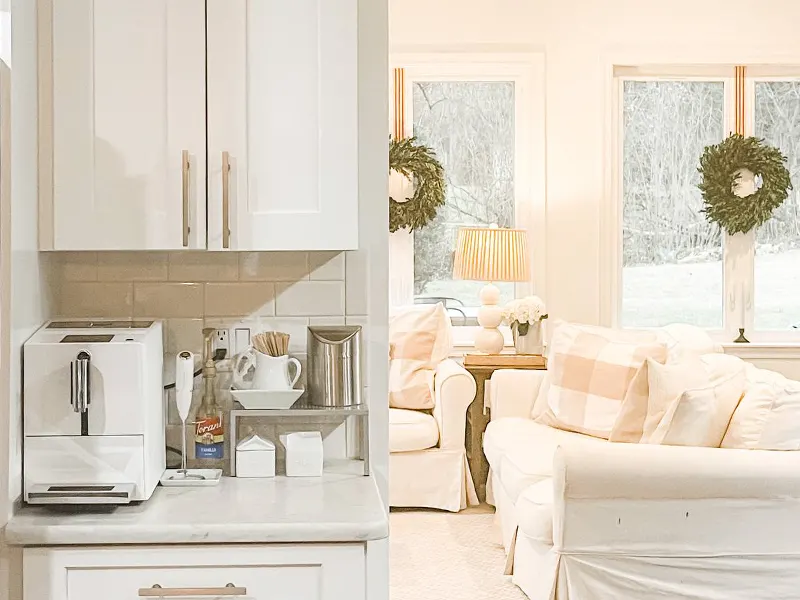 I was stacking our mugs on the bottom shelf of the cabinet, but then I found these under the cabinet mug hangers set of three for $10, so I scooped them up and saved a ton of space.
I got rid of all my mismatched mugs and picked up and replaced them with these inexpensive white coffee cup cups that come in a set of 6 for under $25. I highly recommend them. Really nice quality and they perfectly matched my everyday dishes.
And because the machine also makes espresso, we have a few espresso mugs – though they don't get much use.
Another small detail: disposable coffee cups with lids . You may too busy to think about this, because I was until I realized I had a stash. Offer a to-go cup to guests who have to drive home a distance – they will be thrilled.
The best piece of advice I ever received when it comes to making your house a home for your family and feel like that for guests is to set up in advance and use it to see what you need to add or take away.
I always loved being at certain friends homes where their systems feel intuitive. Life has been so insane lately, it's real treat to be in a space that works for you, and allows you to rest your brain, if for just a moment.
If you have any tips or tricks to share, please do so in the comments below! xoxo
Shop How to Create a Simple Self Serve Coffee Station