Let me start this review of the Bogg Bag by saying I have long been a LL Bean Boat and Tote girl.
They have been my go-to for years, and I still use them for packing and lugging things around.
But between the pool, beach and softball field, I can't get out of a summer with all these kids, without ruining one.
At the end of last summer, my tote was so stained and beaten up after one season I had to throw it away.
So I started looking for something different, and of course the Bogg Bag was all over my Instagram and TikTok.
I did not want to buy this bag.
I did not want to like this bag.
I saw it so much online, I started to hate it.
But here we are, I bought it, and now, it's packed at my back door ready to go to the pool.
So here is my unsponsored, unfiltered review of the viral Bogg Bag.
And for a list of retailers that sell Bogg Bag, see below:
Bogg Bag Review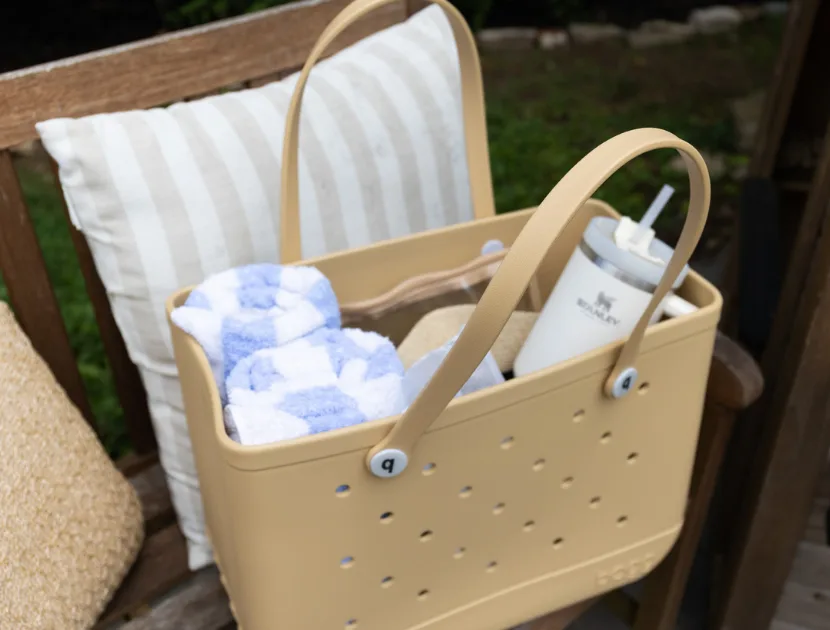 The Bogg Bag was created by a busy working mom who wanted a large, durable, and washable beach bag. It's now a patented design that won't tip over, won't leak, and can be hosed off at the end of the day.
What's extra cool about the design is the holes which allow you to snap on different inserts, in or outside of the bag, like pouches, cup holders or a pocket to keep your phone.
I bought the Original Bogg Bag, which is the largest size and is perfect for us. Honestly, it's the only product from their assortment I'm interested in.
Stylistically I prefer the Boat and Tote, but the functionality and design of the Bogg Bag is so good I can get over the fact that I don't love how it looks.
That's why I went with a neutral color, but it comes in dozens of colors and prints.
Surprisingly, it's not too heavy and fits everything you need.
And I love, I mean I LOVE that it stays upright and can be hosed off at night. Just game-changing.
If you have watched a few "What's in My Bogg Bag" videos online they are kind of hilarious. Some of these moms are packing this things as if they were spending a week in the wilderness and not sitting by the pool.
I, however, spent my summer as a kid swimming in a Philadelphia City Pool, and brought nothing more than a towel, so I know my privileged children can make it a few hours without their own personal fan.
So we don't bring too much, just the essentials, and a few extras because our youngest is four.
What in My Bogg Bag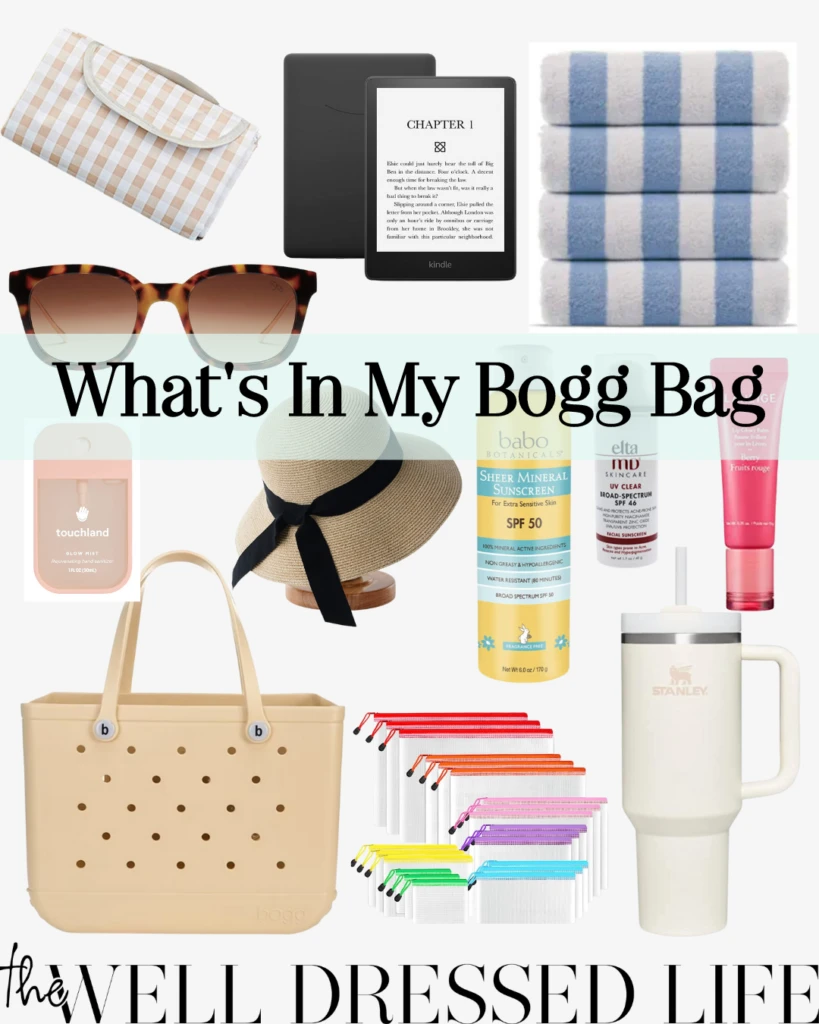 My bag is currently packed for the pool.
My kids carry their towels, but I throw a couple of extra in, just in case.
I have tons of these striped towels.
I bought them two years ago, and they wash and wear beautifully. Everyone knows it's the start of summer when I pull these out of the closet and put them on a shelf by the back door.
The original bag comes with a large and small pouch that you can attach to the bag.
I keep sunscreen, hand sanitizer, goggles, hair ties, and hair clips in the large pouch.
The small pouch fits lip balm, sunglasses and car keys.
I found this pretty gingham picnic blanket that folds up to the perfect size for under $30 on Amazon. This lives in the bag.
It works on the grass or sand and wipes right off.
I also have these reusable zipper bags that come in so handy. I keep little card games and small toys for Vivi in them and I throw an extra empty one in for anything we might pick up during the day, or to put in wet bathing suits.
And, of course, what kind of suburban mom would I be if I didn't carry my Stanely?
There is still plenty of room for some beach toys and snacks.
Add my new floppy hat and my Kindle so I can pretend I'm relaxed enough to read and we're done!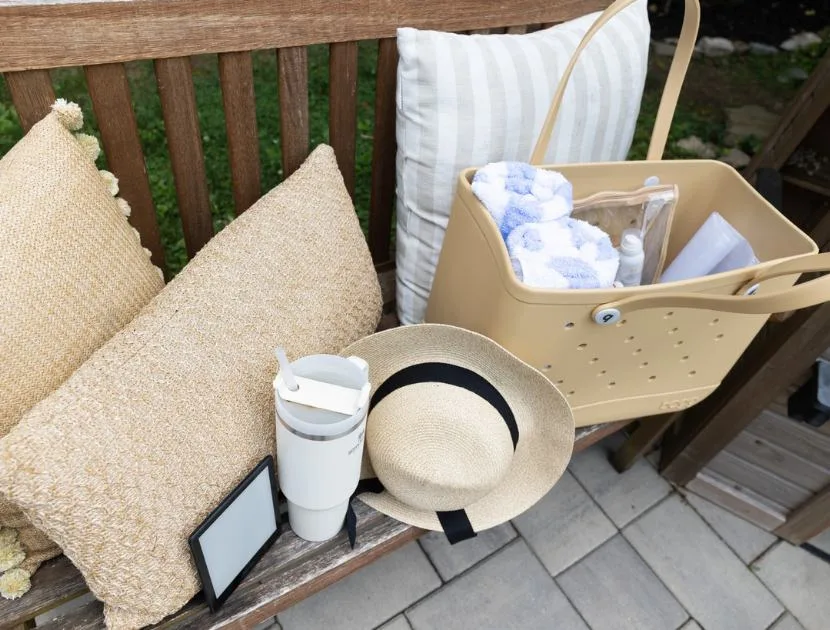 Where to buy Bogg Bags: