I have a very small laundry room.
And as many of you know, I am a little Type-A.
My friends will tell you that I am obsessed with organizing my life to an inch of itself.
But as much as I find joy in creating a calm, tidy, and pretty space, organization helps my brain function.
If a room is a mess when I'm working, I cannot focus. And something about the process of organizing, sorting, and purging, calms my overactive mind and really helps with my anxiety.
Plus, with three kids in the busiest chapter of our lives (so far), systems keep us on track.
So I thought, after receiving such positive feedback on some of our home posts in December, it would be fun to share the hacks and products I use that have made a big difference in our day-to-day life.
Related: How to Create a Simple Self Serve Coffee Station
Look for this once a month, starting today, in our laundry area.
Our laundry area isn't a room at all but rather a small closet space off our kitchen, in the hallway leading to our girl's bedrooms.
We did a fairly extensive home remodel three years ago while I was pregnant with Vivi. Unfortunately, one of the things that got cut from my wish list was a combination mud and laundry room because "money doesn't grow on trees."
This is what I came up with instead.
How I Organize My Small Laundry Room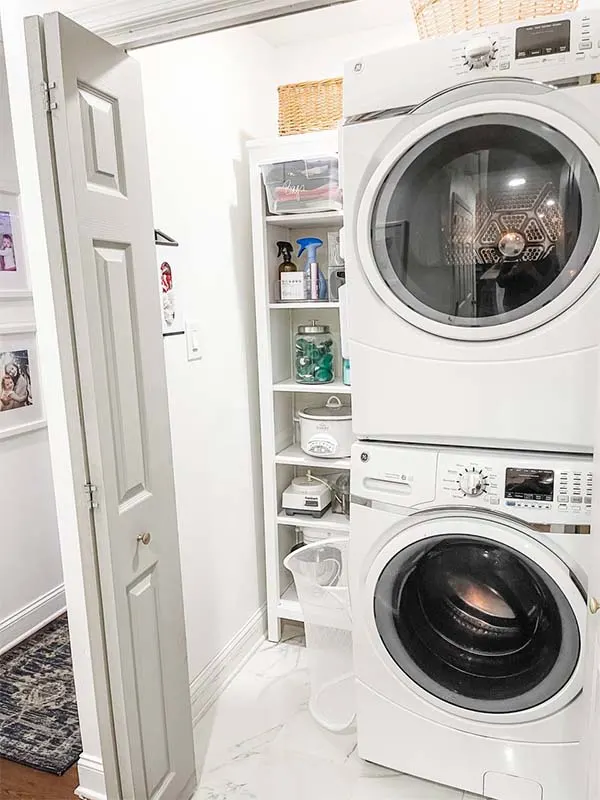 When we bought our home, the laundry was down in the dark, unfinished part of our basement, and I hated it.
So I came up with Plan B, turning an awkward hallway closet into a tiny laundry area. Our contractor and plumber at the time were less than enthusiastic about my idea, but I'm (annoying) persuasive.
It's not ideal, but much more efficient than having to bring the clothes down to the basement.
It took some time to figure out how to make it work best, but I finally landed on the perfect use of the space and found some organizational solutions I didn't even know existed.
The biggest challenge in the space is the size and shape. Our stackable unit just fits and didn't allow us to build any permanent shelving around it so we could access the unit for service.
Instead, I found this slim bookshelf from Ikea that works perfectly. It's especially nice since I lost a lot of storage when I gutted the closet. Now I can keep our large kitchen appliances at the bottom and have easy access when needed.
Small Details for a Small Laundry Room
Of course, I've have the standard products you see all over Instagram and Pinterest, because I am a nerd.
I'm using Gallon Size Canisters (2 for $40) for laundry taps and scent boosters. Taking things out of their packaging really does make a difference. It looks neat, but you can also quickly see how much you have left.
Lazy Susans are all over my house, in the fridge, bathrooms, everywhere. They provide so much extra room if you are working with a small or cramped space.
This one is a nice size and $30 for a set of 2. I keep things like stain remover, Febreze, lint roller, etc., corralled together.
Then I came across a hack for trash bags. Put a roll in one of these storage bins and pull the center through to create a sort of dispenser, like a can of disinfectant wipes.
This bin fits a large roll of kitchen and contractor bags and is stackable.
But wait, here's what made my heart sing.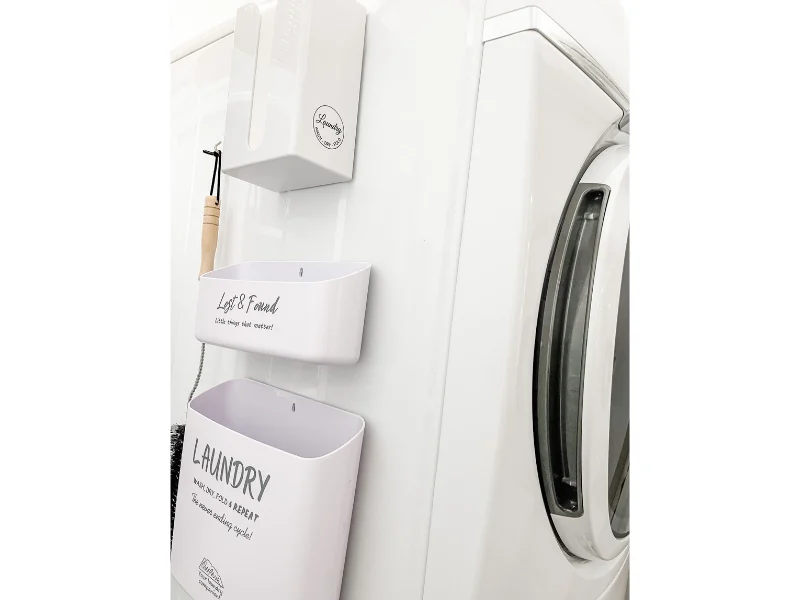 I found magnetic bins for the side of the laundry machine.
This is joy at 40, and I'm okay with it.
The first is a set of two, one large for lint and pocket trash and one small for lost things. It's about $25, and it is genius. Then I found this one for DRYER SHEETS!
They save so much shelf space and I don't have to walk back and forth with lint and trash.
On the wall, I also hung this plastic grocery bag dispenser. It makes me feel like an adult. (You can see it in the first picture above.)
How We Manage All the Clothes
Finally, I find the biggest challenge with a laundry setup like this is that it's easy for clean and dirty clothes to pour into other parts of your home. And we have an insane amount to deal as a family of 5 with a toddler and teenagers who play sports.
So we came up with a system that works, as long as we follow it. 😉
Everyone has a hamper in their bedroom closet, and every day we do one person's laundry from start to finish. This way, there isn't laundry running down the hallway or into the kitchen. So essentially, we do one load a day, but some days it's two.
Every few days, I'll run a load of towels, and on the weekends, I do sheets and any additional dirty sports gear.
Sticking to this has made the BIGGEST difference.
It's still a lot of laundry, but we don't get overwhelmed, and I'm not spending my weekend playing catch up.
To help, I found this over the door hamper and stuck it to the side of the laundry machine with a magnetic hook. This helps keep stuff off the floor, and we can throw kitchen towels and things in without making a mess.
Other things I love:
This Wicker Laundry Basket, is pretty and practical. Everything goes from the dryer to the basket, is quickly folded and put back in the kids rooms for them to put away.
And this laundry drying rack folds up slim enough to slide between the machines and the wall.
You can shop these products and everything else I use around the house in our new Amazon Storefront.
Tips for Organizing a Small Laundry Room
Utilize as much vertical space as possible.
Decant everything you can.
Edit down and keep only the essentials.
Use light colors to keep the space feeling bright and fresh.
AND if you have tips for keeping laundry under control – share it in the comments below:)
Our Content is Inspired by Our Readers
Our readership inspires all of our posts and is not sponsored or paid for by brands or retailers.
Recommendations are based on my experience as a personal stylist and wardrobe consultant for over a decade. I worked with busy, down-to-earth women who wanted to look chic and feel confident but were often confused by so much of retail.
Some links are affiliate links, which means if you purchase via our site, we receive a small commission.

If you enjoy our content and would like to help us grow, please follow on Instagram and join our Private Facebook Group to access more advice and exclusive in-depth conversations with other like-minded women.
Learn about our mission to help women look and feel their very best, every day, here.
Sign Up for Daily Content and Receive Our Free Classic Wardrobe Checklist