This time of year, social media would have you think that we're all jumping into ball gowns to go to holiday parties and events.
But, the truth is, most of us grab our best-fitting-at-the-moment black pants, find a pretty blouse or sweater that we wouldn't wear to work, and boom, holiday outfit.
So today, I'm featuring just that, some festive options that will turn your black pants into a celebration-ready outfit.
As we wrap up the year, please keep in mind that items are indeed selling out faster than I can keep up with.
So much so that I have only a few shopping posts left on the schedule, and some of them won't ever go live because the featured pieces keep selling out.
However, within this post are as many options and sizes that I can find, along with suggestions for shoes and accessories to complete your look.
Holiday Tops to Wear with Basic Black Pants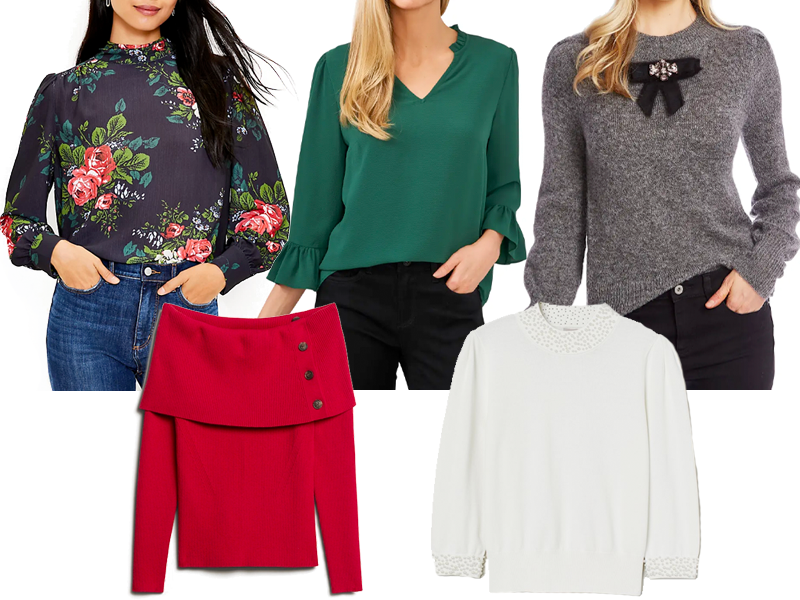 Bouquet Tie Back Blouse, Originally $65 NOW $32. | Ruffle Cuff Crepe Top, $69 | Bow Detail Sweater, $89 | Off-the-shoulder Sweater, $109 | Beaded Sweater, $50
Before we start, let's talk about the black pants. You can pair any cut and style with the tops below, including full length or ankle, skinny or straight. Just pick the pair hanging in your closet that you feel best in.
Beaded Sweater, $50
H&M always has a fun assortment of tastefully embellished sweaters this time of year, and I'm always happy with the quality. Priced well, you can wear them all season, and throughout the winter for nights out.
This one, with beaded detail around the neck and sleeves is lovely. I also like this ivory sweater with a gold chain detail.
They say they run true to size, but I find sizing up to be helpful.
Available at H&M in Ivory and Black, $50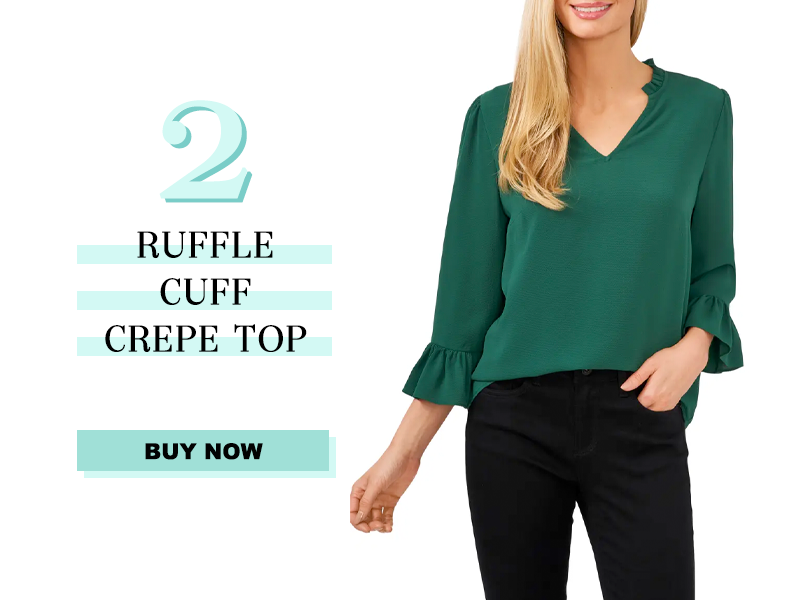 CeCe makes affordable tops and knits that are ideal for pairing with your better basic bottoms. This ruffle cuff top in crepe is as easy as it gets. Pair with an oversized earring and a shoe with some personality, like these green plaid flats from Ann Taylor, currently 40% off.
Available at Nordstrom in Red or Green, available in sizes XS – XXL.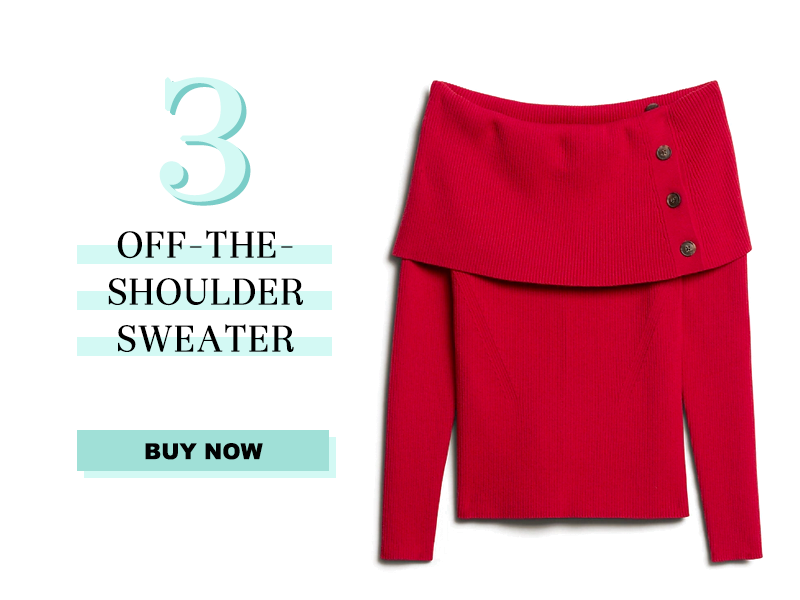 Off-the-shoulder Sweater, $109
Banana Republic is one of the few retailers on The Nice List for 2021. They always have inventory, with inclusive sizes, and their quality is always on point.
This off-the-shoulder sweater will add some much needed drama to your better basics.
Available at Banana Republic, in red, green, black or white, in sizes XXS – XXL.Off-the-shoulder Sweater, $109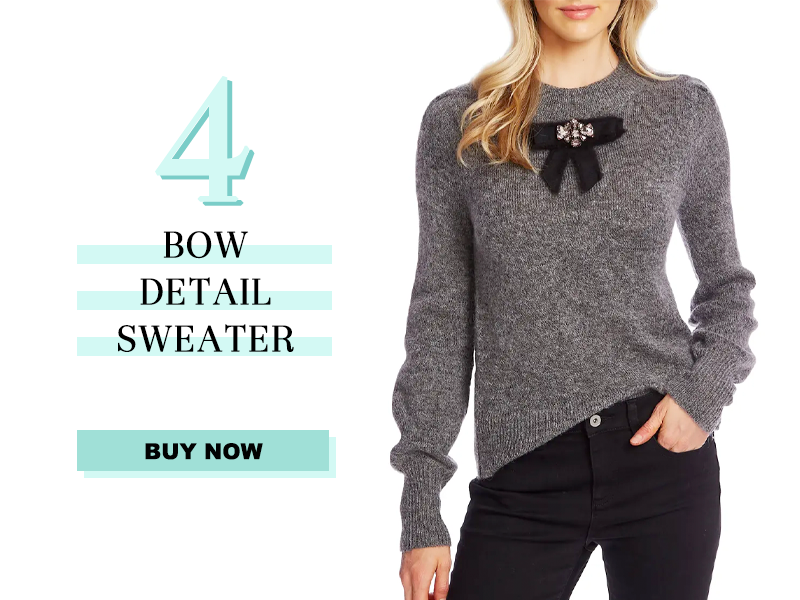 Bow Detail Sweater, $89
I just placed an order for this adorable bow detail sweater, also be CeCe. Fingers crossed it gets here in time. You can wear this with any black bottom, pants and jeans, obviously, but also a black skirt with tights and boots.
Available at Nordstrom in grey and black, XXS – XXL (please note the size guide as this runs small).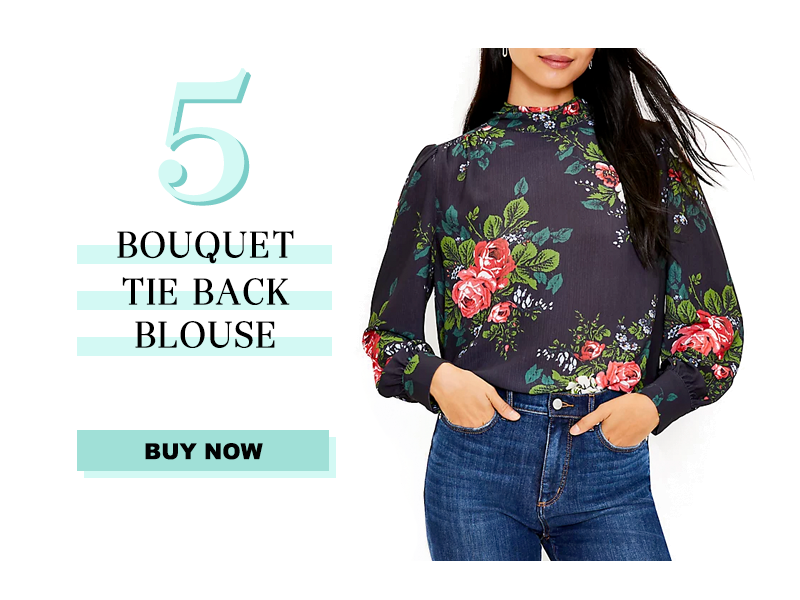 Bouquet Tie Back Blouse, Originally $65 NOW $32.
Finally, how pretty is this floral blouse? The pattern is striking against the black and the tie neck back is a surprising detail. Pull your hair up or to the side to show it off, and add an earring, like these pearl drops from Julie Vos, on sale for under $100.
Available at LOFT, in regular and petite, XXS -XXL, use code COZY and take 50% off.
Shop this Post
---
Our Content is Inspired by Our Readers
Our readership inspires all of our posts and this post is not sponsored or paid for by the brands or retailers featured.
Recommendations are based on my experience as a personal stylist and wardrobe consultant for over a decade. I worked with busy, down-to-earth women who wanted to look chic and feel confident but were often confused by so much of retail.
Some links are affiliate links, which means if you purchase via our site, we receive a small commission.
If you enjoy our content and would like to help us grow, please follow on Instagram and join our Private Facebook Group to access more advice and exclusive in-depth conversations with other like-minded women.
Learn about our mission to help women look and feel their very best, every day, here.
Sign Up for Daily Content and Receive Our Free Classic Wardrobe Checklist