One of my top priorities for The Well Dressed Life is to make sure we do things a little different.
I want the items you discover through our site to be the pieces in your wardrobe you wear all the time, the ones you wonder how you ever got dressed without, or introduce you to something you may not have considered before.
And one of the ways we do that is by showing you different ways to wear reader favorites, using all of our recommendations.
This helps minimize over consuming, and ensures you get a lot of life out of what you buy.
Use these posts as a buying guide or as inspiration and find similar pieces to make your own version.
Today, let's work with The Good American Straight Leg Jean ($99).
I love Good America for its size-inclusivity, and comfort meets style philosophy. These are an excellent alternative if you like the fit and feel of NYDJ but want a more updated, fashion-forward look.
One Jean, Four Ways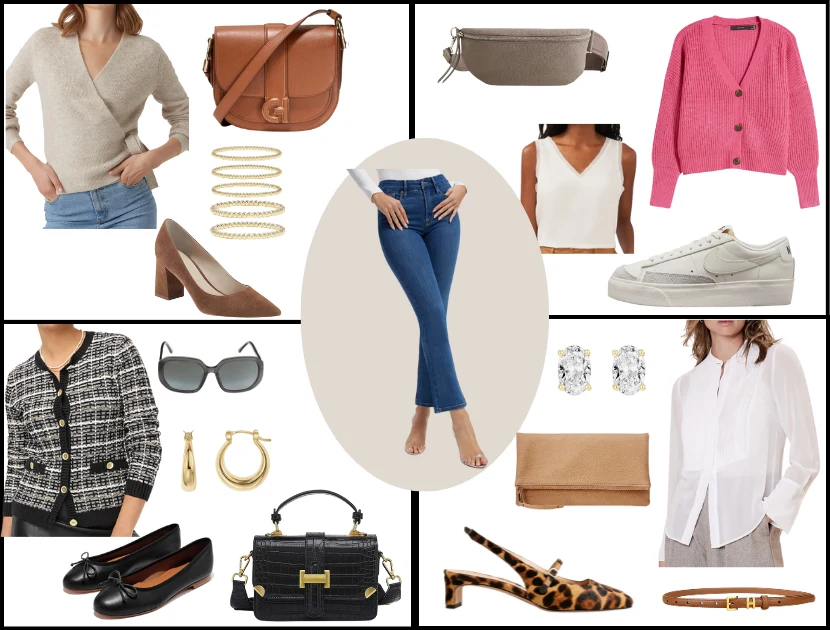 These are transition jeans.
What do I mean by that?
Simply put, these are three season, mild weather jeans.
You don't wear these in the snow. I can't tell you how many emails and DMs I receive telling me I'm crazy for showing pants that expose ankles. "What am I supposed to do in the snow?" – usually asked in all CAPS.
And my answer is always the same, don't wear them in the freezing cold or if there is snow on the ground. I live outside of Philadelphia; it snows here every year. When it does, I wear appropriate footwear.
But on a crisp, fresh fall day, or for our friends who live in warmer climates in the South, an ankle skimming pant is a fabulous option, especially as a dress up jean.
You want these jeans to stop either at the very top, middle or bottom of your ankle.
To keep them feeling light, pair them with a shoe with a low profile.
Certainly, if they happen to hit below your ankle, can also wear these with a bootie.
Let's get dressed starting at the top left corner.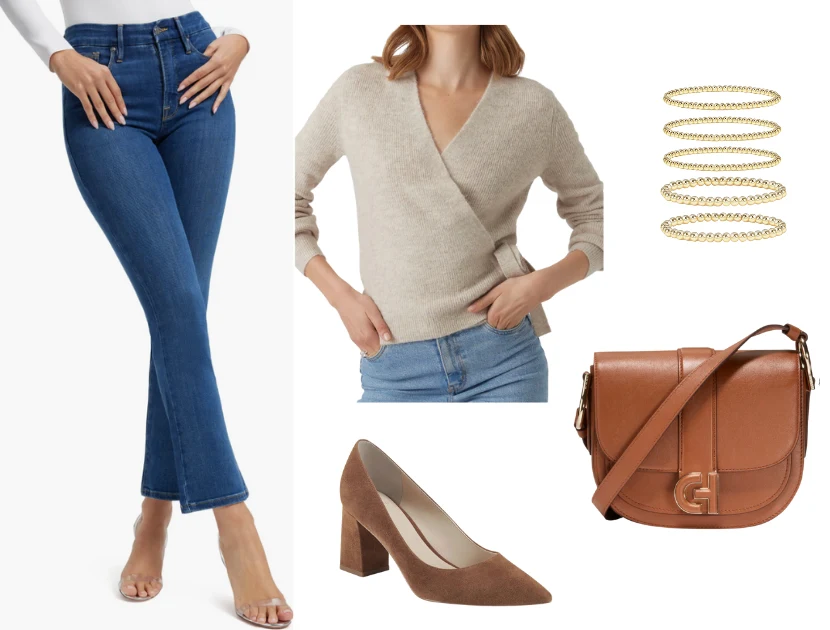 Playing with shades of brown, we're starting with the Vero Moda wrap sweater from Nordstrom. We've featured this a few times, also available in pink and black, for $69.
Then added the best selling Marc Fisher block heel in brown suede, this updated Cole Haan saddle bag (LOVE the updated logo) and these inexpensive trendy gold filled bead bracelets from Amazon.
Next, let's use a cardigan.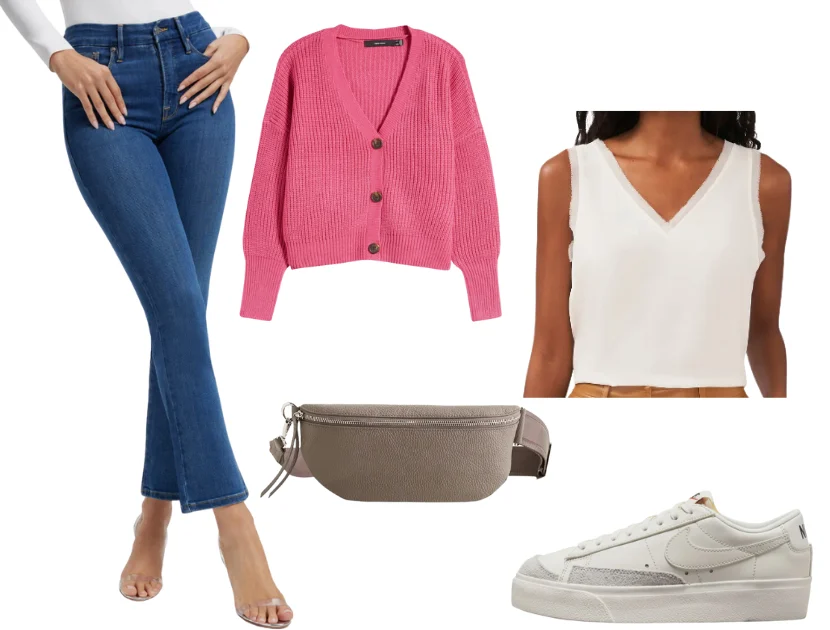 Another sweater find from Vero Moda is this sweet cardigan, available in pink or pumice stone.
We layered it over the Halogen Raw Edge Tank, back in stock after selling out a few times. This is a great layer you can dress up or down, available in black or white.
For shoes we're going with the Nike Blazer Low Profile sneakers ($100). They come in a few color combinations but I went with the most neutral of your choices.
And because this is a cute on-the-go look, I added this leather belt bag from Quince in "mink" for $69.
For a more glamorous look, let's work with this best selling "lady jacket."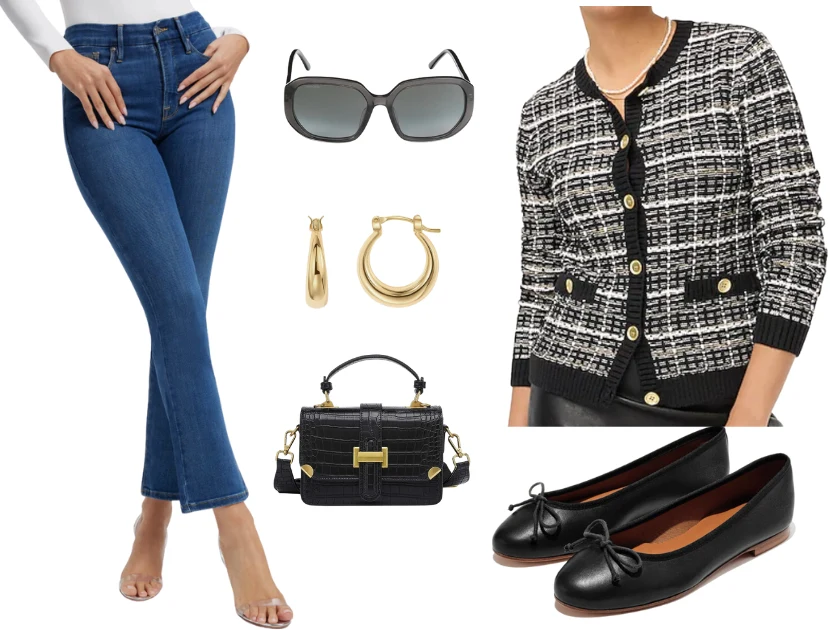 Available in XXS – 3X for under $100, I'm totally impressed with the quality of this sweater/jacket. (I have it in tan, you can see it on here.)
You can wear it with just a simple tank underneath, I like these from Amazon, you get two for $15.
For shoes, we're doing a ballet flat. Featured are a gorgeous pair by Margaux, but for all our recommendations in a range of prices, see our round- up here.
Then some classic style accessories. This top handle bag from Amazon one of our top ten sellers of the year.
And we finish up with deeply discounted designer sunnies from Saks OFF 5TH and affordable gold-tone hoops, also from Amazon.
Finally, a feminine look with a lightweight blouse.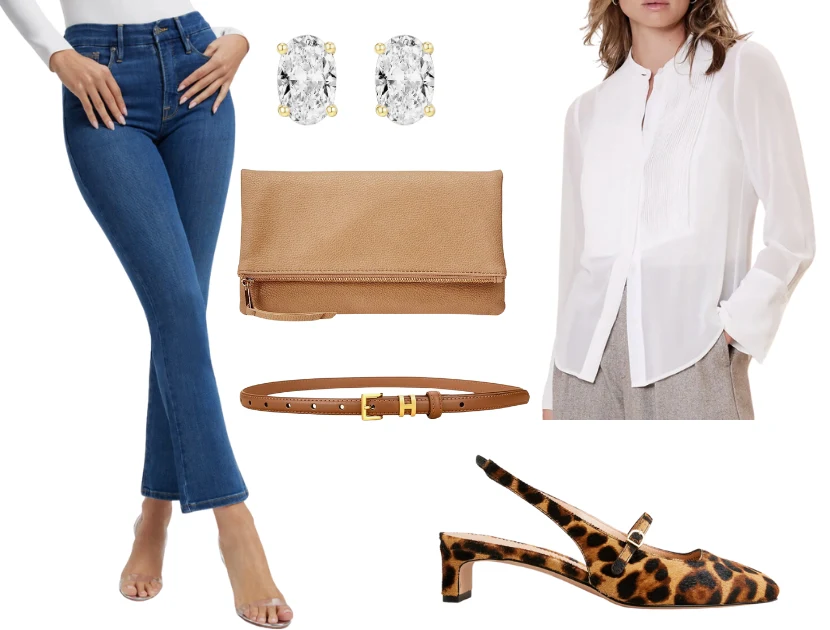 I love an outfit that mixes casual and elevated pieces.
So for this look we take casual jeans and pair them with this drapey tuxedo blouse from Banana Republic Factory, currently on sale for $45 and selling out quickly.
I would tuck it in and finish with a thin belt. I just ordered this one from Amazon and it looks designer but it's $17.
I added this pair of splurgey but chicJ.Crew Mary-Jane inspired slingbacks, an updated pair of studs in a modern oval shape and this inexpensive fold-over clutch from Amazon the Drop. I have this in a few colors and it's a nice quality for the price.