On Sunday we featured a round-up of sales from LOFT and one of the best sellers was this slim-cut chambray shirt.
And I received several requests for outfit ideas, so today I'm sharing three.
Real quick, let's break down the difference between denim and chambray.
Denim is done in a thick twill, so it's rather rugged, while chambray is done in a plain weave so it's softer.
We're using chambray because it drapes well, and is comfortable to wear whether you tuck in or leave out.
Below, we're featuring another slim-fit option, this one by J.Crew because it has a slightly better size range.
Available in 00 – 24, in regular, petite and tall.
It retails for $98 but is currently 40% off with the code WEEKEND.
Please note, I do not know how long it will be on sale.
If you picked up the LOFT option, (available in regular and petite, in XXS – XXL, on sale for $45), wear it here. Whatever you already have will work.
3 Ways to Wear a Chambray Shirt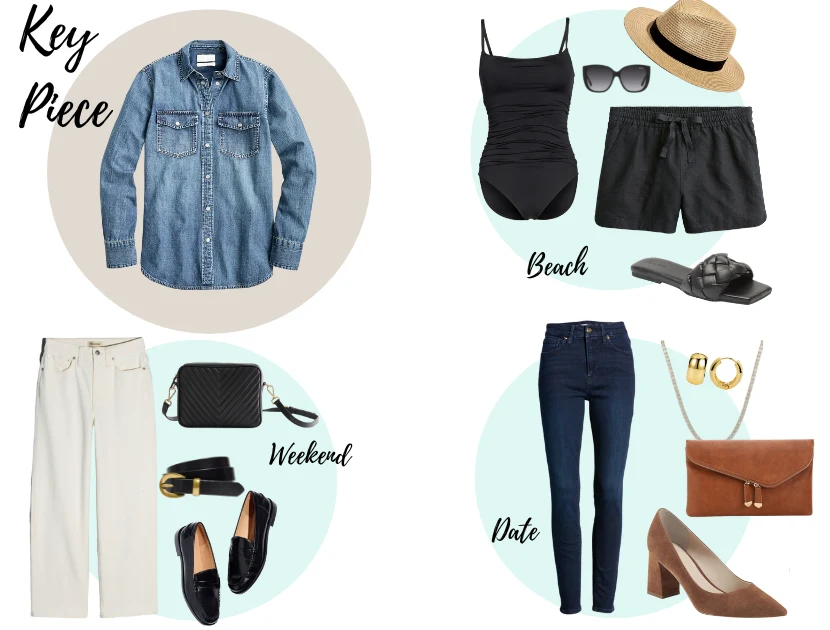 There are a ton of great wardrobe finds throughout this post.
First, let's create a "weekend" look that you don't have to save for the weekend.
It's chic, it's casual and it's super easy to pull together.
With White Jeans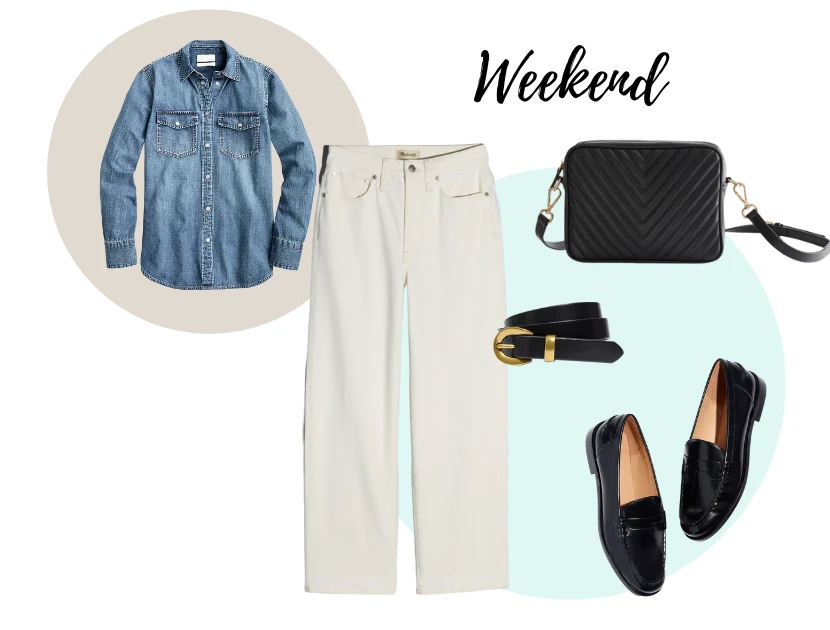 Let's start with white jeans.
You have many options in this category, but I'm going with something a little different.
The Curvy Perfect Vintage Wide-Leg Crop Jean in Tile White from Madewell is featured above.
They will hit either at or just above your ankle, have a high rise, and are in their "tile white," which is very much white; it's just not bright.
Available in sizes 23 – 33.
Alternatively, try their Perfect Vintage Straight Jean in Tile White as a non-curvy option.
Available in regular, petite, tall, and plus.
For shoes, I wanted to use a lug-style loafer, something like this, but it might be too chunky for most of our readers' taste.
So, instead, I went with these penny loafers, also from Madewell.
They have the cool, classic 90s style I like, and the slimmer profile works well with the cropped jean.
I added a shiny black belt that coordinates with the penny loafers.
Give a full or half tuck a try here. It's important to zhush up a shirt like this, so play with your tuck options, roll the sleeves, and pop the collar.
Finally, I like this quilted crossbody from Quince in Italian leather at an excellent price for a functional, high-quality bag.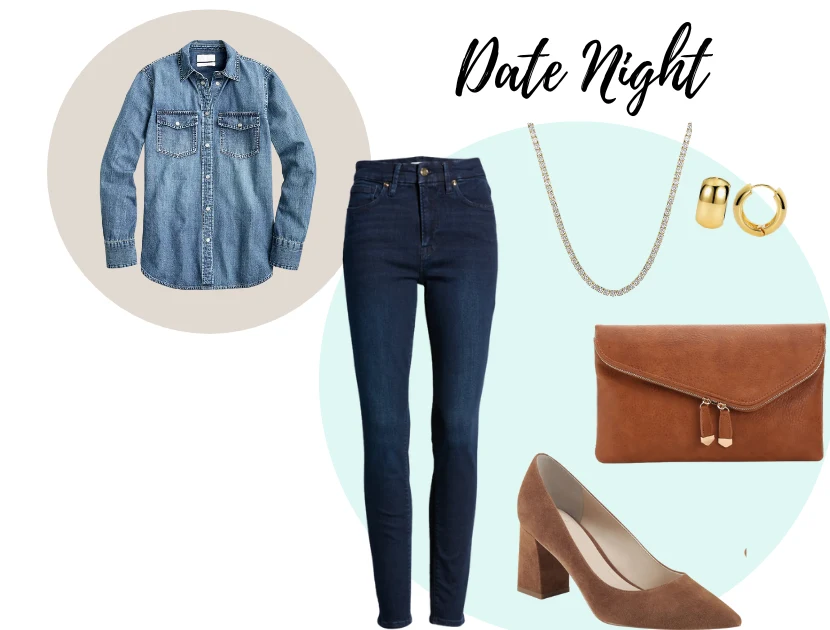 Next, try a denim-on-denim look for a date night or dinner with girlfriends.
We're starting with my new favorite pair of skinny jeans from Good American.
I know. I know.
I don't want to give the Kardashians any more money either, but my. tush. looks. GREAT. in these.
And they are on sale at Nordstrom in the dark wash for $99 – regular and plus sizes are available but getting limited.
What's nice about these, next to the incredible fit, is the length. They cover my ankle, which, if you're tall, you know that's hard to find.
I paired them with our Reader Favorite Marc Fisher block heel pump in brown suede and added a matching brown faux leather clutch I found at DSW for $30.
Do your shoe and bag have to match? No.
But I like how the denim top and denim bottom work with the brown heel and brown clutch to create balance.
If you have this Clare V. Foldover Clutch, you can wear it here, too, for a pop of print.
And then, because the look is so rooted in casualness, I added this blinged-out yet inexpensive tennis necklace and these simple under $15 huggie hoops, both best sellers from Amazon.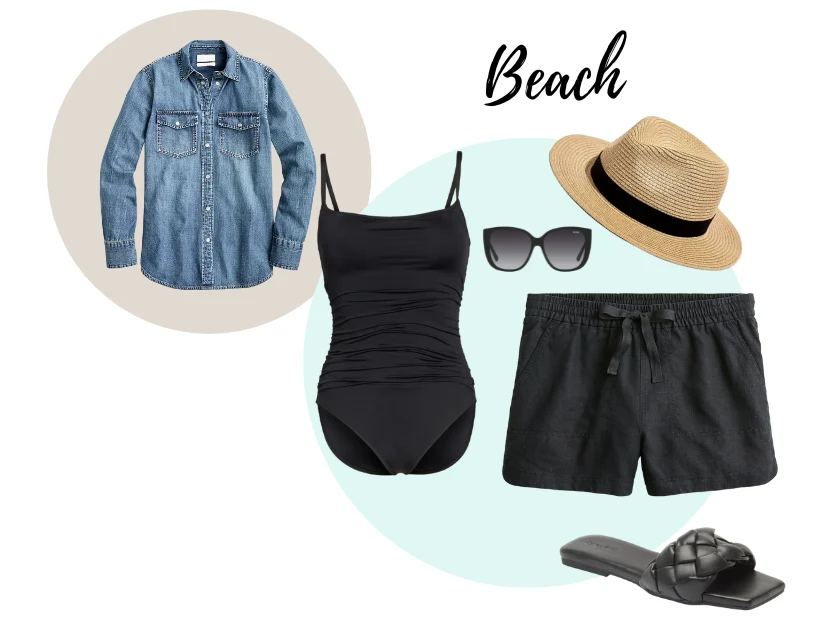 Finally, throw a chambray shirt over your bathing suit for an easy beach or resort outfit.
I am a loyal wearer of LA BLANCA swimwear. Their fit and styling are incredible.
I own their Island Goddess One-Piece Swimsuit above, available at Nordstrom for $83.
You'll need a pair of shorts. Last week I shared these linen blend shorts from J.Crew. They are some of my favorites. I own so many colors.
They retail for $60 and are currently on sale for 40% off with code WEEKEND, available in XXS – 3X in various colors.
And for shoes, these black woven slides by Open Edit get great reviews for comfort and are only $40.
Pair with a packable hat and oversized sunglasses, and you're set!