You might think a black maxi dress is limited, but you can create different looks for a casual day to a formal night out with the right accessories.
The beauty of a dress like this is its simplicity.
You don't have to do much to create a fresh look; work with a few better basics and the jewelry you probably already have and you're set.
Today, I'm taking this elegant yet simple black maxi and sharing three different ways to style it for any occasion you have this spring and summer.
And if you have a trip coming up, these looks take up practically no room in your suitcase.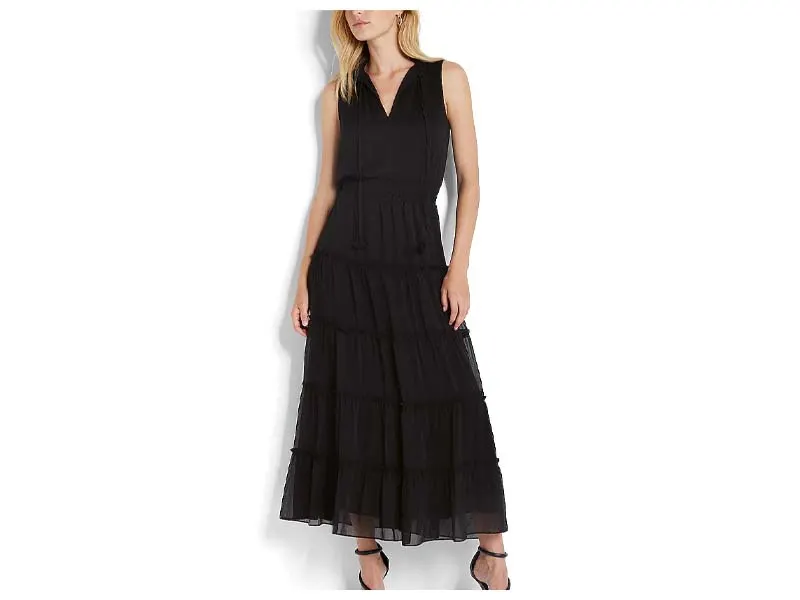 V-Neck Tiered Trapeze Maxi Dress, $88
Maxi dresses are a fantastic option for warm weather, especially if you want something polished and comfortable, or are looking for an alternative to shorts.
And you have so many options.
For this post, I'm highlighting a black maxi, but go ahead and replace black with any color you have, or a print.
Above is the lightweight trapeze maxi dress from Express (featured in our most recent What to Buy at Express round-up).
For a plus option, I like this one from Eloquii, it has a similar style with tier detail and flowly feel.
Alternatively, you might have this stretch jersey style from Nordstorm. that we featured a while back.
You could you use in the looks below too. It's a little more casual, so keep that in mind.
Available in petite and regular sizes and on sale for under $50.
Now let's create some outfits.
How to Wear a Black Maxi Dress Three Ways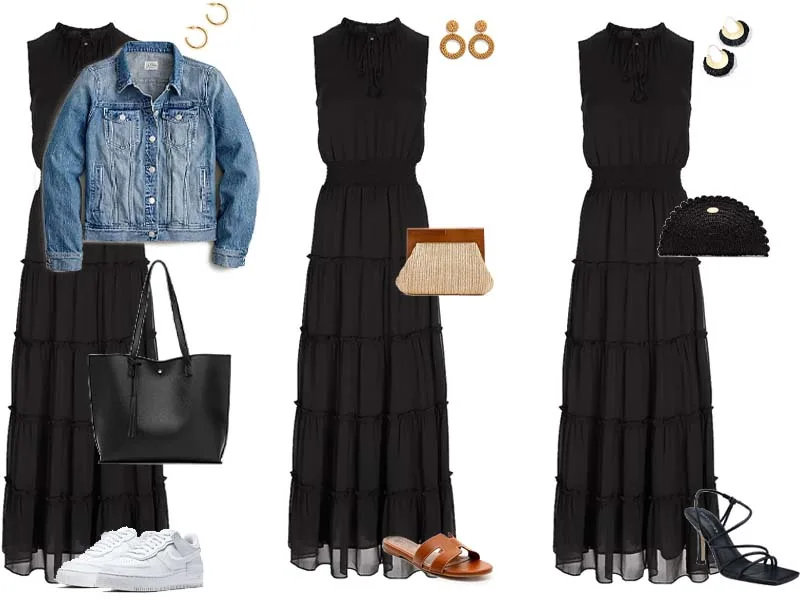 Casual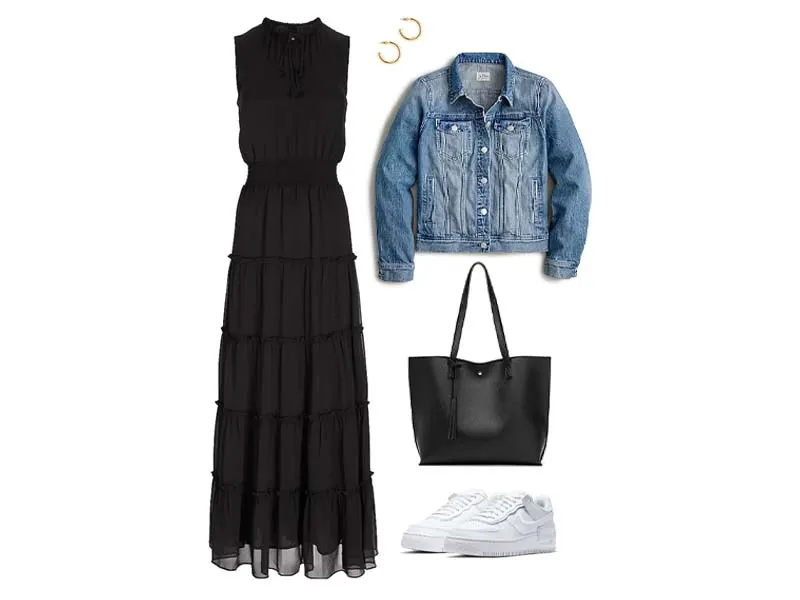 Air Force 1 Shadow Sneaker, $110 | Denim Jacket, $118 | Faux Leather Tote Bag, $13 | Gold Hoops, $14
I bet you have these or a version of these items for this look.
First, grab your favorite white sneakers. I'm using the Nike Air Force 1 Shadow Sneaker because they are chunky and can hold up to the detail and volume of the dress.
If you are wearing something like this jersey knit dress, wear a slimmer profile sneaker, like one of the recommendations from this round-up.
Next, grab your denim jacket.
This season we love this medium wash style from J.Crew. Available in sizes XS – 3X. If you consider it, know that it has a lot of staying power in your closet. You'll grab it season after season.
Then, two incredibly affordable accessories starting with this faux leather tote from Amazon. I order this for myself in a couple of colors, and it's great.
I'd rather carry this than something with a meaningless logo for ten times the price.
You'll want to use an organizer insert to keep your things together and help hold the bag's shape.
And because I love going back to the same thing repeatedly, these gold amazon hoops. I haven't stopped wearing them since I bought them last month.
Beachy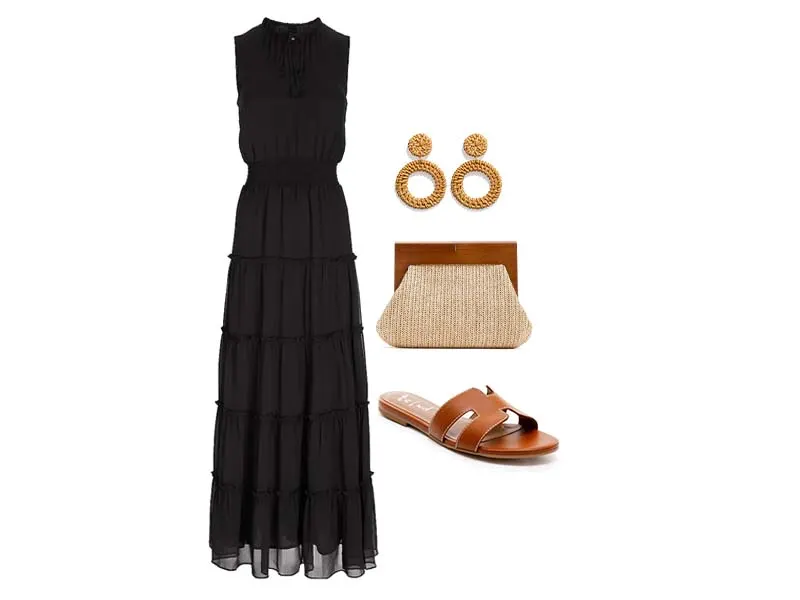 Wood Handle Straw Clutch, $68 | Leather Sandals, $155 | Rattan Earrings, $12
The next two outfits are so simple but I think it's important to show how different accessories completely change the look.
Let's start with the look above. I would wear this to a nice dinner on vacation.
I love the combination of black and tan, especially when the tan shows up in natural elements.
So I'm bring in the color with this wood handle straw clutch (first featured here). It's adorable.
Then, I added these chic flat slide sandals from Tuckernuck. You can wear these with anything from shorts and ankle pants, to dresses.
And to play off the texture of the bag, these inexpensive rattan earrings from Amazon that are very light and comfortable on your ear.
Dressed-Up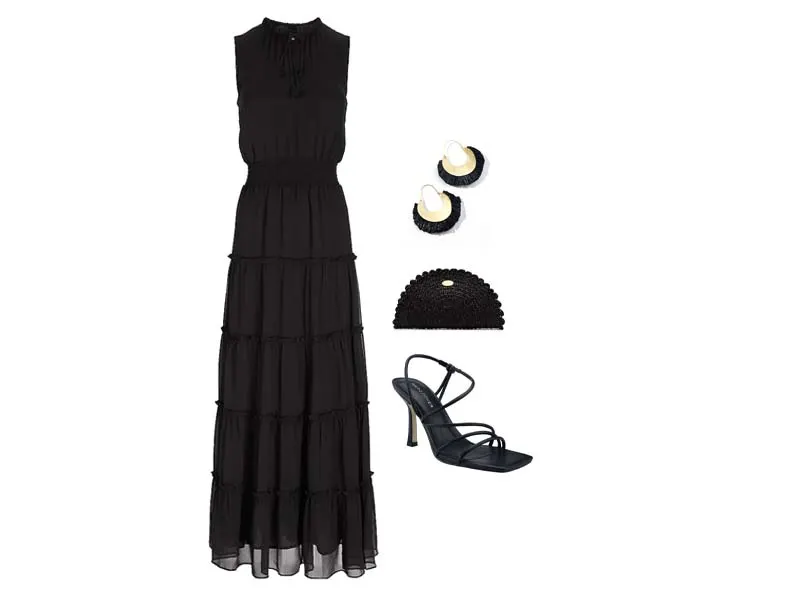 Strappy Heels, $59 | Raffia Clutch, $105 | Raffia Earrings, $48
Have a wedding, or something you need to be dressed up for?
Just grab your black strappy sandals. I'm showing these Marc Fisher's with a narrow heel.
Personally, I like (and own) the block heel version of them, and find they are more comfortable to stand in.
But, as always, wear what you have, just make sure they are light and strappy.
Then, I found this gorgeous black raffia clutch. Isn't it so pretty?
It works really well with the weight and style of the dress,
Finally, these playful earrings fro Anthropologie with gold details that coordinate with the bag beautifully.
Easy-peasy.
52 in 2022!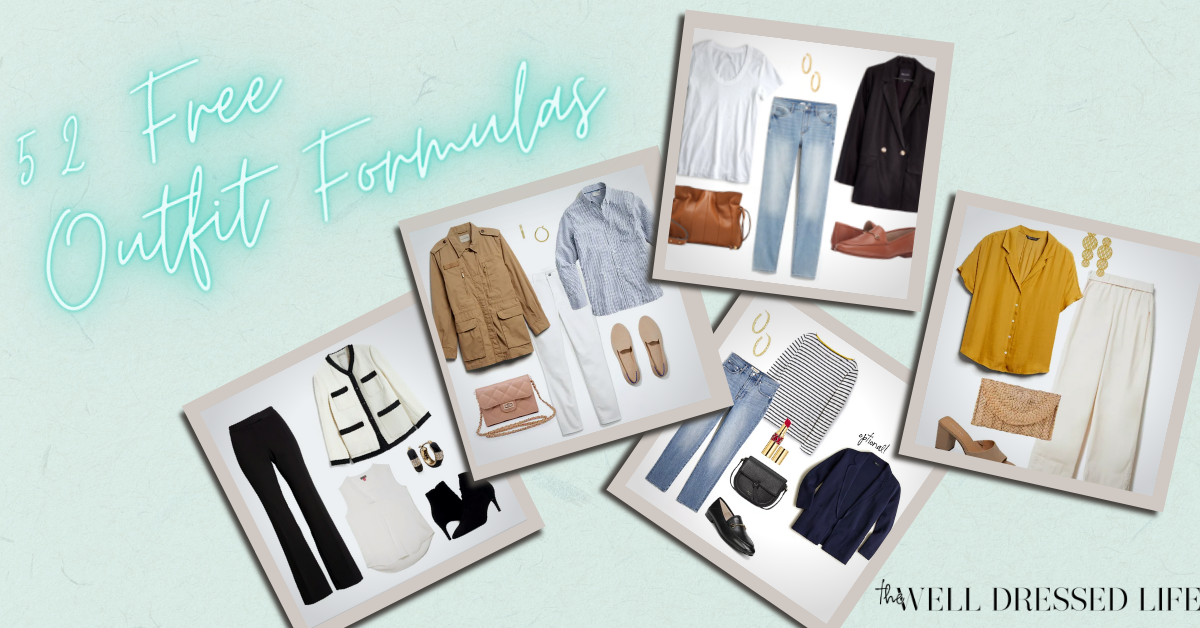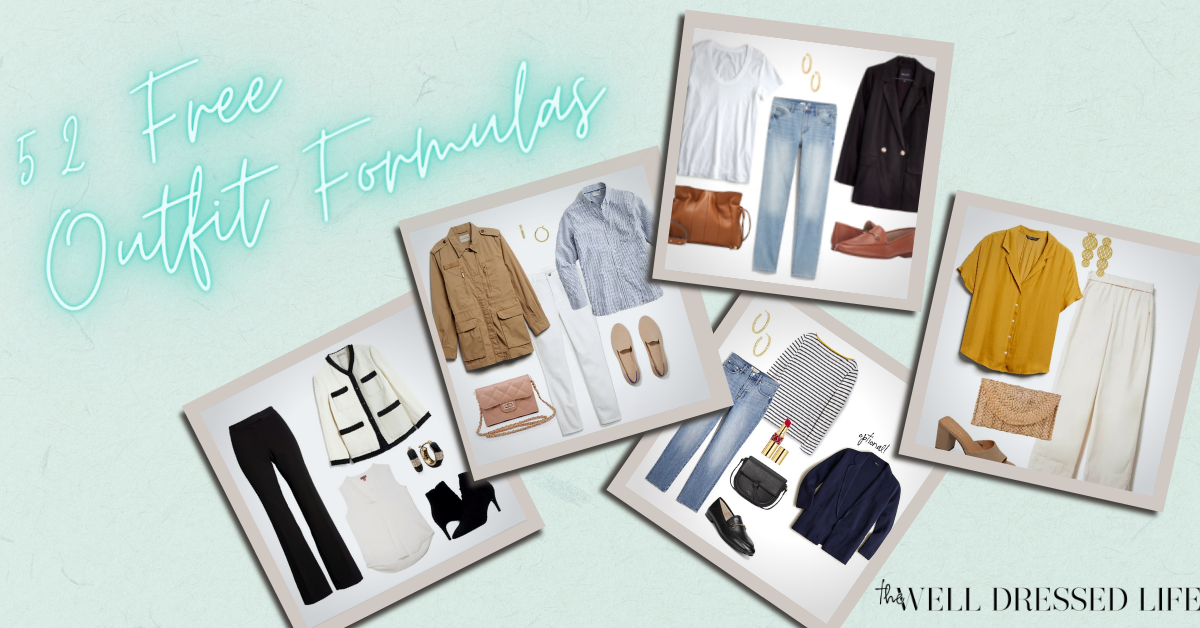 Follow Us on Instagram!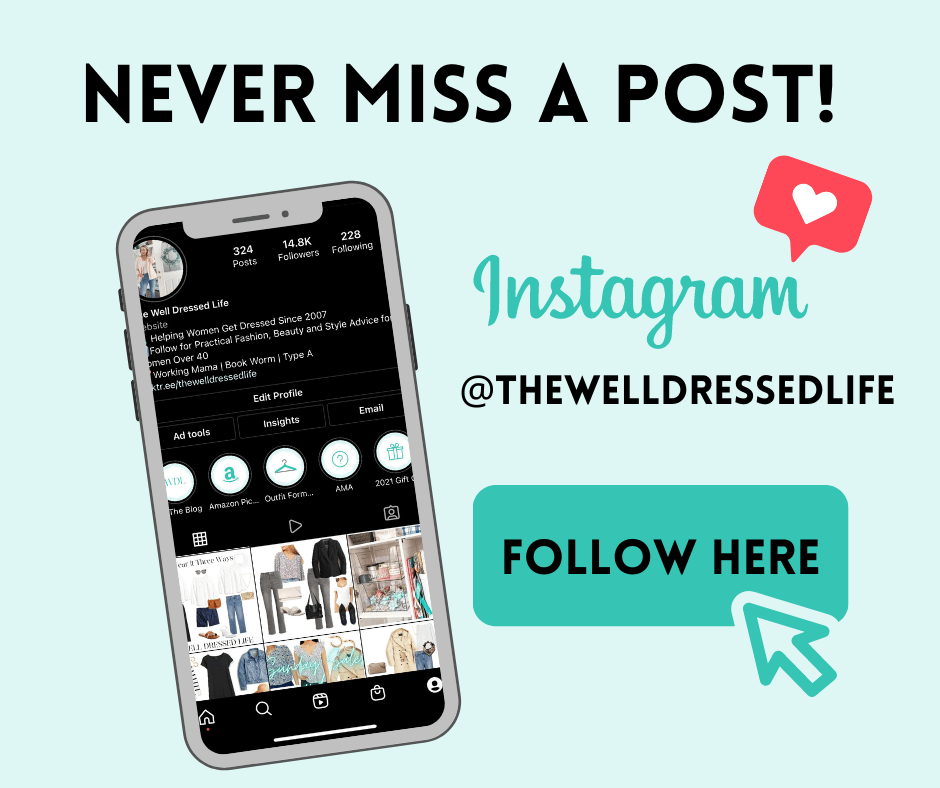 Our Style Content is Inspired by Our Readers
Our readership inspires all of our posts and is not sponsored or paid for by brands or retailers.
Recommendations are based on my experience as a personal stylist and wardrobe consultant for over a decade. I worked with busy, down-to-earth women who wanted to look chic and feel confident but were often confused by so much of retail.
Some links are affiliate links, which means if you purchase via our site, we receive a small commission.

If you enjoy our content and would like to help us grow, please follow on Instagram and join our Private Facebook Group to access more advice and exclusive in-depth conversations with other like-minded women.
Learn about our mission to help women look and feel their very best, every day, here.
Sign Up for Daily Content and Receive Our Free Classic Wardrobe Checklist