I lived in a sorority house in college. It was complete madness and such fun.
Now I have my own home full of girls, and I'll tell you, it's pretty much the same less the debauchery.
The mess, the drama, and the NOISE level are all oddly familiar, and none of it shocks me.
But, now, instead of being part of the party, I'm very much in charge of these lunatics, and I run a business smack in the middle of the chaos.
And I don't have teenagers who ignore me.
I have the opposite.
I know everything, even things I don't want to know.
If I'm sitting on the sofa, they are right next to me.
They're in my bathroom.
They're in my closet.
The other night I went to bed early for some quiet, and they were with me five minutes later.
"There you are!" my oldest said as she slid under my covers.
Don't get me wrong; it's the biggest blessing in my life. I love it so much and can't imagine having teenagers who slam doors and scoff at anything I say.
But if you saw the environment where I write content, you'd be impressed that our posts only have a few typos. lol.
I don't know what quiet sounds like. I can't hear myself think.
So between their school and sports schedules with non-stop pick-ups and drop-offs, a dozen work projects we're managing, and a four-year-old, who lives her best life, it's hard to have a second to yourself, let alone for Bri and I together.
The last time we had dinner alone was in November.
And after almost 20 years of marriage, prioritizing some time without the kids, no matter how little, has been the key to our success.
So this weekend we kept trying to get out, and something came up every day, whether a schedule conflict or the idea of putting pants on sent me over the edge.
Finally, yesterday, we had extra childcare and two hours so we made a run for it.
The only thing is that I had no time to get dressed.
Here's how I pulled myself together without reinventing the wheel.
Work from Home to Dinner Out in 5 Minutes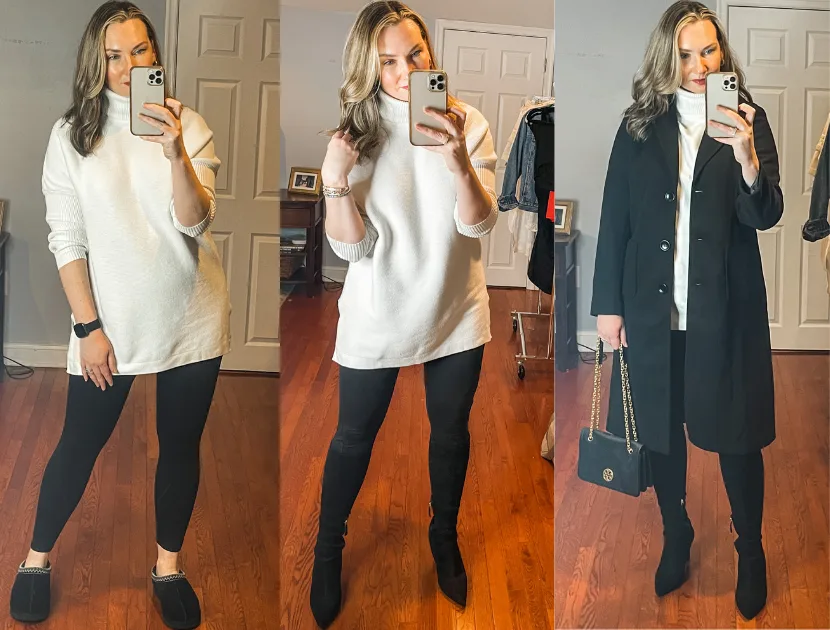 On the left is what I started with, and it is an excellent example of my work-from-home uniform if I get dressed for the day.
Yesterday I had an early, very sweaty workout and had to be on a Facebook LIVE in the afternoon, so I did shower and put on some makeup.
I have this turtleneck tunic from Amazon in several colors; they are as comfortable as a sweatshirt but a little more polished.
Today, they are on a deal for $22. Tons of colors are available; I'm wearing the large.
I paired it with these leggings from Healthyoga. I bought these in 2020, and they are still in excellent condition.
I wore these HARD in the height of the pandemic and honestly can't believe how much I still wear them.
Today they are also on a deal on Amazon for $20
I didn't plan this post in advance, so these deals are a pleasant surprise!
And, of course, Ugg slippers, because they keep your feet warm at home and you can leave the house in them.
That's what I started with, and I didn't have time and wasn't in the mood to put on a new outfit.
So, I took off my slippers and pulled on these knee-high black suede boots.
I love that they are clean and streamlined.
Available at DSW, in black and brown, with a good size range, for $149.99.
You can see how they instantly dress up a pretty boring outfit. They help highlight the length of my legs and give me some height, so the tunic hangs better.
Then, it's just about accessories and finishing the look.
I took off my Fitbit and stacked some of my everyday bracelets, including this David Yurman dupe, this Swarovski Evil Eye, and this under $20 bangle that's fun a sparkly. I layer these in with my better pieces. My stance on bracelets is that more is more.
As I walked out the door, I added our new favorite $60 coat, this time in black (I have this in black, navy, and red, in a large).
And I grabbed a gold-chain Tory Burch shoulder bag that I picked up at a Nordstrom Anniversary sale a few years ago. As much as Nordstrom makes me crazy, everything I buy at that sale is a much-loved and used item in my wardrobe.
If you're looking for a good deal on a similar bag, we featured this Tory Burch crossbody bag in our Sunday Sales that are currently 30% off.
I was dressed and ready in five minutes.
RECORD time for me. And a testament of how easy getting dressed can be if you are thoughtful about your purchases and you make sure that the pieces you have in your closet work for your life and personal style.