Sometimes, we over complicate getting dressed. In a world where more is more, in my style book, less is more. The trick to looking pulled together without a lot of layers and accessories is paying attention to fit and fabric. When an outfit has simple components, each piece needs to be right. Consider the inspiration outfit below. I pinned it to my Pinterest board a few months ago, and since then it has been pinned over 600 times. I thought given its popularity, we could recreate it affordably, using it as an example of how simple can be incredibly chic.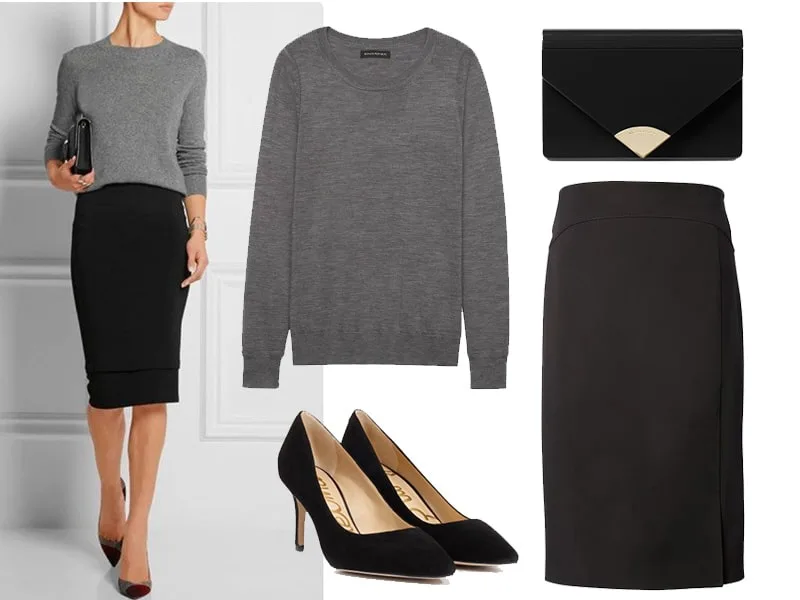 Sweater, $68 | Skirt, $98 | Clutch, $198 (less expensive option here) | Heel, $120 | Inspiration photo source unknown.
The skirt is the element you want to get right. In our inspiration photo, the hem hits right at the bottom of the knee. Any longer than this and your leg will look stumpy. You want to make sure that you maintain the shape of your calves in skirts. When a skirt cuts across your calf at an awkward spot, you will look shorter than you are and your proportions will be off.
We found this skirt at Banana Republic. I like it for a few reasons. First, it's a great shape. You'll need to have it altered to fit correctly, but it will be well worth it. Second, it has a higher waist and will sit at your belly button. It's super flattering and ideal for pulling off the inspiration outfit. Finally, it's under $100, comes in black and navy and is available in sizes 0 – 20. That's awesome.
The crewneck sweater is also from Banana. (updated sweater found here) I don't usually go head to toe with one brand or retailer, but it's the best option I've found. The price is right (under $60), it's available in several colors, and it's washable wool. Notice in the inspiration picture, the sweater is not tucked in. Instead, it's folded under and gently drapes away from the body. This makes a big difference in the look. You don't want something that clings to your shape. The drape is what makes the look feel elegant.
There's such practicality to this outfit. You can actually walk and function in these shoes. Over the past few seasons, I've turned to Sam Edelman time and again because they are always exactly what I want. I tend to like the most expensive shoes, but I don't want to be the crazy blogger who only features designer shoes. Sam Edelman is so much more reasonable for the quality and style you get.
Finally, this black clutch is not inexpensive, but gosh I love it. For something less, but equally stylish, check out this clutch by Aldo for under $30.00
Shop this Post