Thank you so much to Gap and ShopStyle Collective for sponsoring this post.
We have had little winter here in the Philadelphia area.
But you won't hear me complaining. I live for the spring.
So I'm breaking out my spring pieces a little sooner than usual.
And having lost weight over the last year, I'm excited to add some new pieces to the mix. This is the first time in a long time I don't dread trying something on.
Over the last few weeks, I've had several requests for more casual outfit posts, so I thought creating a few looks with affordable basics around one pair of jeans would be fun.
Right now, Gap has a fantastic selection of classic casual wardrobe staples with their Modern Bloom collection, in a wide range of sizes you can buy now, wear now, and later in spring.
Plus, they are also in the middle of their President's Day Sale, where you can save up to 60% off + 50% off Long Weekend Deals starting at $29!
So let's do a little shopping.
4 Looks, 1 Pair of Jeans with Gap
I ordered their Sky High Rise Vintage Slim Jeans with Washwell in size 30 Tall on sale for $31.
Available in regular sizes 24 – 35 and tall and petite sizes.
I LOVE the fit. They have the tiniest amount of stretch, so you can move comfortably.
And I know not everyone loves distress details, but I like the cool, lived-in feel these have.
Good news, you can get them in a nice clean finish here, in the same size range, on sale for $27.
I often mention that, even though I am 5'10, I don't always need tall sizes, but I'm grateful for the extra length here.
You can see that these hit right below my ankle and give me a nice long leg line.
They are the perfect length for these Cross Strap Kitten Heel Mules, on sale for $63.
I was skeptical about these, but they are very comfortable. I have wide feet, so the square toe is helpful.
They add just enough lift without making me feel like a giant.
I also ordered this Flutter Sleeve Maxi Dress to wear with them on my next trip to Florida.
If there is snow on the ground where you live, save these for the warmer weather and go ahead and replace them with a boot.
Gap has a fabulous pair of under $100 Chelsea Boots you could swap out instead of the kitten heel.
I'm keeping it simple for our first look with their Modern Shell Tank Top on sale for $22.
Available in black and white in XXS – XXL in regular, tall, and petite. The white, as seen in the photo above, is not sheer.
Below I'm wearing it as a stand-alone piece, in desperate need of a spray tan: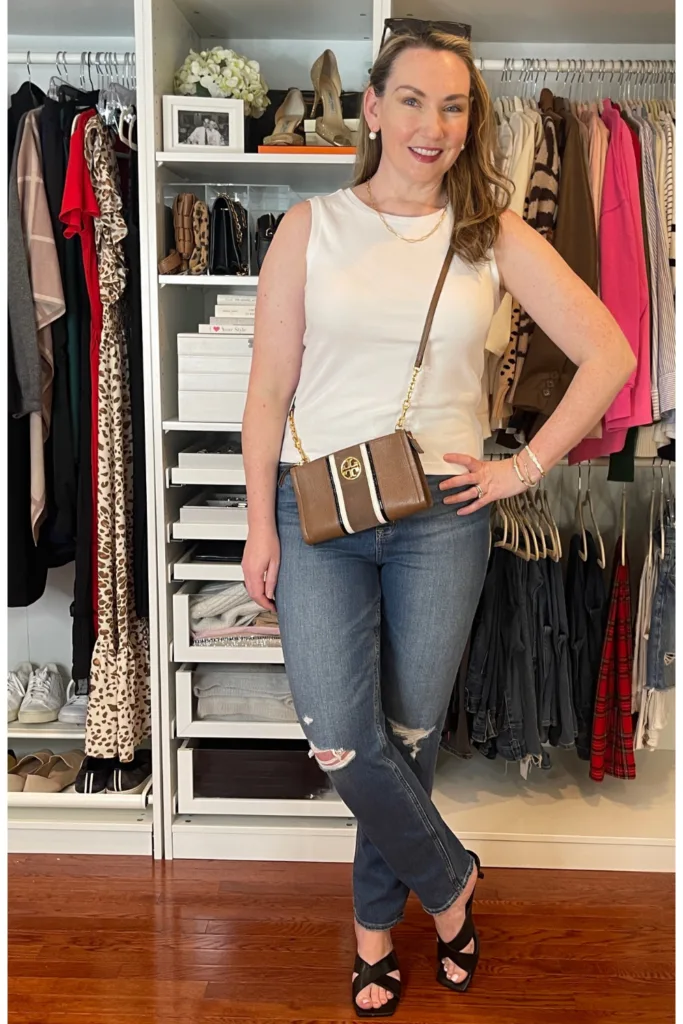 If you prefer a tee shirt, they have this one in the same fabric as the tank in white, grey, navy, and black for $25, and I also like this black tee with a bit of sparkle.
Next, you can never go wrong with a classic button-down.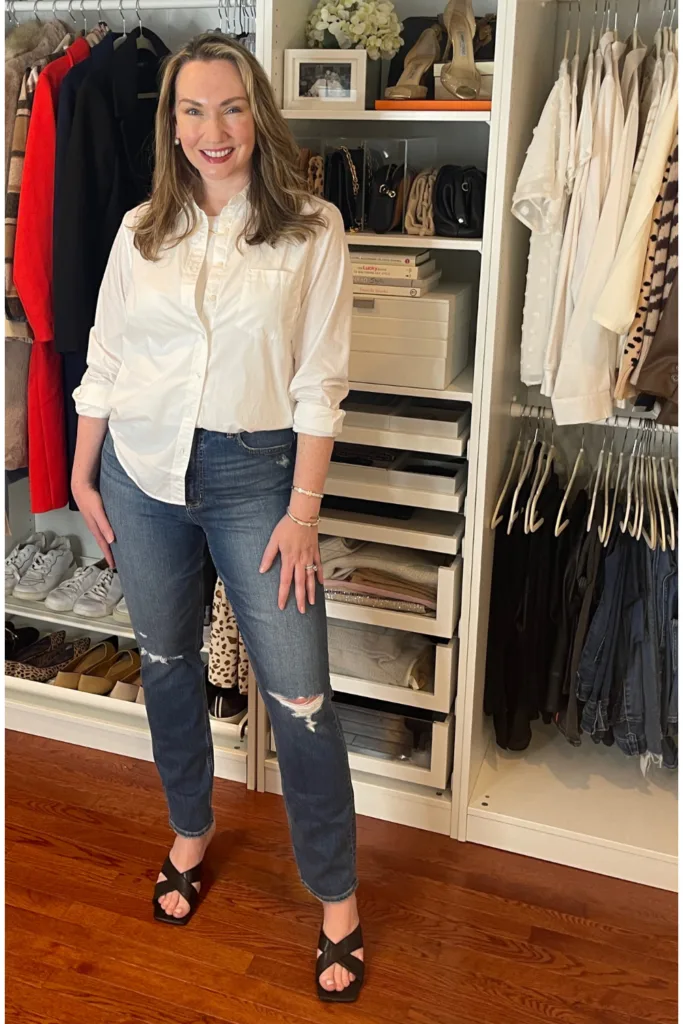 I put their 100% Organic Cotton Perfect Shirt over the tank for a layered tonal look.
You can wear this open or try a half in, half out tuck or a full tuck.
Early in my styling career, I learned the importance of adding a lived in element to an outfit, which is why I like distressed jeans, cuffed sleeves and different tucks. I never want an outfit to look too precious.
Then, add your everyday accessories, and you're set.
As an outerwear option, this Utility Jacket is a steal at 50% off.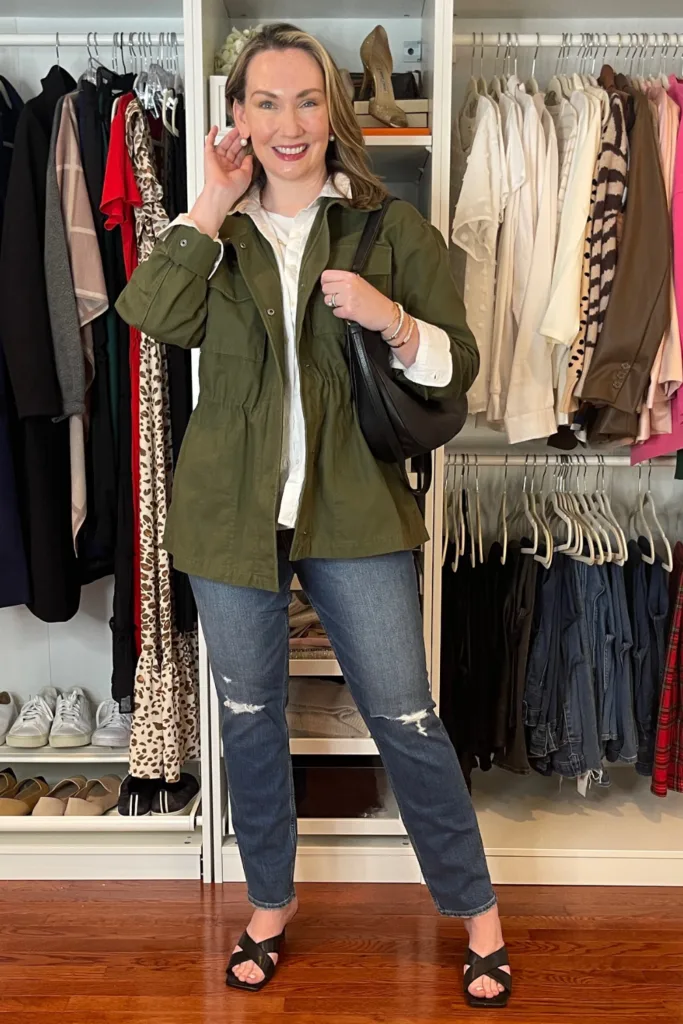 Available in XXS – XXL in regular, tall, and petite, in army green (above) and black for $54.
Finally, this Linen Blend top might be my new favorite.
It looks more sophisticated than a basic tee but is just as comfortable.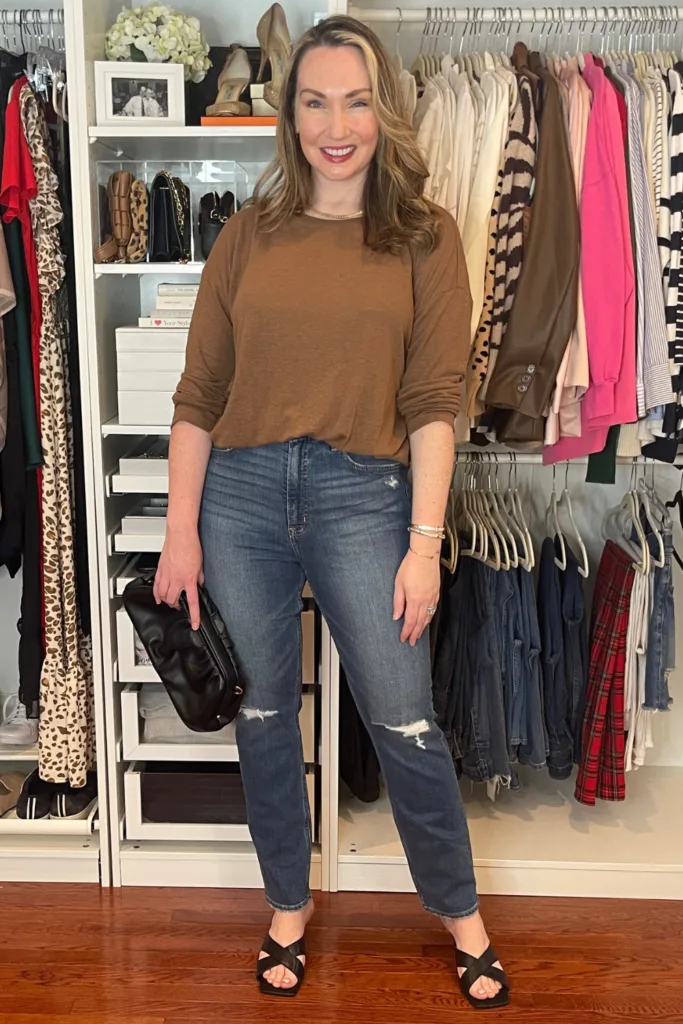 Available in five colors and a stripe, in XXS – XXL, in regular, petite, and tall, on sale for $27 – $35 depending on the color.
I like it here with distressed jeans, or they would look great with these wider-legged white jeans.
And in the summer, I'll pair them with shorts, like these 5″ white shorts on sale for $19.
I did a half-tuck above to bring my proportions back in balance.
Remember, you want to avoid having tops cut you perfectly in half. Half-tucks are popular because they play with 3rds and help make your leg look longer.